Covid-19 has shone a spotlight on health inequities in society. Despite claims that 'we are all in this together', just like other historical pandemics, inequalities in Covid-19 mortality and morbidity reflect existing social and economic inequalities. Australia's Federal and State/Territory policy response to the pandemic reveals some positive short-term policies. However, there is an urgent need for multisectoral social and economic policy that prioritises health equity.
The Covid-19 pandemic has played out within existing social and economic inequalities in society that have contributed to socially patterned epidemics of noncommunicable diseases. These are associated with the social determinants of health equity – the social conditions in which we are born, work, live and age, such as our employment conditions, environments, access to education, social and health services and housing.
Inequities in health between different population groups emerge from inequities in these daily living conditions which affect people's material, psychosocial and political empowerment, and are themselves shaped by wider asymmetries in power, money and resources. For example, people living in socio-economically disadvantaged communities have higher rates of known underlying risk factors for Covid-19 severity and mortality. Economic and social policies can thus help or hinder action to address underlying inequities and place people's health and wellbeing at the centre of a post-pandemic recovery.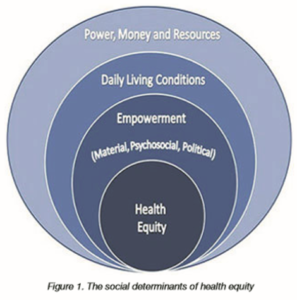 Figure source: Menzies Centre report page 3.
Our recent report Australian COVID-19 policy responses: good for health equity or a missed opportunity? examined Australian Federal and State/Territory Government policy responses to the pandemic between March and June. While some positive short-term policies were identified, there is an urgent need for a multisectoral policy response that places health equity at the centre of pandemic recovery. Such a response could see this pandemic build a healthier and more equitable Australia rather than result in a massive widening of inequities.
In the area of employment, for example, the JobKeeper subsidy has provided immediate financial relief and security to businesses and workers. Not everyone has been able to access JobKeeper, however, and the policy has excluded non-citizens, some sectors such as public universities, and nearly one million casual workers, many of who work in accommodation and food services, retail trade and health care and social assistance.
The pandemic has also shone a light on insecure work and casualisation, including the lack of paid sick leave for casual workers. The more recent Victorian policy for a test isolation payment and federal paid pandemic leave support payment for workers ineligible for paid sick leave (currently for Tasmania and Victoria and with strict criteria) reflect recognition of the problem of casualisation for controlling the pandemic. However, going forward, the longer term systematic issues of poor employment arrangements and working conditions must be tackle if employment-related health inequities are to be reduced in Australia.
In the area of income support, the JobSeeker payment of an additional $550 per fortnight finally lifted Australia's income support to above the minimum deemed necessary for a single person to afford essentials. A survey of welfare recipients by the Australian Council of Social Services, for example, found that 93% of respondents reported now being able to afford fresh fruit and vegetables, with 83% reporting eating more regularly (prior to the supplement, a survey reported 74% skipping meals to get by). Some 75% reported they could now pay their bills while 63% said it was easier to pay rent to move to safer accommodation if needed.
The coronavirus supplement is due to halve from September 25 and may cease at the end of 2020. Analysis by the Australia Institute suggests that reducing the supplement in late September will push 370,000 Australians, including 80,000 children, into poverty. Australia cannot go back to $40 a day. Australia's welfare system must ensure a living income well above the poverty line.
Other measures that can have a perverse long-term impact include the Federal Government's decision to allow early access to superannuation. Data from the ATO in May showed that nearly 500,000 Australians under 30 had accessed their super under this scheme, while data from Industry Super Australia showed that 460,000 people under the age of 35 have cleaned out their super accounts.
Former prime minister Paul Keating has pointed out that this has shifted much of the cost of the stimulus on to young people. Quoted in The Saturday Paper, Keating said: "Of the income support in Australia to date, in this Covid emergency, $32 billion has been found and paid for by the most vulnerable, lowest-paid people in the country – that's the people who've taken the $20,000 out – more than the $30 billion provided by the Commonwealth under JobSeeker and JobKeeper."
Other areas in focus in our recent health equity report include childcare, education, housing, infrastructure, community and legal social services and health care. The overall analysis is that many of the Covid-19 policy responses only scratch the surface of what is needed to redress and prevent a massive widening of health inequities in Australia.
None of the policies that Australia has introduced so far changes the status quo, and in fact, they maintain business as usual. The inequities in power, money and resources that sit behind the conditions of everyday life will not change as a result of these policy responses. There is silence when it comes to issues of taxation, especially of multinational corporations; financial regulation; trade and investment; and racism – each of which drives the conditions in which we live, and which are so unequally distributed.
Governing going forward requires a new social compact, supported by a national whole of government health equity strategy.