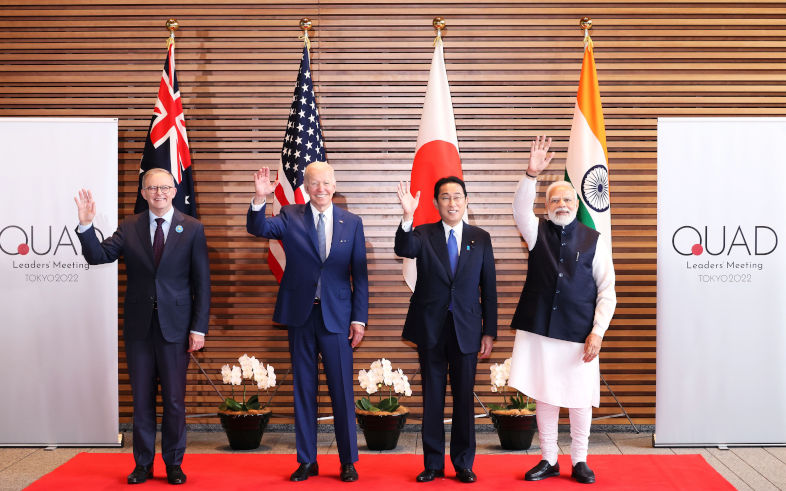 The Quad has launched the Indo-Pacific Partnership on Maritime Domain Awareness (IPMDA). While hailed by its backers as a step forward in practical Quad cooperation, it could be a Trojan horse for the US military.At the in person 24 May 2022 meeting of its leaders in Tokyo, the Quad launched the Indo-Pacific Partnership on Maritime Domain Awareness (IPMDA). While hailed by its backers as a step forward in practical Quad cooperation, it has many overt and some not so obvious political implications that could complicate its implementation. Moreover, it could be a Trojan horse for the US military.
The Quadrilateral Security Dialogue — the Quad– is a strategic security dialogue between Australia, India, Japan, and the United States. China views it as a potential Asian NATO aligned against it. In March 2021, in a statement entitled "The Spirit of the Quad," its members described "a shared vision for a Free and Open Indo-Pacific," and a "rules-based maritime order in the East and South China Seas", a veiled criticism of China's illegal maritime claims.
Maritime Domain Awareness (MDA) is "the effective understanding of anything associated with the maritime domain that could impact security, safety, economy, or environment. MDA programs are used to detect threats and violations of international law and formulate responses to them. Indeed. MDA is the sine qua non for maritime military planners. The US National Maritime Intelligence-Integration Office integrates maritime intelligence, improves information sharing, and fosters domain awareness "to protect the United States, its allies, and partners against threats to, from, and in the global maritime domain."
MDA cooperation is not solely a technical issue as some would have it. Indeed, better knowledge of the 'battlefield' is a military advantage. Some argue that "the Quad must develop a more robust security agenda". They say that "the Quad is best positioned to deliver on security_". But they do acknowledge that "focusing on security also tends to make much of the region nervous, especially when it means pushing back against China." The IPMDA Initiative could be a stealthy way of achieving the Quad's goal of containing China.
This raises the question of the primary purpose of the IPMDA Initiative. The Quad leaders' statement says it will be"designed to work with regional partners to respond to humanitarian and natural disasters, and combat illegal fishing". But a US Fact Sheet says "it will allow tracking of 'dark shipping'—vessels that turn off their Automatic Identification System (AIS)– and other tactical-level activities, such as rendezvous at sea, as well as [emphasis added] improve partners' ability to protect their fisheries. "
In addition to illegal fishers, vessels that might turn off their AIS include smugglers, China's maritime militia and intelligence, surveillance and reconnaissance platforms—including drones. Even some warships and warplanes turn off their AIS when undertaking close-in sensitive missions.
So is its primary purpose to protect fisheries from the depredations of China's fishers or is it a clever way to gain a military advantage—or both ? As a clue, the Fact Sheet adds that "as the initiative proceeds, the Quad will identify future technologies of promise, allowing IPMDA to remain a cutting-edge partnership that promotes peace and stability throughout the region." Some US naval experts foresee that including deterrence and coercion of "malefactors."
This sounds rather ambiguous –if not ominous. Indeed, according to Australian maritime security expert Carl Thayer, it "has far reaching maritime security implications because it aims to provide near real time information from multiple sensors on naval vessel activities". An anonymous senior US official added that "militaries will be able to share this data for coalition planning."
Further, small countries do not have the capability to enforce their laws at sea even if the IPMDA Initiative tells them they are being violated. So will the Quad's military presence in their EEZs be legitimised by helping them enforce their laws? The US Coast Guard Commandant Admiral Linda Fagan participated in the recent Shangri-la Dialogue according to US Defence Secretary Lloyd Austin as "a sign of how important Southeast Asia is to the Coast Guard". Already the U.S. has deployed coast guard vessels to the region and it will permanently station a vessel there from next year. Japan will also bolster its provision of patrol vessels and its enhancement of the region's law enforcement capabilities.
The US efforts to rope its partners and others into expanded cooperative MDA sharing could be a clever means of enhancing US MDA. Of course small coastal countries are concerned about illegal activities like fishing that rob them of their resources, as well as smuggling, sea robbery and pollution. But those are not major US security concerns. It and the rest of the Quad want to obtain a military advantage over China. Indeed, China is likely to view small countries cooperating with IPMDA as siding with the U.S. against it.
Many Asian countries view their neighbours as potential enemies. As such they are reluctant to reveal in real time the deployment of their assets. Will these assets be included or excluded?
As Lord Palmerstone and Henry Kissinger believed and practiced 'there are no permanent friends or enemies – only permanent interests'. All countries' decisions are influenced to some degree by this dictum. In this context, maritime security cooperation in general and MDA cooperation in particular favours the more powerful. They can display the superiority of their technology, assets and weapons and thus tacitly intimidate their potential opponents while observing and detecting the latter's weaknesses.
The key questions for many countries that need to be satisfactorily answered are what or whom is MDA cooperation for or against and why? Is it in my country's national interest to participate—especially if it will provoke retaliation from China.
MDA cooperation in general and the IPMDA Initiative in particular are not apolitical. Indeed they have significant strategic and thus political implications and countries should weigh them carefully before signing up.