The Citizenship Amendment Act (CAA), bulldozed through both houses of Parliament in three days in December without consultation with opposition parties or civil society, provides preferential pathways to Indian citizenship for non-Muslim minorities from Bangladesh, Pakistan and Afghanistan. It will be complemented this year by the National Register of Citizens (NRC) and the National Population Register (NPR). They have to be understood against the backdrop of India's Muslims being targeted during Modi's first term (2014–19) through public lynching that was largely unpunished, multiple assaults and innumerable humiliations. Their collective aim is to turn India's 180 million Muslims into second-class citizens.
The  measures are indefensible in principle, infeasible in practice, and anti-national in consequence.
The CAA's stated justification is the need for sanctuary for religious minorities suffering persecution in the neighbourhood. The Constitution's definition of citizenship is universal, inclusive and secular. Because the CAA is arbitrary in choice of countries of origin and discriminatory in selection of religious minorities, there is a good chance India's Supreme Court will hold it to be unconstitutional. India's humanitarianism would have won plaudits, not criticism, if all persecuted minorities, including Islamic sects, were granted accelerated citizenship. In Myanmar, which unlike Afghanistan shares a border with India, the Rohingyas have suffered well-documented atrocities bordering on genocide. They are not welcome in Modi's India.
The state lacks the capacity to implement the NRC efficiently. Based on the Assam experience that took four years to complete in 2018, it could cost around $9bn – two-thirds the entire education budget. In a country with patchy official documentation, it will involve people queueing for hours, a follow-up round of verifications as millions cannot prove citizenship initially, extortion by petty officials, and the appeal courts overloaded for years when there is already a mountainous backlog of cases. Those who cannot establish Indian identity (as with 1.9 million in Assam) will becomes stateless but cannot be deported. They will end up in detention centres raising even more logistical, financial, legal and ethical concerns.
The CAA has pricked the constitutional conscience of India's students who have flooded the streets in protest. Many Indians, from former Congress cabinet minister and onetime candidate for UN Secretary-General Shashi Tharoor to human rights defender and social activist Harsh Mander, have been encouraged by the surge of spontaneous civic engagement by the youth in defence of foundational values. Muslims should take heart from the show of mass solidarity.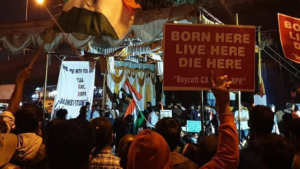 The students have been met with the full force of the state's jackboots and the party's bilious vilification army. On 15 December, Modi dog-whistled that the protestors 'can be identified by their clothes', meaning hijab-clad women and bearded men in skullcaps. Taking his cue from Modi, a senior police officer berated a protestor: 'Go to Pakistan' – a sign of how deep the rot is in India's institutions under Modi's tacit tolerance of the cancer of religious bigotry. On 2 January Modi, the prince of whataboutery, suggested that opponents of the CAA should be protesting instead against the treatment of minorities in Pakistan.
Footage of police brutality against students at Jamia Millia Islamia and Aligarh Muslim University, plus police as silent spectators while BJP-affiliated armed hoodlums thrashed students and professors at Jawaharlal Nehru University, have shocked and galvanised Indians across the country. Meanwhile in Shaheen Bagh elsewhere in Delhi, the ongoing sit-in protest by women welcomed the New Year with songs of independence and the national anthem. A 90-year old woman said: 'My son's name is Faizan, his father's name is Imtiaz, his father's name was Fakhruddin, his father's name was Riyaz, his father's name was Akbaruddin, let this Modi come and ask me if I belong here. I'll show him'.
As violence flared in December in anti-CAA protests across Uttar Pradesh (UP), the most populous and politically most consequential state, Chief Minister Yogi Adityanath – an inflammatory Hindu preacher but a political neophyte who was hand-picked by Modi – issued an ominous threat. The protestors had been identified through video and CCTV footage, and 'inse hum iska badla lenge' ('we will take revenge against them for this'). The irony is that many senior BJP leaders shot to prominence for cutting their political teeth as young protestors, including Modi himself in Gujarat in 1974, and others who agitated against Indira Gandhi's draconian Emergency in 1975.
The CAA-NRC issue has split Indians at home and the diaspora abroad, risking dismemberment by undermining social cohesion, political stability and economic recovery, while draining diplomatic capital. The contrast could not be starker between the frisson of excitement in the year following Modi's 2014 victory and the escalating concerns over his authoritarian instincts today. Re-election with an increased majority seems to have set free the inner demons of the project to make a Hindu Republic of India alongside the Islamic Republic of Pakistan.
India's global influence expanded rapidly in the 21st century with impressive economic growth; an overdue acknowledgment of its vibrant pluralistic democracy; the growing recognition that India's Muslims had successfully integrated into the Republic's secular democracy to constitute an effective bulwark against the spread of Islamist radicalism southeast from Afghanistan-Pakistan; and the emergence of its diaspora as an increasingly influential lobby in several key countries.
Modi has managed to reposition India as a counterpoint to Pakistan just when New Delhi had succeeded in distancing itself from the old lazy habit of outsiders always hyphenating it with Islamabad. Good relations with Bangladesh is another roadkill on the Hindutva highway. An irritable Foreign Minister AK Abdul Momen told the Dhaka Tribune on 10 December: 'They have many problems within their country. Let them fight among themselves'. Pakistan's schadenfreude at India's own goal is palpable.
In the US, especially after the crude embrace of Trump at the 'Howdy, Modi' event last September, the two decade-old bipartisan pro-India consensus is shattered with growing hostility in the Democrat-controlled House. Representative Pramila Jayapal (D) – the first Indo-American woman elected to the House who was shunned by India's foreign minister during a recent US visit – promises to persist with her attempts to hold India accountable for alleged human rights abuses. The ripples have also spread to Europe and the UK. International investor confidence will take a big hit with the escalation of religious tensions.
Modi must answer a fundamental question: what kind of India does he want? One trapped in the prison of yesterday's glory, where ancient Hindu texts replace modern science and technology in the classrooms; or one that puts in place policy settings to achieve and maintain greatness today and tomorrow? It beggars belief that a BJP MP, addressing Parliament on 12 December, would claim that speaking in Sanskrit can keep diabetes and cholesterol under control (he spoke in Hindi).
Before the painstakingly curated goodwill, respect and admiration for India dissipates completely, Modi must urgently restore a functioning system of domestic political accommodation and economic vitality. His choice is a managed strategic retreat from the CAA-NCR debacle or a complete rout as the situation serially spins out of control. Throwing Amit Shah and Yogi Adityanath, the public faces of the ugly Hindutva agenda, under the bus would be a good start.
He could then move on to stop his party's Hindu zealots from subverting a laser-like focus on improving public safety, strengthening the rule of law, building infrastructure, eliminating corruption, minimising the cost inputs and regulatory burden on business, switching priority from stopping imports to promoting exports, and investing in education and skills development for the 21st century.
A shorter version of this was published in The Times of India on Saturday. To get a glimpse of the toxic ugliness of the public discourse in current Indian politics, read the original < https://timesofindia.indiatimes.com/blogs/toi-edit-page/it-will-be-retreat-or-rout-caa-npr-nrc-threaten-the-idea-national-unity-and-territorial-integrity-of-india/ > and click on comments. And bear in mind  these are the educated, English-papers reading elite of Indian society.
Ramesh Thakur is Professor Emeritus of Public Policy, ANU