Consider the case of India. What exactly does 'social distancing' – elegant as it is as an abstract concept – mean in practice in Indian conditions, a country of 1.3bn people with a population density of 464 per km2 compared to 153 in China?
A BBC analysis notes that 100mn homes – 40% of all homes – have only one room and the average family size is five people. In the villages, home to almost 70% of Indians, many families share a single source of water, bathe and  wash in the local stream, work alongside one another in the fields, and shop for produce in the daily local market. To India's equivalent of the deplorables, social distancing is an urban phenomenon. But the urban environment has its own problem.
In the 2011 census, 64mn people in 17% of all households were living in slums, officially described as areas unfit for human habitation. The sprawling Dharavi slum in Mumbai houses over a million people cramped into 2km2 without access to safe water and hygienic sanitary facilities. In sum, under Indian conditions extensive testing to catch the asymptomatic infected, quarantining and social distancing may be not just sufficient, but more effective than total lockdowns. Or the most heretic thought of all: if India's case and fatality numbers are so low despite all the obvious difficulties and challenges, perhaps coronavirus never was a serious public health threat in India?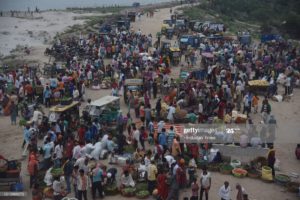 As of 30 April, India's CV death toll was just 1,154, with a death rate of 0.9 per million. It may be the numbers are under-stated, but in India, people dying in large numbers in the slums cannot be kept hidden and we would have known. Perhaps from the extensive range of infectious diseases to which Indians are subject from the cradle to the grave, some existing antibodies are reactivated quickly and massively to fight and kill Covid-19. Is it at least conceivable that contrary to all intuition, the virus spreads and retreats on its own, on a as yet unexplained logic regardless of the strategy in place to fight it? That is, the epidemiological modelling-based forecasts of catastrophe are like the naked emperor?
Back to Australia
To come back to Australia, our modelling was similar to that which informed British and US policy. Our CV mortality has been so low that if we plotted the total number of deaths from all causes and compared it to the figures for the same period from 2019, the dip or bump would reflect causes other than coronavirus. It seems plausible to suggest that with earlier border closure (especially from the US as Robyn Boyle argued on this site), social distancing practices, quarantining for the infected and isolation for the elderly, the effective reproduction rate of the virus (the 'R' new infection rate per already infected person) could have been kept below 1 without ever having to go to the stringent stage 3 measures. It would be absolutely astounding if Australia too is not suffering from unintended and  mental health  consequences from the lockdown measures.
In his analysis presented on 24 April, Chief Medical Officer Brendan Murphy conceded that 'R' was under 1 (below which the infection wanes) in every state and territory in mid-March, before the stage three lockdowns took effect on 30 March. This mimics the downward slope in other countries where also the mortality numbers plateaued before lockdowns had time to show results, as reported in the various studies linked above. If this is true, were the economically less punitive stage one and two restrictions working such that Australia did not need to go to stage three lockdown? Murphy's answer was that until then, about two-thirds of Australia's Covid-19 cases were imported. Once that wave had died down, there was a risk of a rapid acceleration of community transmission to take R above 1 again and risk an exponential explosion of fresh infections. (This section of the press briefing can be found at approximately 34:00–36:30 minutes on ABC iView.)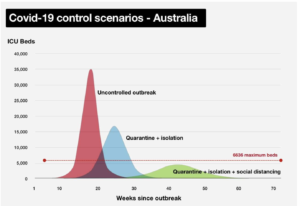 This is unanswerable logic. It can neither be proven nor refuted. But it's intuitively plausible to argue that had Australia introduced border restrictions 4-6 weeks earlier than 20 March (the Ruby Princess fiasco happened on the 19th), stage three lockdown may never have been needed. Three Hebrew University professors – two finance and banking experts and one epidemiologist – claim that lockdown is not necessary in countries that have more than 100 ICU beds per million available for Covid-19 patients. Australia's total ICU capacity is 6,636, three times the required threshold. Could it be that Australia's low toll is better explained by physical isolation, vast open spaces, abundant sunshine, low density living, few multigenerational households, the traditional Aussie backyard, high use of private cars instead of mass transit, and sociocultural practices?
Let's look at the contra-example of Sweden that I referred to briefly yesterday. On 30 April the American Institute for Economic Research published a most interesting analysis by Phillip W. Magness. The mother-model that set off alarm bells all over the world was Imperial College London's of 16 March. A team from Uppsala University applied that in order to try and persuade Swedish health authorities to emulate stringent European lockdown measures. The team came to two key conclusions. First, the current Swedish public-health strategy would result in a median mortality of over 40,000 around 1 May and 96,000 (range 52,000-183,000) by the end of June. Second, if the government changed course and imposed lockdown by 10 April, the median mortality would fall below 30,000 by the end of June. The result? Sweden did not change course, stayed with its original strategy, and as at 2 May its total mortality was 2,669 according to the Johns Hopkins University's Coronavirus Resource Centre.
Case closed? Not really. Someone better qualified and skilled than I am needs to do an equivalent study for Australia.
Meanwhile a sober and sobering article in The Financial Times on 26 April notes that according to the Office of National Statistics, non-CV deaths this year are almost one-fifth higher than in the corresponding period last year. An internal memo circulated to the cabinet in mid-April cautioned that, 'without mitigation up to 150,000' could suffer non-CV premature deaths from the lockdown. The Guardian UK reported on 28 April that research shows that, owing to deferred consultations and suspended treatments of other diseases as the NHS focuses on the coronavirus pandemic, almost 18,000 cancer patients could die. A story in The Canberra Times yesterday reported: 'The biggest private pathology laboratory in Canberra is doing 450 fewer tests for cancer a week than it did last year because people have stayed away from doctors'. The UN warns of 'hundreds of thousands of additional child deaths' because of the impoverishment caused by the economic downturn. Secretary-General Antonio Guterres is worried about a human rights crisis caused by the coronavirus pandemic, with authoritarian responses, surveillance, closed borders and other rights abuses.
Yet draconian measures are imposed causing significant pain on all sectors and the PM is to be praised for his leadership? He somehow manages to reconcile public professions of Christian faith with inflicting torture-like cruelty on boat people. But now we are to affirm confidence in his compassion for people. And suddenly he is transformed into a genius in his political judgment and administrative competence.