We come back to the Russia collusion narrative. A lot of it seems to have had Ukraine connections, so much so that Ukraine was Ground Zero of that story. The primary motive of the Poroshenko administration would have been to spike Trump's candidacy in order to prevent any rapprochement between the US and Russia. Apparently Ukrainians outside government have volunteered some information to the US Justice Department on this.
The Trump people suspect that during the 2016 election, some FBI officials tried to get compromising information from Ukrainian officials on Trump's campaign manager Paul Manafort, with a view to putting pressure on him to cooperate with the FBI against Trump. In written answers, the Ukrainian Embassy in Washington confirmed that a Democratic Party insider solicited dirt on Manafort during the 2016 election and wanted to enlist Poroshenko's help. Moreover, it would appear that the information which triggered the investigation of Manafort did indeed come from Ukrainian officials who backed Clinton (see backgrounders 2, 3 and 4 in Part 1 yesterday). A Ukrainian court has ruled that this violated Ukrainian law and constituted 'interference in the electoral processes of the United States in 2016 and harmed the interests of Ukraine as a state'.
It would be out of character for the vainglorious Trump to believe he needs anyone's help to beat Biden. Crucially, Trump's reference point in asking for an investigative favour was not Biden's behaviour, but the role of the private firm CrowdStrike that was hired by the Democratic Party to investigate who had hacked their server and was the first source to point the finger of electoral interference at Russia. The FBI, not given access to the server, had been forced to accept their conclusion that the server was hacked by Russia. In 2017 Politico, which is not a Trump-hugging site, published a report of an investigation that 'found evidence of Ukrainian government involvement in the [2016] race that appears to strain diplomatic protocol dictating that governments refrain from engaging in one another's elections'. Furthermore, their efforts 'had an impact in the race, helping to force Manafort's resignation and advancing the narrative that Trump's campaign was deeply connected to Ukraine's foe to the east, Russia'.
Now, given the gravity of the Ukrainian-sourced actions, the disappearance of the said server, and the intense and extensive scrutiny to which Trump had been subjected after election, it would seem perfectly understandable and legitimate for the US president to ask his Ukrainian counterpart to cooperate with the US investigation into what really happened in 2016. In other words the call was far more looking backwards at 2016 than foreclosing Democratic options for 2020, and that is even more of a potential problem for the Democratic Party. Could it be that the sudden spotlight on CrowdStrike is what's making the Democratic Party nervous and agitated?
Also, note the irony. In the past, Ukraine's elections have been fought as a proxy war between Russia and the US. In 2016, the US election is alleged to have been a battleground between Russia and Ukraine.
Leveraging Dad's name and office
Writing in the generally Trump-unfriendly Washington Post on 22 July, Michael Kranish and David L. Stern noted that an examination of Hunter Biden's business dealings shows that 'for more than two decades, his professional work often tracked with his father's life in politics, from Washington to Ukraine to China'. While Joe Biden was Vice-President (VP) and the administration's point man on Ukraine policy, his son Hunter was appointed to the board of Burisma Holdings, a giant Ukrainian energy company. Hunter had exactly zero relevant qualifications; his professional experience to date and history of drug and alcohol abuse (which earned him a discharge from Naval reserves), plus a messed up private life, made him a risky choice for any responsible office; yet he is reported to have been paid USD 50,000 per month for up to five years. That's a total of almost AUD 4.5mn at today's exchange rate. His Dad being the incumbent VP was not just one factor, not even the primary consideration, but the one and only possible explanation for the cushy arrangement. How could father and son possibly think otherwise?
VP Joe Biden waves as he walks out of Air Force Two with his granddaughter Finnegan Biden and son Hunter Biden on 4 December 2013 in Beijing. Photo by Ng Han Guan-Pool/Getty Images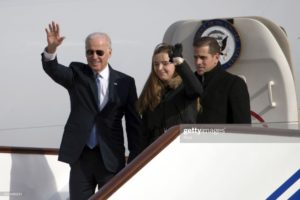 I can recognise bribery and corruption when I trip over it, especially regarding a company operating in an environment of massive natural resources, profits in the billions of dollars, weak institutions and a corruptible justice system. The American Chamber of Commerce rejected Burisma's application for membership. A top Western financial institution told the Financial Times: 'We've never worked with them for integrity reasons. Never passed our due diligence'. Hunter had no background in either the gas industry or Ukrainian affairs. His skill lay in monetising his surname and connections. VP Biden offered aid to Ukraine to increase its gas production, which would have benefitted its gas industry. A comprehensive timeline of those activities can be found here. Hunter's business partner, John Kerry's stepson Chris Heinz, had the good sense to cut ties with Hunter to distance and protect his own firm.
Neither Biden needed to have a conversation with Ukraine's president about any quid pro quo. In internal Ukrainian politics, with the country and president totally dependent on US goodwill for their very survival, the publicly known fact of Hunter being on the company's board was in and of itself sufficient to leverage the connection to the US VP to buy protection in Kiev.
According to notes that Giuliani made of a telephone conversation with the previous Ukrainian prosecutor Viktor Shokin in January 2019 (before Biden announced his candidacy), Shokin was fired in April 2016.
The notes add that 'President of Ukraine Petro Poroshenko told Mr. Shokin not to investigate Burisma as it was not in the interest of Joe and/or Hunter Biden. Mr. Shokin was called into Mr. Poroshenko's office and told that the investigation into Burisma and the Managing Director where Hunter Biden is on the board, has caused Joe Biden to hold up one billion dollars in U.S. aid to Ukraine'.

Shokin then told Giuliani, according to the notes, that 'in or around April of 2016' Poroshenko 'told him he had to be fired as the aid to the Ukraine was being withheld by Joe Biden'.
The Biden campaign claims that these allegations have been probed and debunked, and Shokin was in the cross-hairs of Western countries generally for not being vigorous in going after the corrupt.
The most detailed existing account of the lucrative financial benefits flowing to Hunter Biden during his father's VP days is in Peter Schweizer's book Secret Empires: How the American Political Class Hides Corruption and Enriches Family and Friends. Hunter flew to China with his father on Air Force Two in December 2013. He met with a Chinese banker during that trip. Ten days later, his small investment firm announced a USD 1.5bn equity deal with the Chinese government. In February 2014, the Yanukovich government was toppled by domestic political opponents with US backing and help. The Russians annexed Crimea and provided assistance to rebels in eastern Ukraine. Joe Biden became point person for US-European policy on Ukraine. Two months later, with literally zero background and experience in either energy or Ukraine, Hunter was made a board director of Burisma, a notoriously corrupt Ukrainian energy company, at a staggering monthly stipend.
So Biden should get a free pass on all this from Trump? And Trump is wrong to ask China and Ukraine to investigate these? Explain again to me, in slow English for non-native speakers, why exactly? I don't know about you, but I'd like answers to the questions. That Joe Biden is now a candidate for president makes the investigation more imperative, not less so.