The whistleblower's complaint, made on 12 August, was based entirely on hearsay. The existing guidelines had said in bold, underlined, all-caps: 'FIRST-HAND INFORMATION REQUIRED'. After receiving the complaint, the intelligence community inspector-general (ICIG) revised the internal guidance to permit evidence that was not first-hand.
House Speaker Nancy Pelosi speaks to the media at the Capitol Building 24 September to announce a formal impeachment inquiry. Photo by Alex Wong/Getty Images
Sean Davis, co-founder of the conservative site The Federalist, explains:
Because the complaint did not allege wrongdoing against a member of the intelligence community (the president of the United States is an elected constitutional officer, not an employee of a statutory agency), did not allege wrongdoing with regard to an intelligence activity (a phone call between two elected world leaders is basic diplomacy, not the execution of a statutorily required intelligence activity), and relied primarily on hearsay rather than first-hand evidence, both the director of national intelligence (DNI) and the Department of Justice Office of Legal Counsel determined that the anti-Trump complaint was not an "urgent concern" under the law and was therefore not required to be transmitted to the relevant congressional committees.
The ICIG release of 30 September appears self-contradictory. On the one hand, the 'Complainant's Letter acknowledged that the Complainant was not a direct witness to the President's July 25, 2019, telephone call with the Ukrainian President'. On the other, the ICIG 'determined that the Complainant had … direct knowledge of certain alleged conduct'. Accordingly, the ICIG on its own and after revising its internal guidance and policies regarding first-hand evidence decided the complaint did qualify as an 'urgent concern' and forwarded the anti-Trump complaint to Congress, which then launched a formal impeachment inquiry.
In evaluating this development, it's worth keeping in mind two key questions:
Did Joe Biden, or his family, profit from his position as VP? Is that a legitimate question? If so, should it be ruled out of order now simply because Biden is a candidate for the Democratic nomination? With the mainstream media having proven remarkably uncurious, Trump has used the authority of his office to try and prod an inquiry. Characteristically , far from retreating, the pugnaciousTrump  escalated by  openly asking China too to investigate the murky politician-businessman nexus between father and son in dealings with China.
If crucial information concerning the Biden dealings and who was trying to do what in 2016, why, and at whose behest, can only be obtained by foreign governments investigating shady dealings at their end, should that be avoided or is the president permitted – if not duty-bound – to seek their assistance? Conversely, if a smoking gun is discovered and Congress needs evidence from Ukrainian authorities, there seems nothing wrong in seeking it just because it would implicate Trump as the majority party's political opponent. When key records and witnesses in any inquiry are located in a foreign country outside the legal jurisdiction of the FBI and the Justice Department, requesting help from that country is warranted, appropriate and a responsible course of action by the president as much as by Congress.
US President Donald Trump and Ukrainian President Volodymyr Zelensky shake hands during a meeting in New York on 25 September 2019, on the sidelines of the United Nations General Assembly. Photo by SAUL LOEB/AFP via Getty Images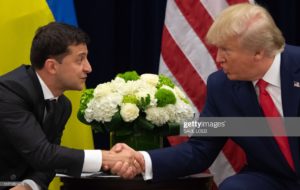 The red line with respect to both questions is a quid pro quo of US economic aid or military assistance. The detailed parsing of Trump's phone conversation with Ukraine's new President Volodymr Zelensky on 25 July has been wilfully partisan. The tone and tenor of the conversation is, for Trump, surprisingly amicable. Zelensky has clearly absorbed the lesson that the way to work Trump is to flatter him, including saying he wants to 'drain the swamp here in our country'. Bear in mind too that Trump has proven to be remarkably promiscuous in his use of the English language.
Moreover, subsequent statements from the Justice Department were unambiguous in saying that Trump did not follow up by asking his Attorney General William Barr to contact Ukrainian authorities about investigating Biden or on any other matter, and that Barr has not communicated with Ukraine at all. But a team from Justice, led by US Attorney John Durham, is investigating several countries, including Ukraine, over their possible role in the counter-intelligence efforts against the Trump election campaign in 2016.
In the Zelensky call, Trump does indeed ask for a favour. But the very next sentence and the rest of that paragraph makes it crystal clear, with no shade of ambiguity, that the favour is to get to the bottom of the role played by CrowdStrike, in the belief that the server is said to have ended up in Ukraine. There is no explicit or implied threat of withholding US aid if this not done. The vast amount of US assistance is mentioned in the previous paragraph, but in the context of the familiar Trump complaint that the Europeans and Germany are not doing enough. And in response, Zelensky is the first to bring up the name of Trump's personal lawyer, Rudy Giuliani. In response to that in turn, Trump says there is talk that Biden stopped the prosecution of Burisma because of his son's position in the company and bragged about it. So Trump would like Zelensky to cooperate with Attorney-General Barr.
In the course of a marathon 14-hour press conference on 10 October, Zelensky didn't just insist he had not been blackmailed in the 25 July  conversation; in fact he was not aware at the time that US military aid had been delayed and learnt of this only a month later. This was confirmed by Kurt Volker, the former special representative for Ukraine: only in late August had he raised the topic of Biden; it did not come up during the aid negotiations. It's difficult to establish a quid pro quo relationship when the party supposedly providing the quo was unaware of the quid in the first place. As a New York Times report concluded: 'If that was the intended message, Mr. Zelensky does not seem to have received it'. Barring a redacted portion showing otherwise, this is not going to pass the test of evidence of extortion or coercion.
Valentyn Nalyvaichenko is a Ukrainian MP who served as head of the Security Service (their FBI) 2006–10 and 2014–15. He writes in the Wall Street Journal (10/10):
Serious allegations have been made in the U.S. and Ukraine, including that Ukrainian government officials and organizations assisted Hillary Clinton's campaign in 2016 and that Burisma, a major Ukrainian gas company, hired Hunter Biden, Joe Biden's son, for cynical purposes. Regardless of the implications of these charges within American politics, Ukraine has a responsibility to investigate them completely and transparently….

There is no way to know if crimes were committed unless the Ukrainian government investigates all allegations properly and transparently.
Political fallout
The early public opinion polls confirm the deeply partisan reading of the complicated and tangled knot of the Ukrainian threads and the confused political situation. A CNN poll breaks 47-45 for impeachment, with 55% of Democrats supportive and 66% of Republicans opposed. A Quinnipiac survey is tied 47-47 on impeachment, with Democrats 90-5 for, and Republicans 92-7 against. The share of respondents rating Trump honest went up from 30 to 37, his approval rating up from 29 to 35. Importantly, in a PBS Newshour poll published on 28 September, independents opposed impeachment by 50-44.
The public will find it much easier to see a lot of money was involved in deals done with Ukrainian and Chinese companies and individuals; Biden's son was enriched handsomely from these deals while his father was VP; beyond being his father's son, Hunter had little to commend him for his shot at big money. All this being perfectly legal will deepen revulsion at the fetid Washington swamp. This is why regardless of the political damage to Trump between now and next year's election, the Biden candidacy may be sunk and the Democratic brand could suffer collateral damage.
President Trump, 'surely one of the most controversial and sinning of presidents, may also be the most sinned against', writes Holman W. Jenkins. It is in his nature to hit back hard with a punch to the face. Trump may emerge fatally damaged or politically strengthened with a rejuvenated and remotivated base at the end of the impeachment fracas; we shall have to wait and see.