As I read through the opinion articles in The Canberra Times and The Australian on Saturday 9 November, I grew increasingly exasperated at the total absence of any Asian voice. I then did an online search of opinion articles in the Fairfax media (The Age, The Sydney Morning Herald), plus The Daily Telegraph. As far as could be ascertained from their names and photos (with a built-in margin for errors), of the 49 opinion articles on that Saturday, only one was by a non-Caucasian.
Even he is a South African-born American columnist for The New York Times whose Times column had been reprinted locally in Australia. The mainstream media in other Anglosphere countries like Canada, the UK and the US have recruited residents of Asian origin among their stables of regular columnists, in addition to being far more visibly open to publishing unsolicited opinion articles by non-Caucasians as well.
By now thoroughly disgruntled, I checked the demographic make-up of contemporary Australia. According to an Australian Bureau of Statistics document of 3 April 2019, Australia's 2018 population was 25 million, of whom 17.65 million (70.6 per cent) were Australian born and 7.35 million (29.4 per cent) were born overseas. In the latter category, 2.3 million (9 per cent) were born in Asia, mostly in China (2.6 per cent) and India (2.4 per cent).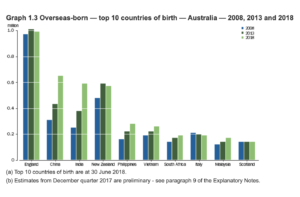 Source: Australian Bureau of Statistics (April 2019)
There were 83,000 more Chinese-born and 24,000 more Indian-born than New Zealand-born people living in Australia in 2018. At 5.0 per cent, the number of Chinese and Indian-born Australian residents together exceeded those born in England (4.0 per cent) by a quarter million. Can anyone honestly say this remarkable contemporary reality is reflected in our quotidian social and political discourse?
The age breakdown of the overseas-born is also very illuminating. The median age of those born in England is 56, and in New Zealand 43. For the Chinese and Indian-born, the median age is 34. In other words, the Asians with their younger families represent the future face of Australia's changing demographic profile.
In 2016, the religious make-up of the Australian population was Christians 52.1 per cent, no religion 30.1 per cent, Muslims 2.6 per cent, Buddhists 2.4 per cent, Hindus 1.9 per cent, and Sikhs 0.5 per cent. (Just to avoid any misunderstanding: I answered no religion in the census form.) Going by media attention and public debate, one would be hard pressed to guess that the last three groups are almost double the Muslim population. Moreover, in the 2006–2016 decade, the fastest rise in the population share was recorded by Hindus: an increase of 171 per cent, compared to 53 per cent for Muslims.
Because I am not religious, I had not paid any attention to this aspect of Australian social life until a group of Canberra-based Hindus raised it with me. They were unhappy at being treated unfairly vis-a-vis Muslim groups with respect to access to ACT grants, services and politicians. I have no idea if their sense of relative neglect was or is justified. In a variant of the squeaky wheel being noticed and getting greased, they wondered if their groups were in effect being penalised for being good citizens instead of harbouring a minority of extremists. This would be an unfortunate and dangerous sentiment to germinate in any group. But it did make me think about the space devoted to different religious groups in our national discourse, and the invisibility of Hindus and Buddhists does stand out.
In April 2018, the Australian Human Rights Council (AHRC) published an updated and revised version of its original 2016 study, entitled Leading for Change, on the paucity of cultural diversity in leadership positions across Australia's many sectors: public service, private sector, universities. It noted that 76 per cent of our population is of Anglo-Celtic and European background, 21 per cent of non-European background, and 3 per cent of Indigenous (Aboriginal or Torres Strait Islander) background. Of the 2,490 seniormost posts in Australia, 94.9 per cent are held by people of Anglo-Celtic and European origin, 4.7 per cent by non-Europeans, and 0.4 per cent by Indigenous people. The report commented: 'Cultural diversity is particularly low within the senior leadership of Australian government departments and Australian universities'.

Source: Leading for Change (April 2018), p. 1.

Source: Leading for Change (July 2016), p. 2.
The 2018 report concluded:
This is a dismal statistic for a society that prides itself on its multiculturalism.

It challenges Australia's egalitarian self-image. It also challenges Australia as a nation whose prosperity relies upon international trade, capital inflows and mobility of people.
In general, children of immigrants outperform children of Australian-born parents in educational and employment metrics. Go into any average school in Australia and immigrant kids will likely be disproportionately represented in the ranks of the top academic performers. So which black hole do they disappear into by the time of the senior rungs of the leadership hierarchy? Asian universities, especially East Asian universities, have made the most dramatic gains of any region in world university rankings. Their top leadership must be doing something right. So how is it that with the imminent departure of Professor Deep Saini from the University of Canberra, Australia will once again be left without a single Asian Vice Chancellor, the statistic captured in the 2016 edition of Leading for Change?
If anything, based on the potent combination of talent, application and ambition, Asians tend to be over-achievers. So much so that even a venerable institution like Harvard University has resorted to racist admissions procedures in order to limit the number of Asian students.
Systemic racism? Nah. Tell them they're dreaming and, if the Australian dream has turned into a personal nightmare, they should go back to where they came from.
Ramesh Thakur is emeritus professor in the Crawford School of Public Policy, The Australian National University, a former United Nations Assistant Secretary-General, and a Fellow of the Australian Institute of International Affairs.