Human Rights, Politics
Raymond Tint Way and Paul A. Komesaroff. Australia and the international community must respond to the brutality of Myanmar's Junta
Feb 25, 2022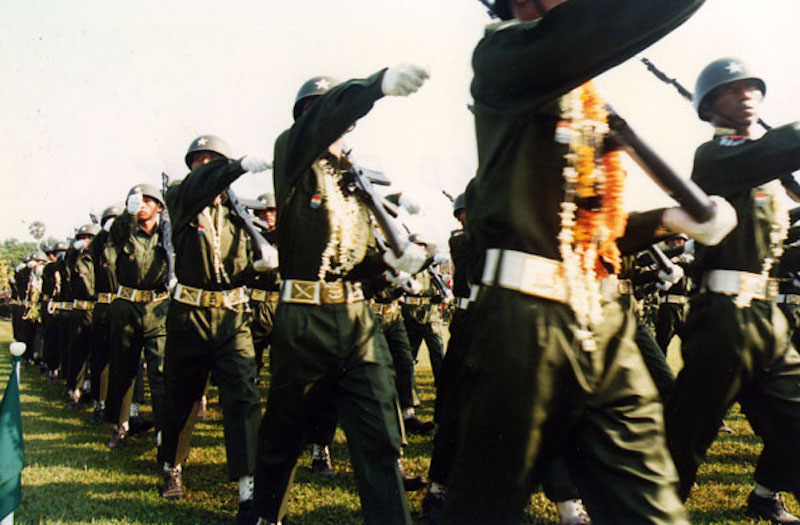 Over the last year the world has watched in horror as the Myanmar army, after its attempted coup on February 1st 2021, has carried out brutal massacres, torture, rape and arbitrary arrest of the democratically elected government and civilian population
Independent reports show that more than 1,500 people have been murdered, including many children. More than 11,000 have been arrested or "disappeared". Nearly half a million have been displaced from their homes. The democratic institutions, which were being painstakingly constructed after more than half a century of dictatorship, have been obliterated. The economy has been ruined.
As bad as this sounds, it is only a small part of the story. With a bloodthirsty intent possibly unparalleled in modern times the junta has systematically targeted the health care system which, although under-resourced, was sophisticated and well trained, with a committed and developing public health apparatus. Dozens of doctors and other health care workers have been killed and hundreds arrested – especially those who have stood by the civilian population and cared for those injured in clashes with the army.
ICUs have been closed. Vaccine programs have been halted. Production of oxygen has almost ceased. Essential medicines and support systems are either in desperately short supply or are lacking altogether. A significant proportion of what supplies are available has been largely redirected to military hospitals.
Conditions are especially dire for the internally displaced populations, which have extremely limited access to all basic services, including healthcare. Endemic diseases such as treatment-resistant malaria, dysentery and TB are in many areas now going largely untreated. Counselling services to deal with these traumatised populations, and programs for psychological first aid and support, are virtually non-existent.
The scale of the carnage is impossible to assess precisely. The military regime lacks both the competence and the will to maintain public health structures, to conduct testing, to provide reliable data or to provide even the most basic support for those in urgent need. All that can be said is that, as a result of the actions of the military, Myanmar has gone from being a country with one of the most efficient health systems in the region which had managed the COVID-19 pandemic with reasonable efficiency to being a site for the unrestrained spread of the virus and a mounting, multi-dimensional health emergency.
The sad irony is that this was completely unnecessary. There was no economic or political crisis in Myanmar. There was an efficient government that was overwhelmingly popular, having only months before won an election that was unanimously validated by international scrutineers. There was a functioning, highly trained medical profession. The destruction of the country was motivated by nothing more than the greed and brutality of a small group of unscrupulous generals.
Added to this is the refusal of the population, including Myanmar's large array of ethnic groups, to accept the reimposition of dictatorship after years of a fitful emergence of democracy. What had started as a collection of sporadic resistance groups, in the process of negotiating peace agreements with the central government, has become a nascent federal army of resistance that is threatening to boil over imminently into a full scale regional war.
Putting all this together – mass murder, crimes of sexual violence, widespread terror, poverty, an unrestrained pandemic and civil war – the nightmare precipitated by the generals not only poses major threats to the country but now also threatens to destabilise the entire region. There is a major catastrophe unfolding in Myanmar and emergency action is needed to respond to it.
Effective actions are available. Key Australian allies, including the US, Britain, the EU and Canada – whose lead in other respects Australian often follows – have responded forcefully. Working together, they have imposed multiple sanctions against key junta figures and have taken action to limit arms supplies and prevent companies doing business with the illegal regime. These actions have been significantly strengthened in recent weeks following the anniversary of the coup. However, despite tough talk about support for democratic values around the world, the Australian Government has so far refused to take any meaningful action. The Foreign Minister has done no more than send a polite request to the junta to "engage meaningfully in inclusive dialogue for a peaceful return of Myanmar to the path of democracy".
The Government should follow the lead of its allies and take immediate action to stand up to the military junta and provide assistance to those suffering under its rule.. It should ensure the urgent supply of humanitarian and medical aid, through the WHO, UNICEF and other trustworthy NGOs, to those who have fled their villages. This includes COVID vaccines and food, shelter and physical protection, especially to women and children, who are particularly vulnerable.
Other actions should also be taken. An immediate and total arms embargo should be imposed on the Myanmar military. All international business activities by army members and their cronies should be frozen, including access to foreign assets, and travel. Targeted sanctions should be imposed on coup leaders and their collaborators.
Our government should advocate at the United Nations for the establishment of a special tribunal to investigate present and past crimes committed by the military. The scope of these crimes should include the Rohingya genocide in 2017, as well as the more recent attacks on opponents to the regime, including the dozens of death sentences handed out by the junta's military courts, as reported by Human Rights Watch and other independent bodies.
The National Unity Government, composed of the democratically elected representatives of the people, should be recognised as the lawful and legitimate government of Myanmar. Where appropriate, offers of amnesty may be offered to military personnel who are prepared to accept the authority of the legitimate government.
Support should be provided to ethnic groups in multiple regions which have over many years fought for self-determination and now provide crucial social and medical support for their populations as well as internally displaced people.
The Myanmar military is isolated, with almost no support among the population. Once it is displaced the future for the country will be bright. There is an experienced government that has won an overwhelming majority in a democratic election ready to resume control of the country. There is a highly skilled medical profession ready to take up the work of managing the health problems that are ravaging the country. And there are multiple economic opportunities that can open up for the world community once the rule of law has been re-established and a stable, legitimate and effective government has been restored.
It is in Australia's interests to support the people of a close neighbour with whom we have enjoyed deep and abiding political, economic, cultural and social ties. Ongoing conflict, including a regional war, would be harmful for all of us.
The struggle against dictatorship in Myanmar is a test case for the ability of the global community to put an end to unspeakable crimes against humanity. Its outcomes are likely to have profound effects on Myanmar and the region for many years to come.
Dr Raymond Tint Way was himself a victim of military violence in Myanmar in the 1960s. He is a psychiatrist in Sydney who has over many years cared for refugees and provided support for Burmese people in both Australia and Myanmar. He is Vice President of the Australia Myanmar Institute.
Professor Paul Komesaroff is a physician, Executive Director of Global Reconciliation and a board member of the Australia Myanmar Institute.