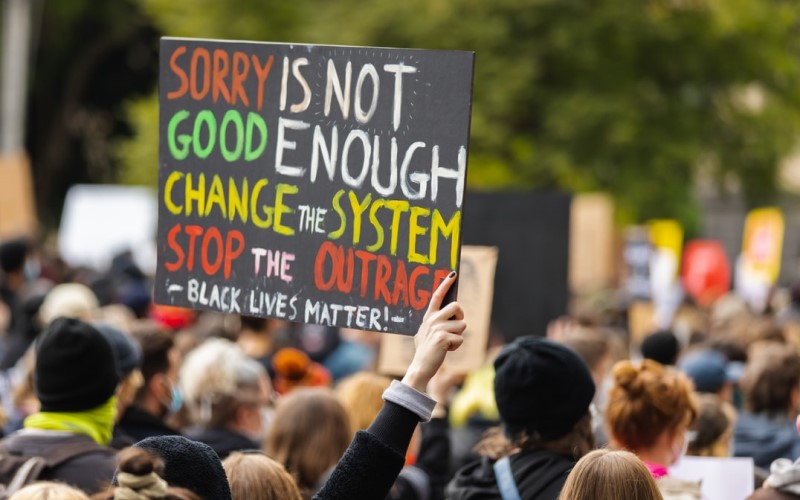 The day is an abomination masquerading as inclusivity. Whatever we call it, there should be no link to the violence of the colonisers.   
We in Australia are privileged to live among the oldest continuous cultures on the planet: knowledgeable, effective custodians of this land for anything from 65,000 to 80,000 years, This should be the foundation of pride in what it means to be 'Australian'. But is it?
In the Q&A that follows, I am asking questions as a non-Indigenous person of a leading First Nations thinker, Jack Gibson, who lives in western Sydney. With his partner, Jennifer Beale, Gibson co-directs the Butucarbin Aboriginal Corporation. Its stated purpose is to facilitate the economic, social, emotional and cultural development of local Aboriginal individuals, families and communities. All continue to suffer disproportionately from Covid-19 policies in New South Wales. However, my focus here is on better understanding core questions of identity, critical to any notion of 'moving forward' as a nation and the topic of Jack's current PhD research.
Q: Jack, can you please introduce yourself. And can you let readers know how you feel about this relatively new custom (to non-Indigenous people) of identifying with a particular Nation?
A: My name is Jack Gibson, I am an Aboriginal man of the Wiradjuri nation.
I have observed this form of identification in acknowledgments of Country (in certain circumstances) by non-Aboriginal people, and by the ABC showing both the Anglo name and the name of the Aboriginal Country the presenter was broadcasting on. At face value this practice can be read as a practice of inclusivity. Inclusion into what, I would ask? On the other hand, this 'inclusive' practice can be read as a form of appropriation of Aboriginal knowledge of Country/identity by non-Aboriginal people, thus privileging white-Australian-ness. The critical view of this new appropriated identity custom is that it is merely tokenism. We have to ask this question: will this new identity practice change the dire circumstances Aboriginal people experience, such as the appalling rates of Aboriginal incarceration including children, deaths in custody, children in out-of-home care and poverty?
Q: Has a local identity been strong for you? Or is 'Aboriginal' or 'First Nations' or 'Indigenous' a more comfortable and inclusive identity?
A: I identify as a Wiradjuri person who currently lives on Darug Country. I would argue the terms 'Aboriginal' and 'Indigenous' are inclusive and, at once, all encompassing, which can neglect the complexities and the pluralities of Aboriginal identities. 'First Nations' — a term that I prefer — points to the diversity among Aboriginal people.
Q: You are doing doctoral research on issues of identity and on this contentious word 'Aboriginal'. What is it that non-Indigenous people should better understand — not least about the huge diversity of 'identities' among First Nations peoples?
A: I think it would be more beneficial to facilitate non-Indigenous peoples' understanding of the conditions by which terms such as 'Aboriginal' and 'Indigenous' — both social constructs — came into being, and how the unquestioned acceptance of the terms contributed to white supremacy and inequality relative to Aboriginal (First Nations) people.
Q: Today is January 26, known to many as 'Australia Day'. It is also Survival Day, Invasion Day, or the Day of Mourning. Where do you sit with this day? And what should we call it to guide the way we think about it?
A: We are now seeing ads which reflect an inclusive Australia. This suggests that Australia Day is for all Australians, no matter their gender, class, race or ability, their education levels, or their financial status. We are led to believe we live in this wonderful egalitarian society. If, however, we were to collapse a diverse society into one Australia, all identities into an 'Australian' national identity, then what of the persistent power imbalances, what of the persistent structural inequities? Will they miraculously disappear with 'oneness'? To hold Australia Day on January 26 is an abomination masquerading as inclusivity. Whatever we call the day there should not be any link to the violent behaviour of the colonisers.
Q: Here we are in 2022 with a global pandemic entering its third year. Yet the "pandemics" of smallpox and other illnesses brought by the earliest settlers almost wiped out whole communities, not least in the Eora nation where Sydney CBD sits. The deliberate cruelty of that has been covered up. So have the consequences. Do you see any hope of Australians gaining the maturity to face that terrible past? Would the Uluru Statement from the Heart go some way towards that necessary truth-telling and healing?
A: In short, no. Australia has avoided the terrible past for a terrible long time. Successive governments continue to perpetuate the lie of the 'Aboriginal problem', that poverty, for instance, among Aboriginal people is their 'fault'. We have witnessed the actions of the colonialist Howard government with his yarmble [pretend] Northern Territory Intervention, and the Rudd Labor government continue the same lie to the detriment of Aboriginal people, with accusations of 'all' Aboriginal men being paedophiles. Aboriginal communities are being wiped out by ill-thought government policy. 'The torment of our powerlessness' is structural inequity. Whether structural inequity can be eliminated through a voice to parliament or by any other means, it needs political will. That requires deep listening.
Q: This continent we know as Australia is in desperate need of a traditional, spiritually respectful 'custodial' attitude to governing and caring, rather than the present 'plundering' in attitude and practice that's so rampant — and disastrous. What would it take to wake up 'ordinary' Australians to the wisdom that is right here, developed over 65,000 years, that they could benefit from and share? Maybe just a small shift in how they view the primacy of relationships: both to people and land?
A: I suggest that it is called 'deep listening'. We live in a society that, in the name of 'so-called' progress, is 'full steam ahead' and absolutely economically focused. People, especially leaders, do not take the time to take a breath, listen deeply and reflect. This is also what Senior Australian of the Year, 2021, Dr Miriam-Rose Ungunmerr-Baumann called for: deep listening. Listening by you to us.