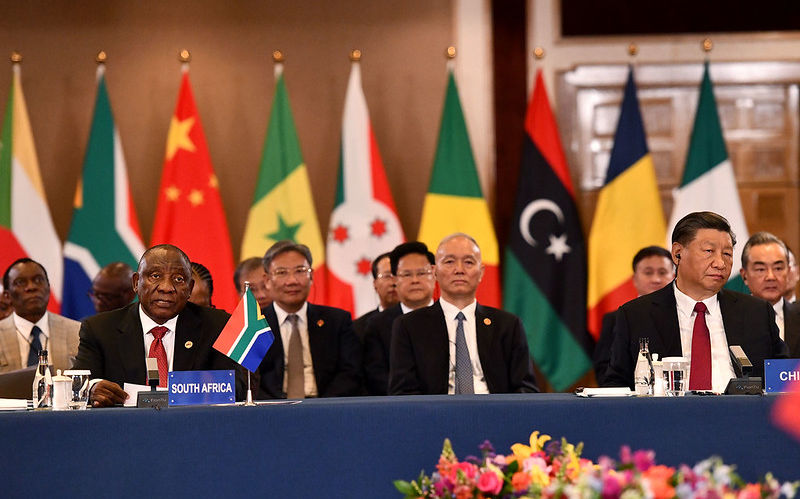 The just completed 15th BRICS Summit, held in Johannesburg, South Africa, has made some momentous decisions which will greatly effect the global geo-political order.
Participating were the leaders of the current five BRICS countries; South Africa's Cyril Ramaphosa as host, Chinese leader Xi Jinping, Indian Prime Minister Narendra Modi, Luiz Inacio Lula da Silva, the Brazilian leader, and virtually attending the Russian president, Vladimir Putin, due to charges laid against him by the International Criminal Court.
The theme of the conference, 'BRICS and Africa: Partnership for Mutually Accelerated Growth, Sustainable Development and Inclusive Multilateralism' was chosen by the host, with all 54 African leaders being invited to attend.
The Summit's most momentous decision was the admission of six new nations to BRICS. The Bloc added Saudi Arabia, Iran, Ethiopia, Egypt, Argentina and UAE while leaving the door upon to further expansion.
'We have consensus on the first phase of this expansion process and other phases will follow,' Ramaphosa said at a media briefing.
The new members admitted include three of the world's biggest oil producers: Saudi Arabia the UAE and Iran. This would appear to expand the influence of China and Russia in the Middle East. Recently China was able to bring to the table longstanding enemies, Iran and Saudi Arabia. Now they have both have been brought into BRICS.
The new candidates will be formally admitted 1st January 2024.
Together, the 11 countries have a population of some 3.7 billion, almost half the global populace.
The long list of other nations who have expressed interest in joining include; Afghanistan, Algeria, Angola, Bahrain, Bangladesh, Belarus, Comoros, Cuba, Democratic Republic of the Congo, Gabon, Guinea-Bissau, Honduras, Indonesia, Kazakstan, Mexico, Nicaragua, Nigeria, Pakistan, Senegal, Sudan, Syria, Thailand, Tunisia, Turkey, Uganda, Uruguay, Venezuela and Zimbabwe.
That interest seems to arise from BRICS representing an alternative to the current Western led global order, something clearly these nations view as not being in their interest.
The host Cyril Ramaphosa confirmed such stating, 'BRICS has embarked on a new chapter in its effort to build a world that is fair, a world that is just, a world that is also inclusive and prosperous.'
U.N. Secretary-General Antonio Guterres, in an address to the Summit supported the call for a less exploitative order pointing out that on average, African countries pay four times more for borrowing from international financial institutions than the United States and eight times more than the wealthiest European countries, concluding 'Redesigning today's outdated, dysfunctional and unfair global financial architecture is necessary, but it won't happen overnight… Yet we can and must take practical action now.'
Plenty of commentary in Western media prior to the summit suggested that there would be divisions on the core issues concerning the expansion of the Bloc, and developing a BRICS reserve currency. Such however, did not eventuate, even though decisions were made by consensus.
While it was speculated that India would act for Western interests, Prime Minister Modi charged, the bloc's expansion should be an example to other global institutions founded in the 20th century that have become outdated. 'The expansion and modernisation of BRICS is a message that all institutions in the world need to mould themselves according to changing times.'
Again, it was thought India may resist expansion of the Bloc, viewing that as means by which China and Russia could further build a geo-political bloc against the West. Modi, declared however, 'India has always supported the expansion of BRICS. India has always believed that adding new members will strengthen BRICS as an organisation,'
Western hopes that that Brazil would thwart such expansion also proved baseless with Lula da Silva stating, the interest of other countries to join the BRICS organisation showed how relevant its pursuit for a new world economic order is, before concluding, 'We will remain open to new candidates.'
There was conjecture that some nations, China and Russia, by pushing the Summit to begin making plans for a BRICS currency, as alternative to the dominance of the U.S. dollar as the global reserve currency, could cause fissures. Again, such did not eventuate. The Summit, recognising how the U.S. dollar has been weaponised, instead encouraged members to make more of their bilateral trade in their own currencies, while leaving open a future meeting, discussing creating a BRICS currency.
I.M.F figures show the U.S. dollar still accounts for about 88 percent of all international transactions and 59 percent of global foreign exchange reserves.
The dollar's hegemony allows the U.S. to use the Society for Worldwide Interbank Financial Telecommunication (SWIFT) as a coercive political tool against some countries.
Though South African officials had earlier said a BRICS currency was not on the agenda, speaking at the Summit Cyril Ramaphosa declared, 'We are concerned that global financial and payment systems are increasingly being used as instruments of geopolitical contestation. Global economic recovery relies on predictable global payment systems and the smooth operating of banking, supply chains, trade, tourism, as well as financial flows.'
Brazil's Lula da Silva added his voice for BRICS to create a common currency for trade and investment between each other, as means of reducing their vulnerability to dollar exchange rate fluctuations.
Clearly the idea of creating a BRICS currency as an alternative to the U.S. dollar is still alive.
Meanwhile other structures have been developed to circumvent dollar dominance.
The core BRICS financial institution, the New Development Bank has approved more than $30 billion of loans annually for infrastructure projects since inauguration in 2015, while participating countries have also agreed to pool $100 billion of foreign currency in a Contingent Reserve Arrangement, to be loaned during economic emergencies.
The BRICS bank already lends in Chinese yuan, with this Summit extending that to South African and Brazilian currencies.
BRICS is part of a move toward a more multipolar world, away from one dominated by Western multilateral bodies. Other multilateral groupings gaining influence include OPEC, the Shanghai Cooperation Organisation, the Belt and Road Initiative, the Southern Common Market (Mercosur), and the African Union.
Change is rapid. BRICS is often compared to the G7. In 2002, the G7 countries accounted for 42 percent of global GDP, but 20 years later, they represent just 30 percent. During the same period, BRICS members' share of global GDP increased from 19 percent to 31 percent.
Russia will assume chairing the group next year, including hosting a summit in Kazan during October 2024.