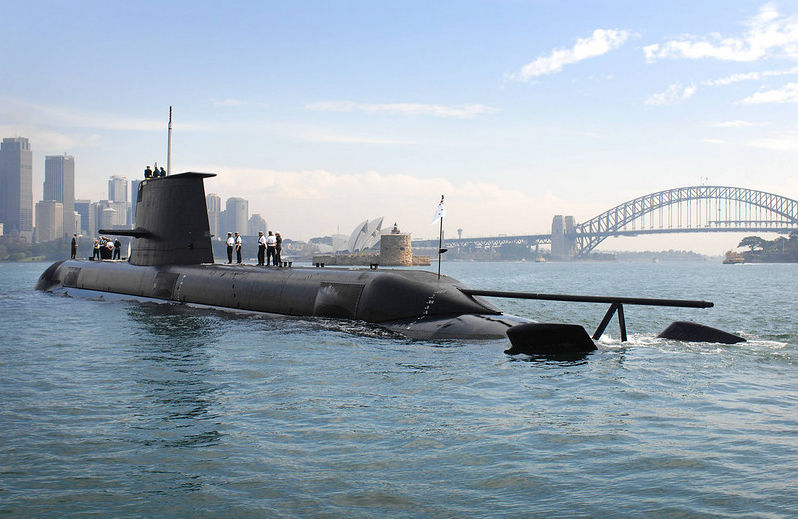 Australia's decision to acquire nuclear-propelled submarines will be staggeringly expensive and is unfit for the purpose of defending the country. It is prone to reinforce Chinese suspicions that we are determined on joining the United States in 'containing' it.
Australia nuclear aspirations began when Mark Oliphant assisted Ernest Rutherford advance theoretical physics at Rutherford's Cavendish laboratories in Cambridge in 1927. They continued when Chifley's foreign Minister, Dr Bert Evatt, became the first chairman of the UN Atomic Energy Commission in 1947. During the 1950s, Menzies allowed the British to test nuclear weapons in the Monte Bello Islands off Western Australia, then in the desert-scarred wastes of Emu Field and Maralinga in South Australia.
Conservative Australian politicians and academics advocated getting nuclear weapons. In the late 1960s, John Gorton planned to produce plutonium from a reactor at Jervis Bay to make atom bombs. He was frustrated by his successor, Billy McMahon, who said such a plan would never be tolerated by a public nervous about nuclear power.
The public were not only nervous, but inconsistent. Relaxed about exporting our uranium around the world for nuclear reactors, they didn't want nuclear wastes returned for permanent disposal in Australia. And the career of any politician who advocated nuclear reactors in his or her electorate was short.
In Canberra, fierce bureaucratic battles erupted between pro and anti-nuclear interests. The Department of External Affairs wanted our uranium exports encased in such strict safeguards that it could never be diverted to make nuclear weapons. The Department of Trade wanted such safeguards diluted so as not to scare off potential customers. The Australian Atomic Energy Commission, backed by conservative politicians and academics, wanted an Australian bomb and fewer safeguards.
Foreign Affairs usually prevailed, and successive prime ministers saw DFAT as Australia's prime nuclear policy maker. DFAT's most influential time was under Gareth Evans, who led the charge to indefinitely extend the Nuclear Non-Proliferation Treaty in 1995, supported adoption of the Comprehensive Test Ban Treaty in 1996, and effectively opposed continuation of French nuclear testing in the South Pacific.
But after Evans the Department began to lose influence as the arbiter of nuclear policy. John Howard started the rot. He opposed Peter Garrett's Nuclear Disarmament Party, abolished Bob Hawke's three uranium mine policy, supported Bush's national missile defence plans and his withdrawal from the Anti-Ballistic Missile Treaty. Howard buried the findings of the Canberra Commission, a group of eminent international thinkers whom Paul Keating summoned to Canberra in 1995 to identify measures to inhibit nuclear weapons proliferation.
DFAT clawed back some influence under Rudd and Gillard, but lost more under Abbott and Morrison. The nadir occurred when Morrison appointed Kathryn Campbell, a senior public servant with no experience as a diplomat, as Secretary in 2021. Foreign policy, including defence policy, had already moved from DFAT to the Departments of Defence and Prime Minister and Cabinet, and to the Australian Security Policy Institute , an allegedly independent think tank, but with financial backing from the Australian government, the State Department, and US weapons companies.
In September 2021, the Morrison government cancelled an agreement with the French from whom we were to acquire conventionally-powered submarines. It then announced without public discussion or parliamentary debate the advent of AUKUS, an Australian, British and US arrangement under which we were to acquire a range of state-of-the-art military equipment, including nuclear-powered submarines. This was the first time any non-nuclear weapon state would acquire such technology.
Is the danger of proliferation of global nuclear weapons technology worth risking for the benefits we would acquire from such submarines? Clearly not.
For area denial around Australia, we probably need a flotilla of submarines to replace the ageing Collins-class boats. If we'd had them in the Pacific War, we could possibly have deterred Japanese aircraft carriers from bombing Darwin in February 1942, or midget submarines from attacking Sydney Harbour and Newcastle in June 1942. Throughout the Pacific War we had none.
But should we now choose Japan's sōryō class boats as Tony Abbott wanted, or other conventionally-powered submarines from one of several equally sophisticated European makers? With air-independent propulsion, their underwater endurance is nearly as long as nuclear boats, governed mainly by their crews' endurance. And they are quieter under water than nuclear boats.
The cost? Estimates are rubbery, but we could probably acquire off the shelf, or make ourselves, five or six of these submarines for the price of one British Astute or (more likely) American Virginia boat.
The time factor? A full flotilla of nuclear-powered boats by 2050, compared to maybe 2030 for conventional boats.
Their purpose? To attack Chinese land and sea targets under American direction. Nuclear-powered Astutes or Virginias, the most intricate of modern submarines, carry vertically-launched cruise missiles to attack land targets as well as torpedoes to attack ships and submarines.
Who would have sovereignty? If we choose Virginia or Astute boats, their operation, maintenance and use would be almost entirely dependent on the Royal or United States Navies. We are already entangled in detailed US war planning, and could certainly not make independent decisions about where to deploy RAN nuclear-powered submarines, or against whom.
A war against China could probably not be won by the United States, with or without Australian assistance. To threaten such hostilities risks enormous destruction in our region and to Australia. As Hugh White observes in his Quarterly Essay Sleepwalk to War, the nuclear submarine project betrays complacency, incompetence and illusion on the part of our war planners. Labor's new Defence Minister, Richard Marles, shows no appreciation of this folly. Nor, yet, does Prime Minister Albanese. Only Foreign Minister Penny Wong seems heading in a saner direction.
Richard Broinowski AO was a senior Australian diplomat. His latest book, Fact or Fission – the truth about Australia's nuclear ambitions (Scribe 2022), explores the consequences of acquiring nuclear powered submarines.