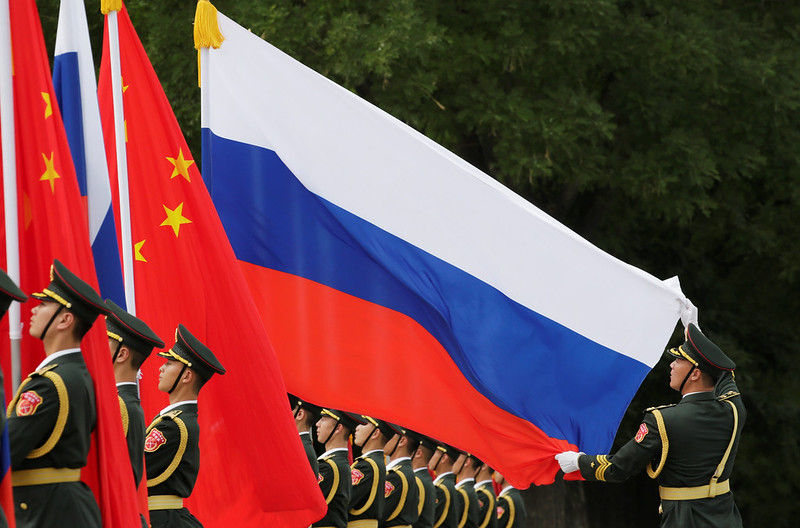 Scott Morrison is beating up fear of an Arc of Autocracy in a bid to boost his electoral chances. This short-term objective will not help Australia win the complex game of Weiqi chess currently being played in our region. The Russian invasion of Ukraine is not a predictor of a Chinese invasion of Taiwan, and neither situation directly threatens Australia to the extent Morrison would have you believe.
A month ago, Russian Foreign Ministry spokesperson Maria Zakharova jokingly asked Western media for a schedule of Russian "upcoming invasions" in 2022 so that she could plan her vacation. The humorous remark was a striking contrast to the language of Beijing press conferences. Russian lies may be coated in witticisms, but Chinese spokespersons merely hand out government platitudes. Vladimir Putin was undoubtedly preparing to invade Ukraine at the time of that press conference in mid-February but he was not sharing that information with the West or with China. That is why, according to an official transcript, Chinese Foreign Minister Wang Yi called his Ukrainian counterpart Dmytro Kuleba on 1 March, urging Ukraine and Russia to exercise restraint and to settle their differences through negotiation.
Moscow would not have been pleased about the direct contact between Beijing and Kyiv. The joint statement issued after Putin's February meeting with Xi Jinping in Beijing seemed to signal new close alliance between the two countries, united in opposition to the United States and its allies. But  that closeness is actually limited, and does not amount to Chinese support for Russia's attack on Ukraine. As the US Stimson Center's Yun Sun has commented, it is likely that Putin lied to Xi about his intentions, just as Zakharova lied to Western media,
Because China did not expect Russia to invade, the Chinese Embassy remained in Kyiv for some time after other countries withdrew their diplomats. Because of this deception, China had to modify its stance later. Xi endeavoured to maintain good relations with Putin and was guarded in his public remarks, in accordance with China's long-held principle of non-interference. Adhering to national policies of safeguarding national independence and state sovereignty, China also abstained from the United Nations Security Council vote and from the subsequent debate in the General Assembly. On 7 March Wang Yi, in a rare press conference, called for two priorities for action: dialogue for peace, and prevention of a humanitarian crisis.
On the same day as Wang Yi's press conference, Scott Morrison addressed the Lowy Institute, declaring that China should be denouncing Russian aggression, but instead was throwing it "an economic lifeline", thereby indicating that Russia had legitimate cause to invade.
The Morrison government may have some reasons for promoting the belief that there is an Arc of Autocracy, but the logic is highly questionable. The China-Russia relationship may be close but is historically, politically and economically complex.
China will in no way benefit from the crisis in Ukraine and the backlash it has produced from Western nations. Ukraine has been China's largest supplier of sunflower oil, a commodity of daily use in every household. While in January this year China and Russia signed an agreement on trade in wheat, overturning China's previous ban due to concerns about fungus contamination, this was largely driven by the fact that China's winter wheat production in 2021/22 is likely to be the worst in history due to heavy rain during the planting season. The easing of import restrictions was therefore domestically driven, not the economic lifeline to Russia as described by Morrison. China will suffer directly or indirectly from US and European sanctions on Russia, since Russia is a major crude oil supplier, much of it delivered by sea. Banking and financial sanctions will also complicate many aspects of international commodity trade and business transactions.
It is possible that these sanctions on Russia will backfire and drive the two countries, Russia and China, into each other's arms. This would be a blow to China's economic development plans, since these for decades have been founded on closer engagement with the West and China still looks to the US and Europe for technology and professional skills. As the economy has grown, it has increasingly been framed by acceptance of international law and regulation. Ultimately, China's foreign policy aims to expand the nation's role in the global system, not to overthrow it.
Historically speaking, China does share some concerns with Russia. Both national governments have faced dilemmas due to separatist movements, including, for China, Tibet and Xinjiang, and for Russia, the Urals, Tatars, Karelia, Crimea and Chechnya .  Both countries are also paranoid about "encirclement" by US military bases and alliances that they feel are hostile. So, unsurprisingly, there are close defence ties, particularly with regard to weapons, materiel and tactics. There are, however, flashpoints, including the status of Siberia, annexed from China by the Russian Empire through the unequal treaties of 1858 and 1860.
In addition, Xi Jinping does not share Putin's ambition for the country to become a great power. Generally speaking, China shows greater respect for legal precedents in international disputes. Xi would never launch an attack, such as Putin's on Ukraine, without even the pretence of legal justification, or determine to occupy, or "invade", Taiwan purely because the Mainland had the military and economic might to do so.
Xi Jinping is smarter than Vladimir Putin and takes advice from many thinktanks and advisers on international affairs. His military strategists are observing the progress of the Russian occupying force in Ukraine. His international relations analysts are charting the responses from around the world and noting how the Ukraine crisis has brought America and Europe closer together. Xi is not likely to move on Taiwan at this juncture, while the world's attention is focused on the Black Sea, as some have suggested. He may play some outflanking moves, reinforcing bases in the South China Sea, but he will not overturn international law or spoil vital trade and diplomatic relations on which China's future depends.
Russia may dominate the world of chess, but China invented Weiqi (commonly known by its Japanese name, Go).  The difference between the two is that Weiqi has a much larger board, more pieces, more scope for play and more alternative moves.