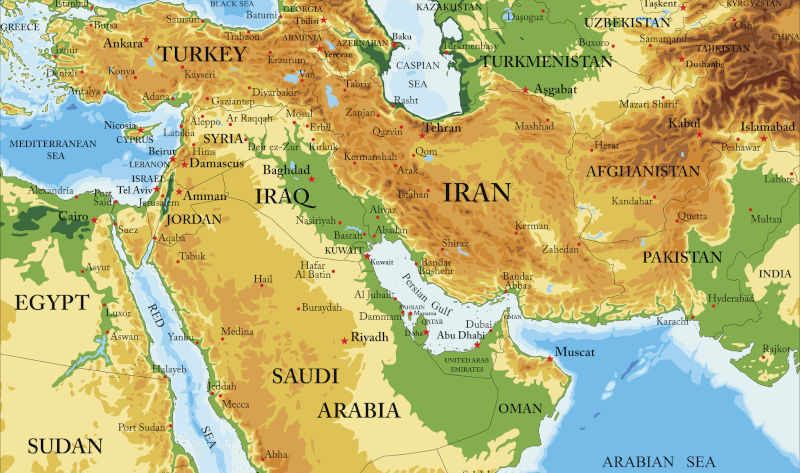 The countries where it's not safe for Australians to travel have multiplied, but not because of COVID. They include the places where we fought the war on terror.
Twenty years ago Australia joined the US 'coalition of the willing' to invade Iraq. One reason for doing that, our leaders said, was to remove Saddam Hussein's weapons of mass destruction. Another, they didn't say, was to complete the unfinished business of Gulf War I by eliminating one of the governments that comprised President GW Bush's 'axis of evil': Iran, Iraq, and North Korea.
Those were America's enemies, so as usual, they became Australia's enemies too. A fourth reason was revealed by US General Wesley Clark in 2007. The US intended to impose control over seven targeted nations in the Middle East: Iran, Iraq, Lebanon, Libya, Somalia, Sudan, and Syria. No-one publicly mentioned American control of oil. All of the targeted countries are now in economic and political chaos.
The US had already invaded Afghanistan in 2001, so it wasn't listed as a target. But that's where we should start if we want to know what more than two decades of allied military operations in the 'war on terror' have achieved.
Afghanistan is a no-go zone. The DFAT travel advisory on Afghanistan tells Australians that the situation remains highly volatile and dangerous. There's an ongoing and very high threat of terrorist attack, particularly in and around the diplomatic zone in Kabul, and near Kabul International Airport. Further such attacks are very likely. Australians are advised against travelling to and in Afghanistan.
Violent incidents are widespread, DFAT warns. Roads throughout the country and in Kabul have Taliban checkpoints. Border crossings are frequently closed, particularly when crowds gather or a terrorist attack is expected. Aid and humanitarian workers are threatened with harassment and kidnapping. Terrorists target convoys and NGO operations, in Kabul and across the country. Some of these attackers are politically motivated, while others carry out kidnappings for ransom.
Foreigners, including Australian aid and humanitarian workers, have been detained, for reasons that are not always clear. This can happen without the Australian Government being notified, and (with no Embassy in Kabul) it can do little to find out about detainees or help them. Since May 2021, the Interim Embassy has operated from Qatar.
Let's look up Iraq, which Australian forces invaded in 2003. There too, DFAT advises Australians not to travel. Violent clashes have occurred recently in and around the International Green Zone in Baghdad and in other governorates. Violence has declined, but the security situation throughout Iraq remains volatile.
As in Afghanistan, DFAT warns, Improvised Explosive Devices (IEDs) are widely used. Political rallies and protests can quickly become violent. Kidnapping, robbery and murder are common, and militia, organised criminal gangs, and tribal groups operate beyond police control. Travellers are advised to close the windows and lock the doors of their accommodation and vehicles.
Scams by Iraqis claiming to be importers are common. Some say they represent the Australian or Iraqi governments. DFAT tells travellers to advise the Australian Embassy in Baghdad if this happens. It advises those in Australia who receive requests for money, apparently from the government of Iraq, to contact the Embassy of Iraq in Canberra and to get legal advice.
Health poses problems too. COVID-19 remains a risk in Iraq, and HIV/AIDS is common. Malaria is widespread in the south and low-lying areas. Prevalent infectious diseases include haemorrhagic fever, cholera, typhoid and hepatitis, and travellers are urged to avoid raw or undercooked food and unboiled water. Australians who are injured or seriously ill are told they will need medical evacuation – and travel insurance to cover it.
Australians who try to preach anywhere but in a place of worship, or to convert Muslims, will break the law in Iraq. Muslims who abandon their faith do so too. There's capital punishment for murder, treason, terrorism and illegal drugs. During Ramadan, anyone who publicly eats, drinks, or smokes in daylight is committing a crime. So is anyone who photographs or films government buildings, checkpoints, military bases and embassies.
In Iraq, the import, manufacture, and selling of alcoholic beverages of all types attract heavy fines. Anything deemed by Customs officials to be a threat to the peace, security, health, environment, or social order of Iraq, is confiscated. If, despite DFAT's advice, you're in Iraq, the advisory concludes, 'leave as soon as you can'.
As for Syria, the third country where Australian forces waged war on terror in recent years, the DFAT website offers no advice at all.
In Afghanistan, Iraq, and Syria, Australians were told we were fighting to defend our way of life, in a region half-way around the globe. If we didn't defeat the terrorists there they would attack us here. We were fighting for freedom and democracy there – oh, and for the rights of women and girls to work and get an education.
We didn't defeat the Taliban, install good governance and law and order, or women's rights. We didn't manage to get all the Afghans and Iraqis, who had helped us, visas for Australia. For this result, we spent at least $8.561 billion in Afghanistan to 2016, and lost 41 ADF lives. In Iraq, we spent $5 billion, and lost four Australians. Since Afghanistan, 500 former ADF people have suicided.
In the three wars millions of Afghans, Iraqis, and Syrians died and are still dying. We have had no public inquiry into the three wars, what they were for, how we got into them, and with what result.
Worst of all, Australia is arming itself at even greater cost to do it again. Or rather, the US is setting Australia up as a garrison for the war it predicts is coming against China. Will Australians put up with this insanity? Before it's too late, will Parliament be able to vote against it?