What people in other forums are saying about public policy
---
The Australian economy
Albanese commits a Labor Government to abolishing capitalism
Just kidding – but it's no less absurd than Christian Porter's representation of Albanese's proposals to improve the pay and working conditions of casual and gig economy workers as Labor's $20 billion tax on jobs and an "extinction event". By such logic – if we can call Porter's rant "logic" – any pay above subsistence level is a "tax on jobs".
Albanese's speech Secure Australian jobs plan is hardly radical: it's essentially a statement of traditional Labor and Australian values about fairness, in the context of structural changes in the workforce:
Good employers give their workers security and a fair day's pay for a fair day's work.
In return, good workers give their employer loyalty, understanding that their jobs are linked to the viability of their employer's business.
That's the contract that keeps capitalism working, but Porter chooses not to understand it.
Albanese's actual words, that Porter quotes only partially are:
It's time for a national approach. That's why a Labor Government that I lead will consult with state and territory governments, unions and industry, to develop, where it is practical, portable entitlements for annual leave, sick leave and long service leave for Australians in insecure work. [emphasis ours]
He cites examples where satisfactory arrangements have been made, such as portable long service leave for social and community service workers in Queensland.
However, possibly because of Porter's misrepresentation of Labor's policies, and sloppy or partisan reporting in the media, there has been a hysterical response to Labor's proposals however.
Do we want to live in a country where the needs of the middle classes are served by an impoverished and subservient underclass – as the USA has become? To borrow a phrase from Porter's side of politics, that's another road to serfdom.
Surely Australians are better than that. Surely we are prepared to pay a little more for our pizzas and our Über rides, and to pay a little more in tax to see that Australians living in aged care are being attended to by people who are respected, secure in their jobs and well-paid.
How good is Australia?
"Australia is less productive, more unequal, more corrupt, less happy, more indebted, less affluent, and less trusting of public institutions than when the Liberal National Party government was elected in 2013".
That's how Julian Hill, Federal Member for Bruce and Deputy Chair of the Australian Parliament's Joint Committee on Public Accounts and Audit, summarises our situation.
He backs up that statement with data from reliable sources – mainly the OECD, and from the government's own economic publications. Since the Coalition came to office in 2013 real wages have fallen, productivity has gone backwards, household debt has risen to almost the world's highest, housing has become even more unaffordable, economic inequality has widened, our school education levels have slipped relative to other countries, our broadband remains pathetically slow, and our industrial base lacks the complexity we find in truly "developed" countries. These are all described and quantified in his paper Australia's global performance: falling behind.
Can Australia join the green trade movement?
The countries with which we trade are transforming their economies towards zero carbon emissions. Our policies that seek to entrench our present economic structure, based on continued reliance on carbon-intensive industries, leave us at risk of being left behind in a changing world.
That's the essential message of Chasing the pack: Australia's prospects on green trade and climate diplomacy, written by Toby Phillips and published by the Centre for Policy Development. To quote from its summary:
There is a surge of international action around green trade, climate diplomacy, and low-carbon investment. New industries based around renewable energy and green tech are dominating other countries' long-term trade plans, and global green finance is accelerating as asset managers and investors claim a slice of this economic activity. There are huge opportunities on offer, but without a recalibration, there's every chance Australia ends up with a weaker trade position, stuck behind the pack in the global economy.
The paper paints a picture of a country with an export base dominated by coal and iron ore, while other prosperous countries and many "developing" countries are more specialised in knowledge-intensive exports. We face declining global demand for carbon-intensive products and possible trade preferences for "green" goods.
We are not condemned to this path and the re-structuring of global trade in response to Covid-19 could present opportunities for Australia.
Motoring news
There are two ways to consider how electric vehicles, particularly electric cars, will interact with the electricity industry.
The first is in terms of their demand on an already stretched electricity system, drawing power at peak times, and actually contributing to greenhouse gas emissions until the time when our electricity can be generated from renewable sources, and that time is a long way into the future. It reflects a dismal and unimaginative way of thinking.
The other is to see electric cars as batteries on wheels – batteries that spend about 95 per cent of their time stationary when they can be storing or discharging electrical energy, helping to stabilise the electricity supply system, smoothing out hour-to-hour imbalances in electricity supply and demand. It reflects a more expansive and entrepreneurial way of thinking.
Angus Taylor's press statement on electric vehicles last Friday, was very much in line with the first way of thinking. It is backed by a "Future Fuels Strategy" discussion paper – note that responses are due by 1 April.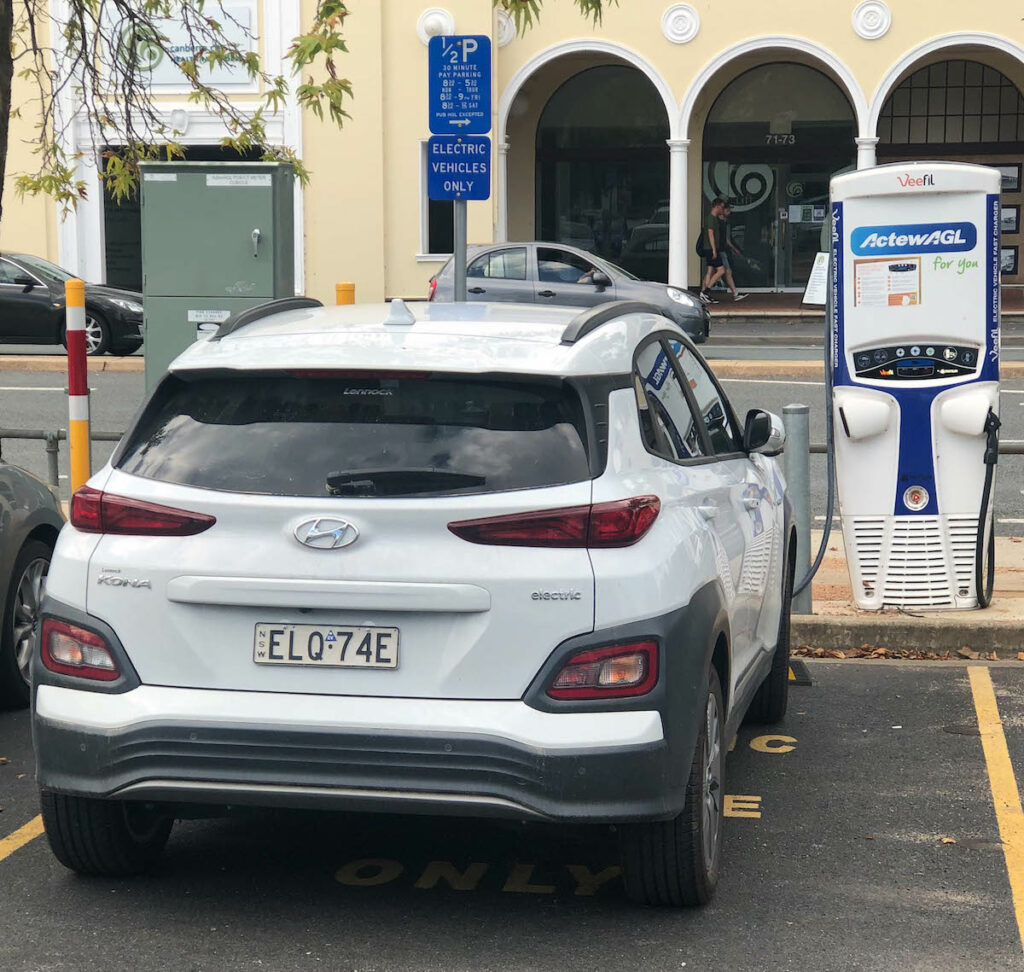 That discussion paper has been written in a way to make electric cars appear very costly to own and operate compared with conventional internal combustion vehicles. Because they are so expensive, any subsidy to encourage their uptake would be absurdly expensive in terms of abatement cost per tonne of CO2 saved. QED.
Those costs are pushed up by a costing methodology that assumes electric vehicles have a life of only five years, are financed at an undisclosed (presumably high) rate of interest, and are charged from the grid with electricity costing 30 cents per kWh.
The paper is a little more supportive of hybrid vehicles, but it fails to acknowledge that hybrids are at best a transition technology and that many countries have plans to ban hybrids over the next few years.
Apart from a commitment of $72 million for charging infrastructure there is no other encouragement for people to buy electric vehicles. Those minor initiatives prioritise fleet operators, whose vehicles are least able to be used as "batteries on wheels", because they will most likely be recharged at night when renewable energy is least available and they will be on the road in the day, missing the opportunity to recharge when renewable energy is most plentiful.
Giles Parkinson of Renew Economy contrasts Taylor's approach with the approach in other countries, quoting the Electric Vehicle Council description of Taylor's policy as "flaccid, do nothing".
Alan Kohler, writing in the New Daily, is more optimistic. He describes the policy as "the EV strategy you have when you don't want an EV strategy", but he is confident that the market will ignore Taylor and Morrison:Investors will pull Australia into the future even if EVs don't tow Scott Morrison's boat.
Kohler's reference to towing boats is about Morrison's idiotic statements during the 2019 election campaign when he accused Shorten of depriving Australians of their right to tow their boats to their family camping spots. We have good news for Morrison and for all real men who lust after grunt under the hood: there is now an electric Toyota Land Cruiser in production.
Water policy in a drying continent
The National Water Initiative is a Commonwealth-state agreement on water resource management. The Productivity Commission has released its draft report National Water Reform 2020 – its second triennial assessment of jurisdictions' progress towards achieving the NWI's objectives, with advice for future reforms.
There has been progress in "lower average use by households, more efficient use by industry, more water for the environment and better adaptation to uncertainty". But growing population and falling water supply due to climate change are presenting serious challenges for the future.
Unsurprisingly it finds that overallocation and environmental degradation have been particularly pronounced in the Murray-Darling Basin. It notes that there have been governance and compliance failures in some Murray-Darling Basin jurisdictions, contributing to environmental stress.
It recommends improved governance, particularly to protect environmental water, noting that the NWI's governance architecture has been significantly eroded over recent years. It recommends scrapping exemption of the mineral and petroleum industries from allocation rules applying to other industries.
Submissions to the Commission are due by Wednesday March 24.
Australians are well-skilled – for yesterday's jobs
When we think of the ways Covid-19 has shaped the way we work we may consider that working from home has been the only change, but a survey by RMIT in association with Deloitte Access Economics found that much more has changed: only 34 per cent of respondents said that their job "is the same as it was before Covid-19".
During the pandemic jobs with skills in mathematics, programming, technology design and data analysis have been among the fastest growing. Around 87 per cent of jobs now require some level of digital literacy, but about a quarter of Australians feel that they lack the skills they need, and many are unaware of avenues for skill development.
The report "Ready, set, upskill: Effective training for the jobs of tomorrow" can be downloaded from RMIT. You have to register a few details to view it, but it is reasonably well-summarised on the main page.
---
Sleaze
Uneasy is the head that wears a crown
Quote from the Report of the Inquiry under section 143 of the Casino Control Act 1992 (NSW):
Question: Whether the Licensee is a suitable person to continue to give effect to the Barangaroo restricted gaming licence?
Answer: No

Gambling expert Charles Livingstone of Monash University provides a more expansive summary – "Not suitable": where to now for James Packer and Crown's other casinos? – published in The Conversation, Livingstone details the "serious corporate failures" revealed in Patricia Bergin's report, including "infiltration and exploitation of Crown's Melbourne and Perth operations by 'criminal elements, probably including international criminal organisations'".
He reminds us that the inquiry's finding is based on revelations of wrongdoings in the company's existing operations in Melbourne, Perth and in China, a point taken up by Andrew Wilkie, who calls on the premiers of Victoria and Western Australia "to suspend Crown's casino licences in their jurisdictions, and to immediately establish commissions of inquiry to get to the bottom of what is now a genuinely national issue". He also calls on the Prime Minister "to revisit my repeated calls in the Federal Parliament for a Royal Commission into the casino industry", a call twice voted down by both the Government and Opposition –  Crown not fit to operate any casino in Australia.
Wilkie also has a short (8 minute) interview on ABC RN Breakfast in which he and Fran Kelly discuss money laundering in all gambling establishments, noting that about 20 per cent of money put through poker machines in New South Wales is linked to organised crime. Wilkie describes how money laundering through gambling establishments is so easy and undetectable. Patricia Bergin's report notes that money laundering could be effectively suppressed and harm to problem gamblers reduced with a government-issued gambling card, pre-loaded with the amount of money one is prepared to lose, displacing the anonymity of cash. Clubs NSW and the Australian Hotels Association have used their political clout to lobby against such a measure.
Wilkie calls for a new board and a cleanout of Crown's management. If you read Part 4 of Bergin's report – the Suitability Review – no-one stands out for having behaved with virtue. Although the media has focussed on James Packer and on individual board members, Bergin  reminds us that "in her role as Chairman of Crown Ms Coonan is responsible to a greater extent than any other director for the performance of the Board as a whole and each member of it". The Murdoch media and other partisan commentators draw attention to the finding "Ms Coonan has demonstrated the qualities that are necessary to have taken her into the leadership role of Crown and is exquisitely aware of the depths of the problems within the company of which she is now Chairman", but it's a carefully-worded statement about her capacities and her knowledge, not her behaviour over the nine years she was a member of the board. If you read the rest of that section it goes on to describe her shortcomings.
---
Democratic deficits
Australia slips on the democracy index
Up until 2019 Australia was among the top-ranked countries in the Economist Intelligence Unit's Democracy Index, but in 2020 we fell into the second tier with a score below 9 out of 10. Our high point in 2012 was 9.22, but it has been slipping since then: it is now 8.96.
The top scores are the Nordic countries, New Zealand, Canada and Ireland. We can console ourselves that we're well ahead of the UK (8.54) and the USA (7.92, putting it into the "flawed democracy" category), but these are not very high hurdles.
We fall down on three of the EIU's five dimensions: "functioning of government", "political participation" and "political culture", while scoring well on "electoral processes and pluralism" and "civil liberties".
Descriptions of these criteria are in the report's appendix. Functioning of government is assessed by responses to questions such as "Do special economic, religious or other powerful domestic groups exercise significant political power, parallel to democratic institutions?" and "Is the functioning of government open and transparent, with sufficient public access to information?". We would have scored badly on both of these questions. On political participation we score poorly in spite of compulsory voting, possibly because of low membership of political parties. On political culture there is a set of questions relating to our attitudes to democracy and another set of questions about people's desire for a "strong leader" who bypasses parliament and elections.
The report Democracy index 2020, in sickness and in health, is available from the EIU website, but you have to register to gain access.
Are young people ready to engage with democracy?
Most young Australians finish secondary schooling with a limited understanding about our political system and of what it means to be a citizen.
This is revealed in a NAPLAN assessment of students in Years 6 and 10 for their proficiency in civics and citizenship, conducted every three years. To quote from the NAPLAN site:
Civics refers to the study of Australia's system of government, historical and current governance practices, Australian identity and culture, democratic processes, the judicial system and the impact of local, state, national, regional and global influences. Citizenship relates to being part of a group that carries with it a sense of belonging or identity and includes rights and responsibilities, duties and privileges.
Writing in Open Forum, Zareh Ghazarian of Monash University has saved us the effort of digging through the 187 pages of the most recent (2019) report: Australian needs a civics lesson. Among Year 10 students there has been a declining proportion of students achieving basic proficiency standards, and there are significant differences between students from different backgrounds. Young women perform better than young men, city students perform better than country students, and children of tertiary-educated parents perform better than children whose parents have only high school education.
Those with an interest in more detail, or in performance by state, will find relevant tables in the report. Students in South Australia, Tasmania and the Northern Territory have significantly lower scores at both Year 6 and Year 10 than students in other states for example. And on Pages 26 – 28 there are key findings on specific issues, for example students' concerns about environmental matters, with more detail in the body of the report on Pages 70 – 89. Students attach high value to specific issues such as human rights and protecting natural resources, and to voting in elections, but "discussing politics" is not appealing. One notable finding is that among Year 10 students only 36 per cent trust "the media" and even fewer – 30 per cent – trust "social media". Political parties score poorly on trust, but parliaments and institutions of justice score comparatively well.
The proposed Commonwealth Integrity Commission – weak, secretive and compromised
On ABC RN Breakfast Shadow Attorney General Mark Dreyfus dismisses the Government's proposal for a "Commonwealth Integrity Commission". He says "what's proposed by this government is a weak, secretive and compromised commission. It won't be able to hold its own inquiries, it could only act on referrals, and it wouldn't be able to hold public hearings." (14 minutes).
Farewell Kevin Andrews – his departure reveals a weak spot in our democracy
It's unlikely that many readers of Pearls and Irritations will miss Kevin Andrews, member for the Liberal seat of Menzies in Melbourne's north eastern suburbs. It's considered "blue ribbon": he won it with a TPP majority of 58:42 in 2019.  But in spite of support from Liberal Party elders, he lost party endorsement in a preselection ballot on 31 January.
His loss has worrying signs for democracy according to Crispin Hull in an article Democracy's fragility revealedon his website. In case you believe Hull has undergone some form of conversion and mourns the loss of Andrews in public life we suggest you read his short article: he exposes a deep flaw in our political institutions.
Another right-wing assault on media freedom
Deutsche Welle reports that the Viktor Orbán Government has prevailed in its move to cancel the broadcast licence of Klubradio, one of Hungary's last independent radio stations: Hungary's opposition Klubradio to be taken off the air.  The decision has been strongly criticised by the commissioner for human rights of the Council of Europe and has brought thousands of protestors onto the streets of Budapest.
---
Australians detained by authoritarian governments
China – Cheng Lei
Elena Collinson, of the Australia-China Institute at the University of Technology, Sydney, urges us and our government to strive for justice for Australian journalist Cheng Lei –  Australia must continue to press for humane treatment of journalist Cheng Lei after her arrest in China – published in The Conversation. She describes Cheng Lei's detention and arrest in the context of Chinese law and the relation of Australia and other countries with China.
UK – Julian Assange
A coalition of 24 civil liberties and human rights organisations, including Amnesty International, Human Rights Watch and Reporters Without Borders have written to the Biden Government urging it to drop its effort to extradite Julian Assange from England. They "share the view that the government's indictment of him poses a grave threat to press freedom both in the United States and abroad".
The New York Times explains how successive US administrations have dealt with the Assange case and how the Biden Administration might deal with it. The Obama Administration did not seek to bring charges against Assange: "The Obama team did not want to create a precedent that could chill or cripple traditional journalism". But the article also points out that Democrats are no fans of Assange, in light of WikiLeaks' publication of Hilary Clinton's emails in 2016.
A report on the ABC (our ABC) reveals that a US Justice Department spokesperson has said that the US will continue to challenge the UK court's ruling that Assange should not be extradited.
Myanmar – Sean Turnell
Al Jazeera has a short article on Sean Turnell's detention by Myanmar's military, including a statement from his family.
---
Religion and politics
Joe Biden and the Catholic Church
Joe Biden follows Jack Kennedy as the second Catholic to be elected US president.
In the 1960 election the hierarchy of the Catholic Church in America threw itself behind Kennedy's bid for presidency, even though his private life hardly aligned with the church's codes of personal behaviour. Irish-American tribalism was at play.
In 2020 the US Catholic Bishops' Conference, by contrast, came out strongly in support of Trump. That support wasn't confined to the bishops: the Pew Research Center found that while Catholics supported Biden over Trump (51:44 per cent), those who identified themselves as "white Catholic" supported Trump over Biden by an almost mirror-image margin (52:44 per cent).
Demographics may have something to do with this change: in 1960 it was a pretty reliable to assume that a Catholic American (and Australian) was of Irish ancestry, had probably experienced religious discrimination, and would vote on tribal lines. The Catholic community in America 60 years later is much more catholic in the true sense of the word.
But there is more than a demographic shift. Massimo Faggioli of Villa Nova University, one of America's prominent Catholic universities, explains how many American Catholics have allowed candidates' stand on abortion to become the defining political issue: "Battle for the soul of America": A Catholic president faces not just a divided nation, but a divided Catholic Church" on the ABC's Religion and Ethics site. Abortion has become separated from the broader issue of life in its entirety explains Faggioli, and has pushed the bigger agenda of Christian social teaching into the background.
Islam and the Middle East in 24 minutes
In most of the middle east, in various manifestations, a slow separation of religion and the state is emerging. It is most advanced perhaps in the United Arab Emirates, and is only weakly evident in Saudi Arabia (where atheism is still regarded as terrorism), but it is a trend. The only country in the region where religion and the state seem to be becoming more entwined is Turkey.
That's the main theme of Geraldine Doogue's interview with Singapore journalist and academic James Dorsey on last Saturday's Saturday Extra, modestly titled Middle East politics. The trend is as much about geopolitics as it is about developments within these countries.  It is partly about declining religiosity, but also about people's desire to practise religion their own way without being directed by political or religious establishments. And we should not equate secularisation or the separation of religion and state with liberalism: in these countries rulers maintain their string grip on power.
In the last few minutes of the time slot there is another segment with Dorsey on Indonesia and its place in the world, partly in the context of religion but more generally in the context of Indonesia's growing and unacknowledged influence in world forums.
Pope Francis: Let us dream: the path to a better future
Philosopher Reg Naulty has a review of Pope Francis' book Let us dream: the path to a better future. To quote from Naulty's review:
Pope Francis re-couples economics and morality by making the goal of economics the pursuit of the common good, which involves sharing the riches of the world among everyone, and regenerating nature, the source of the riches. The common good also includes obviously moral goods like social solidarity and fraternity.
Pope Francis sees the Covid-19 crisis as an opportunity to reflect on whether we wish to proceed in the future as we have in the past, where in many countries we have allowed the market to dominate our lives. Society is not just an amalgam of individuals each pursuing his or her own best interests (the assumption of neoclassical economics).
---
The China US relationship – three contributions
An ASEAN perspective – a less offensive relationship but otherwise not much to change
The US-China contest will continue, writes Kishore Mahbubani – Biden and China: friends or foes? It will not be tainted by the offensiveness that characterised Trump's dealings, but it will still be shaped by structural forces that go beyond Biden's personal behaviour. The most powerful of those forces is the inevitable struggle between great powers competing for the number one position. And there are other historical forces that will continue to shape Biden's behaviour, described in Mahbubani's book Has China won?
Mahbubani's perspective is an ASEAN one. No country in our region benefits from the US-China contest as it has played out: "both US and China should press the 'pause button' on the contest" he writes.  There are serious issues to be addressed through great power cooperation, including climate change and the resurgence of global poverty as a result of Covid-19, and no country should find itself having to take sides with either US or China.
Kevin Rudd's perspective – the realpolitik of managed strategic competition
In Foreign Affairs Kevin Rudd has an essay Short of war: how to keep U.S.-Chinese confrontation from ending in calamity.  He summarises the risky situation the Biden administration has inherited:
Washington must decide how to respond to Beijing's assertive agenda—and quickly. If it were to opt for economic decoupling and open confrontation, every country in the world would be forced to take sides, and the risk of escalation would only grow.
Rather, he urges a steady shift towards "managed strategic competition", in which Washington works with Beijing on shared issues, while re-establishing its own authority in world affairs. China will be the world's largest economy by the end of the decade and as the US has withdrawn from multilateralism China has increased its own stature on the world stage: "by far the greatest gift that Trump delivered to Beijing was the sheer havoc his presidency unleashed within the United States and between Washington and its allies".
Unlike many commentators who focus on what the US or "the west" should do, Rudd's analysis is very much from a strategic perspective – he considers not only Washington's choices and consequences, but also Beijing's choices and consequences.
More in-depth analysis
In the comments last week, Dr Stephen Allen drew our attention to an essay on The Atlantic Council website: The longer telegram: toward a new American China strategy. Its authorship is anonymous, but the quality of its analysis and the author's knowledge of China's politics rule out all but a few possibilities for the writer's present position. It us undated, but references to events point to it being written around October 2020.
To quote from its summary:
The uncomfortable truth is that China has long had an integrated internal strategy for handling the United States, and so far this strategy has been implemented with reasonable, although not unqualified, success. By contrast, the United States, which once operationalized a unified strategy to deal with the challenge of the Soviet Union, in the form of George Kennan's containment, so far has none in relation to China. This has been a dereliction of national responsibility.
---
Public Ideas
Shareholder capitalism must give way to stakeholder capitalism
There was a time when the World Economic Forum with its annual meetings in Switzerland's ski resort in Davos was known as the Woodstock for plutocrats, but in recent years it has turned to the serious matter of the capacity of economic systems to develop prosperity for the whole world. It is well worthwhile to dip into the website The Davos Agenda to find how the world's leading economic and political figures are thinking.
One contribution this year is After the rise of the West and Asia, we need a better form of capitalism, written by Peter Vanham and Johnny Harris. In the last 75 years the world has seen an unprecedented explosion of wealth, particularly in Asia. For the first time in recent history Asia's share of world GDP is now more than 50 per cent.
But this explosion of wealth has been accompanied by a rise in inequality: those who contribute to it are not sharing its benefits. And as exemplified by the problem of global warming, the current pattern of growth is not sustainable.
Capitalism must therefore adapt from a model that prioritises the short-term financial interests of shareholders ("shareholder capitalism") to one that shares its benefits with all who contribute ("stakeholder capitalism"), and that sustains vital natural resources.
(Stakeholder capitalism is not a new idea – it was promoted by professors such as Chester Barnard, Adolf Berle, Gardner Means and Kawakami Hajime 90 years ago, but it went off the agenda as schools of institutional economics, with an emphasis on understanding business, were driven out of universities by business schools with an emphasis on training people how to make their way into the corner office.)
Politics: the sound and fury signifying nothing
That's the title of Nicholas Gruen's contribution to The Mandarin, explaining the hollowing out of politics. He sees the storming of the Capitol not so much in terms of a mob united around some economic or political principle, but as a heterogeneous gathering of people akin to people supporting a football team, united only in their slogans and team regalia.
It doesn't have to be this way, he writes. People have a natural tendency to see one another's point of view and to compromise. Perhaps a citizens' assembly could provide a "counterweight to elections that plays to those inherent strengths" he writes.
---
The pandemic's progress
Australia – hotel quarantine stuffed up again
To quote from the Constitution:
Part V – Powers of the Parliament 51. Legislative powers of the Parliament
The Parliament shall, subject to this Constitution, have power to make laws for the peace, order, and good government of the Commonwealth with respect to:
[…]
(ix) quarantine;
By now premiers must realise that Morrison, the master in marketing, sold the states a pup when he handed over quarantine to the states while the Commonwealth looked after transfer payments. The Commonwealth's higher rate of unemployment benefits and youth allowances ends next month, but infected travellers will be entering the country in increasing numbers for years to come.
As Adrian Easterman of the University of South Australia says (and as do many others), it's time to move hotel quarantine out of cities, and the Commonwealth needs to shoulder its constitutional responsibility. (The Conversation).
It is hard to imagine the injustice people must feel when they have spent difficult months in England or some other highly-infected country successfully guarding against the virus, only to be exposed to it because of cobbled-together quarantine arrangements on their return home. They have every right to be angry at the Commonwealth which has taken all credit for the states' hard work in suppressing the virus while neglecting its responsibilities in quarantine and aged care.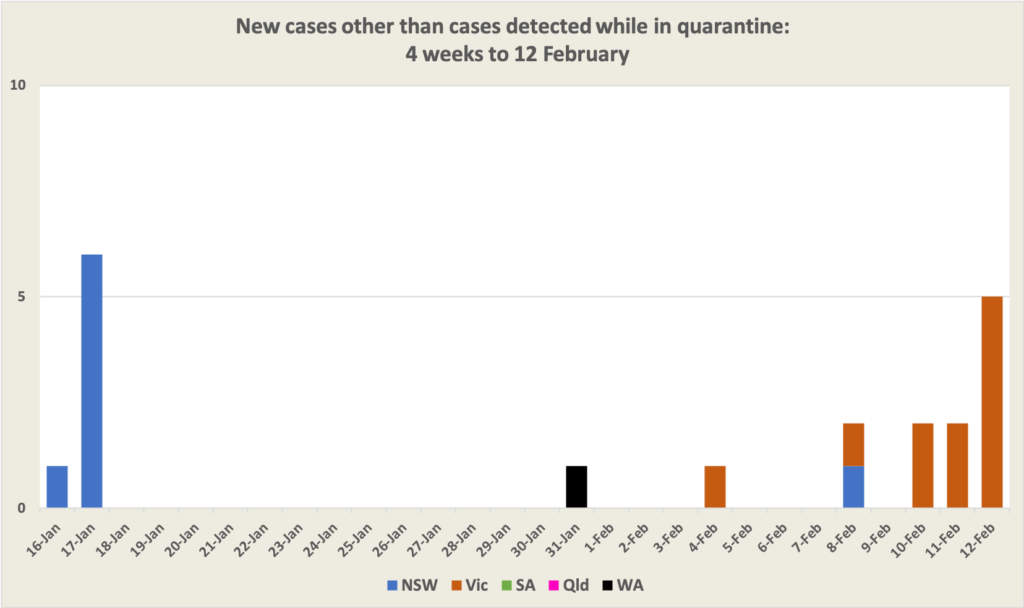 Why outbreaks matter
One of the commentators last week pointed out that even though the highly infection UK mutant had escaped from quarantine there wasn't evidence that it had spread. Yet we had borne the costs of hundreds of thousands of tests and partial lockdowns. Were such reactions necessary?
That's a valid point, but we should be wary of the "just one case" idea. As a reminder, below is a chart of what happened in Victoria in June last year – note the logarithmic scale. On June 6 there were no recorded cases, on June 7 there was one case. The rest is a story of exponential growth, until it started to be checked about three weeks later (where the black line dips below the red trend line), at massive cost to the state and the nation. With at least 13 cases in the current outbreak Victoria is already a fair way along that line once again.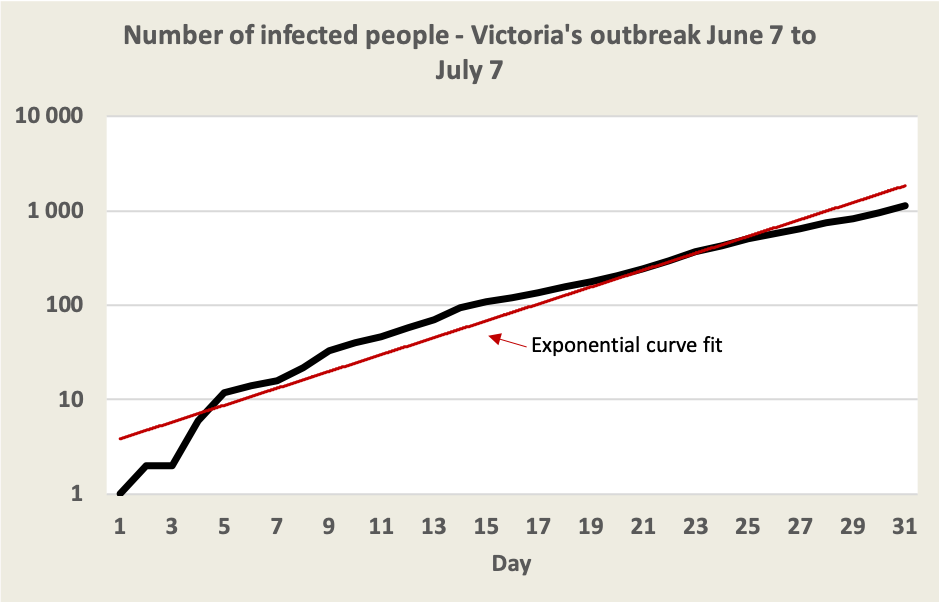 The Morrison Government's variation on the "just one case" argument is to assert that out of 250 000 people who have passed through hotel quarantine, there has been only "a handful" of cases that made it into the community. That's its defence of hotel quarantine backed by its reluctance to deal with the strong evidence that the virus spreads through aerosols, because hotels cannot protect against aerosol transmission. If it admits that hotel quarantine cannot work, the Commonwealth would have to invest in more well-ventilated facilities such as Howard Springs.
The line that aerosols aren't responsible for virus transmission is becoming increasingly difficult for Commonwealth officials to defend, leading to community suspicion at a time when community trust is most needed.
Australia's vaccination program
Because of reports about the lack of evidence that the AstraZeneca/Oxford vaccine offers protection against the B.1.351 variant of the virus (the "South African" variant). the WHO points out, on the basis of preliminary trials, that it offers protection against "severe disease, hospitalisation and death". It urges manufacturers to adjust to the virus's evolution, but it does not recommend it be withheld from use.
There has also been concern about its efficacy among older people. The WHJO's Strategic Advisory Group of Experts on Immunisation notes that there were few older people in the clinical trials, but it finds that the immune responses among older people are similar to those in other age groups. "The trial data indicate that the vaccine is safe for this age group". The ABC's Samantha Hawley summarises the WHO's findings in a short article: World Health Organization scientists recommend Oxford/AstraZeneca vaccine for all age groups.
It must be of concern for the government that the AstraZeneca/Oxford vaccine has a published efficacy of only 63 per cent. Public health professionals know that, provided high vaccination rates are achieved, it should be highly effective in both reducing severe cases and in pulling down the virus's reproduction rate. But there is research from behavioural economics showing that people do not take a rational approach to risk: any measure that is perceived to give anything less than 100 per cent protection is devalued in people's perception. This presents a challenge for governments and public health officials, dealing with a public who distrust governments and who have been told by successful Coalition governments to distrust science.
The government's promotion of vaccination is not helped by the Health Minister, Greg Hunt, putting a Liberal Party logo on a Twitter post about the government's success in securing an additional 10 million doses of the Pfizer vaccine. Up to now Hunt has managed to sustain the community's trust by keeping partisan politics out of his public health announcements, but by associating the Liberal Party with vaccination he risks elevating suspicion among an already cautious public. Polling shows that people put a great deal more trust in the administrative arms of government than in political parties. The Liberal Party, in particular, has made it clear that it has little respect for the truth: its tainted brand should be kept well clear of public health.
The rest of the world
Here are the usual curves for Europe and the USA. Infection rates are well on the way down, particularly in the USA and Britain. It is possible that after all its delays and procrastinations, at this stage of the pandemic the UK is doing better than the rest of Europe. European Commission President Ursula von der Leyen has acknowledged that the EU could have done better in its vaccination program.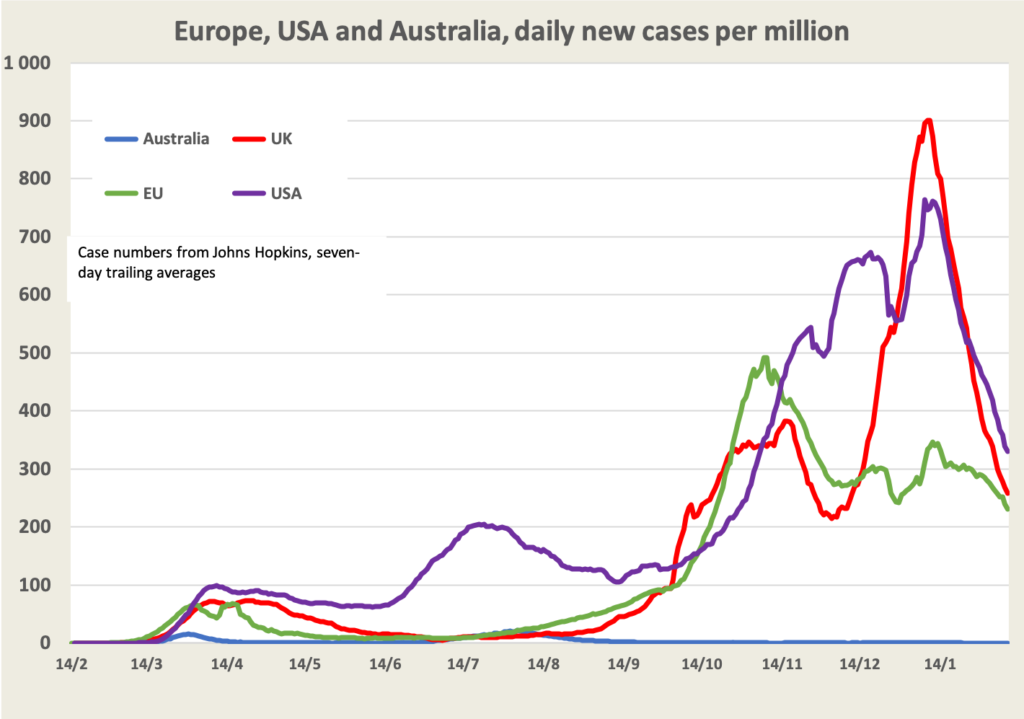 Sources
See our separate web page of generally reliable information and analysis about Covid-19, including a link to Norman Swan's Coronacast. The Thursday Coronacast has an interview with virologist Kirsty Short of the University of Queensland, who explains what may have happened in Melbourne's quarantine hotels – hotels were never designed as quarantine facilities she reminds us. She also explains why we shouldn't be too concerned about the case in the community detected in Sydney last week. The Harvard Gazette has an article about probable enduring changes in the workplace, leading to more flexible arrangements all around.
---
Coming events
Piketty abridged
If you have a spare 20 hours you might care to read Thomas Piketty's 1100 page book Capital and ideology. It is a seriously insightful work, building on his earlier Capital in the twenty first century, to analyse the causes of inequality and to show how the benefits of economic growth can be shared more equitably and sustainably.
Or you can register for his session, in conversation with economist Richard Holden of the University of New South Wales, on Tuesday 23 March, 18:30 (eastern time).
---
Valentine's Day
Tomorrow is Valentine's Day – an ever re-interpreted religious and secular feast day. Here is Bob Dylan's To fall in love with you.
---
See Michael West Media for more independent analysis of these and other economic and political issues, and watch out tomorrow, Sunday, for Peter Sainsbury's Sunday environment round up