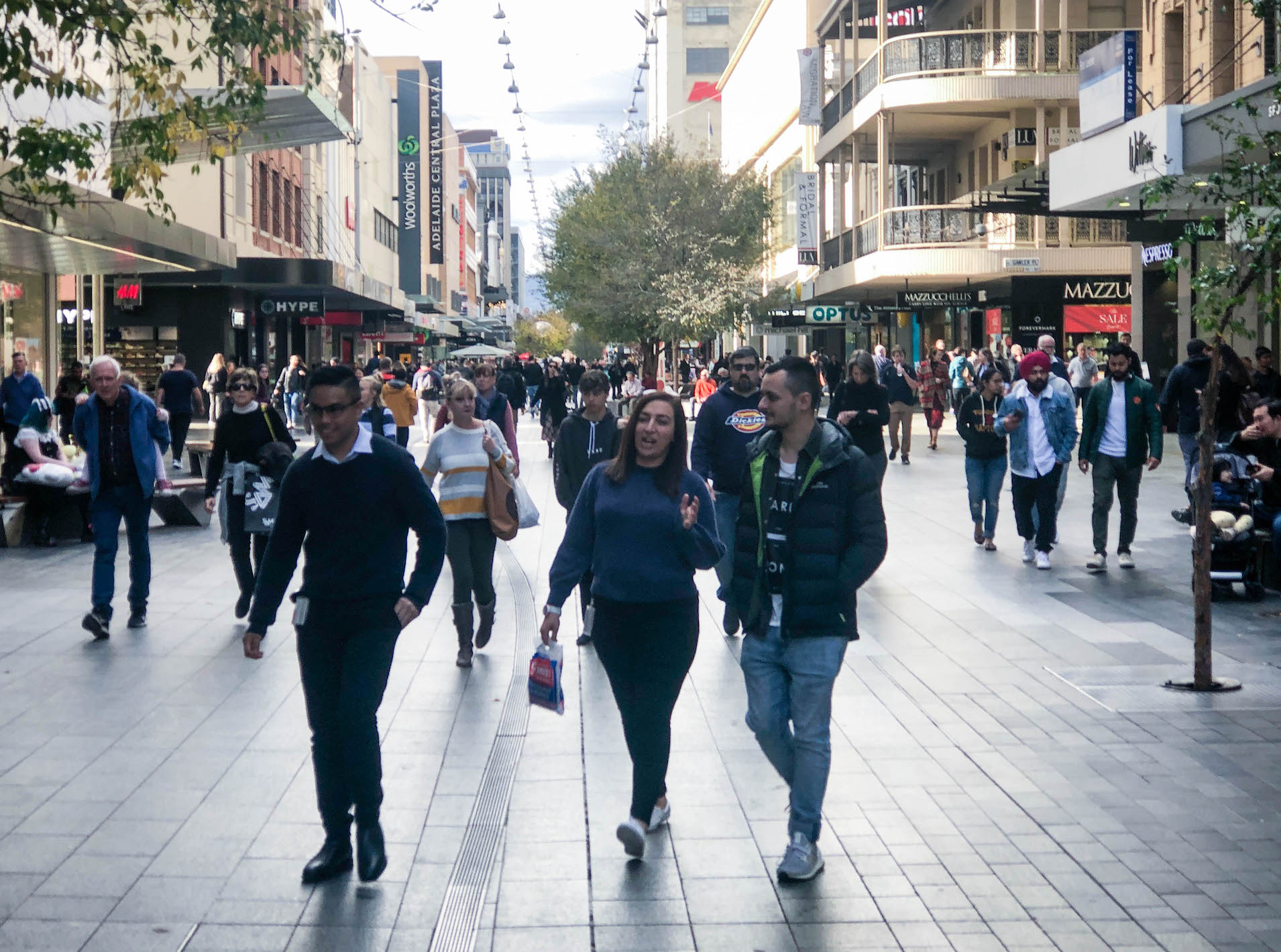 What people in other forums are saying about public policy
---
The pandemic's progress
Australia – more breakouts in an unvaccinated population
Because of rapid interventions last year by state governments, Australia has done extraordinarily well in keeping Covid-19 effectively suppressed, allowing people to behave as if the threat has passed. That complacency has also spread to those responsible for border protection. Although we do not know the precise pathways, we can be sure that all recent outbreaks result from some failure in our border arrangements: hotel quarantine, overseas arrivals, exemptions for certain individuals. It is a telling example of official complacency that four months after vaccination started, an unvaccinated driver has been able to transport air crew in Sydney.
And these outbreaks are occurring in a 96 per cent unvaccinated population, where precautions such as face masks have become a fading memory.
Alan Kohler, in association with the ABC's Marty McCarthy, has written As we enter a post-pandemic world, Australia's "Zero Covid" approach leaves us with a dilemma. They ask if, in response to  outbreaks, it is time to tolerate some cases rather than zero.
They acknowledge that our approach of aggressive suppression led to elimination in most states, an outcome they describe as a "fortunate accident".  (The Victorian Government may not agree: its response to the outbreak last year looked very much like a program of deliberate elimination.)
The dilemma Kohler and McCarthy identify is a political one. Although we are getting tired of lockdowns, elimination policies are politically popular. But there is also political pressure on our governments to "open up" state and national borders.
Those calling for easing to allow "some cases" seem to ignore the basic arithmetic of viral reproduction. Unless, through vaccination and the continuation of hygiene and social distancing, we bring the virus's reproduction rate well below 1.0 (the "herd immunity" threshold which ensures any outbreak soon dies out), what starts as a small number of cases will grow exponentially among the unvaccinated.  We need a high level of vaccination to achieve herd immunity.
So far, only around 4 per cent of our population has received two doses of vaccine.  Vaccination rates are particularly low in Western Australia. where the state government has capitalized on its geography to pursue aggressive elimination, and in New South Wales, where the state government has been reluctant to lock down Sydney or the whole state and has been less than rigorous in enforcing safety among workers exposed to incoming travellers. See the table below for state-by-state vaccine rates.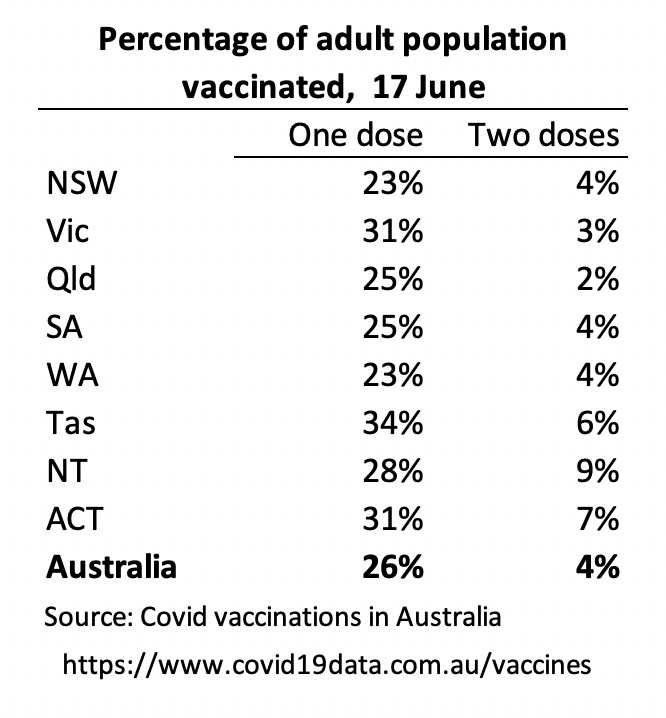 The latest breakout in New South Wales, unlike the Christmas breakout which was in a containable region, has been in the densely-populated and less-defined eastern suburbs region.
Because the Morrison Government botched the vaccination program we are still nowhere near the level of vaccination that will allow us to put some reliance on herd immunity. As yet there is not enough evidence to say what that level is, but it is almost certainly more than 70 per cent. We are not even anywhere near the level of vaccination that would give protection to the 5.6 million vulnerable Australians over 60. Only around a million Australians have received two doses ("fully vaccinated"). Even if all of these million people are over 60 (an overstatement because by now many of those fully vaccinated would be under 50) our vaccination rate among Australians over 60 would still be only 18 per cent.
To get some idea of our vulnerability the UK provides an example. In that country, where 45 per cent of the population is "fully vaccinated", in spite of lockdowns cases are once again rising, with what appears to be a more infectious strain. Three weeks ago daily new cases in the UK were around 30 per million population: now they have risen to 110 per million, a rate comparable to Melbourne's at the peak of its August outbreak.
The time will come when cases of Covid-19 — perhaps even deaths — do not have to trigger a wide-area lockdown. Until we know more about the durability of vaccines and their effectiveness in reducing transmissions, it would be folly for any policymaker to specify a vaccination level that confers herd immunity, let alone a date for opening borders. And whatever that date is, it has now been pushed back further by the decision not to provide AstraZeneca vaccines to people in their fifties, putting more stress on limited supplies of the Pfizer vaccine.
---
How to deal with a pandemic
On the ABC's Health Report Tegan Taylor interviews Anthony Fauci: Navigating the pandemic. The session starts with a comparison between the American and Australian responses to Covid-19, a difference explained largely by the comparative independence enjoyed by states in the US federation.
The US had made good progress with vaccination. By now 53 per cent of Americans have received one shot, and 44 per cent are "fully vaccinated". President Biden has made vaccination the country's top priority, but there is a hard core of vaccine sceptics who will be hard to reach. Fauci and Taylor discuss the relevance of earlier campaigns to combat HIV-AIDS, but it is proving harder to reach Covid-19 sceptics than it was to reach those at risk of HIV-AIDS.
They go on to discuss the need for a global response to Covid-19: there must be a serious effort to vaccinate the whole world if this virus is to be brought under control. There must also be the infrastructure in place for the next pandemic, including research in fundamental science that builds a knowledge base upon which vaccines can be rapidly developed. (29 minutes)
---
The rest of the world
Worldwide recorded cases continue to fall, but deaths have been rising recently.  Two countries, India and Brazil, now account for 40 per cent of the world's new cases, and while cases in India are falling, they continue to run at a high rate in Brazil (300 daily cases per million population).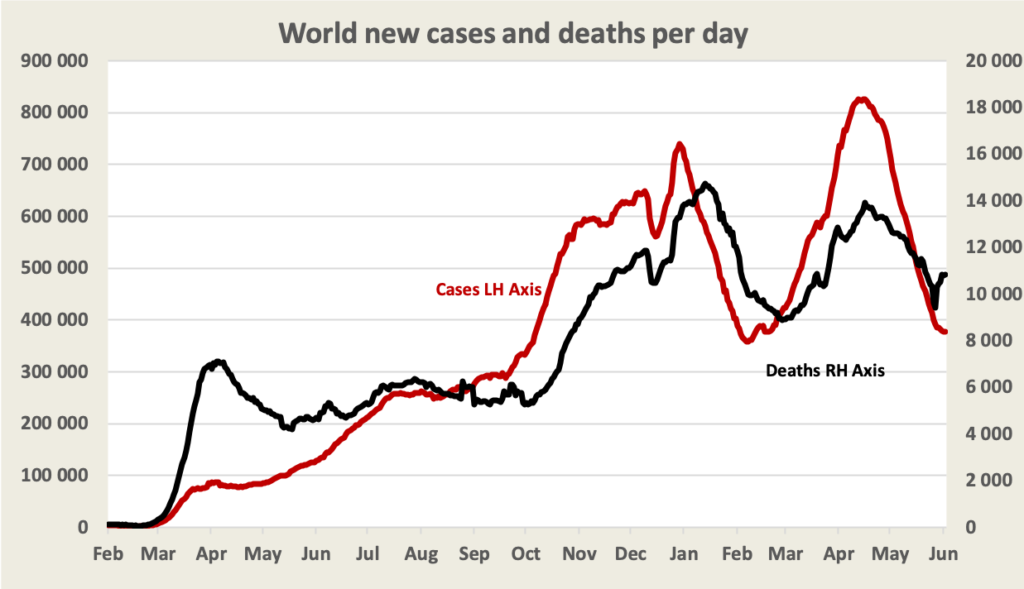 In all EU countries, with the exception of Spain and Portugal, cases are falling.  In the UK, after having reached low levels, cases are rising once more. In the UK, Spain and Portugal the daily case rate is now around 100 per million population: that's a little below Melbourne's peak last August.
The EU and US daily case rates are around 40 per million population and are on the way down. Again, to put these figures into perspective, they are still much higher than they are in high-income east Asian countries: in Japan and South Korea daily cases are between 10 and 15 per million population, and in Singapore they are less than 3 per million. There is still a large difference between the prosperous countries of Europe and the USA and the prosperous countries of Asia.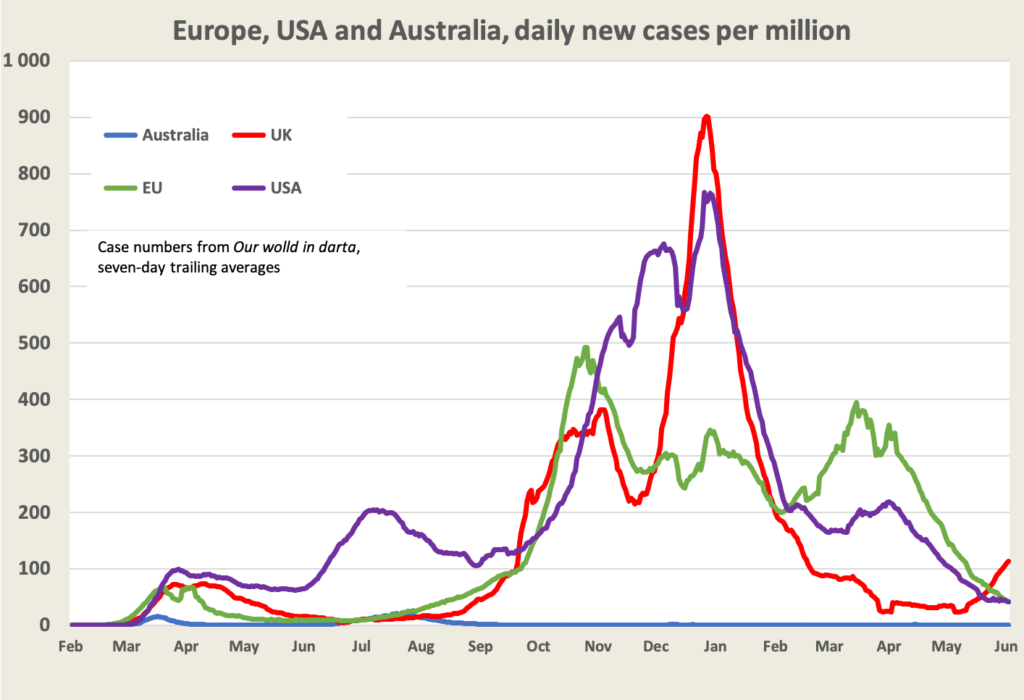 ---
Sources
See our separate web page of hyperlinks to generally reliable information and analysis about Covid-19, including the ABC's vaccine tracker.  Norman Swan's Thursday Coronacast is about possible ways the "sneaky" virus has been spreading in hotels, apartment blocks and other places of close but not intimate contact. The Economist reports on progress in development Regeneron, a drug that improves the survival of patients who have contracted severe cases of Covid-19. One catch: it's expensive.
---
Human rights in Australia
From the land of the fair go to the land of the secret trial
While our government rightly complains about secret trials of Australians in China, it has been conducting a secret trial at home for some years.
This is the prosecution of "Witness K" who divulged information about our government spying on East Timor during the 2004 negotiations on oil and gas, and of his lawyer, Bernard Collaery.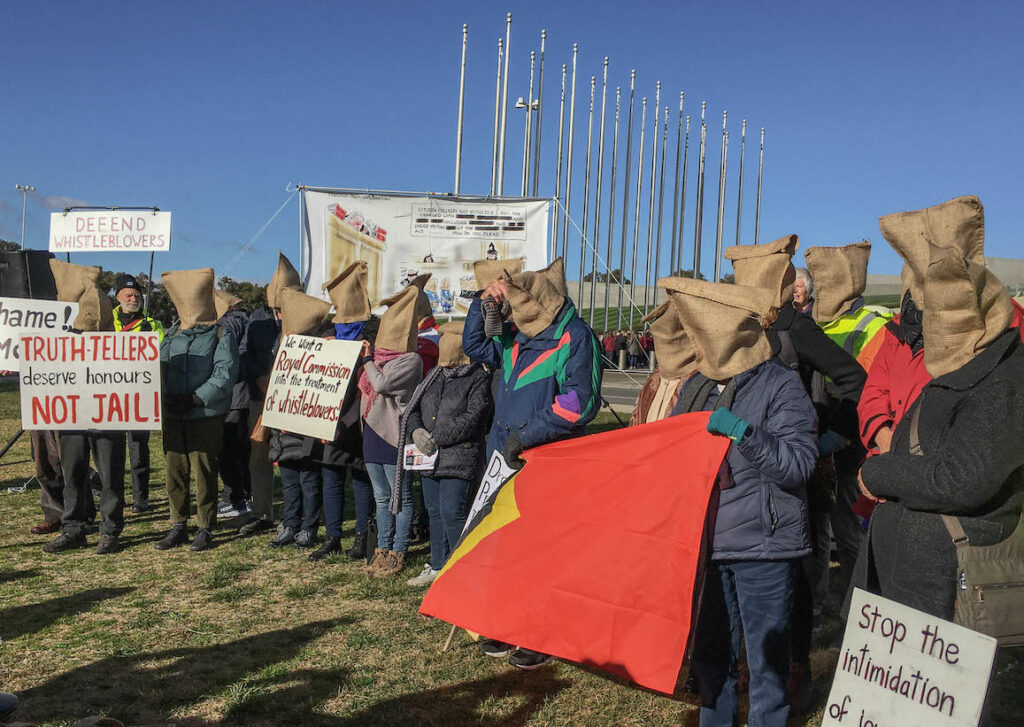 On last week's Saturday Extra Ian Cunliffe, former head of the legal branch of the Department of Prime Minister and Cabinet, gave an update on the progress of the trial and explained the issues involved — East Timor, Bernard Collaery and Witness K.
Cunliffe's account is mainly about contested economic resources. Oil and gas were not the only resources Australia was after. The fields also contain large deposits of helium, a gas used in the electronics and nuclear industries. The treaty signed with the East Timor Government specifically excluded "inert gases" (helium is an inert gas), and it appears that the Timorese were unaware that the deposits included helium. Cunliffe described the moves to deceive the Timorese about helium as "skullduggery". Both the UN and the East Timor Government are understandably annoyed at Australia's behaviour.
Witness K and Collaery are regarded as heroes in East Timor. The harder the Australian Government pushes against them, the more they worsen the relationship between Australia and East Timor. In view of China's interest in developing relationships with small countries in our region, alienation of East Timor is certainly not in our interests, Cunliffe points out.
As for the helium, it seems that neither Australia nor East Timor is getting any economic benefit from the $200 million of helium shipped out of Darwin every year. (12 minutes.)
In the Saturday Paper Richard Ackland gives a full account of the background to the case (paywalled), including the enthusiasm with which the former Attorney General, with the support of our paranoid security services, used the National Security Act to persecute those who expose the government's wrongdoing:
Collaery and K are being bullied by the state for their role in allegedly bringing to light the clandestine and reprehensible behaviour of successive governments; they have been strung up as enemies of the people, subject to anti-terrorism legislation, and a closed-shop court – a process of purging that would have made Lavrentiy Beria warm and fuzzy.
---
Invasions of privacy in Western Australia
QR code contact tracing is a crucial part of our defence against Covid-19, and is likely to become more important in coming months if there are more outbreaks.
Its use depends on trust, including the trust that data will be used only for contact-tracing in the event of an outbreak, and that data will be destroyed after a period – usually 28 days.
So it was a serious matter when Western Australian police accessed QR data in a murder investigation. As Tama Leaver of Curtin University explains in a Conversation article, the police were doing nothing illegal:Police debacle leaves the McGowan government battling to rebuild public trust in the SafeWA app. The state government has now introduced a bill to prevent the QR app from being used for any purpose other than contact-tracing.
---
The Biloela family: does anyone in the Morrison Government have a moral compass?
Kristina Keneally, shadow immigration minister and former premier of New South Wales, speaking on the ABC's PM program welcomes the Government's decision to allow the Murragapan family to be re-united in Perth, but is sharply critical of the restrictive conditions to which they are subject : Reprieve welcome, but Keneally says minister must free Biloela family.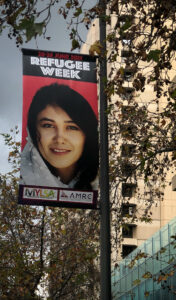 She points out that Minister Hawke has a wide range of discretion in complex immigration matters: he can offer a range of visas right up to permanent residence. He frequently exercises such discretion, but has chosen the most restrictive available visa conditions for the Murragapan family. Normally an immigration minister judges each case on its merits, and in this case "the merits demand compassion". She reminds us of the stress imposed on the family, particularly the two Australian-born children.
Dismissing the Morrison Government's claim that allowing the family to stay in Biloela would launch a thousand people smugglers' boats, Keneally stresses that Labor supports the "sovereign borders" policy, with its offshore processing, turn-back of boats and disruption of people smugglers' operations. Is the government suggesting its policy has failed? Or is it just being nasty? (7 minutes.)
On the ABC's Breakfast program former Immigration Department Deputy Secretary Abul Rizvi describes the discretionary powers available to the immigration minister in issuing visas, a discretion exercised one or two thousand times a year. A visa granted under such discretion carries no precedent: it is stand-alone. He also points out that the Howard Government, in its time, eventually repatriated to Australia many refugees who had arrived by boat. These repatriations did not result in any additional activity by people smugglers.
Had Keneally wanted to stress her point, she might have mentioned that there are around 60 000 unlawful non-citizens residing in Australia. (These figures from 2018 do not account for probable higher numbers associated with Covid-19 travel restrictions). Perhaps Hawke may not realise that people smugglers and would-be residents have discovered the recent innovation of air travel. The $6.7 million spent persecuting four members of the Murragapan family meant $6.7 million was not spent on protecting our borders against people who may have far more evil intentions than settling and working in a Queensland country town.
Considering the way successive Coalition governments have treated the Murragapan family, it is hard to avoid the conclusion that they have no respect for the moral principle that it is unjustifiable to inflict avoidable cruelty on innocent people in order to achieve some goal, no matter how worthy that goal may be. That moral principle, which rejects the crude arithmetic of utilitarianism, is inherent in Abrahamic religious traditions, as well as in Kantian humanism.
Do Morrison and his colleagues have any moral framework upon which to draw?
---
The Australian economy
Workers celebrate a 2.5 per cent rise in the minimum wage
Perhaps it was too cold for workers to come out in the streets to revel in the joy of a 2.5 rise in the minimum wage. The ACTU is hardly enthused by the modest rise, pointing out the simple economic reality that economic recovery depends largely on workers' spending power. On the other hand the Australian Chamber of Commerce and Industry calls it a bitter pill to swallow for 230 000 small and family-owned businesses in the retail, food and accommodation businesses, disregarding the fact that workers shop, eat and travel, and that for these industries the increases are delayed until November.  The 2.5 per cent rise is indeed higher than the 1.1 per cent rise in the CPI over the last twelve months, but it's in line with the established trend in consumer prices over the last few years.
In another assault on workers' conditions, under a deal with the National Party, the Government is introducing a new agricultural visa, open to people in most south-east Asian countries. This is in exchange for scrapping an obligation for young UK budget travellers (called "backpackers") who come on a working holiday to work in the country as a condition for visa extension.
This deal has probably come about because the labour-hire companies that horticulturalists and farmers contract to employ seasonal workers have discovered that some British budget travellers know where to find and how to interpret industrial awards. Those travellers would find that even by the standards of British housing the accommodation offered to seasonal workers is not up to scratch and is over-priced. The accusation that those who stand up for their rights can be dismissed as "whinging Poms" cannot hold up indefinitely. So rather than dealing with assertive Brits, it's far more convenient to bring in seasonal workers with limited English and without the impediment of familiarity with unions and contract law.
Neither the government nor most farmers seem to be able to entertain the thought that seasonal workers may have to be paid a higher wage and be protected from thugs who corner the market for accommodation. Yes, we may need to pay a little more for our wine, fruit and vegetables, but demand for such basic commodities is fairly inelastic. Megan Hughes and Maddelin McCosker suggest that at least some farmers are starting to acknowledge the need to draw on a pool of local labour.
The apparent paradox of wage stagnation co-existing with labour shortages was raised in the Reserve Bank Governor's speech on Thursday optimistically called From recovery to expansion.
He suggested that many firms are focussed on controlling costs rather than trying to expand their markets. It's an understandable focus, but it comes at the cost of economic flexibility:
Most businesses feel they are operating in a very competitive marketplace and that they have little ability to raise prices. As a result, there is understandably a laser-like focus on costs: if profits can't be increased by expanding or by raising prices, then it has to be achieved by lowering costs. This has become the predominant mindset of many businesses. This mindset can be helpful in making businesses more efficient, but it also has the effect of making wages and prices less responsive to economic conditions.
The broad picture of wages is revealed in our national accounts, from which we have constructed the following graph of wages and profits as a share of GDP. The current assaults on wages are simply the latest manifestation of an almost 50-year trend.
The government and the so-called "employers'" groups seem to be trapped in some early 19th century view of the economy, in which there are virtuous "employers" and greedy "employees", rather than a model in which people come together to create wealth and share in the returns. Until and unless we develop a more inclusive model of capitalism, we will continue down the path to a South American model of neo-feudal economic stagnation.
---
The G7 Summit and Australia's industrial future
The G7 Summit Communiqué has six main points, four of which could be seen as an re-assertion of a liberal world economic order, following its denigration by the Trump Administration.
Apart from the four, the leading point relates to ending the pandemic, including the need to increase and coordinate manufacturing capacity on all continents, and to distribute a billion doses from "developed" countries to other countries. (That would still leave 4 billion people without even a first dose).
The remaining but no less important point is about climate change, and aims to:
protect our planet by supporting a green revolution that creates jobs, cuts emissions and seeks to limit the rise in global temperatures to 1.5 degrees. We commit to net zero no later than 2050, halving our collective emissions over the two decades to 2030, increasing and improving climate finance to 2025; and to conserve or protect at least 30 percent of our land and oceans by 2030. We acknowledge our duty to safeguard the planet for future generations.
Most media have reported on Morrison's refusal to go along with the 2050 target. Note, however, that there is also the 2030 target in the communiqué. Morrison's commitment is only to assert that it is "very clear that we are moving to zero net carbon emissions" and that "a new energy economy is coming".
His government's Resource Minister, Keith Pitt, is not even prepared to go along with these modest commitments, however, and makes it clear that the National and Liberal Parties have a strong policy difference on energy.
You can hear Pitt on the ABC Breakfast Program: Reality is coal is around for a long time. Fran Kelly puts forward a series of straightforward questions and quotes from other sources, in response to which he makes a series of statements about coal and Australia's future economic development, revealing an outstanding ignorance of science, engineering and economics.
To reassure the Coalition that it is not the only party tearing itself apart with a conflict on energy policy, Katharine Murphy, writing in The Guardian, points out that Labor's resources spokesperson, Madeleine King, is going all out to support the opening up of new gas reserves. We might have thought that they had learnt from their 2019 election loss that having two bob each way on an important issue carries the message that at best the party is confused, and at worst that it has no principles on which its policies are based.
---
Housing as a drag on productivity
Over the last 25 years housing prices in Australia have soared, consistently outstripping income growth. Young people have been shut out of the housing market, while those who own or are paying off their houses enjoy the illusory wealth effect of rising real-estate prices.
Many contributors to Pearls and Irritations have written about these distortions, but in a major report Housing: taming the elephant in the economy Duncan Maclennan and his colleagues at the University of New South Wales draw our attention to broader economic consequences of housing price inflation:
For the economy, these trends reflect a triple crisis where housing price outcomes have exacerbated income and wealth inequalities, contributed to economic and financial instability and, often unrecognised, diminished productivity and growth.
They report on economists' views on housing debt, contrasting their concern with the Reserve Bank's indifference. They report on the diversion of savings to housing speculation rather than productive investment. And they report on the consequences on productivity when high housing prices push workers further and further away from areas of economic opportunity.
Apart from a call for an immediate boost to the social rental sector their recommendations are long-term, essentially calling for an elevation of housing, including public housing, as a focus of public policy.
They give a great deal of coverage to house price inflation, but in an extraordinary understatement, they simply mention in passing that our tax settings have boosted speculative demand, without any mention of the political source of those tax policies. It's akin to a historian writing about the Reformation without mentioning Luther or Henry VIII. It's yet another example of a genteel academic style that, in spite of overwhelming evidence, never mentions something so vulgar as party politics, even though the roots of our problems in housing lie unambiguously with successive Coalition governments that have run scare campaigns to thwart every move towards economic reform.
(The link above gives only a summary of the report, without any link to the full report which can be found hereas a downloadable PDF.)
At least a few people with spare cash have wisely decided not to join the housing bull market. The ABC's Sarah Cumming reports that some investors are choosing art over property as the real estate market heats up. If the well-off bid up the price of a McCubbin or a Rover Thomas painting not too many others will be affected in the way real-estate speculators lock out home buyers. It's notable that these same people de-facto are choosing art over real-estate but also over equities. When people expect economic conditions to be tough, and believe assets are overpriced, they turn to tangible collectibles.
---
Can you identify Bhutan on an unmarked map?
In the mid-1970s, 13 of Australia's universities were offering undergraduate subjects on South Asia (India, Pakistan, Afghanistan, Sri Lanka, Bangladesh, Nepal, Bhutan, and the Maldives).
Since then our ties with South Asia have strengthened. India has become our leading source of skilled migrants. The Morrison Government, in the "Quad" arrangements, has been strengthening security ties with India.
Writing in The Conversation Craig Jeffrey and Matthew Nelson of the University of Melbourne point out that universities have not kept pace with this expanded national interest: in fact they have fallen behind, probably because of fee hikes: From 13 unis to 1: why Australia needs to reverse the loss of South Asian studies. They argue that our universities should place far more emphasis on South Asia in teaching and research.
---
Australian politics
How Morrison works
"In important ways, the Morrison government is the sleaziest in recent Australian politics."
So concludes Rodney Tiffen's article in Inside Story, Fighting the good fight, a revelation of Scott Morrison's religious beliefs and how they have shaped his behaviour as prime minister.
Tiffen's account starts with the Reformation, describing how Protestantism helped capitalism, and how, in turn, capitalism shaped certain evangelical Protestant sects, including Pentecostalism, allowing the faithful to be comfortable about accumulating personal wealth while turning their backs on the needy, and displacing the gospels of Matthew, Mark, Luke and John with the more upbeat prosperity gospel.
The Pentecostalist Morrison has been able to present himself as the typical dorky suburban dad, "but in important ways his religiously-based social conservatism is out of step with the mainstream".  Tiffen says:
Morrison is treading a tightrope. The more that Australians find out about Pentecostal beliefs, the more they will realise how distant those views are from their own. Pentecostalists believe that evil has a personal embodiment, the devil, or "the evil one" as Morrison calls it. They believe that speaking in tongues is a manifestation of the holy spirit. They have an apocalyptic mindset and anticipate the second coming of Christ, with many of them believing we are already living in the "end times."
These beliefs are a long way from those of people of Catholic, Anglican and Uniting faith, and even further from those who profess no religion.
He goes on to see Morrison's self-assuredness as a manifestation of the same underlying need for certitude that attracts him to Pentecostalism. Morrison doesn't need to listen to anyone, and doesn't need to feel constrained by conventions such as accountability or adherence to process in public administration, while the prosperity gospel justifies his indifference to the poor and the struggling.
---
 A beginner's guide to making fake news
"Did Dutton get support from Putin's secret services in the 2019 election?"
OK, we made it up.  But note that it's framed as an innocent question — we're not making any accusation. It's suitably vague — rumourmongers can fill in the details from their imagination. And the proposition that Dutton did receive help from Russian secret services is incapable of refutation — in Popperian terms it's as useful as saying "our planet is regularly visited by aliens who leave no trace of their visits".
Writing in The Conversation Denis Muller of the Centre for Advancing Journalism at the University of Melbourne takes us through a case study of how the Victorian Liberals sowed the seeds of a story about Premier Dan Andrews' accident. The seed was a vague hint of a cover-up, without a shred of evidence. In a series of steps that seed sprouts a full-scale conspiracy theory – in this case the idea of some elaborate cooperation between the police and the ambulance authority to cover up something-or-other. By the simple rules of logic, the grander and more complex the supposed theory, the less credible it is, but for those posting on partisan websites such complexity adds more colourful detail to spin a story. Behavioural research finds that the more detail there is in a story, the more likely we are to believe it.
Fortunately in this case the mainstream media in Victoria have not taken the bait. But there are other media online, and as we approach the next election we should be on the lookout for attempts by the Morrison Government and their hangers-on to sow the seeds of fake news. The Federal Coalition will surely do a more thorough job than their amateur colleagues in Victoria. They have form in hiring some of the world's top opinion manipulators, unconstrained by considerations of logic, honesty or morality.
If you can resist the temptation to generate fake news, Andrew Hamilton, writing in Eureka Street, reminds us that Sunday May 16 was World Communications Day: Truth lies at the heart of communication. Communication should be about truth rather than an expression of power, and should be grounded in ethical sensitivity. He states that
Trust in public communications requires that in relationships between the powerful and the powerless, between authorities and those under authority, and governments and citizens, the more powerful party must disclose the truth of its dealings. People have a right to knowledge of what is done in their name. It is unethical for governments to conceal information relevant to the decisions it makes, and even more egregiously unethical to penalise the disclosure of withheld information, especially when it concerns unjust treatment of weaker parties. In recent Australian and overseas practice governments have shown a declining concern for justice and a rising brazenness in concealment.
Pope Francis's letter to journalists on World Communications Day is titled Come and see: communicating by encountering people where and as they are. Journalism, as an account of reality "calls for an ability to go where no one else thinks of going: a readiness to set out and a desire to see. Curiosity, openness, passion."
---
Australia's place in the British Empire
The UK-Australia Trade Agreement – a bad deal?
Coalition politicians bring to mind Barry Humphries' fictional character Barry McKenzie – the young ocker who, insecure in the world, was able to think of nothing more adventurous than to travel to Earl's Court in the "mother country", even as Britain's relevance to Australia was waning. Fifty years later Morrison is following in Bazza's footprints, offering Boris Johnson a trade agreement in consolation for his stupidity in taking his country out of the European Union.
There has been a fair deal of press coverage about beef, lamb and sugar access to the UK – but farmers will have to wait a few years for these benefits. Winegrowers will get almost immediate benefits, compensation for loss of the China market. On the other side of the deal those who don't have a taste for high quality Australian spirits will find Gilbey's Gin and Johnnie Walker red label a bit cheaper, and backyard mechanics who like working on unreliable British cars may find a bargain or two.
Writing in The Conversation Patricia Ranald, of the University of Sydney, points out that there's a lot we don't know about the UK trade agreement we are about to sign. It could possibly include longer patent protection for new medicines, meaning that we would have to pay inflated prices for drugs on the Pharmaceutical Benefits Scheme before cheaper generic drugs become available. UK Trade Minister Greg Hands is also angling for stronger investor-state dispute settlements, giving UK firms capacity to sue Australian governments for decisions they claim infringe on their interests.
Australians are once again paying dearly for the Coalition's sentimental attachment to the UK.
---
Who wants to be king of Australia? So far only one candidate
Last Monday as Australians enjoyed a public holiday their concerns were probably about travel restrictions associated with the Victorian lockdowns, other possible Covid-19 outbreaks, and the weather conditions in the snowfields.
Unlike other public holidays this one isn't about any national achievement or religious feast. It has its origins in the notional birthday of the monarch of one of Europe's offshore islands, who, by a legacy of colonial history, also carries the title "Queen of Australia".
We had a go at rectifying that weird situation in 1999 with a referendum, but the Prime Minister at the time, who never quite realised that the British Empire had sunk in the waters off Singapore in 1941, scuttled the process by putting forward a model that people found unacceptable. Since then Australians have largely forgotten about the weird colonial relic of a foreign head of state.
But as Benjamin Jones of the University of Central Queensland points out, writing in The Conversation, the day will come when Charles, the next in line to the British monarchy, ascends the throne, and becomes "King of Australia". That will awaken interest, but he urges us to forget Charles: an Australian republic hinges on the model we adopt, not the monarch. He runs through different models of selecting an Australian head of state, involving ways contenders could be nominated, and different franchises, pointing out the arguments for and against each one. Each has its shortcomings, but nothing is as dysfunctional as a head of state with the power to dismiss the prime minister who appoints him or her, nominally representing a monarch in a distant country with traditions and interests that do not necessarily align with ours.
---
A relic of the empire on Macquarie Street
At 165 Macquarie Street, Sydney, just 300 metres from the New South Wales Parliament House, and even closer to the Museum of Sydney, stands the Australian Club. Founded in 1838 it has been an exclusively male domain ever since. On Tuesday a vote was held on the question of admitting women to membership.
It was defeated, by a two-thirds majority.
We may be tempted to laugh it off as we laugh off some harmless religious cults: a bunch of old men, yearning for times past, has a right to get together and live in a fantasy land of elevator attendants, horse-drawn milk carts, and subservient wives.
But as Daisy Turnbull, a young lady from a politically active family, points out, it is not a laughing matter. "So much power is tied up in that organisation" she says on a 5-minute segment on the ABC's 730 Report: Australian Club member quits after vote to exclude women.  These men don't just sit around drinking and telling stories of the good old days. They talk about who might be the next person suited to fill a board position in a public company, they exchange gossip about people which may stymie their career paths, and they deprive themselves of the voices and company of half the population, including those women who have managed against the odds to occupy positions that should qualify them for membership.
---
The world and its troubles
160 million children in child labour
Last Saturday, June 12, was the World Day Against Child Labour. UNICEF warns that progress to end child labour has stalled for the first time in 20 years. Of the 160 million in child labour half are aged 5 to 11.
Recent growth in child labour has been most prominent in sub-Saharan Africa and is concentrated in the agricultural sector. UNICEF's report warns that an additional 9 million children are at risk of being pushed into child labour by the end of next year.
---
Where to for Myanmar?
In Myanmar the ethnic minority armies and the pro-democracy fighters are too weak to prevail over the junta, but the junta is too loathed and has too little control outside the cities to be able to consolidate its power.
Writing in Foreign Affairs –  Myanmar's coming revolution: what will emerge from collapse? – historian Thant Myint-U has a gloomy prognosis:
As the stalemate continues, the economy will crumble, extreme poverty will skyrocket, the health-care system will collapse, and armed violence will intensify, sending waves of refugees into neighboring China, India, and Thailand. Myanmar will become a failed state, and new forces will appear to take advantage of that failure: to grow the country's multibillion-dollar-a-year methamphetamine business, to cut down the forests that are home to some of the world's most precious zones of biodiversity, and to expand wildlife-trafficking networks, including the very ones possibly responsible for the start of the COVID-19 pandemic in neighboring China. The pandemic itself will fester unabated.
He goes on to provide a history of Myanmar as a state that became defined in the process of British decolonisation – a process that saw many ethnic groups contained within its borders, and that established a strong role for the military. As the only continuous organisation in the country the army consolidated power. What developed was a state nominally socialist, hung together by a contrived ethnonationalism, but in reality it was an impoverished country that failed to share in Asia's growing prosperity. The army and its cronies amassed wealth and power, while the population remained in poverty. The army eventually ditched socialism and opened the economy to the outside world, but without any commitment to liberalisation or shared prosperity. Thant Myint-U's account gives the impression that the military sees allowing elections as a regrettable mistake. The  army has no ideological difference with Aung San Suu Kyi – she's no liberal democrat either – but they got upset when she assumed her election gave her government legitimacy.
He concludes with a call for the UN and Myanmar's neighbours, including China, to be involved in resurrecting the country, which is rapidly becoming a failed state as a result of economic collapse.
Thant Myint-U is author of The hidden history of Burma: race, capitalism, and the crisis of democracy in the 21st century.
---
How to be the very model of a modern diplomat
On last week's Saturday Extra Geraldine Doogue interviewed Geoff Raby, former Australian ambassador to China, on the skills required for good diplomats. He points out that it pays to be politically aware and to be widely-read, but political ideologues do not make good diplomats. He also goes into some of the practical skills in the diplomat's craft.
He goes on to describe the qualities of good diplomacy, particularly the capacity to form trusting relationships. The diplomat is not a spy; his or her task is to advance Australia's interests in cooperation with other countries' governments, through persuasion and finding areas of mutual interest. In this regard Australia has a good track record in building coalitions with other countries around specific issues.
Unfortunately we are in a political era in which foreign relationships have become weaponised, particularly in our relationship with China where we have dug a deep hole for ourselves. Why has Australia chosen to be the first country out of the blocks to criticise China for its human rights violations?  Other liberal democracies have managed to sustain a productive relationship with China, while not holding back on criticism. (16 minutes.)
---
Opinion polls
Poll Bludger – Labor still just ahead
William Bowe's Poll Bludger reports on two Federal polls – the comparatively new Resolve Strategic poll and the established Morgan poll. Both polls have the Coalition on 40 per cent (42 per cent at the 2019 election) and Labor on 36 per cent (33 per cent in 2019).  Both polls suggest a small TPP lead for Labor.
The Morgan poll has a graph of the TPP vote since the election. It's worth a glance, because although the results are lumpy, it shows a distinct trend in Labor's TPP support over the last 15 months, slowly eroding the jump the Coalition enjoyed when the pandemic broke out last March.
Bowe's site also reports on state polling for Victoria. In spite of the recent lockdown, Labor is still well ahead of the Coalition, and there is strong support for independents – 12 per cent. Opinion polls generally show lower support for independents than is revealed in elections. This 12 per cent figure can therefore be seen as particularly high, confirming a continuation of the trend for both main parties to be losing support.
---
Winter is icumen in
Monday is the winter solstice, and this year, in response to the recent virus outbreaks, we may be less inclined to go out than usual.  Here is what Julia Fischer and the Symphonieorchester des Bayerischen Rundfunks offer to the house-bound.
---
If you have comments, corrections, or links to other relevant sources, we'd like to hear from you.  Please send them to Ian McAuley — ian, at the domain name ianmcauley.com
See Michael West Media for more analysis of these and other economic and political issues, and watch out for Peter Sainsbury's Sunday environment round up.