What people in other forums are saying about public policy
---
Peace, love and good karma in labour relations?
Morrison on skills and labour relations – it's about "jobs"
Morrison's National Press Club address on Tuesday doesn't qualify as good reading. It's laden with clichés, marketing neologisms, self-congratulation and strange metaphors about boats, but it has two hints of policy direction relating to skills and to industrial relations.  (To get to these go to the part "And today I just want to focus …", about two-thirds through.)
On skills, it's a recognition of the faults in the vocational education and training sector – "clunky and unresponsive to skills demands", "marred by inconsistencies and incoherence, with little accountability back to any result".  (Morrison neglects to point out that many of the system's faults result from privatisation.)  He suggests, without commitment, that the government will reform the sector's funding model and improve its accountability and responsiveness.
On labour relations, the emphasis is on "the battle for jobs".  It's about "jobs": economic reform and improved conditions may be means to the government's end, but that end is to see a growth in employment, just so long as the employment numbers stack up. Is the government more concerned with economic indicators than with the welfare of workers?
The government envisages simplification of awards and enterprise agreements, possible changed conditions for casual and fixed-term employees, and improved compliance and enforcement (with a reference to a need for unions to "do the right thing").
It isn't at all like the Hawke Government's Accord
The Hawke Government's Accord was about ensuring that workers would share in the benefits of the government's economic reforms, and that was through improvements in the social wage, particularly health care and superannuation.
Writing in Inside Story Frank Bongiorno contrasts Morrison's announcements with Hawke's  Accord – Are we in Accord?. There are some similarities, but the main difference relates to the power of unions in 1983, when half the workforce was unionised, and the present, with union membership around 15 per cent. "There's not much for unions to get their teeth into here, but plenty that ought to worry them in the hands of a government that has been relentlessly anti-union since the moment it took office."
A pity about the Coalition's record on labour relations
ABC journalist Andrew Probyn reminds the Coalition's of its baggage in dealing with unions: Scott Morrison is choosing to drink from the poisoned well of industrial relations. He notes that Morrison is wisely trying to stand aloof from the Liberal Party's old stances, in acknowledging that our system has retreated to "tribalism, conflict and ideological posturing." Can Morrison discard the burden of his party's legacy?
A minor accounting error
It says something about our strange times when a $60 billion error in fiscal estimates commands only passing attention.
On the ABC's PM on Monday night Roger Wilkins of the Melbourne Institute of Applied Economic and Social Research explained how Treasury and the Tax Office got it wrong.  (6 minutes).  He and his colleague Jeff Borland, using publicly-available data, did a few basic calculations and worked out that only about 3 million, not 6 – 7 million, workers would need JobKeeper support, and published their calculations in The Conversationon April 29.
The original high figures were probably reasonable when the support packages were hastily put together, because at that stage it seemed probable that Australia would suffer a virus onslaught similar to that which had occurred in Italy (and is now occurring in the UK). Less explicable is the fact that when erroneous information came into the Tax Office, no-one noticed just how out of whack was the 6 – 7 million unemployment estimate. And why did public servants in Treasury not notice the error? Are they so busy providing political support to the Coalition that they don't have time to read articles written by prominent economists? It's a worrying sign when public servants seem to be so detached from the world that they cannot reconcile the figures they use with the reality of the world around them.
It's easy to say the error was costless because no money was spent. But that's just the point: no money was spent. Wilkins points out that had the government used more realistic estimates, they may not have been so tight with eligibility, and have extended support to those who missed out, such as part-time workers with less than 12 months of employment and those who work in universities.
Paul Bongiorno, writing in New Daily, takes a macroeconomic view. The revision means it's $60 billion of much-needed fiscal stimulus that the economy will not receive. Being trapped in debt is the least of Scott Morrison's worries.
Don't forget underemployment
Per Capita has released a discussion paper Slack in the system: the economic cost of underemployment by Matthew Lloyd-Cape. Its data is mainly an assembly of previously-released ABS statistics, but it supplements these with international comparisons: our underemployment rates, before and during the pandemic, are among the "developed" world's highest.  It concludes with a number of policy recommendations, generally aiming to give young people better access to skills development and opportunities to gain experience in meaningful employment.
A new role for unions?
On Geraldine Doogue's Saturday Extra former ACTU Assistant Secretary Tim Lyons, now with Per Capita, and Alison Pennington of the Australia Institute's Centre for Future Work, discuss future possibilities for unions. Union membership has become "de-normalised"; young people are simply not attracted to unions. Also, successive Coalition governments have made it difficult for unions to operate.  Can unions be re-organised as civil-society institutions, not attached to any industry or occupation, representing the interests of the whole workforce, and not just the employed workforce?  (16 minutes)
Paid sick leave – an urgent reform
Covid-19 has reminded us of the cost to the community when workers who are ill feel pressured to turn up at the workplace, particularly when they have no paid sick leave. Alison Pennington of the Australia Institute's Centre for Future Work  writes Australia needs universal paid sick leave to get through the pandemic, reminding us that almost a third of Australia's workers have no access to paid sick leave. New Zealand has a model, she points out. Here, however, the government "intends to plough on with a 'bosses know best' industrial relations agenda that would expand casual jobs (without sick leave), cut wages, and undermine workplace coordination needed to contain the disease."
---
Reconciliation Week
"What do coronavirus, the rise of authoritarianism and the retreat of democracy have to do with Indigenous reconciliation in Australia?" asks Stan Grant in his essay on the ABC website:  Reconciliation Week highlights how Indigenous injustice links to global fault lines.
"Everything" is his answer.
He reminds us of the principles of the Uluru Statement , how it offers a rejuvenated Australian identity, where we all can "walk in two worlds".  It offers a three-pronged program of democratic rehabilitation: "Voice, Treaty, Truth".  But Prime Minister Turnbull yielded to the far-right fringe of his government, and rejected this opportunity to craft a rejuvenated Australian identity.
With democracy and liberalism under attack around the world, the principles of the Uluru Statement are no less important to uphold than they were when the statement was drafted three years ago, or when 250 000 Australians marched over Sydney Harbour Bridge in the Walk for Reconciliation twenty years ago, as Grant reminds us.
The question for our democracy this Reconciliation Week is the question for all democracies: will we emerge from this moment stronger with a greater appreciation of the need to work for our freedoms, or will we be less immune to that other virus: the virus of authoritarianism?
---
Energy – renewables battle on without a policy
The slow penetration of renewables
On Wednesday the Department of Industry, Science, Energy and Resources released data on electricity generation by fuel type. (To download the data, in PDF or XLSX form, go to the "Documents" at the bottom of their web page.) Over the five years from 2015 to 2019, a period when electricity use rose by only 4 percent, the renewable share of electricity generation grew from 14 percent to 21 percent.  By 2019 large-scale solar started to figure in the mix, constituting 10 percent of renewable energy for electricity.
In South Australia the renewable share of electricity generation rose from 40 percent to 50 per cent of electricity generation over the same period.
The statistics include electricity supplied through battery storage – 96 GWh in 2019. Not much in a 265 TWh market one may think, but batteries are what give electricity grids rapid response when other sources cut out (most likely breakdowns in old coal-fired stations).
Australia won't miss its emissions target – because it doesn't have one
Last week we gave a link to the government's Technology Investment Roadmap discussion paper, a roadmap that omits promising renewable paths and destinations. It's like a default setting on Google Maps – "avoid toll roads"/"avoid renewables".  In the comments on last Saturday's roundup Gavin O'Brien accurately described it as "a road map going nowhere".
Writing in Renew Economy, Ketan Joshi is even more scathing of the document, calling it a "repudiation of the very concept of global climate action": The Australian government has officially given up on climate action. The "roadmap" has no target, or even a baseline against which to measure progress towards the Paris goals.
The logic here is relatively simple: tread water for eternity, while Australia's fossil fuel industries continue their work unabated and unregulated, and hope that if any consequences come to play, it's well after the current batch of political players and executives have skipped into retirement.
Sixty-nine seconds of pleasure
When you were eight years old you probably enjoyed blowing out eight candles. You probably did it in a couple of seconds, but it took 69 seconds for the Hazelwood Power Station eight chimneys to come down.
---
The pandemic's progress
If we're not there yet are we getting closer?
In spite of another stuff-up at a port, we're travelling well. (Why is Home Affairs so good at keeping refugees out and letting Covid-19 in?) The last seven days have seen 85 new cases, down from 90 in the previous seven days. Of these new cases 48 were in Victoria. For most new cases the sources are quickly identified, but for about a quarter the source is unknown ("community transmission").
Who's trying to undo our hard work and good progress?
Clive Palmer is bringing a High Court challenge to state government border closures on the basis of Section 92 of the Constitution – the section requires free "trade, commerce and intercourse" between states. On the ABC's Breakfast program constitutional expert George Williams of the University of NSW discusses how the Court may handle the case. Over the years there has been a fair degree of leeway in interpreting S92 when states have justified public interest grounds (rather than attempts to protect local industries) for border controls. Williams suggests that it is even possible that the judges may direct states with low risk to open their borders to other low-risk states, while keeping their borders with NSW and Victoria closed. (7 minutes)
If anyone thinks opening state borders is a simple matter they might consider the confusion and possible spread of the virus when a misunderstanding between South Australian and Victorian authorities allowed a virus carrier, coming from Europe, to arrive in Adelaide unexpectedly after only a week in isolation.  Any significant opening of borders will require complex arrangements of interstate technical cooperation to allow testing and tracing.
Another group seemingly indifferent to the possibility of an uncontrollable outbreak of the virus is the National Rugby League, which is seeking to have crowds back in stands to relish the joy of seeing 30 overpaid young men fighting and groping one another. The Australian Medical Association expresses its view: NRL July crowds plan belongs in the sin bin.
And on Friday the ABC reported that NSW clubs has done a deal with the state government, allowing more than 500 people in its gambling dens.
Country curves
Below is the same set of country curves we presented last week, updated. With the exception of Sweden, in all EU countries the daily infection rates are below 25 new cases per million people – Australia's peak rate in March. Britain seems to be making progress, but it is still experiencing 35 to 40 new cases a day per million. And the US is hardly making progress. On Friday the US reached 1.7 million cases and the grim milestone of 100 000 deaths.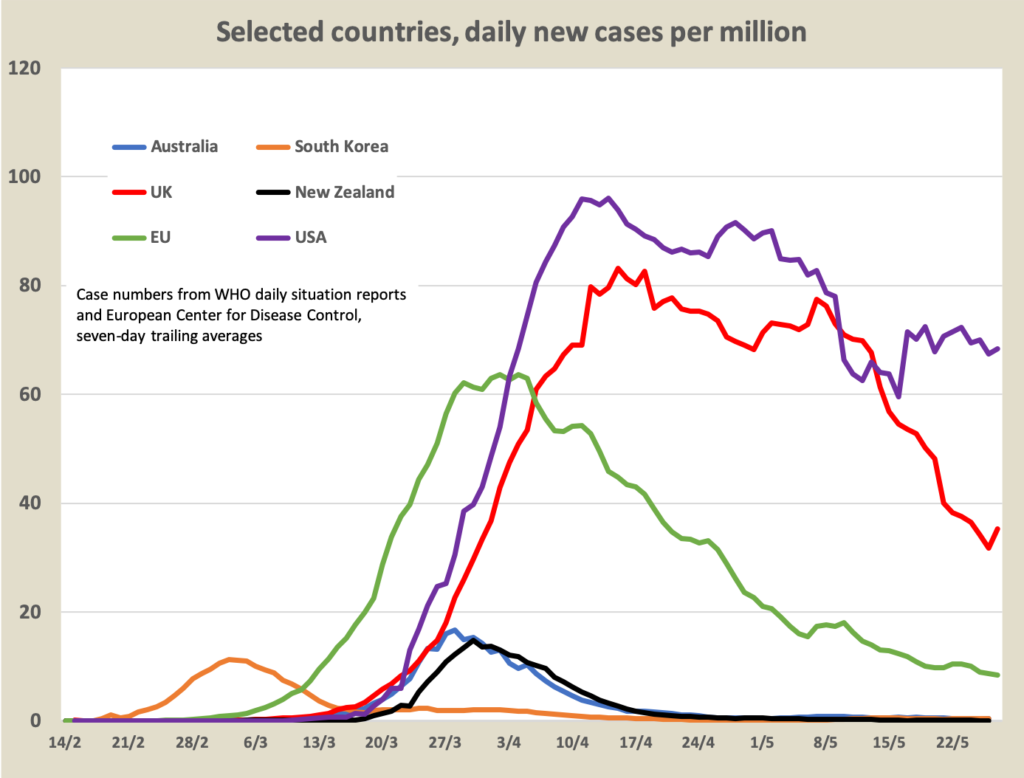 Information sources
These are the same sources as we have been presenting.
The WHO daily situation report;
Our Department of Health Coronavirus (COVID-19) current situation and case numbers;
Our Department of Health Coronavirus (COVID-19) health alert;
A group of volunteers' daily-updated site Coronavirus (COVID-19) in Australia;
The ABC's daily-updated site Charting the COVID-19 spread in Australia;
The Johns Hopkins University Coronavirus Resource Center;
Norman Swan's Coronacast;
The Economist paywall-free Coronavirus hub;
The coronavirus update from the Harvard Gazette;
The ABC's The one Covid-19 number to watch, tracking the reproduction factor (R)
The ABS program of special statistical releases.
The Scientific American The Coronavirus Outbreak covering scientific aspects of the virus.
The ABC's Digital Story Innovation Team set of graphs Charting recovery after the coronavirus crisis.
---
How other countries are coping with the virus
Africa – gravediggers know the official figures are meaningless
If we were to be guided by official figures, as reported to the WHO, we might believe that Africa is largely untouched by Covid-19, but data collection in most African countries is poor.
In its paywall-free area The Economist has some graphical detail on Africa – a chart, a map  and a short explanation Why Africa struggles to test for covid-19. Very few Africans are tested for the virus, which means the infection and death rates are almost certainly many times higher than as revealed in official figures. "The continent is at the back of the global queue for diagnostic ingredients".
As the pandemic spreads and deaths accumulate, many analysts are cross-checking official numbers with recorded deaths: in countries such as Spain and the UK a comparison of normal deaths with deaths in the March-May period gives a reasonable estimate of deaths – "excess deaths" – attributable to the virus.  Could this be a way of estimating the impact of the virus in Africa?
In an interview on Saturday Extra Geraldine Doogue discusses Africa's many plagues with Jonathan Rosenthal, The Economist's African editor, who notes that even a rough "excess death" estimate is unavailable.  Few African countries collect accurate death records: in Niger, for example, only five per cent of deaths are recorded. But people know the virus is having deadly consequences: gravediggers report a surge in demand for burials. Rosenthal explains that the other plague now afflicting Africa is a wave of locusts. (12 minutes)
An article in Deutsche Welle explains, with graphic detail, how the locust plague has spread from a few pockets in 2018. It now poses a serious risk in the Horn of Africa, Yemen, Oman, Iran and Pakistan, threatening food security in those countries.
The world's children – Covid-19 could put 86 million more children into poverty
In a report on the pandemic's effect on children, UNICEF warns that:
without urgent action to protect families from the financial hardships caused by the pandemic, the total number of children living below the national poverty line in low- and middle-income countries could reach 672 million by year-end.
While the worst consequences will be in sub-Saharan Africa and South Asia, in east Asia Indonesia and the Philippines are also ah high risk.
---
Australia after Covid-19
Universities – fundamental reform needed
As government support has fallen, universities have compensated by taking in fee-paying foreign students to subsidise research and other activities not covered by domestic student fees or government funding. The Covid-19 crisis, with its effect on foreign student enrolment, has exposed weaknesses in that funding model.
Stephen Parker, former Vice-Chancellor of the University of Canberra, speaks with Geraldine Doogue on Saturday Extra about the need for university reform.  In fact our entire post-secondary education system needs reforming, with a greater diversity of institutions and course offerings. Also we need to separate the education of our own from commercialised teaching of foreign students. (17 minutes)
Our attention to health pays off economically
Before he appeared before the Senate on Thursday, Reserve Bank Governor Philip Lowe made a short opening statement that included the observation: "With the national health outcomes better than earlier feared, it is possible that the economic downturn will not be severe as earlier thought. Much depends on how quickly confidence can be restored."
Because our success in controlling the outbreak has allowed us to avoid the economic wreckage observed in Europe and the USA, it is extraordinary that in New South Wales there is serious consideration of the National Rugby League and Clubs NSW preparedness to risk an uncontrollable outbreak by allowing large crowds to congregate.
---
A poor report card for Home Affairs
School teachers are adept at writing report cards with positive opening statements but which are heavily qualified in the details. So too is the Australian National Audit Office.
It has produced a report on  Procurement of garrison support and welfare services.  In English, that's about how the Department of Home Affairs purchased services from the private sector to operate concentration camps on Nauru and Manus Island.
It finds that the department's management of these contracts, totalling $7 billion, was "largely appropriate" –  a conclusion that does not tally with  the report's detailed revelations. The procurement process was not fully open to competitive bidding and the Department "did not appropriately benchmark costs for similar services".  The ANAO notes that as the number of detainees fell the cost of providing services actually rose, without any convincing explanation. In all, it finds that "the department did not demonstrate the achievement of value for money".
---
The world after Covid-19
A pessimist and an optimist
The pessimist is Yanis Varoufakis, former Greek Finance Minister and former economics lecturer at the University of Sydney: A Chronicle of a Lost Decade Foretold in Project Syndicate. His chronicle starts next month: "as lockdowns began to ease, left-wing optimism that the pandemic would revive state power on behalf of the powerless remained, leading friends to fantasize about a renaissance of the commons and a capacious definition of public goods". He goes on to say that this vision was short-lived: "governments buckled under towering mountains of debt" and as the disconnect widened "between the financial world and the real world, in which billions struggled", power accrued to those with money. What emerged was not a liberal world order or even a hegemony, but an equilibrium between power blocks, with Big Tech and Big Pharma using electronic spatial and biometric monitoring to control our lives.
The optimist is Dani Rodrik: Making the best of a post-pandemic world, also in Project Syndicate. Covid-19 reinforces and entrenches existing trends that pre-date the pandemic – greater government action, retreat from hyper-globalism, and lower growth rates, which may be "harbingers of a more sustainable, more inclusive global economy".
Rodrik is no starry-eyed utopian – he is a tough-thinking economist with a solid grasp on the history of successes and failures in attempts to establish economic world order. He acknowledges that a retreat from hyper-globalisation could lead to dirigiste policies and ethno-nationalism. But he says:
It is possible to envisage a more sensible, less intrusive model of economic globalization that focuses on areas where international cooperation truly pays off, including global public health, international environmental agreements, global tax havens, and other areas susceptible to beggar-thy-neighbor policies.
The pandemic reveals the failure of small government
Mariana Mazzucato and Giulio Quaggiotto have an article in Social Europe The big failure of small government, noting how countries that have pursued policies of austerity, such as the UK and the USA, have dealt so poorly with the pandemic.  "Decades of privatisation, outsourcing and budget cuts in the name of 'efficiency' have significantly hampered many governments' responses to the Covid-19 crisis."  It's not just budget cuts; it's also the loss of institutional memory and outsourcing to consulting firms that have caused governments to fail to learn from experience. Unsurprisingly they report positively on the performance of our neighbour across the Tasman.
---
The brutality of neoimperialism
Brazil 1964, Indonesia 1965, Brazil 2016: America's bloody hand
Older Australians remember the horror of the 1965 coup by the Indonesian army, in which up to a million "communists" were slaughtered and Suharto wrested power from Sukarno. But they are less likely to know about the extent to which the US supported Suharto and turned a blind eye to the atrocities. Writing in the New York Review of Books, Vincent Bevis describes the events of the time, some through recently de-classified papers, and some through the personal experience of a young Javanese woman.
Washington shares guilt for every death. The United States was part and parcel of the operation at every stage, starting well before the killing started, until the last body dropped and the last political prisoner emerged from jail, decades later, tortured, scarred, and bewildered.
More extraordinary is his account of the links between US involvement in the Indonesian coup and the 1964 coup in Brazil that installed a violent right-wing dictatorship. Hence the title of his article: How 'Jakarta' became the codeword for US-backed mass killiing. The word "Jakarta" passed into the Portuguese and Spanish languages to denote US involvement in anti-democratic movements in South America.  Bevis takes us right up to Brazil in 2016, when Jair Bolsanaro, with approval from the US, moved to oust the left-leaning President Dilma Rouseff.
The essay is an adaptation from his book The Jakarta method: Washington's anticommunist crusade and the mass murder program that shaped our world.
Hong Kong 2020: China's authoritarian hand
The Guardian's Chris Michael quotes Chris Patten, the last British governor of Hong Kong, saying that China has betrayed the people of Hong Kong and the UK has a moral, economic and legal duty to stand up for them. Chris Patten: China's security laws a betrayal of Hong Kong people. The west should stop kowtowing to Beijing for an illusory "pot of gold".
---
Life expectancies: widening gaps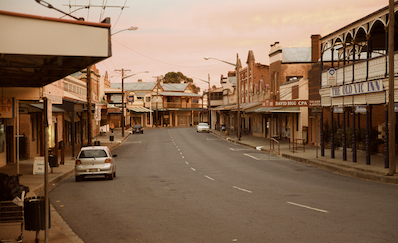 Over many decades Australians have enjoyed increasing years of life-expectancy, but that curve is now flattening. For some groups, such as men in lower socio-economic groups, and men living in non-metropolitan regions, age-standardised death rates are now increasing, and the divides – high SES/low SES and rural/urban – are widening. These trends are described in a work Widening inequalities in premature mortality in Australia 2006-16, by Tim Adair and Alan Lopez of the University of Melbourne, published in Australian Population Studies.
Adair and Lopez also have an article in The Conversation The poorest Australians are twice as likely to die before age 75 as the richest, and the gap is widening. It lacks the rich (and confronting) set of graphs in their APS article, but it does suggest some explanatory factors – a plateauing in improvement in cardiovascular health, and smoking and high alcohol consumption in non-metropolitan regions.
---
Polls and surveys
Essential – we're still concerned about the threat from Covid-19
Again, the Essential Report has a range of questions about coronavirus, building up a time series for some of them. For the most part responses have changed little in this most recent survey, but that, in itself, is notable. In spite of dramatic falls in infections, concern has hardly fallen away from its March peak.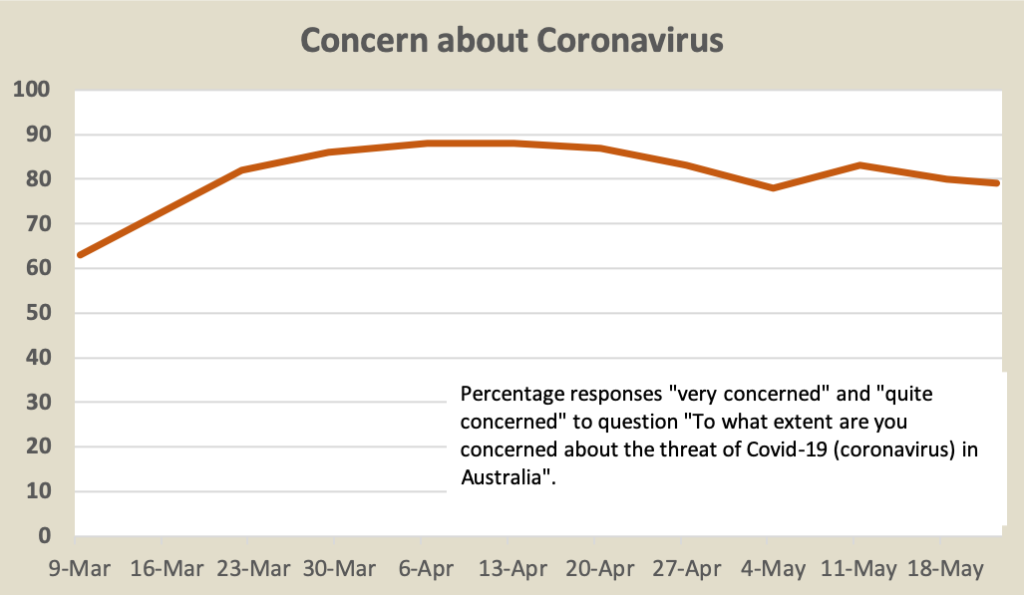 People are still in no rush to see restrictions lifted – only 14 percent agree that it should be "as soon as possible".  Younger people (18-34) are a bit keener to see restrictions lifted, but only 17 percent of them agree it should be "as soon as possible". Women are far more willing than men to see restrictions retained.
The poll has other questions not directly related to the pandemic. Only about a third of respondents want to see special provisions – free childcare, higher "Newstart/Jobseeker" and "Jobkeeper" – discontinued at their scheduled date: they want them extended.
There are a couple of questions about relations with China. There is strong support for the idea of that our government "needs to stand up to the Chinese Government and demand an open inquiry into the origins of Covid-19", with predictable partisan differences, and most of us see barley tariffs not as a trade issue but as a response to our government's call for an inquiry. But alhough we don't see it as a trade issue, 48 percent of us want our government to impose retaliatory tariffs on China: 76 percent of Coalition voters seek retaliatory tariffs. (Remember the days when the Liberal Party supported free trade?)
There is a set of questions, first asked last August, about how we see the influence of China. On all of them, even questions about Chinese culture, Australians' impressions have become more negative. There is a similar set of questions relating to how we see the influence of the US.  We seem to like the Americans more than the Chinese, but as with our feelings towards Chinese our feelings have become more negative.  On both sets of questions there are marked (and predictable) differences between Coalition and Labor supporters.
ABC on coronavirus anxiety – much the same finding as Essential
The ABC reports on a poll it commissioned to survey people's concern about the coronavirus. It actually finds that people are becoming more concerned than they were last month, and are more worried that a friend or family member may contract it. (Annoyingly the ABC gives only a journalist's report on the poll, rather than access to the poll results themselves.)  ABC shows a rise in concern, Essential shows a small decline: the common message is that we're all still rather concerned.
Does this caution and awareness reflect the success of governments' public health campaigns? Does it reflect a fear that people such as mining magnates and footballers will use their legal and political clout to tear down the protections and see undone the progress Australians' collective effort has achieved?
An inquiry into political polls
"The only poll we pay any attention to is the vote on election day".
Bullshit! Politicians, lobbyists, business people, investors and the public all take polls seriously as pointed out in a document produced by the Association of Market and Social Research Organisations –  Discussion Paper: Disclosure standards for election and political polling in Australia. The study is in response to the failure of most polls to predict the outcome of last year's federal election. It suggests that there should be much more disclosure of sample size, geographical coverage, dates, interview methods and so on, and it recommends a basic set of disclosure standards.
---
Religion
Hands off the West Bank
Writing in the Jesuit magazine America, Gerard O'Connell reports that the Vatican has expressed its opposition to an Israeli proposal to annex parts of the Palestinian territories in defiance of international law and United Nations resolutions.  He quotes the Holy See's long-held position that "respect for international law and the relevant United Nations resolutions is an indispensable element for the two peoples to live side by side in two states, within the borders internationally recognized before 1967". The Vatican's statement is in response to a proposal by the Israel Government, supported by Trump, to annex parts of the West Bank.
Evangelicals for Trump  
Lee Fang, the journalist who uncovered the influence of the Koch Brothers in financing the Tea Party Movement, takes us inside the influential evangelical group mobilizing to re-elect Trump in an article in The Intercept. He introduces readers to the group United in Purpose, a gathering that includes not only evangelicals from the fringe of Protestant religions, but also hard-line conservative Catholics. Using sophisticated social media methods, they seek to bring into their ranks religious Latino and African-American voters in "battleground" states, and to throw their support behind moves to discourage or prohibit mail-in voting.
Fang's article is about tactics. He doesn't cover the question of how people professing a Christian faith reconcile their support for Trump with Christian moral teaching.
---
The People's Republic of Eigg
Eigg is a 30 square kilometre island off the west coast of Scotland, just north of the Isle of Muck. Writing in Al Jazeera  The Isle of Eigg and the possibilities of building a new economy Christine Barry describes how the 100 Eiggites have taken control of their own economy. They prosper by producing and trading useful things, without having to support the large wealth-extracting sectors that characterise most economies:
Today's economic elite do not generally earn their wealth by producing useful things: They are gatekeepers who extract wealth from others by controlling the resources they rely on, just as landlords extract rent by controlling land and property.
You can learn more, including tourist information, from the comrades' website.
---
Saturday's Good Reading and Listening is compiled by Ian McAuley
Watch out tomorrow, Sunday, for Peter Sainsbury's Sunday environment round up.