What people in other forums are saying about public policy
---
The Coalition's war on the planet
Morrison fails to distract us from climate change
The Australia Institute has published a major report Climate of the Nation 2020: Tracking Australia's attitudes to climate change and energy, based on a survey of 2000 people across Australia.
The coronavirus has not diminished our concern for climate change, and while last summer's fires may have brought climate change more to our attention, they are clearly not the sole reason for our rising concern. There has been a steady rise in our awareness and concern for the last nine years in which Australians have been surveyed.
It's not just a general awareness. Even before the fires more Australians were reporting that they themselves were experiencing the effects of climate change.
The Coalition's attempt to sheet the blame for electricity price rises on to climate change has not worked. A majority of respondents blame privatisation and electricity companies' excess profits.
There is no enthusiasm for a gas-led recovery, and even less for coal, but we vastly over-estimate the economic significance of these industries: they're actually quite small in terms of employment and contribution to GDP.
Although the number of Australians who deny the existence of climate change has been falling, 9 per cent of us "do not believe climate change is occurring" and a further 12 per cent are unsure.
Roy Green has brought to our attention a book by Ralph Evans that provides some explanation for such beliefs: Toast : Climate change is doing enormous harm. Why do many Australians deny it? Can we avoid the worst effects?
Business is well ahead of recalcitrant governments
On the ABC Science Show Robyn Williams interviews Jonathon Porritt on the urgency and practicalities of dealing with climate change. Governments are lagging, but corporations, even in industries such as aviation, shipping and cement, where abatement is technically difficult, are moving. The recalcitrance of government is explained, in large part, by the corrupting connections between politicians, the media (particularly the Murdoch media), and certain corporate interests. It is also explained by governments' conditioned reluctance to intervene in the economy (a reluctance they have had to overcome in dealing with Covid-19).
Noting that people are finding it difficult to deal with Covid-19, Williams asks if we will be able to bear the pain and sacrifice of dealing with climate change. Porritt responds that there is no need for hardship and sacrifice – the task should be challenging and exciting.  Nor do we have to adopt an authoritative approach to dealing with climate change, because "there are very few people who want to see their own lives improved if it means that as a direct consequence the lives of their children or the next generation will be emphatically reduced."
He notes that 130 governments have acknowledged the existence of a climate emergency; ours isn't one of them.
Porritt is author of Hope in hell: a decade to confront the climate emergency.
Where do unions and bankers stand?
There are media reports that the CFMEU and the AWU have arranged a Powerpoint presentation for Labor Members of Parliament, urging Labor to support the coal and gas industry. The presentation has been obtained by the Financial Review (paywalled), but  neither union has made it available on their websites for public scrutiny.
By contrast the ANZ Bank, in its 2020 presentation of results, has outlined an ambitious but realistic carbon policy (page 109). It will no longer be providing banking services to any new business customers with material exposure (>10 per cent of revenue) to thermal coal, and will not finance any new coal-fired power plants. It has affirmed its support for the Paris goal of net zero emissions by 2050 and will "move away from working with customers that do not have a clear and public transition plan."
Note that the ANZ Bank is still committed to "low carbon gas", but it is well ahead of its comrades in the union movement.
---
Other economic issues
Risks to our financial systems
Reserve Bank Assistant Governor Michele Bullock has given an address Financial stability in uncertain times. It's a generally upbeat assessment of the stability of our financial institutions, and of Australian businesses' net debt and liquidity positions. But we will see business failures, even as the economy starts to recover. She singles out commercial property, particularly CBD retail property, as a vulnerable sector.
While most households have wisely strengthened their own financial reserves, the recession seems to have exacerbated the (already rising) extent of non-performing credit card and housing loans, and there is a significant number of deferred housing mortgages. Such is the uneven impact of this recession.
Inflation or its absence
There was once a time when governments and the public were terrified of inflation. Now we're all hoping to see it come back – at least to the Reserve Bank's target range of two to three per cent a year. That's because the absence of inflation is a sign of an economy suffering from weak demand, and because inflation helps write down debt: in both the household and government sectors we have rather a lot of debt.
The ABS Consumer price index for the September quarter shows a 1.6 per cent rise for the quarter, partially offsetting the 1.9 per cent fall in the previous quarter.  But we should note that the CPI is strictly an indicator of movements in consumer prices: it is not a measure of inflation, which is about prices in markets subject to laws of supply and demand. Excluding items subject to government fees and charges – child care, gasoline and school fees – the CPI would be only 0.4 per cent this quarter. Child care alone accounts for 1.2 percent inflation this quarter, coinciding with the government abolishing temporary support.
---
The pandemic's progress
Victoria and New South Wales – now it's about untraceable cases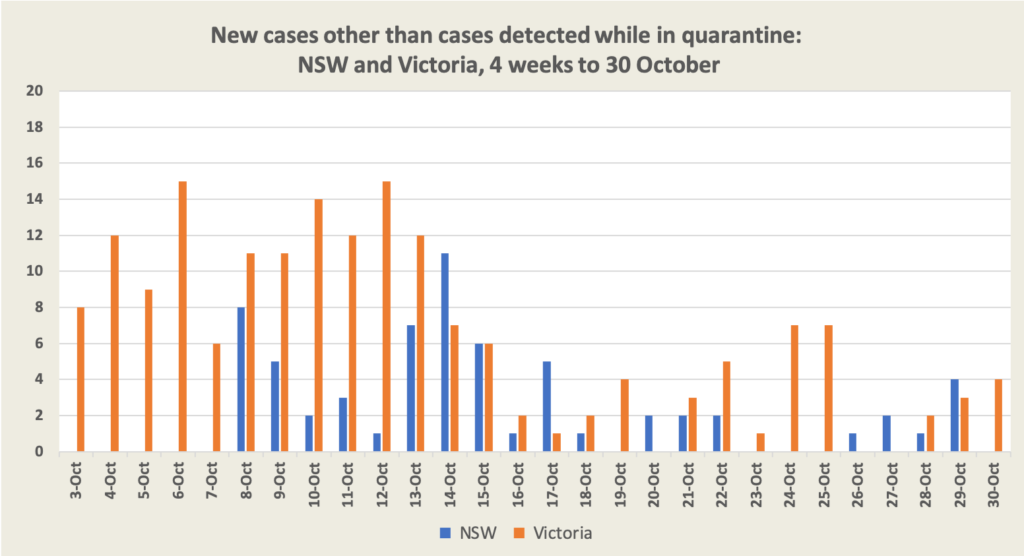 Victoria's strong measures to deal with the wave of infections seem to have worked.  For the last two weeks Victoria has had 39 new cases, while New South Wales has had 20 (excluding cases among quarantined travellers).  Remember that at its peak on 5 August Victoria had 723 cases in one day.
Now the focus is on cases for which a source cannot be found, and therefore which state has a better contact-tracing system.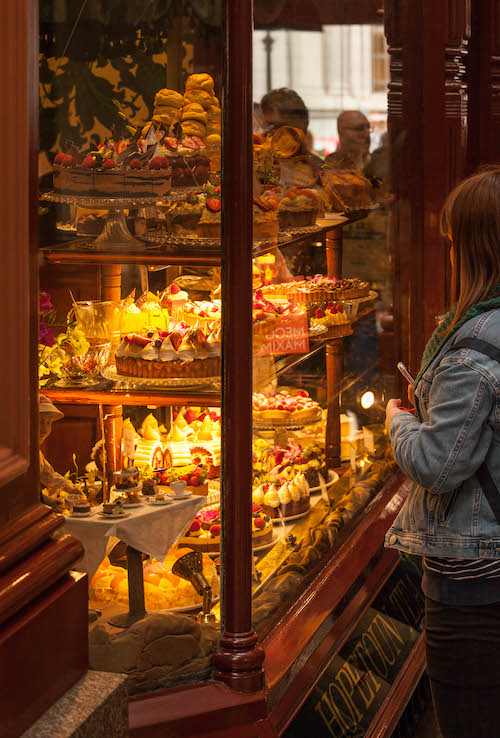 Morrison and Frydenberg seem to be riled by the failure of the Victorian public to join in their condemnation of Daniel Andrews.  An Ipsos poll published by The Age shows Andrews' approval rating at 52 per cent, compared with 15 per cent for Opposition leader Michael O'Brien, and a 53 percent to 18 per cent lead for Andrews as better premier.  The same poll finds strong support for restrictions – compulsory mask wearing and certain bans on travel. (Possibly Andrews' strong approval has been helped by the government's having shifted football out of the state and restricted crowds at the Melbourne Cup.)
Writing in The Saturday Paper (one non-paywalled article a week) Royce Kurmelovs covers the specific failures that allowed the virus to surge: Victoria's hotel quarantine inquiry. He finds a systemic failure in the state's adherence to a managerial system known as "New Public Management":
Under the government of Jeff Kennett, Victoria embraced the theory of new public management (NPM), overhauling the way public institutions were run and giving preference to managers who were generalists over subject matter experts. Contracting out to private companies became standard procedure, driven by a belief the private sector was more efficient and cost-effective. The shift also had the added benefit of shifting power away from unions within the public sector.
Labor governments never undid the changes and soon these ideas became the norm.
Whom to blame: private consultants who pedalled the idiocy of NPM, the Coalition for buying the stupid idea, and Labor for not consigning it to the trash can of failed fads?
Europe and the USA
We present yet another weekly update, and yet another expansion of the Y axis to show Europe's surge.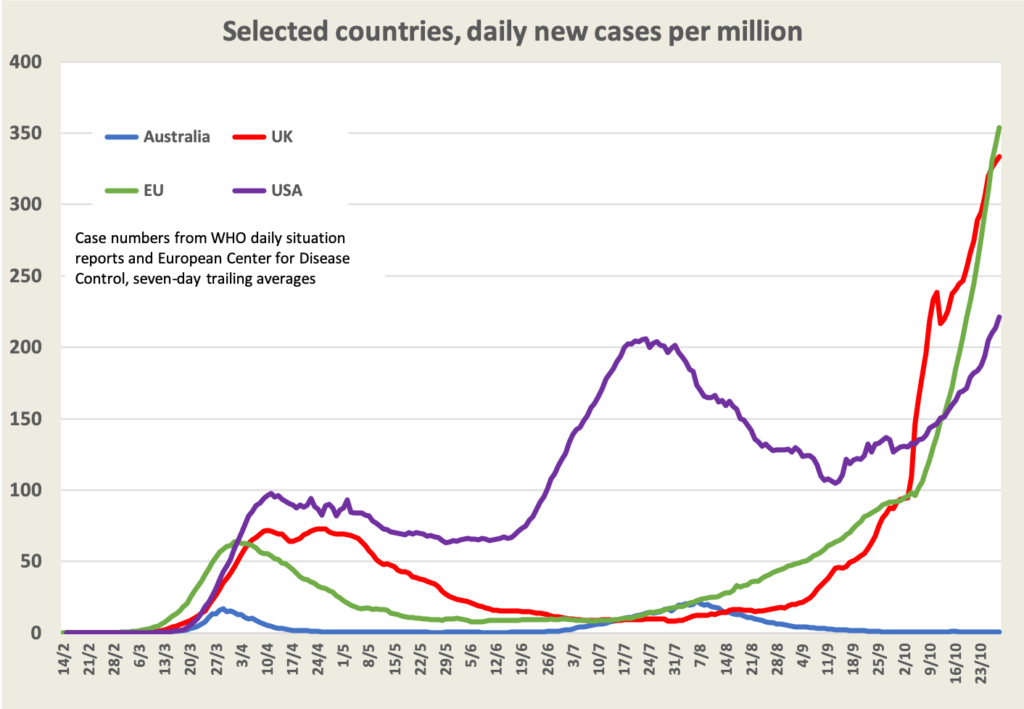 Even this expanded scale wouldn't accommodate the daily case rate in a band of western European countries – France (590), Belgium (880), Luxembourg (830) and Netherlands (560). Publicity has been given to strong measures in France and Germany, but by European standards Germany is still doing well with 140 daily cases per million.  Apart from Malta the only EU country enjoying a lowering rate of infections is Ireland, which commenced Victoria-type restrictions on 21 October, with a 5 km leash.  Even pubs have closed except for takeaway.
That such an outbreak would occur was obvious to even the most casual observer back in August, when governments enthusiastically relaxed controls, in the supposed interest of re-vitalising their economies.  Rising case rates were evident in September, as the graph shows. But it is only now as hospitals are becoming stressed that it's becoming a major issue, justifying strong measures, and in a couple of weeks governments will have to respond to escalating deaths.
It's a damning observation on governments' approach to public policy. Even in this situation where all is clearly predictable governments have ignored warnings and procrastinated, at great cost to lives and livelihoods. The economic damage will be much greater than would have been the case if governments had taken milder measures sooner, and ignored the petulant voices of those purporting to speak for the "business community".
Sources
Sources of generally reliable information and analysis about Covid-19 are on a separate web page.  This week The Economist has an article on how the pandemic is leading to fewer babies in rich countries and more in poor countries. The Harvard Gazette has some calculations about the number of deaths resulting from Trump's dismissal of face masks.
---
Australian politics
The hard road to a national integrity commission
Do the public believe that Gladys Berejiklian has been unfairly caught by what they see as New South Wales' over-zealous ICAC? If there is strong sympathy for Berejiklian the Coalition could use it as an argument against having a strong Commonwealth anti-corruption body. The Centre for Public Integrity has re-published an article by journalist Stephen Rice, originally published in The Australian, in which retired Victorian judge Stephen Charles reminds us that "the whole Coalition are terrified of a strong national integrity commission" and they will use the Berejiklian situation as an argument against a strong anti-corruption body: Federal anti-ICAC forces to exploit sympathy for Gladys Berejiklian's plight.
Some day Scott Morrison will be mugged by reality
Writing in the Canberra Times, John Hewson summarises Morrison's approach to public policy:
[He] is increasingly defined by his theatrics, rather than leadership or policy substance.
His focus is mostly on the "big announcement", not on delivery.
He doesn't seem to understand nor accept responsibility.
He relies on spin and hubris, and is quick to shift the blame.
He readily attempts a political stunt to distract, but not always achieving the desired outcome.
The main context for Hewson's observation is Morrison's repeated assertion that responding to climate change must come at a cost to jobs and economic growth. The reality that must surely mug him is the decision of our major coal and gas customers – Japan, China and South Korea – to commit to net zero emissions by 2050 or 2060.
Hewson goes on to mention Morrison's ducking responsibility for quarantine and aged care during the Covid-19 crisis, ignoring rorts associated with "Jobkeeper" and assistance to the aviation industry, turning a blind eye to an over-valued land purchase from a Coalition donor, and making ad hominem attacks on Australia Post CEO Christine Holgate and Victorian Premier Daniel Andrews.
Australia Post – a commercial operation or a public service?
Too frequently we think of a dividing line between public ownership and privatisation. But what can count more in terms of public policy is the difference between an entity set up as a statutory authority, with a charter to serve the public purpose, and one set up as a statutory corporation, with a wide degree of commercial autonomy, constrained only by specific provisions to provide certain community services.
Our traditional state-owned electricity and water utilities were statutory authorities, but those that remain in public ownership are profit-making statutory corporations. In many ways they are indistinguishable from privatised businesses.
John Quiggin, writing in The Guardian, points out that Australia Post was set up by the Whitlam Government as a statutory authority, but became corporatized in the 1980s. It's not about the watches: is Australia Post a commercial operation or a public service? Christine Holgate is right: so long as they deliver letters and meet certain other prescribed obligations, Australia Post can operate as private firm. If Australia Post cuts enough lucrative deals she could legally give all managers Lamborghinis.
What has outraged so many people is the size of bonuses, which have come to light at a time when so many people are doing it tough, and when so many other people formally on the public payroll such as teachers and nurses, or who are working in publicly-owned entities such as academics, don't share in such bounties.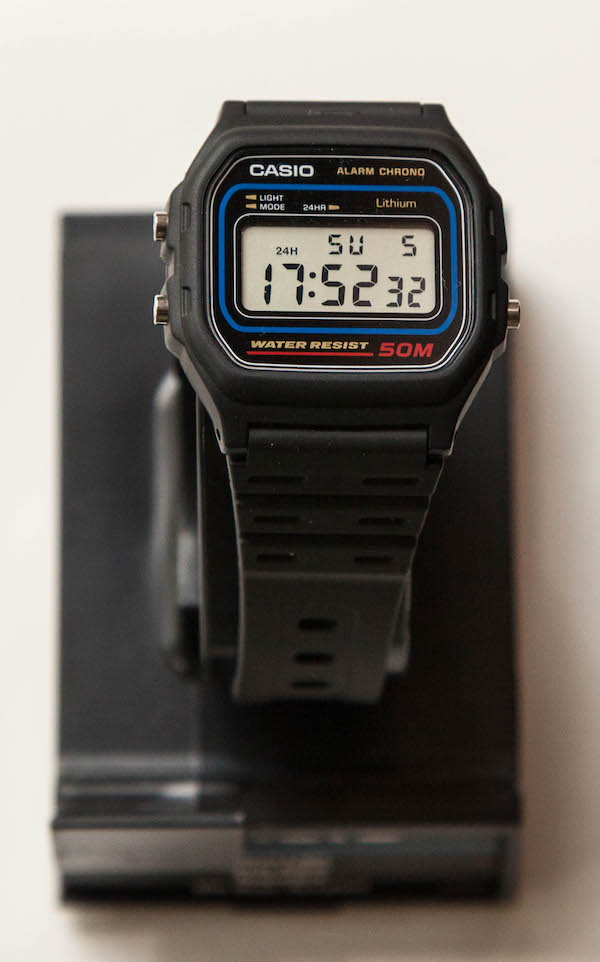 There is also something symbolically offensive about $5000 watches, because they're symbols of vanity.  They don't fit in to the culture of bodies dedicated to the technical tasks of providing electricity, delivering mail, clearing trash.
In such entities a profit would be seen as a sign of over-pricing. As Quiggin says, "Australians want basic services to be delivered cheaply and reliably, by organisations set up to serve the public, rather than to maximise profits."
The statutory authority model served us well. They were generally run by engineers and other practical people who, if offered a $5000 watch, would have had the good sense to settle for $4970 in cash and a voucher for a reliable $30 timepiece. The expensive corporate gift implies an assumption that people are motivated by being able to flash around showy jewellery. We'd rather have our utilities managed by people motivated to do a good job serving the public and expecting a decent pay in return rather than a paternalistic pat on the head with a piece of flashy jewellery.
---
Elections
Queensland – zero sleeps to go, return of the incumbent likely
William Bowe's Poll Bludger has a collection of poll findings on today's election in Queensland. (The site's location may shift as more surveys come to his notice: if so, go to Bowe's top page.) Although there may be some regional shifts – Labor's support in the north is weak – the polls are pointing to Palaszczuk's government being returned. Bowe reports that Sportsbet is offering $1.25 for a Labor win and $3.75 for an LNP win.
He mentions a poll in which people have far more faith in Labor than in the LNP in their ability to handle the economy. This is a reversal of the usual opinion polls on economic management. Before Labor supporters come to the conclusion that Queenslanders have finally come to realise that the Coalition is a lousy economic manager, they might reflect on people's understanding of what is meant by "economic management". LNP contender Deb Frecklington has come under pressure for not being clear about how the party would fund its promises. It may be that years of conditioning by Coalition politicians has led people to believe that "economic management" is simply about the budget's cash outcome, rather than broader issues involved in economic management.
Chileans vote for social democracy
Last Sunday, 80 per cent of Chileans voted to scrap the country's Pinochet-era constitution and to set about the task of writing a constitution more suited to a people concerned with human rights. The old constitution, shaped by US-trained hard-line economists who were advising Pinochet, was dismissive of human rights and it set the stage for privatisation of health, education, utilities and pensions, to the benefit of US multinationals.
As Sharan Burrow, now General Secretary of the International Trade Union Confederation points out, trade unions formed a coalition with civic groups to bring pressure on the Chilean Government to have people vote on a new constitution.
Lithuania – a swing to the right or a swing to liberalism?
Last Sunday the second round of Lithuanian elections delivered enough seats to the Homeland Union Party to form government in cooperation or coalition with two other parties. Ingrida Simonyte's Homeland Union is a traditional European Christian-Democrat party.  Although the election may be seen as a swing to the right, it is notable that Simonyte has chosen two other pro-European parties for this arrangement – the Liberal Movement and the  Freedom Party, which has a strong platform on carbon neutrality and feminism.  Milda Seputyte, reporting on the election for Bloomberg, points out that all three parties are led by women. The Farmers and Greens Union government they displace is best described as agrarian green. The election may be seen as a shift from rural to urban, rather than increasingly inappropriate "left"/"right" or "progressive"/"conservative" classifications.
America: only four sleeps before political drama on our screens – comedy, farce, tragedy?
In the last few weeks there has been enough US election speculation to fill a medium-sized data centre. We have picked just two comments – one on religion and voting patterns and the other on Trump's militarisation of politics.
Religion
The ABC's Religion and Ethics report this week looks at how those who identify as "Christian" will be voting – The "holy" vote in US politics. It is in two parts.
In the first segment Andrew West interviews Greg Smith of the Pew Research Center. Smith conducted a major survey of voting intention by religion: White Christians continue to favor Trump over Biden, but support has slipped. Trump has a strong base among "whites" who identify as "Christians": evangelical Protestants 78 per cent to vote Trump; non-evangelical Protestants 53 per cent; Catholics 52 per cent. All other groups – "non-white" Christians, people of non-Christian faith, and people of no religious affiliation, show net support for Biden  (10 minutes).
In the second Religion and Ethics segment Patrick Deneen of Notre Dame University (author of Why liberalism failed) and David Gushee of Mercer University (author of After Evangelicalism: The Path To A New Christianity) discuss the factors that have led to such strong divisions. The contributing factors have an economic dimension, but those economic factors merge with identity politics. Trump's religious base is identified by what it isn't – it isn't part of the liberal and educated elite who support and have benefited from globalisation and economic deregulation. (20 minutes).
Militarisation
Writing in Foreign Affairs academics Aila Matanock and Paul Staniland alert us to The militarization of US politics. They recount how Trump has lent authority to armed right-wing militias who make their presence felt at political events. They fear that "it is possible to imagine a future in which party activists and armed actors have increasingly institutionalized relationships".
Polls
For poll addicts there are at least two reputable consolidation of polls Fivethirtyeight and Real Clear Politics.  Both show that Biden's lead, while having closed a little, is still stronger than Clinton's was at this stage in 2016. Both have poll results for "battleground" states.
(While opinion polls and betting markets assign percentage probabilities to election outcomes, in this era of extensive pre-poll voting, outcomes could already be determined, but not revealed, well before polling day. An extension, by Trumpian political theory, is that the action of opening the ballot actually determines the outcome, and the box is closed and re-opened until the opening produces a satisfactory result. It's a political Schrödinger's cat situation where the cat is simultaneously named Frecklington and Palaszczuk, or Trump and Biden.)
---
Multilateral stuff
A small step towards nuclear disarmament
Last weekend Honduras became the 50th country to ratify the UN Treaty on the Prohibition of Nuclear Weapons. With the 50th country having signing on, the treaty will become international law in January next year. On Late Night Live Phillip Adams discusses the treaty with Tilman Ruff, co-founder of an Australian initiative ICAN – the International Campaign to Abolish Nuclear Weapons: A step closer to banning nuclear weapons.
In spite of overwhelming public opposition to nuclear weapons, the treaty has met with strong opposition from governments – not only the nine states with nuclear weapons – but also from non-nuclear states, such as Japan and Australia, relying on the supposed US nuclear umbrella. And there has been pressure on present signatories to pull out of the treaty – Trump has written to all of them urging them to withdraw.
Writing in The Conversation – "I still cannot get over it": 75 years after Japan atomic bombs, a nuclear weapons ban treaty is finally realised – Gwyn McClelland of the University of New England describes the work of the Japanese hibakusha ("survivors"), a group who have been campaigning against nuclear weapons, including the 92 year-old Ozaki Tōmei, orphaned by the Nagasaki bombing and now a brother in a Catholic order.
If elected, Labor plans to ratify the treaty.
Happy 75th birthday to the UN
Madeleine Albright and Ibrahim Gambari mark the UN's 75th birthday with an article Recovery and renewal at the UN published in Project Syndicate.  The UN is under threat from rising nationalism, but its decay or collapse would be tragic for all of humanity. Dealing with and recovering from Covid-19 will require world-wide cooperation, and there are many other global challenges beyond the capacity of individual countries or even special groupings: climate change, cyber-attacks, and conflict and displacement of people in fragile states.
On the ABC's Saturday Extra Geraldine Doogue discusses the UN's history and future with Stephen Buzdugan of Manchester Metropolitan University: The UN turns 75. She asks if multilateral cooperation is still a realistic goal in a world with smaller groupings and where ideas of collective security seem to be fading.
Buzdugan sees the UN filling a unique and important role, particularly for small countries.  Its agenda is dominated by the five members of the Security Council, but he sees scope for smaller countries achieving more voice in the UN, and he believes it is still influential in setting norms of behaviour in member states.  He reminds us that although the UN is formally 75, its formation stems from the 1941 Atlantic Charter.  Then, as now, the world was coping with a catastrophic situation, requiring concerted international cooperation. (22 minutes)
Buzdugan is co-author of The long battle for global governance.
---
Public ideas
The case for democratisation of business
There is an argument that the sole responsibility of those who manage a corporation is to maximise its profits. Their only social responsibility is to obey the law.
That argument has obvious support from those on the right, and many on the left also support it. That's because corporations' pious statements about social responsibility are simply public relations, because businesses have neither the capacity or motivation to address society's toughest problems, and because there is a risk that governments will abandon their responsibilities to business, even though the resources that the most generous businesses can mobilise are small compared with those available to governments. The public interest therefore is best served through government regulation and taxation.
Writing in Project Syndicate – The public's businesses – Dani Rodrik acknowledges this argument, but he points out that the task of regulating business behaviour has become beyond the capacity of governments. Businesses can influence governments to write regulations in their own profit-maximisation interests.
Regulation and policymaking require detailed knowledge of the circumstances facing firms, the available possibilities, and how these possibilities are likely to evolve. In environmental regulation, finance, consumer safety, antitrust, or trade policy, government officials have ceded control to corporations because it is corporations that determine how knowledge is produced and disseminated. This gives them the power to determine how problems are defined, which solutions are considered, what the technology envelope looks like.
That means the only realistic path to seeing business become more socially responsible is to make business itself more democratic – along the lines of the stakeholder capitalism model.
---
Elsewhere in Asia
What's going on in Thailand
We're seeing plenty of video of young people demonstrating in Thailand, but there is not much explanation of why they are out on the streets.
The issues are complex. The Thai political landscape is occupied by four groupings – the monarchy (protected by harsh lèse majesté laws), the military (closely connected to the monarchy), the government, and a conservative middle class.
On Saturday Extra Geraldine Doogue interviews Thai political exile now at Kyoto University Pavin Chachavalpongpun, and Thai-based British writer Chris Baker: What's happening in Thailand? Younger Thais have taken to the streets over a constellation of issues – the privileged position of the monarchy, the government's move to develop an anti-democratic constitution, and a set of oppressive rules governing personal behaviour. (23 minutes)
---
Your guide for Wednesday
A state-by-state guide to the US election
It's often hard to follow US elections because there are so many state contests. But there is an authoritative state-by-state guide to election issues and contests.
---
Watch out tomorrow, Sunday, for Peter Sainsbury's Sunday environment round up