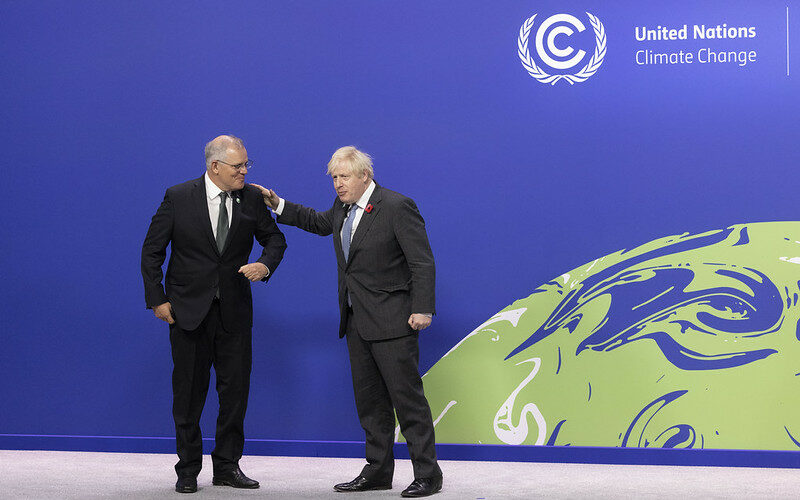 Too much is at stake to be timid in critiques of the Morrison government's outrageous 'Australian Way' of addressing climate change.
In refusing to adopt radical policies to combat the consequences of climate change, Australia has become a pariah state. In his allegiance to fossil fuel industries, Prime Minister Scott Morrison thumbed his nose at developing countries' pleas to do something concrete for their citizens and more generally for humanity.
Back home from Glasgow and immediately into election mode in coal constituencies, such as those in the Hunter region of NSW, there's a danger that Morrison's outrageous behaviour may not not be universally condemned and in some regions may be approved.
The fossil fuel grounds for Morrison's indifference need to be publicised, so too his false claims that his deal with the Nationals will drastically reduce Australia's methane and other greenhouse gas emissions.
In Glasgow there were huge delegations representing corporate interests responsible for mining coal, oil and gas. The giant energy company Santos sponsored the Australian pavilion. The US special climate envoy John Kerry, described as "a definition of insanity" the billions spent by governments, including Australia's, on subsidising the fossil fuel industry.
The outrage expressed by nations towards the Morrison government's "Australian Way" of responding to climate change is matched in Australia by despair over government deceit, not only towards French President Emmanuel Macron over a ditched submarine deal.
Research by the Australia Institute shows that Australia's plans to massively expand coal and gas production are conducted alongside claims about achieving net zero emissions by 2050. The Institute reports that new fossil fuel projects under development in Australia would result in 1.7 billion tons of greenhouse gas emissions, "the equivalent annual emissions of 200 coal-fired power stations".
Business as usual is a Morrison election strategy to appeal to conservative constituencies, not just coal mining ones. It's a lazy way of thinking. Nothing has to change.
Much has to change. Outlaw deceit, not least by ceasing repeats of the glib slogan "technology not taxes", or by discouraging government head prefect Simon Birmingham from insisting that plans can be based on ignorance about what technology might achieve.
Outlaw lying, such as Morrison's latest embrace of a future for electric cars coupled to his denial that three years ago he had ridiculed such a policy.
Fossil fuel dependence means Coalition reluctance to support a clean energy economy requiring transition from one way of thinking and living to another.
Morrison's out of date advertising based values, allied to those of his media promoters, obstruct the possibility of thinking differently. If poor nations' interests get in the way of the Coalition's re-election strategy, to hell with them. The Morrison indifference to non-polluting nations in the global south is fuelled by his intransigence in defence of coal, hence a need to demystify what is meant by transition.
A May 2021 report from Statista estimates approximately 39,000 people employed in coal mining, but building new renewable energy is cheaper than running existing coal plants.
In a October 2021 report, research agency Renew Economy found that an Australian renewable energy export industry could create almost 400,000 new jobs and become more valuable to the Australian economy than current coal and gas exports.
Workers hitherto employed in mining coal and gas would need support and guaranteed means of income to transfer to changed forms of employment probably in different locations. They would need and benefit from financial and community help to adjust to life in new communities.
But transition affects everyone. Nothing new about that. From good health to serious sickness and from there to recovery demands adjustment to changes, so too the responses to stress in dealing with the short and long term consequences of the death of loved ones, a particular demand in relation to sudden Covid fatalities.
Consider the experience of citizens moving from employment to unemployment, from secure housing to insecure rentals or homelessness. Hear the transition stories of migrants with no resources who do not speak English, who experience discrimination and massive uncertainties. Listen to students making the transition from school to a limited job market, or having to pay a fortune for University education where staff resources are limited and most teaching is online.
Morrison intransigence and indifference on the climate front also displays policy disinterest and ignorance in other crucial areas of government. The move to clean energy futures requires transition from believing that taxation is always a negative, from thinking that government is best which does not govern, hence the fascination with contracting out and with privatisation.
Accessible, affordable, well-staffed schools and health care must be part of a clean energy future. Visions of socially just, affordable new ways of living will be aided by determination not to be influenced by the cruel, inefficient and hugely expensive US health care systems, surely a modest lesson for lives lived during a global pandemic.
Transition already threatens life in south east Asia and among Australia's pacific neighbours, so Morrison Incorporated should cease the pretence that changes in life style and opportunity only affect coal mining communities in Australia.
In Glasgow, Morrison's indifference to young people's pleas to be taken seriously is displayed in his alliance with the fossil fuel industry and in his cosy acquiescence with the polluting energy policies of Saudi Arabia and Russia.
This indifference is outrageous and cruel. In the immediate future such conduct should be opposed boldly, widely, and without fear.