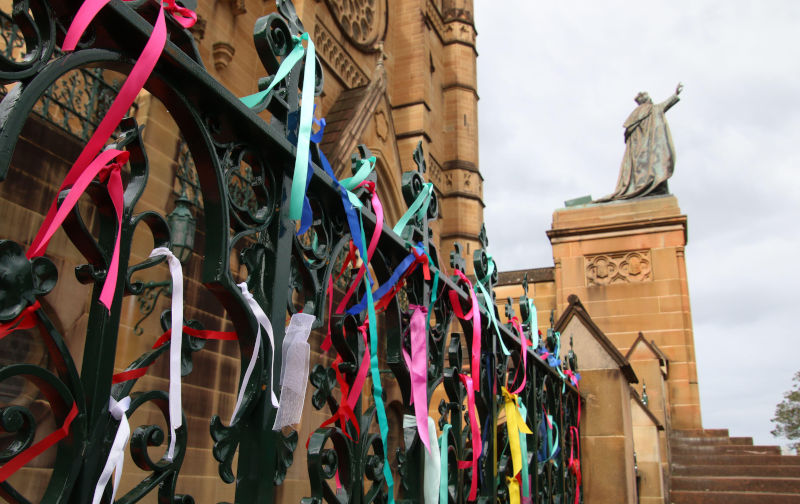 Following yesterday's funeral of Cardinal George Pell, I was disturbed to read this from a Sydney Morning Herald letter writer: 'I went to St Mary's Cathedral to tie a ribbon on the iron fence for a friend who was raped by a priest when he was seven years old. My ribbons were cut off by men and women who were physically and verbally intimidating.'
I have wanted to believe that the persistent removal of the memorial ribbons in the weeks since the cardinal's death has been the work of fanatics, and not anybody acting on behalf of the Church.
I have been waiting in vain for the current archbishop to publicly acknowledge that the ribbons have a place in the remembrance of Cardinal Pell and the Church's child protection failings under his leadership.
'We hear you,' is what he might have said, and it's all he needed to say.
Pell was not my kind of church leader. I preferred the preceding Archbishop of Sydney, Cardinal Edward Clancy.
Clancy was every bit as conservative as Pell – but inclusive – in that he would sometimes embrace as policy, positions other than his own. It seemed he was the shepherd who also cared for those he disagreed with. He was not at war with them.
The example that comes to mind was his support for the Kings Cross medically supervised drug injecting centre proposed by the Sisters of Charity around 2000. I understood it as part of a harm minimisation strategy that was based on the progressive 'proportional reason' thinking in Catholic moral theology, rather than the more traditional 'moral absolutes'.
Pell killed the proposal when he became archbishop in 2001, and the Uniting Church took over and had success with it.
Clancy's approach strikes me as similar to that of NSW Liberal Party leader and Premier Dominic Perrottet. Perrottet is a far right conservative whom, it seems, governs for all, not just his Catholic Opus Dei friends, as was feared when he took over in 2021.
I am particularly heartened when I see him working positively with his political adversaries including the independent Member for Sydney and leading assisted dying campaigner Alex Greenwich. Perrottet's style can dismay conservatives and cultural warriors who expect some kind of loyalty from him.
Pell's biographer Tess Livingstone wrote in The Australian yesterday that Perrottet's no show at Pell's funeral 'beggars belief given his background as captain of Redfield College and the Cardinal's warmth towards Opus Dei'.
Cynics suggest he's just calculating support ahead of next month's state election. But I think he's showing more feeling for the Church's sex abuse victims than the supposedly contrite church administration presiding over the cutting down of the memorial ribbons.