The sinophobia in Australian media is rife. Publisher and broadcaster love stories about Chinese protesters rallying in Australia, China, Hong Kong, etc.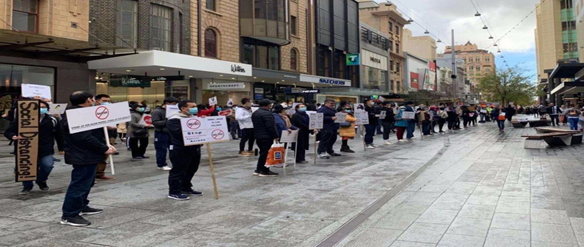 Rundle Street Adelaide 11 July 2020
On the 13th of July Su-Lin Tan, an Australian journalist now working for the Hong Kong-based  South China Morning Post published a story of Chinese protestors rallying in Adelaide, of all places, titled 'Asian-Australians hold protests as community faces rise in racist attacks'.
This time however, with the single exception of Channel 7 which gave the rally 28 seconds, the story was ignored by Australia's media outlets. One suspects this is because the 200 individuals who rallied in Rundle Mall were not protesting against the Chinese government or the CCP but against the way the Australian government, media and broader population have enthusiastically embraced and promoted the latent anti-Asian racism that is part of our heritage and culture.
As Peter Goers has observed in Pearls and Irritations "Sadly, Sinophobia is back officially and publicly as Australians are spitting on Chinese-Australians."
That the Australian-Chinese community may be sensitive to the denigration and racism they are experiencing should be of interest to the ABC and SBS. Both media outlets have run stories of individual Asians attacked verbally or physically.
Given the interest in individual racial assaults, an innocent might have thought the Adelaide protest might be deemed newsworthy but this has proven not the case. This is presumably because the demonstrators were not on board with the anti-China program promoted with increasing enthusiasm by these media vehicles. It is all well and fine to run stories about the distress experienced by individuals but it is another story when a community begins to organise.
The demonstration in Adelaide poses the risk that Australian-Chinese will organise to defend their rights elsewhere and if the latter occurs it will be a serious embarrassment for Australia. That one has to go to Hong Kong to discover the story of Austraian-Chinese demonstrating in Australia is somewhat ironic and a sad commentary on the role played by our instruments of state propaganda.