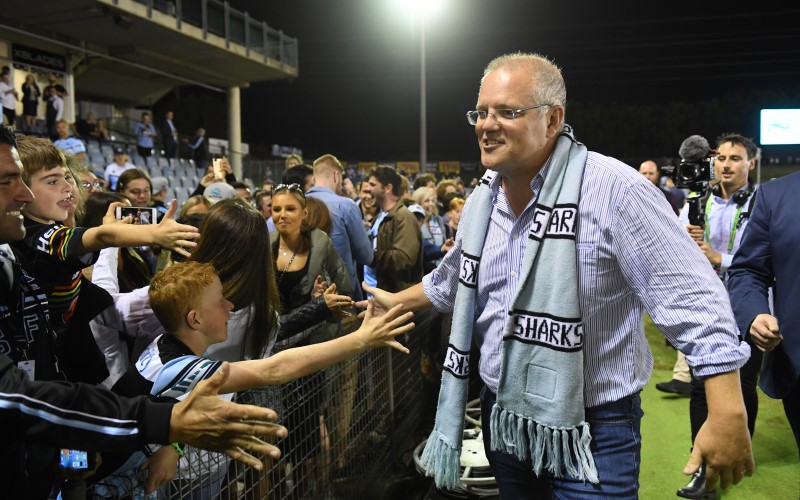 The holidays should be a chance for some contemplation about the Prime Minister's strategy and tactics, as well as about urgent tasks of government.

Prime Minister Scott Morrison has seemed to be spending the last days of his 2021 preparing to reproduce the same sort of mistakes, almost exactly a year ago, that destroyed much of his reputation and capacity to govern.
It's a pattern now so ingrained that one despairs of his ever learning. Develop a problem that should have been anticipated by good staff work — so obvious that the failure to address the particular issue is commented on right from the start. Ignore it, deny that a problem even exists,  or pretend that it is a problem for other players, perhaps the states.
Let the problem fester, to the point where the failure to address the issue is itself becoming an issue. Finally, have some urgent discussions with staff to apply a marketing Band-Aid to the problem, one that does not deal with the underlying issue. Be prepared, if necessary, for a complete reversal of previous statements, while simultaneously denying any inconsistencies, and blaming others for any misunderstandings or failures to deliver. Afterwards claim the credit for the success, if any, of the revised policy, as if the original stumbling block, announcement or decision had never been made, and the patchwork had always been the intended solution.
Morrison always seems to come to problems late. He is not proactive, but reactive. His instincts are not good. Nor is his foresight, or executive judgment. Either he is getting terrible advice from his enormous staff of political advisers and his department, or he is ignoring the advice he is getting. In any event, he is almost always in trouble because he does not anticipate events that are highly predictable, even likely. His incapacity to deal decisively with such matters distracts him from other crises in government, and inhibits his ability to move on after a problem has been neutralised.
It's probably getting worse, because of trying to make his day-to-day "solutions" fit easily into a preconceived general outcome. On the pandemic, for example, he has long wanted a resumption of economic activity ahead of public health management, and an end to lockdowns, border closures or other obstacles to free movement of people, to complete access to shops, markets and workplaces, and a marked reduction of mandatory measures such as mask-wearing, quarantining, controls on crowd-sizes and social spacing.
He let himself believe that such changes would happen naturally as most of the population was immunised, and the risk to the general community declined, even as some refused vaccinations. He and, first, NSW premier Gladys Berejiklian, later her successor Dominic Perrottet, have been consistently taking the most optimistic view of health advice as not discouraging the taking of risks with public health. People of their broad ideological approach in other nations, such as Boris Johnson in Britain, have trodden a similar path, equally disastrously.
Morrison was far too late in responding to the signals coming out about a surge in cases associated with the Omicron variation of the coronavirus, now, like the Delta variant that preceded it, quickly taking over as the most prevalent form. Mercifully the surge in disease incidence has so far been  mostly at the milder end, rather than as a source of hospitalisations, intensive care treatment and deaths. This has meant that major health facilities have not been overwhelmed. But public facilities for establishing and confirming infection have been overwhelmed, with long queues of vehicles leading to hours out of the day for ordinary members of the community.
Slow to anticipate predictable, even slower to act decisively
In some cases those who have been queuing  have not been there because they fear that they have the condition, but because it has been some condition of interstate travel, quarantine, or work arrangements. Every day hundreds of thousands of Australians have waited patiently in the long lines; every day delays in getting results have increased as testing machinery has been overwhelmed. The capacity of the state, or the private sector, to "surge" testing has been compromised by the number of qualified staff able to administer tests, and limits on the capacity of testing machinery.
Until the middle of the week, the Commonwealth seemed to be indicating that this was primarily a problem for the states, now apparently in charge of all practical measures against the pandemic, save for some especially vulnerable groups such as the aged. It was soon obvious that it went well beyond this, particularly once it became clear that the number of active cases was increasing exponentially. Particularly in NSW and Victoria, it was also clear that daily notifications considerably understated the actual prevalence of the disease, because tens of thousands were  being discouraged by long queues, and many thousands of others by not reaching the top of the queue on particular days.
The complexity of standard tests raised the question of whether rapid antigen tests could substitute, and, if so, whether such testing would be subsidised by the Commonwealth or the states or both. RATs are fairly reliable, and, in particular can reasonably substitute as evidence of disease-free status while travelling or attending work, and in cases where there are no, or few serious symptoms, of an active condition. But Morrison came to the benefits of RATs late, and to the implications of inconvenience, and other costs,  to ordinary Australians, even later.
That it came to a head over Christmas (indeed hundreds of thousands of Australians spent a good deal of Christmas Day in testing queues) tended to underline the fact that the prime minister was nowhere to be seen. There were days of speculation about whether he was on holiday or not, about who was acting prime minister if he were (given the indispositions of Barnaby Joyce) and whether, indeed, he had taken his family abroad again. He hadn't, it appears, but that became obvious only after days of silence.
One might have thought that he had learnt something from his 2019 experience, when he was heavily criticised for taking a fun family holiday in Hawaii as bushfires raged in eastern Australia, or even from the criticism he endured when he used his personal RAAF run-around, at an expense of thousands to the taxpayer, to jaunt up to Sydney for Father's Day.
He has resentfully suggested that critics have been opposed to his taking holidays, or being with his family; the real criticism has been about his self-indulgence in making free use of the facilities, about his unavailability, and, indeed, about the deceitfulness of his office (and implicitly himself) about his whereabouts.
These are not good impressions in the lead-up to an election, the more so because they evoked public memories of perhaps the worst period of his prime ministership. But they are also serious distractions from both his election planning, and his getting his house in order before the election.
The Christmas holiday period — usually ending around Australia Day — ought to be an opportunity for some contemplation about his strategy and tactics, as well as about urgent tasks of ordinary government. In 2019-20, and up to a point 2020-21, he had some time for bad impressions to subside. He also had some novel distractions, such as the pandemic itself, to draw attention away from his self-indulgences, and his compulsive secrecy and refusal to account for his actions.
But at this stage of the 2022 electoral season he does not have the time. Still less does he have the flexibility, the agility, or the credit with the electorate for any major changes of course, whether on pandemic management or other tasks of government.
Tomorrow: A continuing pandemic puts more than economic recovery at risk