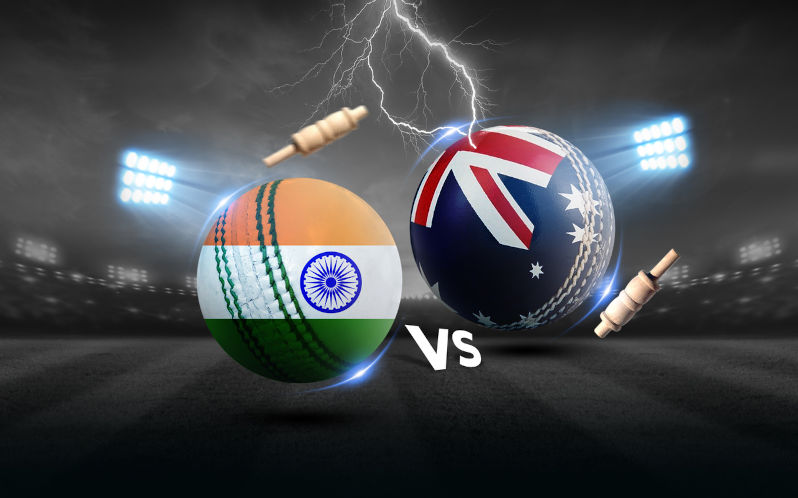 There was a bothersome moment on television late in last week's first cricket Test between Australia and India in Nagpur.
It occurred when Allan Border expressed the opinion that Steve Smith's behaviour in recognising with a thumbs-up sign that an opposing bowler had beaten his bat and scored a small victory was "ridiculous" and "stupid". Border's spray got much attention in the rest of the media over following days.
What was really ridiculous, in fact, was Border's comment. It gave an insight into attitudes rife in the "ugly Australian" teams of not long ago attitudes to their opponents and to the game itself that were unhealthy. And now those attitudes are being showcased by various ex-players from those teams and now commentating in the media.
The poor behavioural reputation of Australian teams goes back years. It has evolved through much descriptive refinement involving "sledging" and the "mental disintegration" of opponents through verbal personal attacks not far removed from what would probably be certifiable abuse if practised away from the sporting arena. It all culminated, it seems, in 2018 at Cape Town when disrespect for the opposition and for the game allowed players to convince themselves that sandpapering the ball was a legitimate means of seeking advantage. "Everyone does it" became the ultimate defence, a reason not to question whether tampering with the ball was fair play.
Thus "sandpapergate" became a thing. It was, in the memorable words of the Ethics Centre's Simon Longstaff (who was brought in to examine and advise on the culture of the Australian team), a result of seeking victory "without counting the cost". In the fallout several senior figures in Australian cricket, both on the field and off it, took a dive.
Border is a significant figure in Australian cricket, a hero from a time when the national team did not always prosper. Sometimes he stood alone amidst the wreckage as his team lost more often than its supporters and the media could tolerate. But in commentating on the play at Nagpur he appeared not to have learnt the lessons that cricket has recently had forced upon it. Specifically, he seemed to be guilty of believing that to win you had to be prepared to be nasty, or at least not kind. You couldn't smile at an opponent or share a friendly word. You had to be uncompromisingly tough in your relations with opposing players, otherwise you were not showing sufficient commitment to the team and to the revered baggy green.
Shades of former coach Darren Lehmann, who Greg Chappell wrote a year ago had believed that sledging was necessary to win. It was as essential as playing skilfully or stealing a march on one's opponent in terms of tactics.
This notion that "toughness" and "aggression" are indispensable if one wishes to win is deeply ingrained in Australian cricket at the top level. Inevitably it has permeated throughout the Australian game to the suburban parks and small-town ovals. "Give 'em nothing", not even recognition, is the mantra. You must be "hard-nosed" above all else. Skill might not get the same rating in terms of importance. At worst, hatefulness towards the opposition becomes justified.
And it is fair enough in too many minds to push the boundaries of behaviour. Some seem to think that the "Spirit of Cricket", now elevated to the point that the concept is not just words but a Preamble to the Laws of the Game, does not really need to be recognised as central.
Frankly, this was and is pathetic, a cricketing denial of decency. Border has not noticed that his thinking is part of an old way that is now passé. Some lessons are learnt so slowly that they are not really learnt at all. You need to win on skill, strategy, determination and application, and if you don't have those elements in sufficient quantity you can't make up the shortfall with poor behaviour. You can be aggressive, but not vicious. You can be respectful, not boorish.
"Hard-nosed" behaviour does not require the ethical plumbing of depths to be clear, cheating that ball-tampering involves. The time has come to say the same thing about sledging, which is not the same as witty banter. Sledging too easily becomes simply mindless personal abuse.
After Cape Town, things improved. The sledging and the incessantly vocal "attack-dog" demeanour that had become so much a part of the Australian approach was toned down. It was toned down further when Pat Cummins became captain. Cummins' team had much success in his first two home summers in charge, convincingly overcoming England, the West Indies and South Africa. Nobody said they lacked toughness or a determination to win despite their minimal sledging and generally cordial on-field relations.
The politics and culture of the game have changed, and Border has yet to fully comprehend the meaning of it all. He is far from being alone. Some past players during last summer's Ashes series (and from both Australia and England) were also guilty of thinking that denigration and disrespect of opponents were natural, even necessary. They worried on air that the players were "too nice" and "too matey" to each other. It was seen to be part of why England lost that Ashes series convincingly. But the Australians, too, were cast as guilty of overly friendly behaviour.
These ex-players, and they have been several on our screens, don't see that the times have changed and that the shift was necessary. It is characteristic of "yesterday's men" that they have difficulty accepting that today is here and is different, perhaps even in some respects better. In this case a drumbeat has developed in the commentary box, old comrades reinforcing their innate bias towards the attitudes and behaviours of their own time. Old school has become old stupid.
Some of these ex-player commentators show intellectual and moral shallowness in their lame pronouncements. The risk is that they will influence up-and-coming players in ways that are regrettable as some did in their own playing, sledging days. Some, seemingly, don't recognise that sad element of their legacies.
Cricket Australia, in fully taking on board what Longstaff told them only a few years ago, should speak to the employers of some of the ex-players now commentating on the game. The message might be that entertaining, informative commentary need not infringe on decent behavioural norms, undermine the game's ethos or encourage inappropriate behaviour. To know what these norms are, some commentators should read the Preamble and ask themselves why they continue to spruik the flawed, unsavoury and outdated thinking of past generations.
That prescription is unlikely to be followed, of course. Sandpapergate and Longhurst are in the past and nobody is pressurising Cricket Australia on ethics now. Let's hope that if we lose the current series in India, the remedy is not found simply to be in a need for a tougher, harder attitude to our opponents. With luck, we'll conclude that we need to play better.
Chas Keys is a former academic and emergency management practitioner who sometime writes on the politics behind cricket.