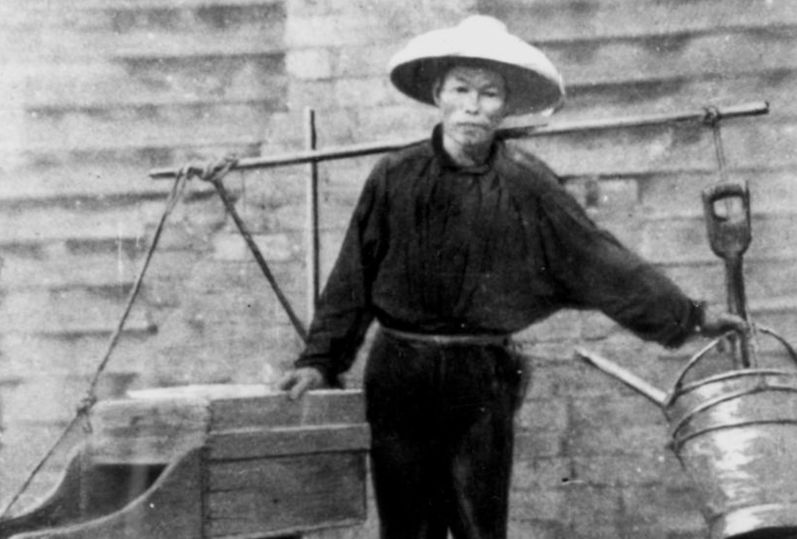 Chinese people have been in this country almost as long as the British. …Unfortunately, from the 1980s on, following an increase in immigration from Hong Kong, South-East Asia and mainland China, there have been new waves of racism, so that even today the Chinese community still feels marginalised.
Acknowledgment of country:
I would like to acknowledge the Gadigal of the Eora Nation, the traditional custodians of this land and pay my respects to the Elders both past and present.
I am honoured to have been invited to launch this book, "South Flows the Pearl: Chinese Australian Voices," by the late Mavis Gock Yen, published by Sydney University Press.
This book comprises twelve interviews with Chinese Australians about their family histories and their connections with their homeland. All the interviews were conducted by Mavis Yen in 1980s and 90s, and recorded on tape, and have been transcribed by Mavis' daughter Siaoman and her husband Richard Horsburgh. Sadly, Mavis passed away in 2008. She would have been proud to see her book in print and to know that it is contributing to our understanding and appreciation of the part that Chinese people have played in the development of modern Australia and to friendship between Australian and Chinese people.
Besides the transcribed interviews and Mavis's own preface, the book also includes a foreword by Professor Kam Louie and a valuable introduction by Dr Sophie Loy Wilson, a historian of Chinese Australian communities. I would like to thank Sydney University Press for recognising the significance of this collection of stories and ensuring that they will become an integral part of our nation's history.
My first and largest acknowledgment must go to Mavis herself, an extraordinary lady, whose story should be widely celebrated. Born in Perth in 1916, raised in China (in Guangdong and Shanghai), then qualified as a teaching assistant in Sydney, Mavis spent the years of the Second World War in China, including a period when she worked for the Australian Legation in Chungking. After the war, she remained in China as a union activist and later English language teacher, finally returning to Canberra in 1981, after which she devoted her retirement to recording her own life experience and the stories of Chinese Australians, whose contribution to the development of relations with China she believed were either not known or not understood.
The twelve folk whose stories she collected were not the rich and famous. Time precludes me repeating all their stories. I was very moved to read them and felt as if they were present with me, chatting in their own words about their families and their life experiences. I heard their authentic voices through the transcriptions of Mavis's recordings. Incidentally, it was enchanting to hear some of the words that have gone out of fashion these days, like "We used to gawk at the singsong girls" and "I got ready to leave – the townshipOne of the twelve was Harry Gock Ming, who was sent to Shanghai from Perth to learn Chinese and to work in the Wing On Department Store, part of the Gock family business empire. Another was Don Yin Lo, represented by Cheryl here today, a former seaman who served with the American forces in New Guinea and later worked in Chinese restaurants in Sydney, always too busy to find time to return to his native village. Another was Lee Sing, born in China before the end of the Qing empire, already the third generation in his family to come to Australia, who worked in Sydney as a furniture maker and then shopkeeper and fish and chip business owner.
Chinese people have been in this country almost as long as the British. Their story deserves to be told and to be known, just as much as the stories of other immigrants and of course of the Indigenous people of this country. The Chinese were not all gold diggers but worked in the urban centres and settled across the continent from Far North Queensland and the Northern Territory to inland sheep stations in New South Wales and as far south as Tasmania. They were discriminated against from earliest days and suffered indignity and hardship through the years of the White Australia policy. They learnt to work hard, to lie low and to avoid trouble. Before the Second World War, the Nationalist Government of China maintained connections with the Chinese diaspora through their embassy and consulates but did little to contribute to their welfare.
The recognition of the People's Republic of China was very meaningful to the community because it signalled that the Australian government was paying more respect to China, and by extension to Chinese culture and the Chinese diaspora. Unfortunately, from the 1980s on, following an increase in immigration from Hong Kong, South-East Asia and mainland China, there have been new waves of racism, so that even today the Chinese community still feels marginalised. Its views are still hardly heard in state or federal governments, but I commend to you the maiden speech in the NSW Parliament this last week by the new member for Strathfield, the Hon Jason Yatsen Li, who tells something of his own life story and his experience of growing up in Sydney as a Chinese Australian. Let us hope that there are more parliamentarians following Jason's example and that the concerns of Chinese Australians are considered by all those standing for election in next month's federal elections.
 I heard of Mavis Yen long, long ago. She was known in Beijing circles as "The Australian". I regret that while our life stories were similar, with Mavis coming from a mixed marriage and I making such a marriage myself, and both of us moving between Australia, Hong Kong and China, somehow it was generally the case that Mavis was in China when I was in Australia, or I was there while she was here. Although we never had much chance to discuss things directly, we had a common concern to contribute to friendship and understanding between Australia and China and to overcome prejudice and ignorance.
I made my first Chinese friends when I was a student at the University of Sydney in the second half of the 1950s. Jean Ng and her brother Patrick, whose family (from Shunde, Guangdong) had founded the Wing Lung Bank in Hong Kong, were my contemporaries then, and Jean and I both studied Chinese under Professor Bertie Davis. Since the course focused on classical literature, not on speaking ability, I learnt some Cantonese from Jean long before I learnt to say anything in Mandarin, and later when I went to Hong Kong for further studies, the Ng family showed me great hospitality. Outside the university campus in Sydney, I had no Chinese friends or neighbours. The only rice I ate at home was rice pudding. Even ten years later, when I returned from Hong Kong to Sydney with my Chinese husband, Moon Lin Chey, there were so few Chinese in Sydney that we could chat in Chinese on the bus confident that no one would be able to follow our conversation.
This is how invisible the Chinese community in Sydney was in the 1950s and 60s. However, my husband Moon Lin (often called Hans), quickly found the resident Chinese Australian community. Hungry for news of events unfolding in Hong Kong and the mainland, he used to visit the Overseas Chinese Youth League in Dixon Street to buy the Ta Kung Pao and other newspapers, and it was there that he met Peter Wong, whose story is included in this book, and made friends with Arthur Locke and other community members. Dixon Street was also the only place in Sydney where we could buy spices, condiments and ingredients like bean-curd, noodles and even garlic and soy sauce. However, the CYL was monitored by ASIO who I understood camped across the other side of the street with a camera to record who came and went. I knew that we were on a watch list, suspected of Communist sympathies, because correspondence between me and students that I taught in an evening course at Sydney Technical College was confiscated several times by the Post Office. I had to go to the PO to collect student letters that had been opened and resealed and tied up in bundles.
This is how I know how Chinese Australians feel when they are suspected of disloyalty and of being foreign agents. If the security agency had taken the trouble to research Moon Lin's family history, they might have thought twice before suspecting him of Communist sympathies.  His family were Manchu nobility, labelled as "feudal aristocrats" by the Communists. Those who remained in the mainland were shot and their lands confiscated. His father was a graduate of the Whampoa Military Academy and many of his classmates became leaders of the Nationalist Party (KMT). Moon Lin and his mother were virtually refugees in Hong Kong when I met them, and they had good reason to fear for their safety if they ever returned to their native place.
It is ironic therefore that Australian security agencies suspected us of being agents of a foreign power, and even more ironic that, only a few years later, when Moon Lin and I moved to Beijing when I was appointed to the Australian embassy, Chinese security agencies again suspected us of being spies. All our movements and conversations were monitored, and Moon Lin, who spoke perfect Beijing-accented Chinese, was watched very closely. When he tried to enter, he was challenged by the Chinese guards outside the embassy gates, and by the soldiers on duty outside international hotels. On my first day in the office, he decided to take himself to the Forbidden City for the day and was detained there for several hours by local security officials, which made me panic when I returned to our accommodation at the end of the day and found he was nowhere to be seen. This was the atmosphere in which he, and all Chinese Australians, had to live, an uncomfortable shifting world of accusations and counteraccusations.
Worse than that, there were racist attitudes on both sides that were a mental and moral burden for us and for all Chinese Australians. When Moon Lin and I met in Hong Kong, it was still a very colonial society. There were few intercultural marriages. My father-in-law did not approve. He thought that European women had loose morals and were not brought up to respect their husbands or their husbands' families. My parents were less vocal in their opposition but were also clearly not happy about acquiring a Chinese son-in-law. Many Hong Kong people regarded Europeans as superior to Chinese, so when they saw us out together, they assumed that I was a tourist with a local shopping guide. This made us both laugh but it was a painful reflection of prevalent racist attitudes. After we settled in Sydney, we still found that many people were racist in their attitudes to Chinese people. Once staff in a shoe shop refused to serve Moon Lin, saying, "We do not have any shoes in your size." Another time, a car salesman asked him to leave the showroom because "You couldn't afford to buy one of our cars."
In spite of all this, ours was a good marriage. We had our differences of opinion, of course, both of us being born in the Year of the Tiger. I most objected to Moon Lin addressing me as "You foreigners…" as if I represented the whole world outside China. My riposte was to call him "You Chinese". Both of us were happiest when we could introduce colleagues from Australia and China and see them become friends through sharing viewpoints. We learned to put politics and racist attitudes aside and instead look at those human qualities that unite mankind, no matter what the colour of our skin or the political party we vote for.
In the early years of the diplomatic relationship, cold war attitudes and regulations persisted on both sides, but on my second posting to Beijing in the 1980s we had much more freedom to mix socially with local people. This situation sadly came to an end in 1989 at the time of the Tiananmen Massacre. This event however played a key role in Chinese Australian history, since it led to Prime Minister Bob Hawke declaring an amnesty for all Chinese citizens who were in Australia at the time.Let me tell you just one story to illustrate this. Two of our close friends in China at that time were art historian Huang Miaozi and his wife Yu Feng. In June 1989 Miaozi gave an interview to the BBC in which he condemned leaders of the Communist Party of China for their massacre of protesters in and around Tiananmen Square. Moon Lin and I were in Hong Kong at the time and we saw this on television and were very concerned for Miaozi's safety. We contacted colleagues in the Australian Embassy and they helped the couple leave China. They came to Brisbane where their son David (Dawei) Huang was a lecturer at the Queensland University of Technology. It was only years later, after they had become Australian citizens, that they felt confident enough to return to Beijing. The Huangs and many of our Chinese Australian friends have contributed greatly to cultural exchanges and to friendship and understanding between the people of both countries. This is a valuable part of this country's overall relationship with China.
The narrative of Australia China connections continues to unfold. This remarkable book is just one chapter. Many more are waiting to be written, as new generations of Chinese Australians have new stories to tell. I thank Mavis, Siaoman and Richard for their pioneering work and challenge others to continue this valuable work, and I declare this book truly launched!