Due process has been missing in action with the proposed Australian War Memorial demolition and expansion. Wide-ranging and serious concerns from many people have been dismissed, as AWM Director Dr Brendan Nelson continues to be given green lights in his quest to have the Memorial display yet more of the machinery of warfare. One wonders whether that's the sort of commemoration the World War 1 diggers would have wanted.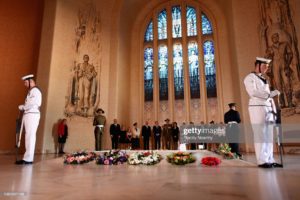 November 11 this year is Dr Brendan Nelson's last Remembrance Day as Director of the Australian War Memorial. This month also marks a year since funding was announced – at a grand $700,000 function at Parliament House funded by AWM Chair Kerry Stokes – for Nelson's major demolition and expansion plans which have provoked strong opposition.
On a less visible front, October 23 was Dr Nelson's last Senate Estimates appearance on behalf of the Memorial. Senate Estimates, which is often and appropriately the occasion for tough grilling of ministers, departmental representatives and others on matters of public importance, was nothing of the sort for Dr Nelson. It was more an occasion for effusive praise and waving through of his $498 million proposal which, if implemented, will drastically alter the Memorial.
Practically all of the contentious issues were tiptoed around. When gently questioned about the project's critics, Nelson dismissed the significance of a letter signed by 83 distinguished Australians in March, wrongly implying that they have little knowledge of the Memorial or of recent wars. The 80% of respondents to a Canberra Times poll in June who opposed the redevelopment didn't rate a mention.
Greens Senator Jordan Steele-John was alone in Estimates in challenging Dr Nelson on anything. He asked about the "morally repugnant" policy of accepting funding at the Memorial from those who profit from warfare, the weapons makers. The angry incredulity from his fellow parliamentarians that followed left no doubt that such dissenting views, even those with which many Australians agree, are not welcome. The management of the AWM is apparently, along with the institution itself, sacrosanct.
Green lights have greeted Dr Nelson at every step of his proposal. The National Capital Authority is currently conducting an inquiry into an AWM application to create or extend two carparks, removing 63 trees in the process, for the proposed redevelopment; submissions closed on 5 November. And yet this process is happening before the redevelopment itself is fully approved. Still to come are approvals under the Environment Protection and Biodiversity Conservation Act, the Public Works Committee and a further NCA approval on the project as a whole.
Unless these approvals are foregone conclusions, the need for the carparks and destruction of mature trees is not yet determined. There is an unmistakeable feel of a bureaucracy just going through the motions, gradually creating a fait accompli. As the juggernaut rolls on, we are informed by the Memorial's Early Works Consultation Report that consultation with the community will begin in early 2020. Consultation on what, one wonders.
Important issues in the redevelopment proposal have been obscured or marginalised. The concerns of architects and many others at the proposed destruction of the award-winning Anzac Hall are ignored. The proposal duplicates long-term developments at the Memorial's facilities at Mitchell for the storage and exhibition of large pieces of weaponry – those items for which Dr Nelson is seeking additional space and "pride of place" at Campbell at five times the cost of displaying them at Mitchell.
Perhaps the Director's most misleading message is his false hope that the institution can help heal the psychological ravages of war. In the Daily Telegraph on 31 October, he wrote "In the sufferings of war, we aim to heal". While far greater attention to the terrible suffering of PTSD is long overdue, it's extremely difficult to find any evidence that memorials provide a healing role for veterans and grief-stricken loved ones. Dr Nelson should know that signs of emotional distress elicited in a commemorative environment are not the same as healing.
And in "the sufferings of war" we must also count the untold millions of devastated civilian lives, the ravaged landscapes, and the multiple other impacts which no memorial can begin to encompass, and for which there is no healing, only prevention.
A further troubling element is the proposed "live crosses" to current Australian Defence Force operations. This is inappropriate in a place of commemoration, and could readily become a tool for military propaganda, to which even Australia is not immune. It would stifle dissent, which is perhaps its purpose, and undermine any ongoing scrutiny of current operations, a critical process which we owe to our serving ADF members.
In farewelling Dr Nelson from Senate Estimates, Senator Linda Reynolds, representing the Minister for Veterans Affairs, repeated the contentious and divisive view that the AWM embodies the "soul and the psyche of Australians". Sacrifice in warfare commands our deepest respect, but if it has become the essence of our being as a nation – and setting aside the Memorial's total non-recognition of the sacrifices made by aboriginal people who died defending their nations – then that sacrifice is something to be repeated down the generations, lest we lose our soul. It is a blueprint for endless warfare, one we have followed faithfully for 18 years.
As we commemorate another Remembrance Day, and pay our respects to a generation that was lost to slaughter on an industrial scale, one wonders whether endless warfare is what the World War 1 diggers really wanted. That is a far more important question than how to display every gun, tank and fighter plane that the nation has ever used.
One wonders also how a process that disregards the concerns of very many Australians can be justified in the Memorial that belongs to all of us.
Dr Sue Wareham OAM is President of the Medical Association for Prevention of War, and a member of Heritage Guardians