Factions of the Liberal and National parties continue their coal wars in NSW. Scientists in the USA recommend solar geoengineering research but a community backlash delays experiments in Sweden. Health workers hold up the Adani's mine development.
The Australia Institute has called for a moratorium on all new coal mine approvals in NSW. Their evidence presents a strong supporting case:
NSW coal production peaked in 2014; existing mines are producing well below their approved capacities; exports and royalties are nowhere near predicted levels.
Despite being approved in 2015, plans for a fourth coal export terminal at Newcastle were scrapped in 2018 due to declining export prospects. World demand for coal is likely to fall during the lives of any proposed mines.
The Upper Hunter Valley, where most of the expansion of coal production has occurred in recent decades, has the worst air quality in NSW.
The high water demands of proposed mines are very likely to cause significant drops in groundwater levels and shortfalls of water.
Despite this sorry tale, the NSW government is currently overseeing the development of at least 23 new coal project proposals (11 were added in 2020 alone) with a potential output of 155 million tonnes per year – 15 times more than the Adani mine's current approval to produce.
Even if mine proposals are subsequently dropped, while they are under consideration they create uncertainties, worries and false hope for local communities and councils, reduce land prices and discourage new businesses.
The Environmental Impact Assessment required for each new mine proposal considers each mine separately and ignores cumulative effects. EIAs often underestimate the effects on the local environment and biodiversity, air pollution levels, river health and water supplies.
On the other hand, the economic analysis of each proposal often overestimates the benefits and ignores the necessity for each new mine to 'steal' both staff and market from existing mines.
All this despite the NSW government having a policy of net zero emissions by 2050.
The Australia Institute has two principal recommendations. (1) Stop all new and expanded mining projects in NSW until completion of a comprehensive regional plan for the Hunter Valley that considers the future coal market and the cumulative economic and environmental impacts of the mines. (2) The NSW Legislative Council conduct an inquiry into the remediation and rehabilitation of disused mine sites.
In a bizarre sequence of events, on  Monday almost two weeks ago the NSW government appointed Malcolm Turnbull as the inaugural chair of the NSW Net-Zero Emissions and Clean Economy Board, and two days later The Australia Institute released its report. That morning Turnbull appeared, as a 'private citizen', on RN Breakfast and explicitly supported the Institute's call for a new mine moratorium. Needless to say, some members of the NSW government were not too keen on the ex-PM/new chair's intervention, while Stephen Galilee, the CEO of the NSW Minerals Council, commented that the '12,000 Hunter coal miners don't need another rich guy from Sydney telling them what's good for them'. Pressure on the government, from without and within no doubt, increased over the next few days and earlier this week Turnbull was sacked. Ketin Joshi, writing in Renew Economy, has a particularly insightful commentary, plus a great video of John Barilaro spruiking coal. Not one to go quietly, Turnbull has since accused Barilaro of 'gaslighting' Hunter Valley residents with manipulated air quality data. To protect my superannuation, I've deleted the sentence I had written next.
The USA's National Academies of Sciences, Engineering and Medicine, in a report funded by various US government departments and agencies including NASA, has recommended that the government allocate $100-200 million to research on solar geoengineering. The main research focus, they say,  should be on putting reflective particles (mirrors) in the upper atmosphere to reflect the sun's radiation back into space, brightening clouds over oceans to make them more reflective and making high altitude cirrus clouds thinner so that they trap less heat around the planet (see diagram below). The Academies are clear that their recommendation does not support the actual installation of solar geoengineering. However, recognising the currently unacceptably slow progress towards zero greenhouse gas emissions (which, they emphasise, must remain the top priority for both research and action), the Academies recommend that we should at least understand technologies that, though extremely unwelcome and risky, may become unavoidable, desperate, last throws of the dice (sometimes called 'Plan B') if warming goes beyond human control.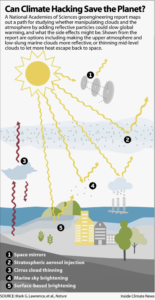 Lest anyone think that this is all in the future, solar geoengineering experiments are already being planned. SCoPEx is a Harvard-based scheme to release about 1kg of particles into the stratosphere from a high altitude balloon over Sweden. The aim is to study the physical and chemical changes in the affected air. Not surprisingly, this has generated considerable opposition from Swedish environmental organisations and Saami Indigenous people, scientists and environmental leaders such as Greta Thunberg and Bill McKibben. As a result, the Swedish Space Corporation, a private company that is the local research partner, decided not to conduct the June test flight for the experiment to allow them time to conduct broader consultations. They remain committed to the research, however.
To me, it seems incredible that we are giving geoengineering any consideration whatsoever – how on earth can we be so stupid as to let things get so bad? – but the simple fact is that we have. What worries me most, however, is that conducting research on geoengineering undoubtedly starts us down a slippery slope and as soon as researchers, companies and countries have vested interests in the technology they will want to use it, possibly prematurely and quite probably in their own self-interest with little concern for others. As ever, there will be winners and losers – until we all become the losers, that is.
If you've been wondering how the construction of the Adani mine and its infrastructure is progressing, I can report from personal observation that the rail line that will take coal from the mine in the Galilee Basin to the Abbott Point (recently renamed North Queensland) coal export terminal is charging ahead, albeit with some interruptions (your elegantly dressed reporter is on the far left). Starting at 5am on Thursday morning a group of health workers established a blockade to prevent workers getting to the construction site of a road bridge that will take the A7 between Charters Towers and Clermont over the line. Construction of the bridge is well underway, as is the railway line itself judging from the concrete sleepers we saw being delivered on huge lorries. Remarkably, the blockade even got a mention in Brisbane's Courier Mail (below), a Murdoch rag. However, later in the day a patron of the Mt Coolon Hotel, about an hour from the blockade, expressed sentiments similar to those attributed to Mr Galilee in NSW, albeit it in considerably more colourful and aggressive language. Little to be gained poking a bear with a sore head so we sought refreshment elsewhere.