Developing nations issue a 'last chance' challenge to rich countries in the lead up to the Glasgow climate change meeting. Exxon's climate action cynicism exposed by insiders. EU wants all new cars to be EVs by 2035. Alan Kohler calls for more climate change risk analysis. Street art proclaims 'Don't Frack the NT' in Melbourne.
A harsh view of the 2015 Paris climate change agreement is that despite all the celebrations at the time, six years on it hasn't achieved anything in terms of preventing the catastrophic human and environmental consequences of global warming. A more charitable view is that it was always seen as the first real step on the journey to halting warming, and that the route and the vehicles to get us to the destination would be developed as we went. For the more charitable perspective to retain any credibility, the COP26 meeting in Glasgow in November has to turn the talking of the last six years into real plans and commitments. It must, in the words of a recent report from developing countries that constitute over half the nations of the world, 'be a summit of delivery [because] morally and practically, there can be no successful outcome at COP26 that does not deliver for the most vulnerable across the full range of issues. This is the last chance for rich countries to deliver the promised 'solidarity package'. If this plan fails, COP26 fails'
The report identifies five areas in which all governments, 'especially those of nations that became prosperous through the untrammeled (sic) burning of fossil fuels' (and one might add, are seeking to maintain that prosperity by continuing the untrammelled burning of fossil fuels), need to deliver:
Emissions: Cut emissions to levels consistent with keeping warming under 1.5oC, led by nations with the biggest responsibility and capacity. Halve global CO2 emissions by 2030.
Adaptation: Accelerate financial support to vulnerable countries to adapt to climate impacts. Ensure adaptation receives at least 50% of financial aid.
Loss and damage: Provide financial support to help developing nations deal with the loss and damage caused by the impacts of climate change – which have resulted from the developed world's historical failure to cut their emissions.
Finance: Deliver the promised but so far unforthcoming US$100bn per year climate financial pledge made by developed nations at the Copenhagen and Paris COPs.
Implementation: Finalise the rulebook for implementing the Paris Agreement regarding transparency, carbon trading and common five-year timeframes for accelerating action. Done in a way that safeguards development and nature.
All actions to be underpinned by solidarity, fairness and prosperity.
The report includes a message for Australia: 'Fair shares accounting shows that in order to take adequate responsibility for creating the climate crisis, Australia should reduce its emissions by at least 65-80% below 2005 levels by 2030 and provide at least $2.5bn (AUS$3.2bn) annually.'
That Exxon and other fossil fuel companies have worked for decades to delay action on climate change, principally by influencing politicians and governments, is not news. However, the revelations of a current and a recently retired senior Exxon lobbyist provide solid confirmation of this and insights into the ways that Exxon works and the magnitude of their successes in recent years.
One of the more stark but not particularly surprising revelations concerns the cynical way in which Exxon has supported calls for a carbon tax in the USA because it believes that it will be politically impossible ever to implement an effective one. Perfect win-win for them: brownie points for the right rhetoric with no subsequent financial sacrifice. Faced with the reality of Exxon's duplicity, it's difficult to see how environmental organisations such as Conservation International, World Resources Institute and WWF can justify their Founding Membership status with Exxon, and other big energy companies, of the USA's Climate Leadership Council since 2017.
The two Exxon lobbyists were interviewed on Zoom by a reporter for 'Unearthed' posing as a representative of a recruitment agency. Unearthed is the independent journalism project of Greenpeace UK and it has promised to release more material from the interviews concerning Exxon's fights to prevent bans on plastics and toxic chemicals.
The European Union has clearly signalled its intention to stimulate the uptake of electric vehicles (EV) and eliminate petrol-driven ones in all member countries by 2035. Proposed measures include a deadline for the phase out of combustion engine vehicles, progressively tightening CO2 emissions standards for new cars, imposing a carbon price on car makers, and improving EV charging infrastructure. Responding to concerns about widespread repeats of the 'yellow vests' protests against an increase in petrol taxes in France in 2018 and the possibility of unfairly penalising inhabitants of poorer, fossil fuel reliant countries in Eastern Europe, the EU's vice-president for green policy, Frans Timmermans, said with admirable bluntness: 'The sense of urgency is not the same everywhere in Europe. If your overarching concern is [making it to] the end of the month, then the end of life on Earth is not something you think about every day. Whatever we present has to be credible from a social point of view. It will be tough.'
In Australia, the sales of new hybrids, EVs and plug-in hybrids are increasing rapidly in percentage terms. However, as the rounded figures below demonstrate, total EV and hybrid sales still constitute less than 10% of petrol and diesel vehicle sales.
Sales by fuel type January-June 2021 (increase compared with Jan-June 2020 in brackets)
Petrol 319,000           (up 23%)
Diesel 187,000           (up 33%)
Hybrid 36,700            (up 58%)
Electric * 2,200          (up 190%)
Plug-in hybrid 1400   (up 90%)
*Excludes Tesla as they don't supply their sales data but the number is probably in the same order of magnitude as all other EV sales.
If you'd like to know if you and your neighbours are EV early adopters or laggards, check out the Sensible Transport website for your suburb's numbers. Even local councils are now giving EVs a push (screenshot below from a recent email from my council).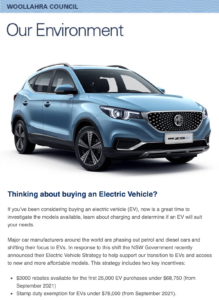 In The New Daily, Alan Kohler has written about floods in Germany and heatwaves and wildfires across north America – all at 1.2oC of global warming. Kohler reminds readers that although many countries have committed to net zero emissions by 2050, current national policies have the world on track for 2.4 degrees of warming but – and this point is often missed – with a sizeable chance of us actually reaching a catastrophic 3 degrees. Kohler is critical of organisations and governments using scenario planning rather than risk analysis, citing the example of the Australian Prudential Regulatory Authority developing a scenario of warming of not just 3 but 4oC! to help banks with their future planning. And he marvels at the broad acceptance by people and governments of the 60-70% risk of disastrous global warming with current policies while baulking at the AstraZeneca vaccine because of a 0.00044% chance of dying from a blood clot. Kohler concludes, 'At some point well before 2050, governments will be forced to switch to risk analysis for climate change, and to publish the result. Political leaders will be forced to hit the panic button by alarmed voters. Fossil fuels would be suddenly and totally banned and their companies would go bust. Air travel would be confined to essentials and the industry would collapse. Life would change more completely than it has during the pandemic. In short, it would look like war.'
#DON'T FRACK THE NT. The Federal government has recently given $21 million to Imperial Oil and Gas to expedite the development of the Beetaloo gas basin 500km south of Darwin. To celebrate NAIDOC week and highlight the opposition of Indigenous peoples to fracking in the Territory, Coree Thorpe created a mural featuring Gadrian Hoosan in Melbourne. This 2-minute video shows Coree painting the portrait and describing why he chose Gadrian.