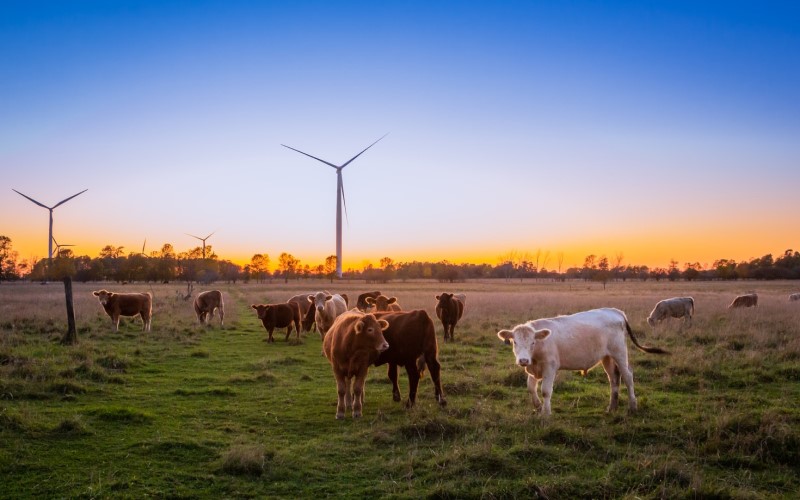 Climate change creates internal refugees for countries least able to cope. Urgent action required to reduce methane emissions – but it's easy. Australian companies' carbon offsetting schemes are corporate greenwashing and nations' emission reduction promises are just that … promises.
Whether it's boatpeople coming to Australia from Asia, Africans crossing the Mediterranean to Europe, South and Central Americans wading through the Rio Grande to enter the USA, or the possibility of Pacific Islanders fleeing their homes as sea levels rise, the western press uses heart-wrenching pictures but pejorative words to focus on international migration. Research by the World Bank, however, projects that 216 million people could move within their own countries as a result of climate change by 2050. Countries in Sub-Saharan Africa are likely to experience the biggest problems (86 million internal migrants), followed by East Asia and the Pacific (49 million) and South Asia (40 million). Numbers in North Africa, Latin America and Eastern Europe are lower but, whether the migration is precipitated by water shortages, crop failures, sea level rise or storm surges, no region will be spared. The majority of the internal migrants will head to the cities, many of which already have inadequate housing, job opportunities, health and education services and infrastructure for their current populations. The World Bank recommends action in four areas:
Reduce greenhouse gas emissions now to reduce the drivers of migration
Embed climate migration considerations in green, resilient and inclusive development planning
Better understand the local, regional and national drivers of climate migration to inform well-targeted policies
Plan for each phase of migration so people can adapt and improve their living conditions.
Appropriate action now could reduce the number of internal migrants by 80 per cent.
Carbon dioxide is by far the greenhouse gas that causes the most global warming and it's critical that we reduce CO2 emissions as rapidly as possible. Methane, the second most important, causes about 25 per cent of the warming but it's crucial to our efforts to control global warming in 2021 for several reasons. First, emissions of methane into the atmosphere have been increasing rapidly in recent years. Second, although methane hangs around in the atmosphere for a much shorter time than CO2, during the first 20 years after its release it exerts about 80 times as much warming as CO2. Third, the next 10-20 years is precisely where we must focus our emissions reduction energies to get some control over global warming. We've delayed climate action so long that targets for 2050 and 2100 are no longer relevant. Fourth, the good news, there's lots that can be done to rapidly reduce methane emissions cheaply. Fifth, the USA and the European Union have pledged to reduce global methane emissions by at least 30 per cent by 2030 relative to 2020. They are hoping that other big emitters – China, Russia, India, Brazil and Indonesia (Australia is 11th on the list) – will join the pledge before the end of the COP meeting. In addition to global warming, atmospheric methane is also bad for public health and for crop yields.
So, where do the methane emissions come from and what can be done? There are natural and human sources of methane. Human generated methane mainly arises from agriculture (40 per cent), energy production (35 per cent) and waste (20 per cent). The major agricultural sources of methane are the digestive systems of farm animals, rice cultivation and manure. Changed agricultural practices, dietary modifications (particularly away from beef and dairy) and reducing food waste could dramatically reduce these emissions. Most of the methane emissions from fossil fuel production and burning can be avoided using current technologies, mainly focused on eliminating coal and preventing leaks along the oil and gas production and distribution lines. Emissions in the waste stream can be tackled cost-effectively by reducing food waste, separating organic and recycling matter, and capturing landfill gas for energy production. Strategies that are all very doable right now.
An increasing number of countries and corporations are committing to net zero emissions. The 'net' meaning that they won't completely eliminate greenhouse gas emissions but will neutralise those they continue to generate by 'offsetting' – that is, somehow or other ensuring that an equivalent number of emissions are avoided and/or withdrawn from the atmosphere. In fairness, most serious plans to keep global warming under 1.5oC by 2100 rely on temporarily overshooting 1.5oC at some point and bringing the warming back below 1.5oC by 2100 by withdrawing some greenhouse gases from the atmosphere. So, in that respect, net zero may simply be an acceptance of reality. The other side of that coin though is that offsetting is intended only for the unavoidable emissions from industries that will be the most difficult and longest to decarbonise (e.g. cement, shipping, aviation). Offsetting is not intended to provide an easy ride for companies, industries or countries wanting to avoid the hard work of reducing their emissions.
An examination of the net zero commitments of Australia's 80 highest emitting companies by Greenpeace Australia found that:
39 companies have no policy;
41 companies have a net zero policy …
… of which only 14 have a binding commitment to using 100 per cent renewable electricity by 2025. Greenpeace considers this to be a critical test of whether a company is serious about acting on climate change; and
'… in almost all circumstances, carbon offsetting is ineffective and no more than corporate 'greenwashing': an activity designed to create the impression that a company is doing more to protect the environment than it really is'.
The report goes into some detail about the problems associated with offsetting: it is an excuse for not doing what is really needed right now – rapidly reducing emissions; intentional vagueness about whether net zero refers to CO2 only or all greenhouse gases; when implemented, the emissions offsetting strategies fail to deliver the promised amount of removal of greenhouse gases; the danger of double counting  emissions reductions; the difficulty of demonstrating that any emissions reductions achieved (or claimed) are additional to what would have happened anyway; the risk that carbon sequestered in forests can be rapidly released by wildfires and cyclones (more common as warming increases) and deforestation; displacement of traditional owners and livelihoods (and native ecologies) to make way for plantation forests in developing countries; and globally there is the capacity for only 10 per cent of carbon emissions to be soaked up by tree planting and land restoration.
Greenpeace's recommendations for companies includes:
establish short term 100 per cent renewable electricity targets;
work towards zero emissions, including scope 3 emissions (those produced by the suppliers and purchasers of the company's services and products);
avoid the use of carbon offsetting, particularly international and land-based offset schemes;
if some emissions are absolutely unavoidable and short term offsets are necessary, use domestic, well-regulated and well monitored schemes;
set separate emissions reductions and offsetting targets rather than a single net zero target;
by all means invest in ecosystem restoration and reforestation but do it because it's necessary in its own right, not to offset your fossil fuel emissions.
The International Energy Agency has released its World Energy Outlook 2021 report in time for the COP meeting. The graph below of global CO2 emissions identifies the scale of the challenge before the negotiators in Glasgow, and indeed all of us. Note that:
The blue wedge representing national emissions reduction commitments since Paris in 2015 and the orange wedge representing national emissions reduction pledges made recently in preparation for Glasgow are simply words, they do not represent any actual emissions reductions …
… as demonstrated by the grey line showing that since the Paris Agreement CO2 emissions have continued to increase;
The green line at the bottom of the green wedge shows the emissions reductions that will be needed to reach net zero by 2050 and stand any chance at all of keeping global warming under 1.5o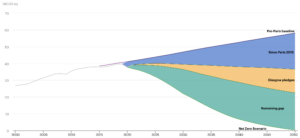 Three headlines from the Executive Summary say it all:
'The costs of inaction on climate are immense, and the energy sector is at risk.'
'The potential prize is huge for those who make the leap to the new energy economy.'
'Making the 2020s the decade of massive clean energy deployment will require unambiguous direction from COP26.'
Finally, two of the fantastic winning photos in the Ocean Photographer of the Year 2021 awards.