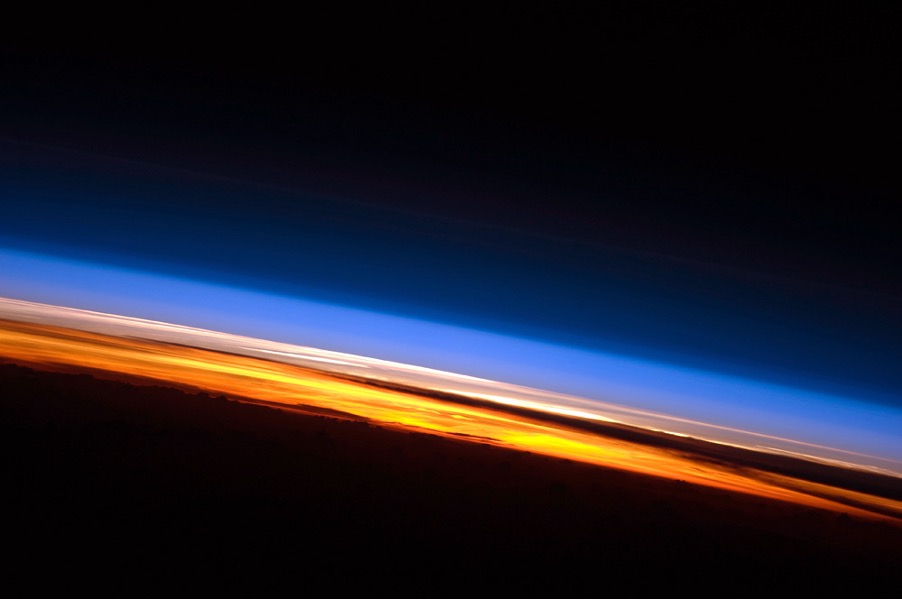 The International Energy Agency recognises the climate emergency and plots a course to net zero, plus NGOs give world leaders advice on how to ensure Glasgow's COP26 is a success. An Australian construction company tells a government inquiry that working for Adani is uninsurable. Stunning photo of Earth's thin, life-preserving air-bag.
The big environmental story this week has been the International Energy Agency's (IEA) report Net Zero by 2050. A Roadmap for the Global Energy Sector, a path that the IEA says is viable but admits is narrow and requires immediate action in all countries. I was going to try to summarise its main findings and recommendations but why waste my time doing a second rate job when Tim Buckley has already done a first rate one for Renew Economy. I strongly recommend you read that but can't help drawing your attention to two recommendations. Most strikingly, the report clearly states that the pathway to net zero needs no investment in new fossil fuel supply projects. And secondly, it confirms that rich countries need to get to net zero by 2040, not 2050.
However, the real significance of the report lies not so much in what it says (significant though that is) but in who is saying it and why. First, the EIA is probably the world's most influential energy institution, a cabal of thirty rich countries that has traditionally functioned to protect its members' fossil fuel production and consumption interests. Second, IEA has been producing climate change scenario reports for years and has been criticised for never modelling what it would take for the world to achieve the Paris Agreement targets. This is their first attempt to do that and their recommendations will be a shock to anyone thinking climate change is real but we can tackle it slowly – the climate delayers. Related to this, the IEA's recommendations for necessary achievements by 2030 and beyond constitute a very useful monitoring framework for progress towards net zero, particularly during the rest of the 2020s. For a graphic displaying the milestones, have a look at page 20 of the report. I'm prepared to wager, with a reputable gaming company if there is one, that the majority of the IEA's 2030 targets won't be met, and that the impending failure will be abundantly clear within a year or two.
Even without the EIA's report, this is a big year for climate action, or rather for diplomatic action on climate action. Biden has replaced Trump and pledged the USA to become a leader again on climate action, starting with re-joining the Paris Agreement and hosting last month's climate leaders' summit. The countries of the G7 and G20 hold their meetings in June and October respectively, and the UN General Assembly occurs in September. The year will close with the 26th Conference of the Parties (COP26 meeting) in Glasgow in November and Boris Johnson is clearly intent on ensuring that the UK does all it can to make it a success. But what will constitute success from the viewpoint of vulnerable, mostly relatively poor, nations? … those that have contributed the least to cause climate change and yet are already suffering the greatest impacts. The new Allied for Climate Transformation by 2025 (ACT2025) consortium has identified five outcomes needed at COP26 by climate-vulnerable nations:
Ambitious emissions reduction targets in line with limiting global temperature rise to 1.5o This involves laggard countries adopting more ambitious targets now and all countries starting work to increase their ambitions even further when they submit their next round of emissions reduction targets in 2025.
More and accessible financial assistance for vulnerable countries. Rich nations have failed dismally to live up to their 2015 promise of providing US$100 billion per year to help developing nations mitigate and adapt to climate change. Rebuilding the trust of developing nations depends on rich countries finding the cash and providing debt relief.
More support for adaptation. 80% of rich nations' existing financial assistance to developing nations is directed to mitigation. More assistance must be provided to help poorer nations adapt to the changes that climate change is already creating.
More support for loss and damage. 'You caused the problem. You should pay for the loss and damage climate change is causing us from rising sea levels, cyclones, droughts, displaced populations, etc.', say poor countries and low lying island and coastal states. 'Your problem. You sort it', has been the response so far from rich countries. Resolving this stand-off is crucial.
Finalising the rules for the implementation of the 2015 Paris Agreement. Remarkably, six years on there are still outstanding debates about how to implement some of the elements of the Paris Agreement, some as simple as agreeing common dates for emissions reduction targets.
While we're talking about climate finance, the Center for International Environmental Law, recognising that it is critical to the achievement of the goals of the Paris Agreement that richer nations provide financial assistance to poorer ones, has recommended that to ensure that human rights as well as the environment are protected and promoted such finance must be:
Ambitious: adequate to tackle the scope and scale of the crisis, and additional to current development aid;
Equitable: giving highest priority to the countries and communities most vulnerable to climate change and with the fewest resources;
Fair: avoid exacerbating existing inequalities or adding to recipient country's debt, e.g. use grants rather than loans;
Effective: use proven strategies to deliver real emissions reductions, secure a just transition, and contribute to adaptation and remediation;
Rights based: projects must respect, protect and promote human rights throughout their duration, e.g. prioritising transparency, participation and accountability.
Expect to hear a lot more about demands and principles to guide discussions in Glasgow. Achieving them will be what success looks like at COP26, not only for vulnerable and developing nations but also for young people in rich, complacent ones.
BMD Constructions, a large Australian construction company, has made a submission to George Christensen's, sorry the federal government's, dodgy enquiry into the regulation of investment in Australia's export industries, no more than a thinly veiled attempt to give the government an excuse to tell the banks they must continue funding fossil fuel projects. BMD was prompted to make a submission because it has a $350 million contract for the construction of the rail line to take coal from Adani's Queensland mine to the export terminal. BMD's submission reveals that, despite a global search, the company has found it impossible to find an insurer for its work. Consequently the work is being undertaken without public liability, environmental protection or director and officer insurance. This places BMD in breach of contract.
Sorry for the long following quote from BMD's submission but it is very illuminating:
'Regarding Public Liability Insurance, 33 underwriters across the pre-eminent insurance market were approached to underwrite BMD's policies associated with the Projects. In all cases coverage was declined due to the client being Bravus [Adani Mining] or an affiliated entity. This search also sought coverage from Europe, USA and Asian markets. Regarding Environmental Protection Insurance, approximately 10 underwriters were approached and declined to provide coverage that included the Projects. Regarding Director and Officer Insurance, BMD's insurer stated that it would no longer respond to claims associated with the Projects and reduced its coverage by almost half. BMD's insurer claimed that this was due to stances taken by underwriters in Europe and US concerning coal.'
BMD's solution is that state and federal governments should step in to provide the insurance. Yet another life-supporting public subsidy for Australia's dying fossil fuel industry. Let's not forget George though – without him we wouldn't have had this evidence of the success of the Stop Adani campaign straight from the horse's mouth.
The stunning photograph of sunset over the Indian Ocean below was taken from the International Space Station in 2010. The orange and yellow layer is the cloud-bearing troposphere that extends for 6-20km above the Earth's surface. The pinky-white layer is the lower stratosphere extending 50km from the surface, and the increasingly dark blue layers above that are the upper stratosphere, mesosphere, thermosphere and exosphere which fades into 'black' outer space up to 10,000km above the surface.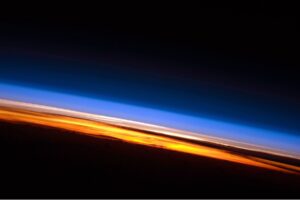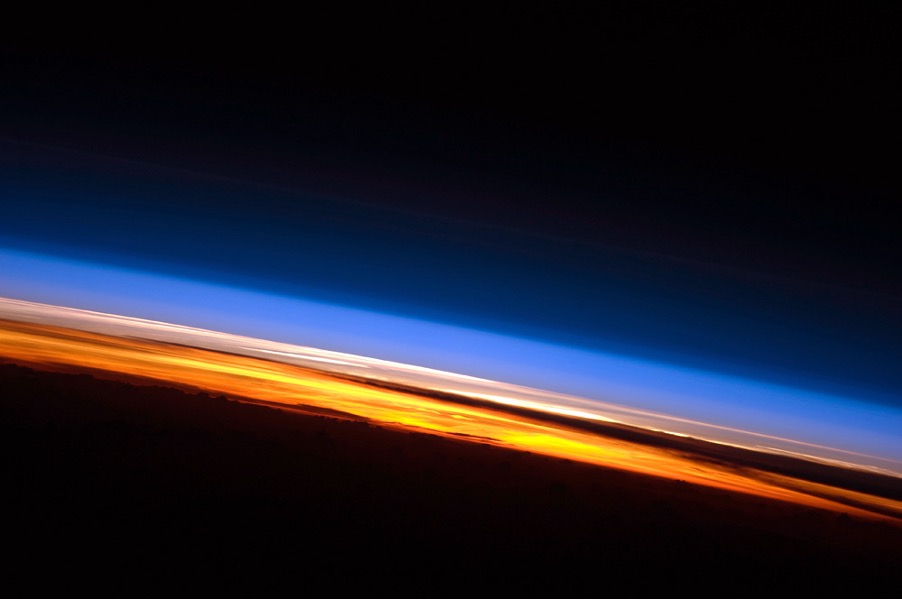 Photo: NASA