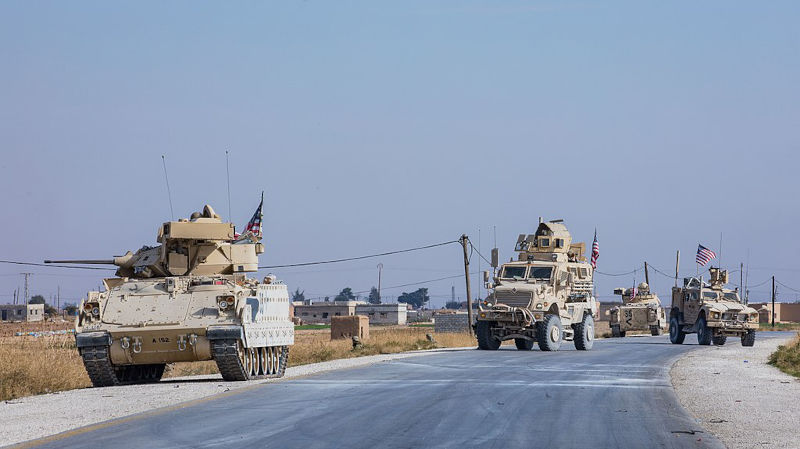 The western sanctions weapon is not new to Syria, but since 2019 it has become a lethal one, destroying entire Syrian sectors and killing its people.
First published in The Cradle February 6, 2023
Some 83 years after being employed against Germany in 1940, economic sanctions have become the most widely-used tool in Washington's arsenal to coerce adversarial states. Sanctions have become a parallel or alternative policy to military invasions, especially after the dollar solidified as the world's dominant currency by being pegged to oil in 1975 – and further strengthened by the collapse of the Soviet Union in 1991.
This US financial and economic weapon has caused Syria suffering for decades, but its impact has become lethal in recent years, particularly after 2019.
Sanctions negatively affect all vital sectors of the economy, from medicine to education, energy, communications, agriculture, and industry – all the way to dealing with emergency disasters, such as the earthquake that struck Syria and Turkiye in the early morning of 6 February, which has so far led to the death of 1,300 civilians, mass injuries, and the destruction of thousands of homes.
The impact of western sanctions and the US military occupation of Syria has crippled the nation's economy and undermined its ability to respond to major natural disasters of this kind. The situation issue pressing that the Middle East Council of Churches issued a demand on 6 February for the immediate lifting of sanctions on Syria so that Damascus can deal with the humanitarian fallout from the tragic earthquake.
In 1979, Syria was subjected to Washington's sanctions for the first time when it was designated a state sponsor of terrorism, and banned from exporting goods and technology to the US. This came as punishment for Syria's support of Iran during the Iran-Iraq war (1980-1988), leading also to a suspension of financial aid from Persian Gulf monarchies (approximately $1.5 billion annually) and a suffocating economic crisis, known as the "crisis of the eighties."
Less than a decade after a short period of economic prosperity in Syria (the net domestic product increased by about 49 percent between 2000 and 2010), the 2011 foreign-backed war was launched, wreaking havoc on the Syrian economy. Widespread damage was inflicted both by the direct destruction of economic facilities and sectors during combat operations, and by a series of US-driven sanctions, which reached their peak with the 2019 Caesar Act and last year's Captagon Act that targeted Syria's indigenous pharmaceutical and healthcare industries.
A double stranglehold
In contrast to most cases in which the US and its EU and NATO allies employ economic sanctions to impose an external economic blockade on nations, the sanctions against Damascus are accompanied by a further internal blockade.
This is achieved by foreign military control over oil resources and critical agricultural fields in northeastern Syria – the "bread basket of the Levant" – which are under the control of the US-backed and Kurdish-dominated Syrian Democratic Forces (SDF) in the "Autonomous Administration" areas.
Damascus is thus subjected to a double stranglehold by depriving it of its oil (the main source of foreign exchange). Energy sales constitute about a quarter of Syria's export earnings, and covers 90 percent of its domestic market needs. Before the war, in 2010, Syria produced 4 million tons of wheat, a strategic agricultural staple which provides food self-sufficiency and domestic sustenance, about a quarter of which is then exported.
Today, the country has not only lost access to its vital agricultural lands, but western sanctions prevent Damascus from importing these essential staples to feed its population.
This has exacerbated the effects of the blockade on the Syrian people, who are currently going through one of the most severe living, economic, and health crises in their modern history, and are left unable to secure basic daily needs of bread and medicine.
Informed sources tell The Cradle that Damascus is incurring double burdens to secure basic commodities – because these cannot be imported directly – which forces the Syrian government to resort to brokerage firms to circumvent US and European sanctions.
The sources point out Russia's critical role in securing wheat for Damascus, but this too comes with a financial burden of high shipping fees. Similarly, while Iran provides oil to Syria through a credit line, its transportation is carried out by private companies that face harassment from US authorities – whether by detaining shipments (e.g. in Gibraltar and Greece) or by including participating oil tankers to US sanctions lists.
Under sanctions, Syria is facing great difficulties in rebuilding its key agriculture, industry, energy, education, and healthcare sectors which were destroyed in a war in which Washington played a leading role. Damascus has been reduced to seeking out regional alternatives and intermediary companies to circumvent its stranglehold, or receiving help from friendly countries such as Russia or Iran.
This, of course, comes with its own downsides for the US, as it helps forge closer Syrian political and economic ties with Washington's adversaries. Today, it is Iranian companies, for example, that carry out maintenance operations and construct new power plants in Syria.
Sanctions upon sanctions
Most of the unilateral sanctions against Syria date back to 2011 when then-US President Barack Obama expanded existing punitive measures under the Syria Accountability Act (2004). The new sanctions included a ban on flights, restrictions on oil exports, financial restrictions on entities and individuals, freezing Syrian assets abroad, travel bans on Syrian officials and business leaders, and severing diplomatic relations with Damascus.
In 2019, the US enacted the Syria-specific Caesar Act, granting Washington the authority to impose sanctions on anyone – regardless of nationality – who conducts business with Syria, participates in infrastructure and energy projects, provides support to the Syrian government, or supplies goods or services to the Syrian military.
The Captagon Act, passed by the US Congress in 2022 to combat the illicit trade of a drug made famous by foreign-backed jihadists in Syria, has the temerity to blame Damascus for the origins of Captagon, and seeks to destroy what is left of the country's renowned pharmaceutical industry.
In 2011, the EU banned exports of weapons, goods, and energy technology to Syria. It also imposed a ban on the import of Syrian oil and minerals, and any commercial and financial transactions with the Syrian energy sector. These sanctions were expanded in 2018 to include asset freezes and travel bans on individuals and entities allegedly involved in the use of chemical weapons.
Britain imposed parallel sanctions on Syria after its exit from the EU, with several allied states jumping the bandwagon, including Canada, Australia, and Switzerland. Arab countries, including Qatar and Saudi Arabia who financially and materially assisted in the war against Syria, have imposed their own variation of sanctions on Damascus too.
A Humanitarian crisis
The horrifying deterioration of Syria's humanitarian and living conditions – as a direct result of oppressive unilateral sanctions that violate international laws and conventions – prompted the United Nations to dispatch UN Special Rapporteur on Unilateral Coercive Measures and Human Rights, Alena Douhan, to Damascus between 30 October and 10 November, 2022, to assess the impact of sanctions.
In a statement after her 12-day visit to Syria, the Special Rapporteur presented detailed information about the catastrophic effects of unilateral sanctions across all walks of life in the country.
Douhan reported that a startling 90 percent of Syria's population was currently living below the poverty line, with limited access to food, water, electricity, shelter, cooking and heating fuel, transportation, and healthcare, and warned that the country was facing a massive brain-drain due to growing economic hardship.
"With more than half of the vital infrastructure either completely destroyed or severely damaged, the imposition of unilateral sanctions on key economic sectors, including oil, gas, electricity, trade, construction and engineering have quashed national income, and undermine efforts towards economic recovery and reconstruction."
The UN rapporteur said that the blocking of payments and refusal of deliveries by foreign producers and banks – coupled with sanctions-induced limited foreign currency reserves – have caused serious shortages in medicines and specialized medical equipment, particularly for chronic and rare diseases.
She warned that rehabilitation and development of water distribution networks for drinking and irrigation had stalled due to the unavailability of equipment and spare parts, creating serious public health and food security implications.
"In the current dramatic and still-deteriorating humanitarian situation as 12 million Syrians grapple with food insecurity, I urge the immediate lifting of all unilateral sanctions that severely harm human rights and prevent any efforts for early recovery, rebuilding and reconstruction."
"No reference to good objectives of unilateral sanctions justifies the violation of fundamental human rights, she added, insisting that "the international community has an obligation of solidarity and assistance to the Syrian people."
Calls to lift Syria's sanctions
The UN report sheds further light on sanctions-targeted Syrian sectors, revealing that the Syrian economy has contracted by more than 90 percent, and that prices have risen more than 800 percent since 2019.
Hundreds of thousands of jobs have been lost, and sanctions block the importation of "food, medicine, spare parts, raw materials, and items necessary for the country's needs and economic recovery," Douhan reports. In addition, Syria "pays more than 50 percent higher prices compared to neighbouring countries to obtain its food needs."
The UN rapporteur has called for the unilateral sanctions that the US and EU have imposed on Syria to be lifted immediately, stressing that they are illegal under international law. "I urge the international community, and the sanctioning states, in particular, to pay heed to the devastating effects of sanctions and to take prompt and concrete steps to address over-compliance by businesses and banks," she stated.
Her report illustrates clearly that the tightening of unilateral sanctions and trade restrictions have generated a long-term economic crisis in Syria, with an increasing rise in the level of inflation and a continuous decline in the value of the local currency from 47 Syrian lira against the dollar in 2010 to more than 5,000 lira in 2022.
Electricity and water
The sanctions have also prevented Damascus from rebuilding damaged infrastructure especially in remote and rural areas, and have caused a "shortage of electricity," leading to daily blackouts.
The UN's report made particular mention of the deterioration of the public water supply and irrigation systems, whose rehabilitation has stalled due to the unavailability of equipment and spare parts, with serious implications for public health and food security. It stated that the lack of drinking water in vast swathes of Syria is the cause behind the current cholera outbreak in the country.
Healthcare Sector
Douhan's report also shows that power outages led to the failure of sensitive and expensive medical equipment, for which spare parts could not be purchased due to commercial and financial restrictions. It reveals that 14.6 percent of Syrians suffer from chronic and rare diseases, and that there are foreign-made obstacles to purchasing medicines – especially for patients with cancer, dialysis needs, high blood pressure, and diabetes, in addition to anaesthetics – due to the withdrawal of foreign drug producers from Syria, and the inability to import raw materials and laboratory reagents to produce medicines locally.
Although medicines and medical devices are not directly subject to sanctions, the ambiguity and complexity of licensing processes, and the producers and suppliers' fear of penalties, ensures that access to life-saving solutions becomes very difficult – especially after the adoption of Washington's Captagon Act.
Agriculture and food security
Due to water and energy shortages, and financial and trade constraints, the amount of agricultural inputs such as fertilisers, seeds, pesticides, fodder, and spare parts for agricultural machinery have decreased. Syria's agricultural crop production declined from 17 million tons annually in 2000-2011 to 11.9 million tons in 2021.
Wheat harvests have decreased from 3.1 million tons in 2019 to less than 1.7 million tons in 2022. While Syria was historically an exporter of wheat, it is now importing it through a network of intermediaries, which increases Damascus' financial burden significantly.
A strategy to serve Israel's interests
The US and its allies justify their Syria sanctions as a means of exerting pressure on "rogue" countries to force an alteration in their policies. The extensive experience of this US policy in numerous countries, however, clearly shows that sanctions are mainly a political tool used to subdue governments by devastating their populations.
The sanctions against Syria have resulted in a serious food crisis, with 12 million Syrians – over half of the population – facing food insecurity and 2.4 million suffering from severe food insecurity, according to the World Food Programme (WFP).
These sanctions are depleting the life resources of the Syrian people, which Damascus believes is largely related to its conflict with Israel, with Tel Aviv being seen as the biggest beneficiary of Syria's slow destruction. The UN Special Rapporteur on Unilateral Coercive Measures and Human Rights will present her final report on the impact of the sanctions to the UN Human Rights Council in September 2023.