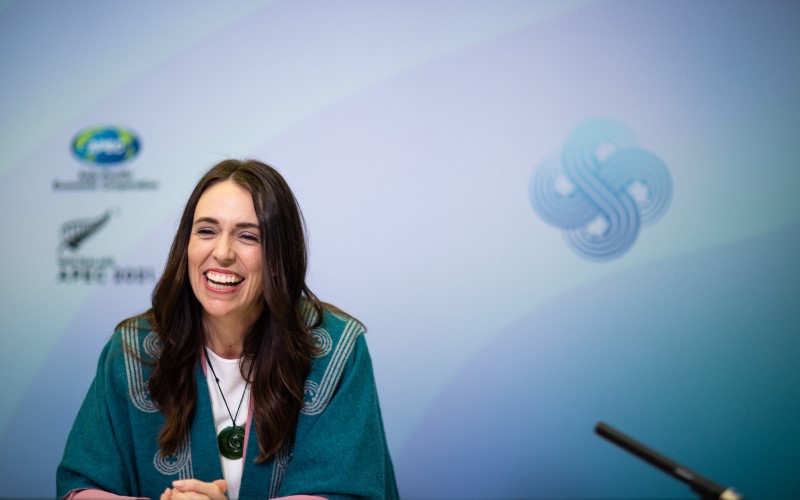 Who can break Ardern's grip on the New Zealand leadership? The National Party hopes a conservative business heavyweight will break its run of failure.

New Zealand's poorly performing opposition National Party has a new leader, the man whom National MPs hope will unite and lead the party against Labour's Jacinda Ardern at the next election.
Christopher Luxon was elected on Tuesday after a dramatic few days for National and an unstable few years in opposition.
Hours before a meeting of National Party MPs, the other main contender Simon Bridges withdrew in favour of Luxon and is likely to be rewarded with a senior position.
Luxon is heavily supported and mentored by former prime minister Sir John Key. He is a successful businessman and an evangelical Christian who opposes capital punishment, abortion, euthanasia, and recreational cannabis. Before becoming a National Party MP, he was a board member for Virgin Australia and Tourism New Zealand, chief executive officer and president of Unilever's Canadian operations, then CEO of Air New Zealand.
Luxon says his evangelical Christian faith doesn't make him a radical. He said his faith influences every aspect of his life and "shapes his values" but it doesn't shape his political views.
His greatest weakness could be his lack of political experience. He has been in Parliament for a year and his inexperience, despite his business background, could bring into question his ability to heal the wounded party.
Forty-year-old Nicola Willis is deputy leader. She has been in Parliament three and a half years and is currently the party's spokesperson on education. She should appeal to younger voters and urban liberals.
The leadership of the party has become a revolving door since John Key abruptly stepped down as prime minister in late 2016. His successor Bill English resigned after losing the 2017 election to Ardern's Labour Party.
Simon Bridges followed as National Party opposition leader, then Todd Muller who lasted only two months, before Judith Collins became leader on July 14, 2020.
Collins has performed poorly, failing to endear herself to her party colleagues or voters.  Her low poll figures nourished much speculation about her future.
Talk of a coup intensified after the latest Newshub-Reid Research poll on November 21 showed that despite the problems and pressures caused by the pandemic and the government's efforts to manage the response, National, and Collins in particular, failed to gain traction as an effective Opposition. Labour was holding steady at 42.7 per cent, while National was on 26.9. The Greens were slightly down by an amount within the margin of error on 7.2.
The worst news for National and the most dramatic development in the poll was the large rise in the popularity of the right-wing ACT Party. Its support was up 4.9 per cent over the previous poll to 16 per cent, which meant that if an election had been held on polling day ACT would have doubled the number of its seats to 20.
The result did not show National and ACT could form a government of the Right, but it did show ACT was profiting while National languished. Collins reacted with a characteristic stab to the back. One of the potential leadership challengers was former leader Bridges. On November 24 Collins produced a news release announcing she had stripped Bridges of all his Opposition roles and demoted him. She said the reason was an alleged misogynistic statement by Bridges about five years ago in front of a female MP. He admitted to talking to some male MPs and one female MP about techniques for fathering a girl baby instead of a boy. At the time this offended the female MP, Jacqui Dean. He apologised and said that Dean accepted his apology.
Recently Dean said the statement Bridges made was not about her, but it was not something she wanted to hear. She said more recently the incident has been playing on her mind. This was enough for Collins to act against her potential challenger. She said she realised she could risk her leadership when she demoted Bridges but she had to take the matter seriously.
At a party meeting the next day Collins lost a confidence vote and was replaced by a caretaker leader, her deputy Dr Shane Reti. A caucus vote on the leadership was set down for Tuesday, November 30. Reti has said he doesn't want to be leader.
As opposition leader from 2018 to 2020, Bridges was not a great success. He suffered from a long-running controversy over document leaks about allegedly illegal party donations and he managed only very low approval ratings. After just over two years in the job he resigned, although he obviously retained enough party support to be a credible candidate for another leadership attempt.
The National Party's continued failure to settle its leadership problems has distracted the party from its role as an effective opposition to the Labour government and diminished its electoral appeal. Some members migrated towards the Labour Party while others have headed further to the Right, to the ACT party.
ACT is led by a comically appealing and puckish character, David Seymour. He is a practised expert at made-for-TV pithy one-liners. Amid the latest leadership chaos in National he said with a grin that "it seems to me I like all the Nats more than they like each other".
ACT (the Association of Consumers and Taxpayers) was founded in 1995 by the former minister Roger Douglas. Earlier, as a Labour government finance minister. he produced a radical neo-liberal revolution in New Zealand, selling public assets and introducing policies for ''user pays'', smaller government and market-led economics.
ACT's rise in the polls, if it continues, could be a major consideration in the next election in two years.
National's leadership crisis provoked debate about whether the party should follow a more conservative or liberal course. With the election of both Luxon and Willis the party has chosen both.
The party's new leader is the seventh faced by Ardern since she became prime minister in 2017. She has been opposed by Bill English, Simon Bridges, Todd Muller and Judith Collins. There have been two other caretaker leaders during leadership crises.
The latest date the next election can be held is January 13, 2024, although a more likely date will be in November 2023. It remains to be seen whether the National Party will retain its fresh new look and its new leader for that long.