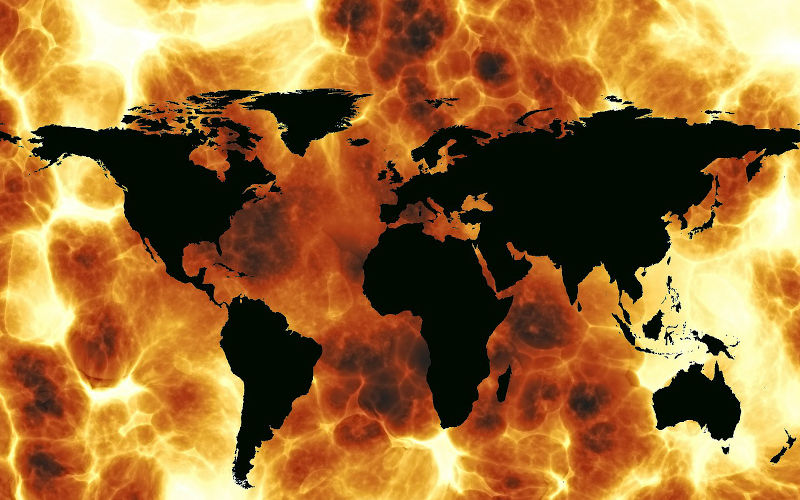 The Black Summer bushfires, the Millennium Drought, the dying Great Barrier Reef, this year's floods. Australia has experienced unprecedented environmental disasters in recent times. Each was amplified by global warming. Scientific reports indicate worse may still to come.
Climate change is a whole-of-government challenge requiring Prime Ministerial leadership. There are six things the PM must do to enhance Australia's contribution to averting catastrophe at home and abroad.
1. Set a meaningful 2030 mitigation target
Emissions reduction targets frame and clarify the climate and energy narrative. They drive policy implementation. A responsible, legislated, 2030 target would indicate Australia's dedication to the global effort to hold warming to less than 1.5 Celsius.
Presently we have the weakest 2030 emissions target of any developed country – by a very significant margin. Our international target (-26-28% below 2005 levels) was set eight years ago, in 2015, by the Abbott Government. Under the Paris Agreement, it should have been tightened last year. It remains unamended, unlegislated, and unsupported by substantial policies.
'At least 70% below 2005 levels by 2030', enshrined in framework legislation, is a necessary national goal on the path to achieving Net Zero. It is achievable within eight years. However doing so will require concentrating effort in the following areas.
2. The Prime Minister must commit Australia to 100% renewable electricity by 2030
Electricity generation from fossil fuels is the largest contributor to Australia's emissions (33% in 2021). It is the easiest to tackle. Renewable power technologies – reliable at scale, cheaper than coal or gas – are available. Only a few days ago, California – the world's sixth largest economy – had its first days at 100% on renewable electricity.
The cost of small and large-scale solar and wind power, and now battery storage, continues to fall. Their uptake in Australia continues to accelerate. The real issue now is the pace of change. This is still slowed by inadequate levels of financial support and uncertainties about the capacity of the national grid and about the stability of the energy market.
A package of measures to increase momentum and expand supply is essential. It begins with a robust national plan to coordinate and expand the renewables transition. This plan would strengthen actions already strongly promoted by the states and territories, ensuring capacity across the national grid while facilitating the orderly retirement of coal and gas-fired plants.
At a time when increased support is vital, existing renewable finance bodies – ARENA and the CEFC are to lose funding. Enhanced direct spending, grants and subsidies, tax relief, and energy price regulation (including a cap and guaranteed minimum returns), are all necessary to enhance the rate of investment and delivery of large-scale green energy projects. This is all the more important given the expected additional demand associated with the shift to electric vehicles.
The usefulness of large-scale batteries as a means for ensuring stability of supply is already proven: the construction of such batteries – subsidised, accelerated and coordinated – is a specific priority.
Finally, the transition will produce stresses in demand for specific materials and skilled labour, and for affected communities and households. Coordinated national assistance is required to address these strains.
3. The Prime Minister needs to electrify the transport sector
Australia's transport sector produced 18% of its emissions in 2021. Two-thirds came from road transport (including freight). This is the next easiest option for mitigation, yet there are no national or subnational sectoral targets for transport emissions.
Through electrification, we can achieve at least a 70% reduction by 2030. We are already heading in this direction, pushed along by high fuel prices that will remain so if geopolitical events continue to destabilise energy markets.
The transition to electric vehicles will reduce household costs in the longer term. It will also increase national energy security (over 90% of Australian liquid fuel is imported.) But three things are holding us back.
First, potential buyers of electric vehicles are hindered by 'range anxiety' enhanced by the limited supply of recharging stations. Second, electric cars are overly expensive, their prices further elevated by various tariffs and duties. Last, most of us would be reluctant to simply abandon recently purchased vehicles, if an accelerated switch meant writing off value.
Again, a package is required. It would include the rollout of a national recharging network for all but the remotest parts of the country by 2030.
To supercharge uptake, the cost of electric vehicles must be reduced by removing tariffs and charges, with sales subsidised using a range of using means-tested incentives until 2030 and a national ban on the sale of all fossil fuel-using vehicles by 2035.
And last, public transport is the hidden key to completing this shift. It requires increased funding, to extend and intensify use within capitals and major rural cities, accompanied by the accelerated construction of fast rail (and a strengthened rail-freight network) between major cities and capitals.
4. The Prime Minister must announce the phase out of coal and gas exports by 2035
Our most important, most urgent and hardest challenge is to end Australia's export of fossil fuels. Australia is the world's largest exporter of metallurgical coal and natural gas, the second largest exporter of thermal coal (after Indonesia), and the third largest exporter of fossil fuels overall.
Over twice our national emissions are embodied in Australian coal and gas exported and burnt elsewhere. When these exported emissions are added to our domestic emissions, Australia is the sixth largest source of CO₂-e emissions globally.
Coalition and Labor policies over the past two decades have encouraged the continuing growth of Australia's fossil fuel exports, including through the provision of tax breaks and subsidies worth over $12 billion per annum.
These emissions are our responsibility and in failing to control them, we are in breach of the spirit and perhaps letter of the UN Climate Change Convention. Its preamble says states have a responsibility to "ensure activities within their jurisdiction or control do not cause damage to the environment of other States or areas beyond the limits of national jurisdiction". Article 2 outlines that the goal and prime responsibility of states is to prevent dangerous human-driven climate change.
Purposeful action is required, rather than a hope that collapsing international coal and gas markets will do our work for us. Three steps are necessary immediately. First is a ban on all new coal and gas projects and on planned expansions of extraction at existing sites. Second, a mandated goal ending Australian coal and gas exports by 2035.
And third, an immediate end to all subsidies to this sector, alongside an export tax, would fund the regulated, phased contraction of the sector, providing assistance to communities affected by closure and contribute to the other costs of national decarbonisation.
5. The Prime Minister must establish a climate disaster fund
The costs of climate-related loss and damage are increasing rapidly and governments are increasingly being called on to be insurers of last resort.
Ad hoc budget allocations continue to be made – with increasing frequency and in increasing amounts – but they don't systematically address the needs of those most affected. Meanwhile private sector insurance is becoming increasingly expensive and unaffordable for many living in climate-disaster prone areas, leaving increasing numbers exposed to both uncertainty and hardship when disasters like fires and floods strike.
We need a Climate Future Fund (CCF) to finance adaptation and repair of public infrastructure. A sovereign wealth fund, with legislation defining its operations and purposes, a Board and operational agency, it would be initially funded to $50 billion (indexed) via direct budget allocations, and topped up as required using a separate levy on Australian fossil fuel industries and a means-tested income levy if necessary.
Nested within and funded by the CCF, a National Disaster Insurance Scheme (NDIS2) would be a targeted scheme offering assistance to communities and households that cannot privately afford the costs of recovery. It would be tied to processes that ensure that 'building back' is truly sustainable in the longer term, and also that the private insurance sector does not begin to operate in ways that take advantage of the burden shifting implied by its existence.
6. The Prime Minister must deepen public understanding and support for climate action
Polls indicate an overwhelming majority of Australians support action against global warming. However the biggest mistake previous governments have made was to assume this support is deep, not shallow.
In these times of heightened anxiety – inflation, cost of living, health, national security…. the list goes on – many Australians are also nervous about the personal costs of combatting climate change.
An ongoing program of communication about the growing risks and costs of delay, and the overwhelming benefits of decarbonising the economy, is essential to deepen the legitimacy of and support for the measures required during this next decade of tough climate action.
Read more on how public anxiety over future climate impacts is growing and climate change determines the votes of an increasing proportion of Australians.