Two former Australian prime ministers have joined forces to speak out against the power of Rupert Murdoch's media empire, calling for a royal commission. But why do they have so much power anyway, when they get it so spectacularly wrong, so often. Michael Tanner explores the bizarre antics of Murdoch's pundits during the US election.

After the longest campaign, in the longest year in living memory, Joe Biden has been declared the winner. Even if Trump's plans to subvert democracy take shape, the people of the United States have spoken.
While Trump's support from Republicans seems to be waning, leaving only the most ardent of his cult-like inner circle supporting him, Trump could still, predictably, count on much of the Australian mainstream media for support.
The Australian's view has been clear for weeks, with its political commentators filing out to pump up Trump's tyres.
Greg Sheridan has continued his defence of why Trump had to win, pointing to the left's "authoritarianism" in which a "plague of violent riots" would erupt throughout the major cities in America if Trump were elected. Meanwhile, Trump's contesting of the result would be on legal grounds.

Authoritarianism was also, in his view, Twitter and Facebook censoring an obviously false story regarding Hunter Biden and some emails.
What authoritarianism isn't, apparently, is the rampant voter suppression that occurs in the United State; nor Trump's fulfilled promise that he would not accept the results of the election.
Robert Gottliebsen reckoned that many ordinary Australians have a "love affair with Donald Trump". His evidence? The fact that Australians gambled more on Trump than Biden to win the election, even though The Daily Mail reported that: "Despite Australians favouring Trump with their betting slips, a survey found most would prefer Vice President Biden to actually win."
The Australian also published seven pro-Trump articles written by Joe Hockey between September 21 and November 1 – that's just over one a week. In his final column, he was happy to push the voter fraud angle.

Hockey followed this up on Radio 2GB as the votes were counted, claiming there had "for sure" been voter fraud – purely on the basis of 93% of Washington DC voting for Biden. Hockey found such levels of support "hard to believe". But Washington DC has been voting like this for decades.Where has Joe been? Maybe talking to the wrong people in the wrong clubs. Or watching Fox News all the time.
On Insiders yesterday David Speers asked our Ambassador  in the US Arthur Sidodinis many questions that seemed to go nowhere about Trump's allegations of widespread electoral fraud. But he failed to ask what seemed an obvious question about comments by his predecessor Joe Hockey that he agreed with Trump that there had been massive electoral fraud. Strange!
The excitement in the Australian media was palpable as Trump took the early lead, with numerous outlets declaring that the "blue wave" – the expected shift towards Biden as mail in ballots are counted– had not occurred.
There was no contrition that they may have called it too soon, as state by state flipped from red to blue: Michigan, then Georgia, then Pennsylvania, despite Trump being up by double digits.
What there was, instead, was profound sycophancy towards Trump.
The ABC described him as a "masterful campaigner"; the Fin Review described the election as "another epic fail for the liberal elite", even as it appears that Biden will seal the popular vote by a margin of more than 4 million and could take more than 300 electoral college votes (270 votes are needed to win).
Andrew Bolt gloated, writing on November 4 "celebrate with me" at the prospect of a Trump win. Whoops.
Sky News reminded us that it is an entertainment, not a news, channel. During one of Biden's speech, he said he was confident of victory. Sky's on-air presenter translated that into the blatantly false report that Biden "just tried to claim" the election. Moreover this "claim" made the Sky News headline.
The list goes on. The Australian's Paul Kelly described it as a "miracle win"; Chris Kenny called the election for Trump long before all the votes were counted. Whoops.
Queensland election coverage
The coverage of the Queensland election wasn't much better. Some background for those not in the "Canberra bubble". The Queensland Labor Party had been reduced to just seven MPS following its rout in the 2012 election. Annastacia Palaszczuk took on the Labor leadership following what was the worst defeat a state government had seen in Australia. Yet by 2015 the Queensland Labor Party was back in government and Palaszczuk has now won three successive elections.
In 2015 she was widely described as the "accidental premier". In 2017 the story was what the Coalition did wrong.
This year, she again fought off Rupert Murdoch's coverage – analysis from ex- Labor PM Kevin Rudd in the graph below – and the repeated false advertising from Clive Palmer that Labor would introduce a "death tax".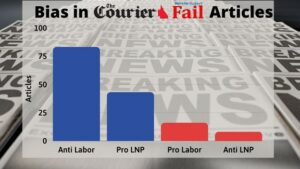 Just a week out from the election Palaszczuk was "losing her grip".

Did Palaszczuk get the same "political animal" credence given to Daniel Andrews – a premier with a similar track record? Kudos for her grit and determination in rebuilding the party? No. She's just "lucky" – in a number of ways, and owes her success to a "dint of effort".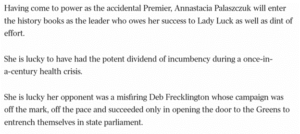 The Courier Mail also found a way to give credit to the One Nation party for Labor's win.

As the dust settles on what has been a wild week, with evidence of the United States now a melting pot of polarisation, unrest and anger, Australians should not rest on their laurels. It is easy to sneer at the crumbling state of democracy in America, but Australia is increasingly polarised, with some of the same ingredients that have borne such an incendiary state of affairs.
while US Republican politicians and conservative commentators were quick to condemn President Trump, not so Australian conservatives, despite their professed love for freedom.
As Bernard Keane wrote in Crikey , the Morrison government and its mates' first policy "hasn't merely accepted the low standards that have mired federal politics in sleaze, it has actively promoted them".
Furthermore, under the chaos of the US election, legislation weakening political donation laws was pushed through parliament, supported by both parties. This measure ensures federal laws override state anti-corruption laws, making it easier for federal politicians to accept secret donations from property developers.
This legislation escaped the attention of the mainstream media, but is another step in the inexorable decline in the integrity of Australia's government.
While the Morrison government has finally released its draft bill for a federal integrity commission, its proposed powers are so much weaker than existing state anti-corruption commissions that a former judge called it a "feather duster".
But parts of the media remain happy to describe the proposed commission as stronger than a royal commission.