The coverage was positively glowing. Debt projected to be four times higher than at any point under Labor but nothing could silence the cheerleaders. 
The Federal budget was the only news on anyone's lips. Government debt is projected to blow out beyond $1 trillion, more than four times higher than at any point under Labor.
And yet, let's just compare some coverage.
Some of the superlatives used to describe the Budget were: "Ute Beauty"; "Election Injection"; "Rebuild of Dreams"; "Super Spender"; "$1.6bn for the heartland".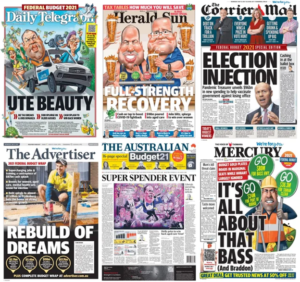 Compare the superlatives used to describe Labor's budgets.
"Labor 'playing debt roulette' "; "Price of Labor"; and "Doesn't add up".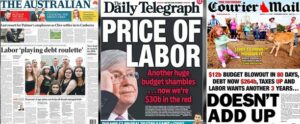 Budget cheerleaders
The rank hypocrisy didn't trouble many, with columnists at The Australian cheerleading the budget.
Simon Benson reckoned there was "No one left behind".

Maybe he meant "No business left behind", as tax incentives were extended, to a value of $20.7 billion. There were many left behind:
Aged care, which is receiving only half the investment recommended by the Royal Commission. Private aged care providers did well, though, with investments towards such as "support[ing] providers to adjust to a more competitive market"
First-home buyers, as the Homebuilder scheme and Home Super Save Scheme extended and scaled-up will do nothing to put the brakes on the skyrocketing house market
Anyone earning a wage, with budget estimates suggesting wage growth will remain below 3% until 2024-25 and beyond
JobSeekers, who still receive 25% less than the poverty line
Anyone caring about the climate, with the phrase "climate change" mentioned just once in the budget speech
Recent migrants, who now face a four-year wait to access welfare payments
Those on the NDIS, who have to contend with what amounts to Robodebt 2.0
Public schools, where students will once more get about half as much funding per person as private school students. Nearly twice as many students attend public schools, but private schools will receive 50% more funding in the newest budget ($16 billion vs $11 billion)
Anyone attending or working at universities, which were excluded from JobKeeper, with borders being closed until mid-2022 preventing international students enrolling, and now further funding cuts
Budget week fun
There was plenty of other fun floating around in budget week.
There seemed to be cause for celebration that "stage 3 tax cuts [will be] cheaper".
The Sydney Morning Herald


The tax cuts will be a lower cost to the budget because of the slowest wage growth in decades.
The tax cuts, which will be going to the highest-earning Australians, will still cost us all a whopping $17 billion instead of the projected $19 billion in the first year they take effect.
Steve Price at The Herald Sun worked himself into a lather that Daniel Andrews was still recovering from a broken spine.

And finally …
Finally, we can hark back to the good old days (last week) when there was still some outrage over Australian citizens being banned from returning to their own country.
The Australian Financial Review, in defending the government against "charges of racism", pointed out that borders were closed with other countries.
Missing from the analysis was that Australian citizens were still allowed home when those borders closed, via repatriation flights and off-shore quarantine.