When tabling the omnibus Industrial Relations bill in early December, Christian Porter described the changes as "modest". The mainstream media duly followed suit and in no time at all had even dropped the quotation marks.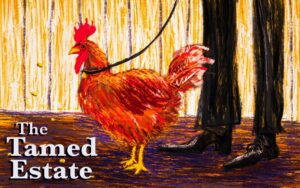 When tabling the omnibus Industrial Relations bill in early December, the Industrial Relations Minister Christian Porter described the changes as "modest".


There's a bit of debate there. Economists have called it "revolutionary"; and "a war on workers"; the ACTUS's Sally McManus "dangerous and extreme". But "modest" seems to be the word that has stuck around.
"Modest industrial relations reform" – so said Jennifer Hewitt, columnist at the Australian Financial Review, on ABC Insiders on Sunday.
And modest it has become in the eyes of the mastheads: nary a quotation mark in sight.
Australian Financial Review


and again

and again

and even "pretty modest" reforms.

The Australian

And The Sydney Morning Herald:


Meanwhile, Sally McManus, president of the Australian Council of Trade Unions, described the reforms as "dangerous"; Alison Pennington, senior economist at The Australia Institute, as a "kick in the teeth for Australian workers". Sparse coverage of those statements.
IPA watch
The Australian-Institute of Public Affairs duo were on fire again. The IPA released a "report" that claimed 650,000+ jobs were at risk in a transition to net zero carbon emissions – plus more "indirect job losses". Even better, it claimed that such "significant job losses are likely to occur".
They arrived at the number of 650,000 by counting the total number of jobs in industries with an above-average amount of emissions. That's it. More than 300,000 of these jobs are in agriculture. The conclusion from such a hypothesis, which didn't make the report or the accompanying article, perhaps due to how ridiculous it was, is that if we transition to net zero we could lose every single agricultural job in the country.
A bit less "believable" is the argument that Australia would actually stop growing food if we transitioned to net zero emissions.
No explanation of the new opportunities that will be created in regional areas during a transition to a low-emissions economy.


What's more
Roughly 10 months after the PM delegated all responsibility to states and territories to manage hotel quarantine – a commonwealth responsibility – someone in the media called out the government. Better late than never, I guess?
The Age:

Reserve Bank Governor Phillip Lowe suggested an increase to the $277.85-a-week Newstart payment would help stimulate the economy. It was far too sensible for the Australian Financial Review, which ran four articles in three days critical of raising Newstart.




And finally…
"Captain". "Top Gun". After Morrison walked in to the unveiling of some fighter planes to the song "Danger Zone" by Kenny Loggins – very Trump-esque at best, and that's before you realise it took a couple of goes to get the timing right – there was some sweet material for the mainstream media to get their fill of sycophancy.
From The Daily Telegraph: "Australia's top gun of politics."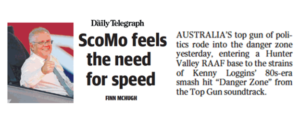 And The Australian: