When Labor leader Anthony Albanese dumped his party's franking credits policy, the mainstream media duly trotted out the "retiree tax" line. "Subsidies to wealthy superannuants to continue" doesn't have quite the same ring.

Franking credits
The Australian Labor Party began looking ever more like the Coalition-lite when Anthony Albanese dumped the franking credits policy that many had pointed to as contributing significantly to Labor's 2019 election loss. The mastheads wasted no time trotting out the "retiree tax" line that had dominated the conversation.


"Subsidies to wealthy superannuants to continue" just doesn't have quite the same ring to it. As businessman Dick Smith noted, he was 'so horrified' by the amount of his cash rebate that he called for the scheme to be means tested. With an estimated net worth north of $50 million, Smith received $500,000 and $250,000 in consecutive financial years from the government.

Would you bite the hand that feeds you?
The mainstream media were willing recipients of the huge advertising spend by the federal government.
After spending $136 million on advertising in the first half of 2019 – the total amount  Labor spent in the whole of 2012 – and another $160 million in the 2019-2020 financial year, the Prime Minister announced another $75 million taxpayer funded ad-blitz to promote the Covid-recovery plan.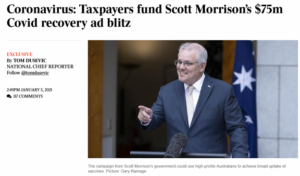 While maximising the uptake of the vaccine was listed as a primary goal of the advertising campaign, the Prime Minister potentially undermined public confidence in the Covid-19 vaccine.

With the government paying exorbitant sums directly to media companies to promote its policies, has the government also found an indirect way to fund the languishing mainstream media? Full marks to the Coalition for its business nous.
Meanwhile, a hugely important story – an exclusive interview about the updated vaccine rollout schedule with Health Minister Greg Hunt  – went to the tabloid The Daily Telegraph, which promptly hid it behind a paywall.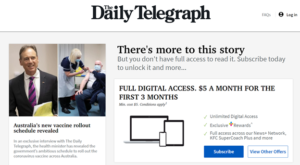 Surely such important information should be available to all. And contrast this with the synchronous drops of every other major announcement to all media outlets.
Feeding the Chooks: Scott Morrison's marketing triumph over mainstream media
And then the Coalition was only too happy to facilitate News Corp's double-dipping into taxpayers' money.
The Coalition gave Foxtel $30 million to televise women's and underrepresented sport. News Corp then charged the ABC up to $105,000 to televise three Matildas' games. Despite this double dipping, the Coalition proceeded to give Foxtel a further $10 million of taxpayers' money. Extraordinary.


What's more
Dr Janet Albrechtsen at The Australian seems to have discovered a niche market. And there's a simple formula to determine who the coverage will favour: Liberal (i.e. Gladys Berejiklian, "Aussie Squad") = good; not-Liberal (Norman Swan, the ABC, Anthony Albanese, Ita Buttrose, Sarah Hanson-Young, Paul Brereton, progressives – "The Assembly of Wokeness", Kevin Rudd, Malcolm Turnbull, the team behind that Four Corners episode) = bad.
Albrechtsen's attacks on Dr Norman Swan seem particularly personal. "Sinecure Swan, who has been on the public payroll since 1982 … is comfortably insulated from the costs of rolling lockdowns."
Furthermore, "Swan's role as doomsday activist reveals how easy it is to demand a lockdown when you are protected from the costs of that policy."