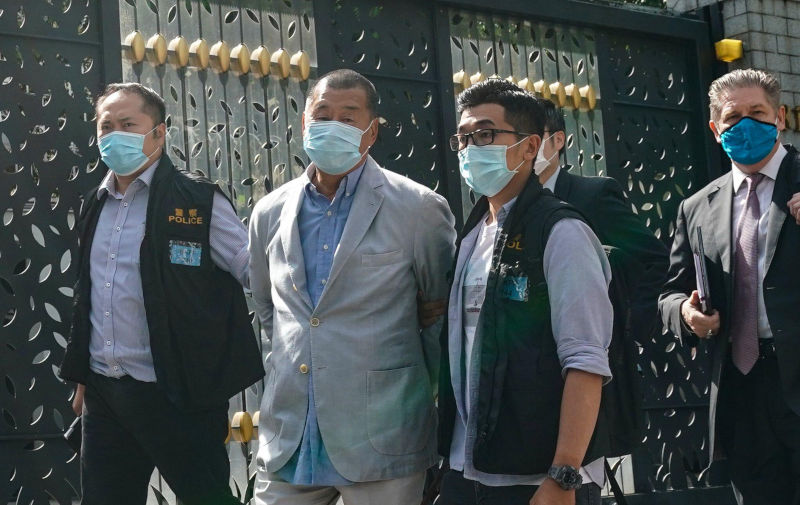 The latest prison term for former media tycoon Jimmy Lai Chee-ying will inevitably be portrayed by the Western media as further communist persecution of the city's leading pro-democracy fighter. But many local people who lived through more than two decades of Lai's media dominance will have a very different take. If you want a better understanding of this intriguing and complex figure, you need to take into account both his local and international images.
Lai, 75, has been jailed for 69 months and fined HK$2 million (US$256,850) for fraud. The District Court has also banned him from managing any company for eight years. Meanwhile, he is facing charges of collusion with foreign forces under the city's national security law.
In post-1997 Hong Kong, Lai was one of its most powerful people. Through his now-defunct media empire and massive donations, he influenced large swathes of public opinion, and financed and mobilised the pan-democratic opposition, especially legislators, against the local and central governments. One way to describe him is as the local mini-version of Rupert Murdoch, the global media magnate whose approval or disdain bring joy or terror to politicians across the English-speaking world.
Similarly, local officials, judges, tycoons and celebrities feared Lai's paparazzi; likewise, victims and their families of terrible accidents and gruesome crimes, whose privacy was often ruthlessly violated. Admittedly in the latter, his two primary, now-defunct publications, Apple Daily and Next Magazine, weren't the only ones; other local publications were also guilty.
In 1998, Lai publicly apologised after Apple Daily paid associates of a cheating husband, Chan Kin-hong, HK$5,000 to follow him visiting mainland prostitutes and photographing them in bed. That was after Chan became notorious when his wife threw their two children out of a window then leapt to her own death.
The paper once ran on its front page a photo of a rape victim, her face still bloodied from the ordeal. The exceptional sensationalism of his publications would have given the worst of the British tabloids a run for their money. And yet, despite the notoriously lowbrow Next, the magazine ran his weekly column in which he often discussed his latest readings in philosophy, psychology, science and business.
Rather than using the lazy blanket description of pro-democracy, Lai's politics is perhaps best understood as a weird mixture of US Republican Party conservatism, Roman Catholicism and last and most of all, anti-Chinese communism. Washington always rolled out the red carpet whenever he visited, whose purposes will no doubt be cited in his national security trial.
He idealised Donald Trump, and called him "a statesman". In May 2020, he launched the #TrumpSavesHK campaign in Apple Daily. In October, it was revealed that his funding was used to commission a report purportedly "revealing" that then presidential candidate Joe Biden's son Hunter had secret dealings with China. Lai said he "unknowingly" funded a report compiled under a fake persona and used in a conspiracy theory to discredit Biden. His long-time top aide, Mark Simon, claimed he used the money from Lai's private company to pay for the project on his own initiative.
That seemed like a clear case of foreign interference with a US presidential election. But rather than investigating or sanctioning the parties involved, Washington ignored it.
During the 2014 Occupy protests, leaked financial statements showed that Lai, Simon or companies they controlled donated millions to practically all the pan-democratic lawmakers and their parties, as well as the virulently anti-communist Joseph Zen, then bishop of Hong Kong, who had clashed repeatedly with the Vatican over its policy with Beijing.
Lai funded lawmakers who successfully vetoed the universal suffrage plan for the election of chief executives approved by Beijing and Hong Kong in 2015. The plan would have been extended to the legislature at a later date. In opposing Beijing, this "democracy" fighter helped kill democracy in Hong Kong, after two decades of slow but sure progress.
First published in The South China Post December 11, 2022