Seven years ago the UK government overruled the purchase for $10,000,000 by the Australian government of two oil paintings of a dingo and a kangaroo painted in London by George Stubbs from stuffed pelts brought back from the coast of Australia in 1771 by Sir Joseph Banks.
But there are two more paintings of kangaroos in London that may be even more important than the Stubbs kangaroo and dingo. Can we have a look at them?
When researching early Australian settler art, I came across these pictures online of two paintings of kangaroos. I assumed that they were watercolours since the first known European oil painting in Australia is generally accepted to be John Lewin's c1813 (or 1815 or 1817)Fish catch and Dawes Point, Sydney Harbour, currently in the Art Gallery of South Australia. It was only when I asked my colleague, Alan Stewart, to look at 'these watercolours' that he said, pointing to the annotation from the Hunterian catalogue, "They're not watercolours. They're oils." And so it seems to be the case.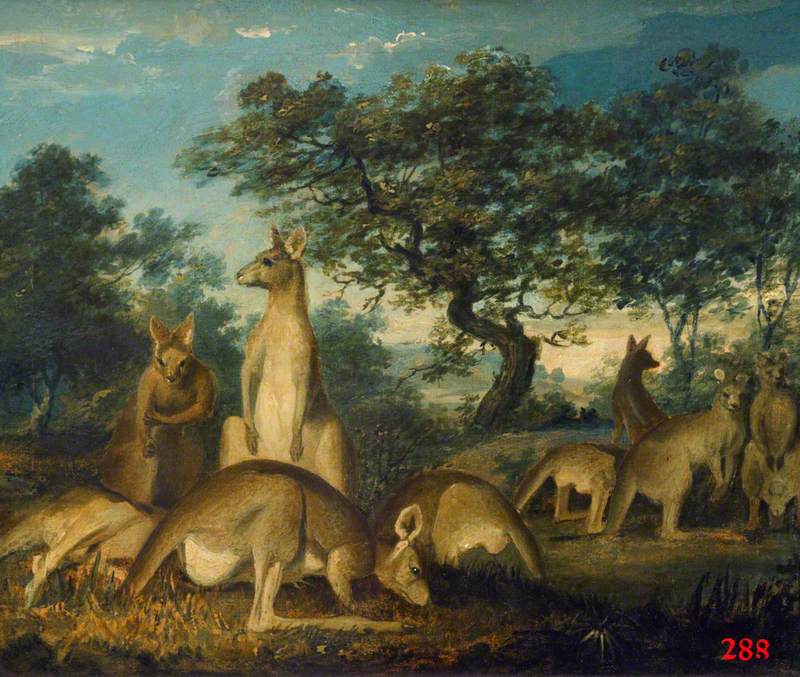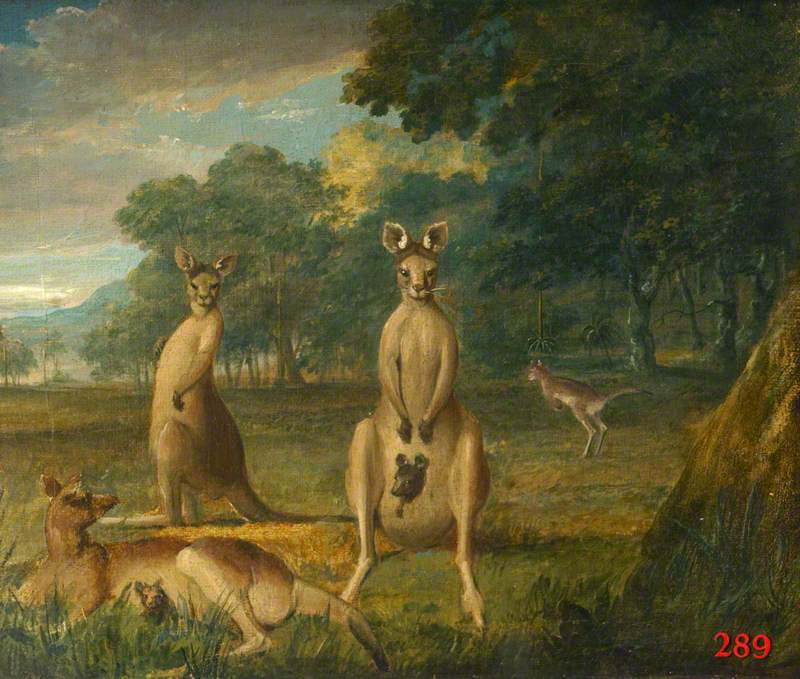 If so they would be the earliest known oil paintings of kangaroos other than Stubbs' pelts. And if they were created in Australia before 1813 as the Hunterian catalogue suggests they would be the earliest known oil paintings made by a European in Australia.
As we shall see, it seems indisputable that these two paintings were donated to what is now the Hunterian Collection of the Royal College of Surgeons of England in 1807.
Lewin was a natural history illustrator of flora and fauna, but not always a good landscape artist, which may explain why the trees in these two pictures look more English than Australian. But probably most the most conclusive evidence for agreeing with Bernard Smith, the eminent Australian art historian who saw the paintings in the 1980s, that they are Lewin's, are stylistic issues such as the use of shading in other animal paintings known to be made by him.
The fact that Lewin wrote to his acolyte Alexander Huey in November 1812 that he was 'now painting in oils' does not necessarily mean that he wasn't painting in oils before he met Huey in early 1810 but wasn't able to obtain the materials to make and paint in oils until after Huey left in October 1811.
The first trained natural history illustrator in the colony, Lewin arrived in 1800. His 1819 painting (from an earlier watercolour) of two red kangaroos are of a different order of competence than those of his untrained predecessors, particularly in the rendering of the proportions of the body, the slope and hang of the shoulders and the long arms, and the set of the heads and necks.
William Clift, the first Curator of the Hunterian Collection, and Sir Joseph Banks, Sir Everard Home and Sir John Hunter were at the centre of anatomical studies of exotic animals in London. Clift was highly regarded for his meticulousness and dedication to the collection for the 45 years he was in post.
The 2017 SurgiCat online catalogue of the Hunterian Museum states
"Entry for 1807, by William Clift. Two small paintings representing Kangaroos in their native wild state. Painted in New Holland."
They now hang in the Museum Hall. There is no painter's name, but they are supposed to have been painted by Mr Lewin, who was a Draughtsman and resided many years in the Colony and I believe died there. W.C.
It is unclear why an entry for 1807 would be in the Donations Book 1810-1817 but the possibility that '1807' was an error for a later date, perhaps 1817, seems disqualified by the report of a Librarian of the Museum, William Lefanu. He noted in 1960 that "two manuscripts lists of paintings in the College have come to hand, which were written by William Clift, the first Conservator of the Museum, in 1816 and 1820 in his careful script. Clift added notes to his second list about 1840, he recorded much traditional knowledge, and his lists have proved invaluable, particularly for the cataloguing of the Museum pictures." In 1816 Clift annotated the entries for these two kangaroo paintings: 'Painted in New South Wales' and in 1820 'Painted in New Holland from the life shewing them in their various natural attitudes."
It seems unlikely that Clift and his eminent associates wouldn't have been aware if the paintings had been made from the animals kept in London's parks and exotic animal collections.
It has been suggested that Lewin was too good a botanical painter to have been responsible for the 'English' foliage in the two RCS paintings. But while he was good at painting Australian flora for his studies of birds and flowers and insects, Lewin was less adept at painting the Australian landscape.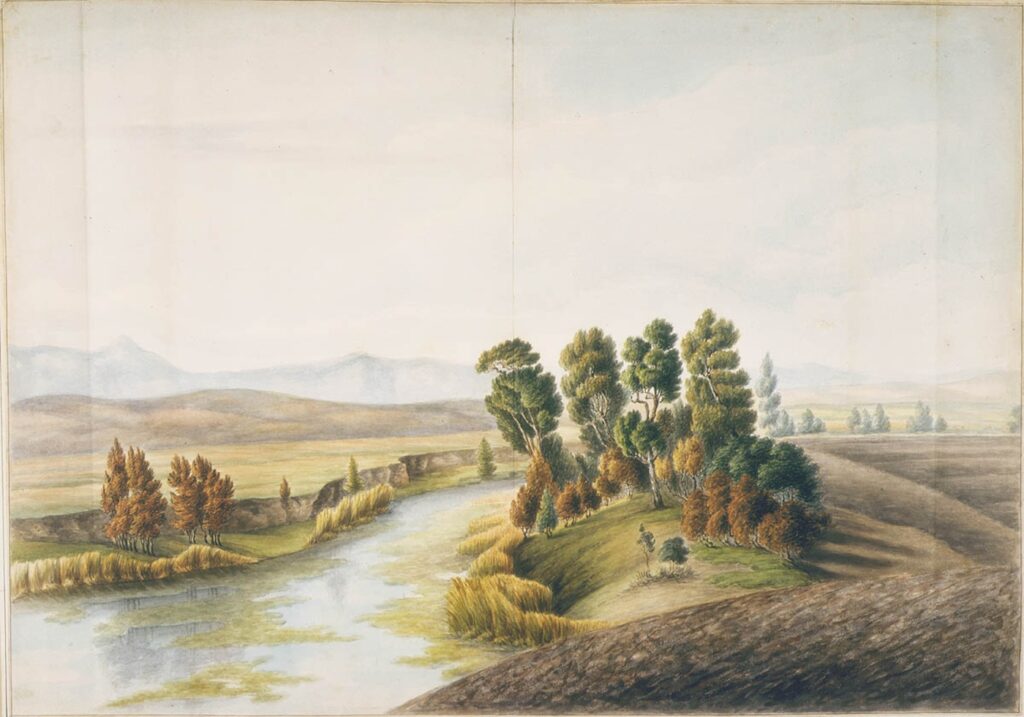 Lewin's painting of Riverbank showing the Casuarinas
Paintings held by Dixson Galleries of State Library of New South Wales
Governor Macquarie, for instance, did not consider his landscapes true enough to send back to London as evidence of the growth of the colony, as I set out in The Conundrum of the London Kangaroos on my website.
The shading style used in Lewin's Australian Fauna paintings is similar to that of the two kangaroo paintings in London.
In 1988 the then Librarian of the RCS, IF Lyle, wrote to the State Library of New South Wales about the provision of photographs of the two paintings. "These two kangaroo pictures have created some interest recently. Sotheby's were engaged on a routine evaluation of the College pictures earlier this year and in the course of this it was realised that they were very early representations of kangaroos as they must have been painted before 1807, when they were presented to the Hunterian Museum, here at the College. Sotheby's asked [the eminent Australian art historian] Professor Bernard Smith, to look at them and he pronounced them to be the work of John Lewin, although at the time he was only known to have worked in water-colour and these two paintings are oil on canvas."
A copy of this letter was kindly supplied to me by Richard Neville, currently the Mitchell Librarian at the SLNSW and Lewin's biographer.
However, Mr Lyle himself very oddly formed the opinion, when he was shown Lewin's Fish catch and Dawes Point, Sydney Harbour (variously dated as c1813 to 1817), that "this painting which Professor Smith has not seen, is very similar in style to (sic) watercolour of kangaroos that Lewin painted in 1819, but quite different to our own kangaroo paintings."
Perhaps the Librarian was not aware of Lewin's paintings of the koala, echidna, platypus, and other animals. Note Lewin's use of white and beige shading in his study of the Opossum, the Tasmanian Tiger and ABengal cow and her calf. And indeed in Fish Catch and Dawes Point, Sydney Harbour. Note especially the use of white in depicting ears, e.g. Coolaand Opossum.
The assumption that Lewin did not paint in oils in his first decade in Australia depends solely on his letter to Alexander Huey dated November 7, 1812, a digital copy of which was kindly supplied by the Public Record Office of Northern Ireland.
Ensign Huey spent twenty two months in Sydney from December 1809 until October 1811 and became Lewin's pupil. Lewin wrote "You have often heard me say I should like to paint or that I would paint [emphasis added] such a thing in oil – but at every attempt it was attended with some difficulty or other to deter me – behold the charm is broke (sic) & know (unclear)… I am painting in oil two large pictures – & from time to time I shall lett (sic) you know my prog(unclear)."
This does not necessarily mean that Lewin did not paint in oils PRIOR to Huey's arrival in Australia – "I should like to paint or that I would paint in oil" may refer only to discussions about work in progress and prospect in 1810 and 1811. The phrase "or that I would paint in oil" seems to suggest that it was a possibility to do so, albeit one that didn't materialise while Huey was in Australia.
The Hunterian Museum is closed until 2022 for refurbishment. This could be an opportunity to conduct some pigment tests on the two RCS paintings to establish if they were ever in Australia and indeed if they are painted in oils. I was kindly shown the two small paintings as the Museum was being packed up in May 2017. They are behind heavy old glass and they could be done in oils, or distemper or tempera – or a colonial workaround for any of these.
They have hung in the Hunterian in London for over two hundred years without it being established whether or not they are the earliest extant European oil paintings made in Australia. If Stubbs' paintings of a kangaroo and a dingo made from stuffed pelts were worth millions of dollars to both the Australian government that bid $10,000.000 for them and the British government that paid as much to keep them, how much might these two paintings be worth – a tour of Australia?
https://artuk.org/discover/artists/lewin-john-william-17701819