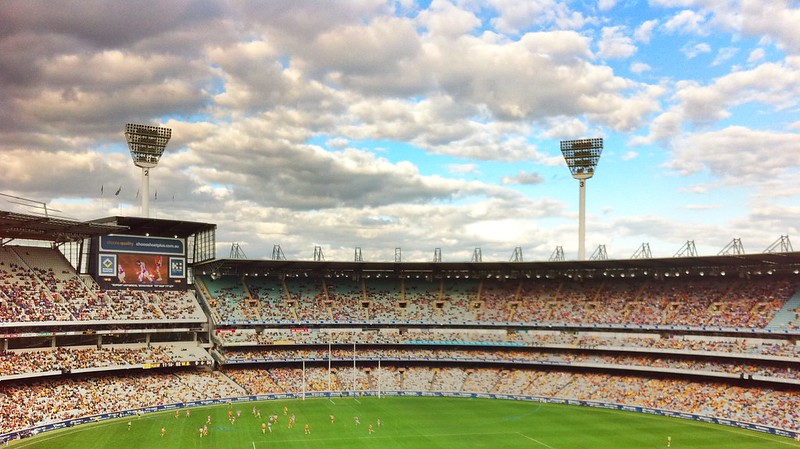 This weekend's AFL Grand Final is only the seventh time that the finals series hasn't included one of the great four: Carlton, Collingwood Richmond and Hawthorn since 1925. 
How can Scott Morrison, supposedly all for individual enterprise and reward, allow the enemy within — communists, for heaven's sake — to continue their domination of our most important national institution?
Since the 1990s, the faithful have seen our Australian Football League become a control-and-command economy.
No one — not Paul Keating nor John Howard nor any of the rest who have spun through the prime-ministerial revolving door since — has felt moved to do anything about this outrage.
Well, "pig's a…" to that, as my bloodied, unbowed and now late former president at Carlton, J. D. Elliot, might put it.
The numbers don't lie.
The four great gospellers of our faith, Carlton, Collingwood, Richmond and Hawthorn, have been together in the VFL/AFL since the Hawks joined in 1925. That's 97 home-and-away seasons. This year is only the seventh time that the finals series has not included at least one of the four.
1950: Richmond missed the final four only by percentage.
1954: Richmond and Collingwood were each only one game out.
1997: With four cosseted interstate teams now taking space in the final eight, Carlton, Collingwood and Richmond still all finished only half a game out.
1998: With three of the subsidised interstaters receiving a presence, Richmond still only missed the finals on percentage.
2004: Four interstaters, with Carlton the closest of the gospellers, two games out.
2005: Four interlopers again and the Tigers closest, one and a half games out.
So, but for a handful of games over the best part of a century, the big four would never have missed the finals.
Check out where the bulk of the misses are, and where the margin of the misses grew ever so slightly. It's the mid-1990s, the lag time needed to reap the bitter harvest of the introduction of the player draft (1986) and the salary cap (1987).
Take my beloved Carlton. They won the flag in 1987 with a team including some stars that they had identified and enticed and nurtured — and then they won it again in 1995 with a number of those same stars still in place.
By then, the die had been cast. All the old clubs had been forced to sign up to be part of the product, a forced collective, made to accept rules and regulations about which players they could approach, and when, and what they could offer them. The commissars had decreed that confections such as the Crows and Eagles must succeed, and they did, while the true disciples fell on stony ground.
Carlton had always had all the money, any number of other clubs used to whinge, forgetting that it was our own money, gladly given by those who had come together and wanted to follow the club, whether in a great and good coterie group or just with a simple interstate membership or the purchase of a beanie from the club shop. It wasn't money splashed about from AFL HQ for facilities, and playing lists, for entities that had just been created. Our club had been operating, and doing so successfully, since 1864.
Carlton had much more than the money, too. It had people of enormous ability who were scouts and recruiters. Stories are legion of Jack Dyer and Ted Whitten and others of the departed saints (no, not those Saints) taking long drives in the country to cajole this or that young star to come to their clubs — but Carlton had an organisation of talented footy people behind the scenes. While perhaps not near the status of "Captain Blood" or "Mr Football", they got great results. They identified the talent, showed patience and then looked after the players when they got to the club.
Why clubs should be penalised for having such expertise — and working specifically to build it up — is beyond me.
Yes, of course, we need interstate clubs if we're going to have a national competition. But clubs like Port Adelaide and Fremantle, real clubs from football states. Or like the transplanted Swans and Lions. After some initial problems with the graft taking (in both donor and recipient), the good old clubs lived on (and won flags with South Melbourne and Fitzroy initials on their jumpers), spreading the faith in what have become football states.
When the counter-revolution finally takes hold, we can't expect fans to give up Adelaide and West Coast.
It's too late. They've won flags. But surely we can get rid of the Giants and the Suns and welcome instead the Tassie Devils and the Territory Crocs/Barras/Buffalos? I understand they would be composite sides, too, but they'd have to be, because, unlike Adelaide and West Coast, they don't have the population base.
But, you ask, where's the money coming from? As the salary cap and draft are dismantled, we'll still have 18 sides, but 18 sides people wanted to follow, and spend on. Sides that didn't have to be put together where there was nothing before. Sides that would certainly not have to pay millions to rely on that oxymoron known as "a rugby personality" to attract fans. Israel Folau was at the Giants for two seasons, 13 games and two goals and Karmichael Hunt was at the Suns for four seasons, 44 games and six goals. The numbers don't lie.
With the Territory and Tassie (finally) in, we would have a truly national comp. Oh, can you see it? Sides rising and falling on their changing merits, on the strength, skill and courage of their players, the expertise and mentoring of their recruiters and coaches, and the love, and dollars, of their members and fans. In the dream, Carlton is again on the dais every three years like we were with eight flags from 1968 to 1995 … And then …. and then …
Someone woke me up. It was September again, and not a Blues jumper in sight for the eighth year in a row.
Andrew Fraser is a Canberra criminal lawyer, former journalist and very former, and very ordinary, Masters AFL footballer.