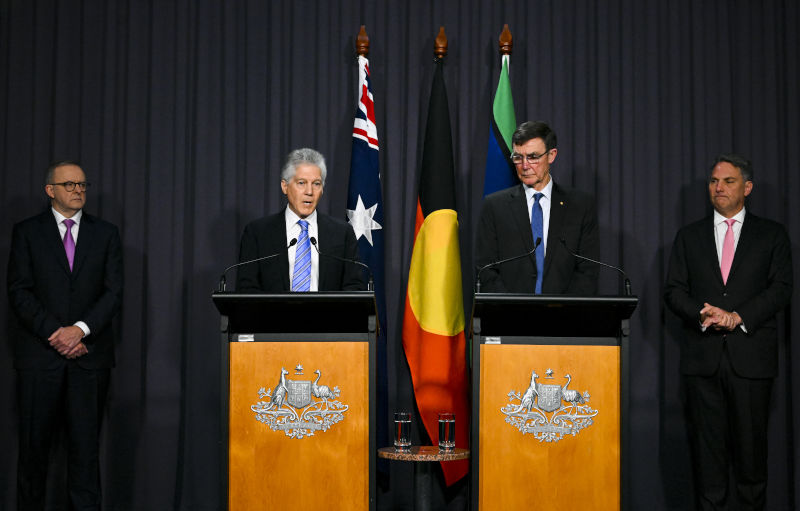 Over the next two weeks we will be running a series of articles to focus on the Defence Strategic Review (DSR) which is headed by Sir Angus Houston and the Hon. Stephen Smith.
In becoming a US proxy, even patsy, we are on a risky and dangerous path.
Smith was Minister for Defence when the Gillard Government committed to US Marines in Darwin. As Minister he told us in 2011 that 'Australian troops are making good progress in Uruzgan province…the Taliban is losing ground'. On the domestic front he told us in 2016 that Mark McGowan was a failed party leader. He offered himself, unsuccessfully, for ALP preselection for a State seat in order to defeat McGowan.
The review was announced on 3 August with submissions closing on 30 October.
But is it a genuine review? Minister Marles called it a 'snap review'. Stephen Smith has told the Western Australian newspaper that a 'draft report with initial findings would be given to the Minister for Defence Richard Marles on November 1'. That is one day after submissions close!
My major concern however is that this Review will be dominated by the Washington Club and its derivative media followers with the mistaken but widespread and spurious view that China is a military threat to Australia. The Club is very ignorant of Chinese history. It trash talks and goads China day after day.
This Review takes place against a successful anti China campaign in Australia waged by organisations like the Australian Strategic Policy Institute, the Office of National Intelligence, politicians and importantly by our media including the ABC. There has been a colonisation of the mind by western media.
Our new Prime Minister is also not immune to the anti China infection. His first rushed overseas trip was to join the anti China group at QUAD and NATO.
As set out in the terms of reference for the Review on Critical information Requirements. 'the review is to be informed by the intelligence and strategic assessment of the most concerning threats which challenge Australia's security'.
It's clear to everyone that the unstated assumption in setting up this Review is that China is a threat in some undefined way.
Although not naming China, Angus Houston was quickly out of the blocks after the announcement of the Review by commenting that 'the deteriorating strategic environment facing Australia is the worst I have seen in my lifetime'.
But is that so? Is China a threat?
China may be a threat to the United States Empire with its 800 bases world wide, including 19 in Japan and ROK ringing China, but it is not a threat to the United States or Australia.
Countries of our region have built more balanced and better relations with China than we have.
In the last forty years the US has waged numerous illegal wars resulting in the death and displacement of millions of people. In that time China has not waged a single war.
China will become a threat to us if we continue on our present very dangerous path of acting as a US proxy and tying ourselves ever more closely to the United States a county that is the most violent in the world and almost always at war.
As Jeffrey Sachs put it in a recent interview, 'A new database …has just shown that there have been more than 100 military interventions by the United States since 1991. It's really unbelievable'.
On the domestic front the US is more and more a failing or failed state.
Will the US fall into the Thucydides Trap by refusing to accept its own decline and fearful of a rising power, China.
In considering the 'China threat' what is the evidence? What is China's intent? What is its capability to threaten Australia? How does Chinese history inform us? Are China's security concerns largely limited to its own borders and relations with buffer states?
In Australia today we are witnessing a new version of the "yellow peril'. We seem unable to shake ourselves free of our racist history.
As Hugh White has described it, our unthinking alliance with America means that we may be sleep walking to war with China.
We need to take resolute action to slow the rapid ceding of our national sovereignty to the US. In becoming a US proxy, even patsy, we are on a risky and dangerous path.
Read more in our Defence Strategic Review series of articles.