Even the Devil was impressed with the level of hypocrisy on display on the sin sheet of News Corp's executive chairman.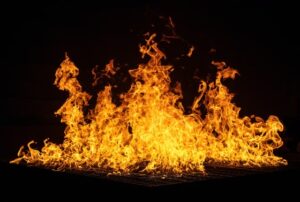 When the Devil read Rupert Murdoch's life work, he let out a sulphurous roar. "Welcome to Hell Rupert! I have been expecting you for a very long time. Mind your head now," he cackled. "Many of your mates are already here so it's a bit crowded," the Devil said. "We are expecting Little Johnny and the Trumpettes any day now."
"Follow me, Rupert, and watch out for the goat droppings." Murdoch disappeared down a cauldron hot tunnel, a bent-over, 90-year-old pensioner. What were his crimes and misdemeanours that led to such a fiery eternity?
"That is a question for God, Rupert," said the Devil. "We all love you down here, Rupert. But as God's supreme punisher, I have been sent the sin list."
"It's very long Rupert. But we have eternity to take you through it," he said.
"God just hates hypocrisy, Rupert," the Devil whispered in Murdoch's good ear. "He is obsessed with this sin. He walks up and down in Heaven repeating Matthew 15:7-9. He drives me nuts! Anyway, he has underlined two events which particularly offended him.
"He saw you just before Christmas last year, Rupert. You left your Henley-on-Thames mansion with your fourth wife, Jerry Hall Murdoch (harrumph!), in a convoy of Range Rovers to visit your GP. One of the first people in the world to get the Covid-19 vaccine.
"If that did not annoy God enough Rupert, the night before, he watched "Tucker Carlson Tonight" on your Fox News Channel. Carlson is arguably your biggest star. With 4.3 million viewers each night, he makes a lot of money for you. Carlson regularly ventures into anti-vax territory and continually snipes at public health officials who argue the seriousness of the epidemic. Yet you give this guy full voice."
"He also saw you with a medal recently," the Devil said. The medal was awarded by the Australia Day Foundation, not to be confused with the real deal. This one is from a London-based group of white, conservative Australian expats (why can't I get Alexander Downer out of my head?). Their sole purpose is to glow with self-importance once a year when they rush into tax-funded Australia House in tuxedos and glittering frocks and partake of the generous refreshments on offer.
"Who pays for all this silliness?" God asked, getting crotchety. Australian banks such as NAB and the miners like Rio Tinto. All with big skeletons in their ethics cabinets. Remember NAB charging more than 4000 dead customers $3 million in advice fees? Rio Tinto blasting the 46,000-year-old Juukan Gorge rock shelters last year?
You could tell God was getting more agitated. "On what basis was Rupert given the medal?" he fumed. To recap the citation: "Murdoch is a true Australian pioneer…" Sorry to interrupt, but Rupert willingly lost his Australian citizenship when he took out a far more lucrative American citizenship in 1985.
The citation went on: "Fifteen years after taking over the family business and following a series of acquisitions, Murdoch had amassed a portfolio of newspapers worth more than $50 million." God said, "Dollars? Is this how they took the measure of this man I have sent to Hell"? Well, yes.
"Today," the citation continued, "Murdoch is one of the most influential people in the media industry, with business interests that span television broadcasting and entertainment content to newspapers and book publishing". Was not one member of the committee capable of expressing some modicum of concern about Murdoch's right wing monopolistic control?
Murdoch's minions, his editors, journalists, commentators and photographers, seem to have taken their moral compass readings from power. As John Menadue, who was general manager of News Ltd. Sydney 1967-74 said, "The way News Corp operates must be traced to Murdoch himself for he has told us that 'for better or worse [News Corp] is a reflection of my own thinking, my character, and my values'."
Dead to the truth, the citation went on, "The two empires that he built over the last six decades – News Corp and Fox Corporation – well-established media properties that operate in five continents including News of the World, The Sun, The Times and The Sunday Times." Whoa! Give me a moment to clean out my ears! Is this the same News of the World that Rupert closed after the hacking scandal? And that shameful event has become a celebration?
The Australia Day Foundation is obviously in awe of Rupert because he has what these expats go all swoony about; immense wealth, financial aspirations as uncompromising as the edge of a razor, and conservative don't-change-a-thing values. No surprise that they did not mention Murdoch's huge media footprint in Australia. No mention of how this corona conglomerate has spiked our future with hundreds of sceptical editorials and articles about the climate catastrophe we are handing to the next generation.
And no mention of that great lie machine, Fox News. Next week the Senate impeachment trial of Donald Trump will hear evidence that Fox News and its extremist commentariat team were responsible for turning Trumps' lies into bullets, baseball bats, deep south flags, abuse, and murder on Capitol Hill. Murdoch is an accessory to these crimes, but no law exists to pin this charge on him.
The Devil paused at the end of the tunnel. "Just one more thing before I go Rupert. God says here, in your sin list, that you posted a message on your Melbourne Herald Sun's website that said:
"…for those of us in media, there's a real challenge to confront: a wave of censorship that seeks to silence conversation, to stifle debate, to ultimately stop individuals and societies from realising their potential.
This rigidly enforced conformity, aided and abetted by so-called social media, is a straitjacket on sensibility. Too many people have fought too hard in too many places for freedom of speech to be suppressed by this awful woke orthodoxy."
The Devil looked up from the sin sheet. Even he was impressed with this level of hypocrisy.
The author of this article wishes to advise that Rupert Murdoch is not dead and living in Hell. He has just launched Times Radio in the UK and is about to launch a TV news channel called News UK TV, led by former Sky News Australia boss Angelos Frangopoulos.