The refusal of some social media to allow Donald Trump a platform to spread lies and incite violence is too little too late. Expressions of unease by senior Coalition figures about some dubious threat to free speech are no more than attempts to distract from the Government's chaotic policies.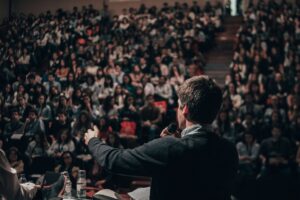 It is always difficult to appreciate the context of politicians' comments to mainstream media. Media report statements as though they arose in isolation. Such is the case with the comments about free speech by the Deputy Prime Minister and the Deputy Liberal Leader. It is highly likely that they were asked to react to posturing by a Coalition backbencher about the treatment of his hero, the outgoing US president. Rather than condemn the right wing MP's ravings, they both raised the issue of free speech.
There is no absolute right to freedom of speech. The right is always constrained in some way. As for the Australian context, it is only a couple of decades ago that a limited aspect of free speech was tested in the judicial system. The High Court ruled that the Constitution does provide an implied freedom of political speech during elections. There was no discovery of any general right.
Australian Human Rights legislation and the Human Rights Commission oversee basic rights. They acknowledge that speech is constrained. Hate speech for example, is unacceptable whether aimed at individuals or groups. Members of the Government should be careful about encouraging a misleading view of 'free speech' redolent of slogans pedalled overseas.
It is perhaps surprising that Treasurer Josh Frydenberg has lent his voice to this nonsense. He has in the past been sensitive to the misrepresentation of Jewish Australians. It is interesting to contrast his superficial comment with the more considered opinion of former California Governor Arnie Schwarzenegger who noted the similarity between the riots in Washington and 'crystal night' during the rise of fascism in Europe in the 1930s. Schwarzenegger expressed concern about the way that misinformation has been spread by potential dictators in both cases.
Perhaps it is less surprising that Michael McCormack thought Trump has been treated poorly. He also, it seems, likened the Black Lives Matter protests to the riots in Washington. Earlier he had been called out by Labor's Kristina Keneally on national television for creating 'alternative facts' about the local protests. He stated that the demonstrations had spread the Covid virus and caused Melbourne's serious mid-year lockdown. He had no evidence for this claim. Indeed, this was a clear example of Australian paranoia appealing to the most ignorant in society.
Probably the best explanation for the comments of both the Treasurer and the Acting Prime Minister is that they wanted to divert attention from the Government's chaos by sending critics after a red herring. There are many issues the Government would prefer we did not discuss. The list is lengthy but includes: Robo-debt, crises in aged care and disability policy, sports rorts, use of false documents against Sydney's Lord Mayor, wasting of taxpayers' money on land purchases and assignment of contracts without tender, failure of leadership on climate change, species extinction and environmental audits.
Public calls for establishment of a federal corruption watchdog have never been louder. Government delays in responding to reports have never been longer. The work of investigative journalists has never been more difficult as information is refused and threats are made. It is almost as though the Coalition finds governing too difficult and has no idea what is involved in democratic responsibility and accountability.
In this political context it is understandable should leading Coalition figures look for a convoluted issue to distract government critics. Perhaps it is dangerous to ignore their ravings given that they will encourage the racists and bigots to enjoy some victim status. We do not need however, to start a meaningless and tiring shouting match about myths with people who will not even engage sincerely in the process. McCormack and Frydenberg have been irresponsible and less than honest, but that is never surprising these days among Coalition politicians.