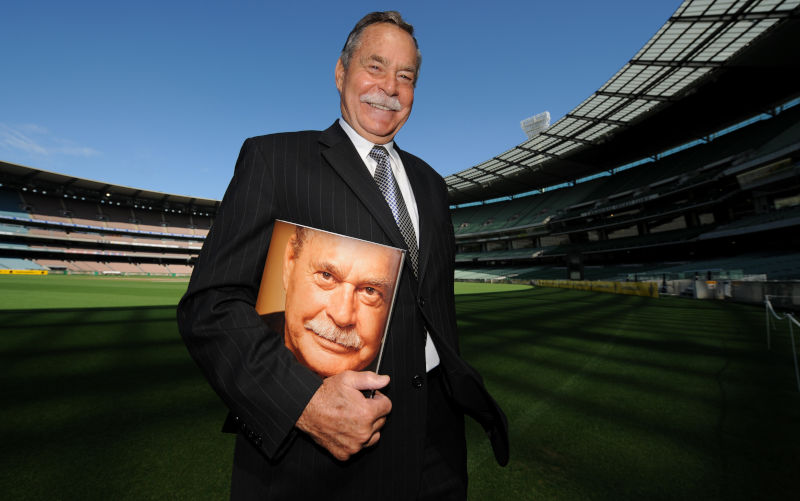 Of the proposition that he was the greatest there can be no doubt.
Ronald Dale Barassi, 87, was the most prominent name in our great indigenous game for 70 years.
The numbers can't be disputed: 17 grand finals for 10 premierships. "17410" was the number Barass put under his signature. Of course, it adds up to 31, his playing number at Melbourne and Carlton.
He played in six flags for Melbourne and was judged best on ground in two of them. There is a substantial body of opinion that says he would have had a seventh flag and Melbourne an unprecedented six in a row but for "Hooker" Harrison knocking him senseless in the 1958 grand final.
When he went to Carlton in 1965, not only did he begin the Blues most successful period (including two flags from three straight grand finals directly under him, 1968-1970) he beat the path for greater player movement and professionalism.
After a year off from coaching in 1972, he took over at cellar-dwelling North Melbourne, taking them to sixth in his first year, a grand final in his second and their first ever flag in his third, repeating the dose two years later.
But they are the mere statistics.
His successes were the stuff of legend. The 1970 grand final, when Carlton came back from 44 points down at half-time to defeat Collingwood, has had more ink spilt on it than any other match. Barassi never contemplated defeat, devising tactics and oratory that inspired the most famous comeback in the game's history.
The 1977 second flag at North was special, too, coming after a drawn grand final first time around. While spectators, officials and players walked or slumped, stunned, Barass headed to the middle of the ground and gathered his side, while Collingwood were still all at sea.
"Give me your bodies for one more week and I'll make you premiers," he declared. They did, and he did, winning the rematch by 27 points.
While his catalogue of footy achievements is unmatchable, it is Barass' honesty and generosity that truly set him apart.
He was gunbarrel straight.
For decades, people would write or suggest to Barass that it was he and he alone who had changed the face of footy, and fathered the modern game, with his 1970 half-time message to the Blues.
Barass would not have a bar of it. "I didn't invent handball. Len Smith [brother of Norm] was where that idea came from."
He could be almost too honest. Agreeing to be interviewed for one of those light weekend-newspaper supplements with the set questions some years ago, he was asked, "What was your toughest decision?"
You might expect he'd say leaving Melbourne for Carlton, or dropping Bert Thornley to bring on Teddy Hopkins in 1970, or retiring, but no: "Leaving my first wife."
Like a ramrod.
But it was Barass' generosity that most touched me. It's something I hope most others have seen, if not experienced, as I had the good fortune to do, more than once.
Some years ago, Barass spoke at a function at Ainslie Football Club. I turned up with my ACT Masters No 31 jumper and made for my hero.
Not only was he happy to be photographed with me and it, but he listened more than patiently to my own yarn about the 1970 grand final. I was a 9-year-old kid camped in front of the black-and-white TV still trying to be hopeful at halftime with the Blues so far behind. My ever-loving Mum, certain things weren't going to end well, made me a chocolate milkshake, a rare treat in the middle of the afternoon. She maintained to her death that her action had sparked the turnaround.
Barass put an arm around me, threw his head back and laughed; "I've heard a lot of theories about that grand final. But that's a new one on me!"
We chatted on, and I thought it the greatest honour when he called me by my footy nickname.
Years later, when Barass was in New Zealand with mates of mine who had helped organise and coached in the Barassi Youth Tournament, they prevailed upon the patron, who was of course flying the flag and travelling with them.
When I got the late-night call from the unknown number, the voice was immediately recognizable: "Dougie, it's Barass here."
I know, I managed to stammer, before he continued: "I just want to say that 'Blouse' [one of my teammates who was travelling with him] is the greatest footballer I've ever seen."
He stayed on the line for quite a while, remembering that I'd lost my Dad at a young age but not as young as he (Barass was only 5 years old when his Dad was killed at Tobruk) and knowing too how he had been a lifelong guide and example, albeit a remote one, for me.
He truly was the greatest.