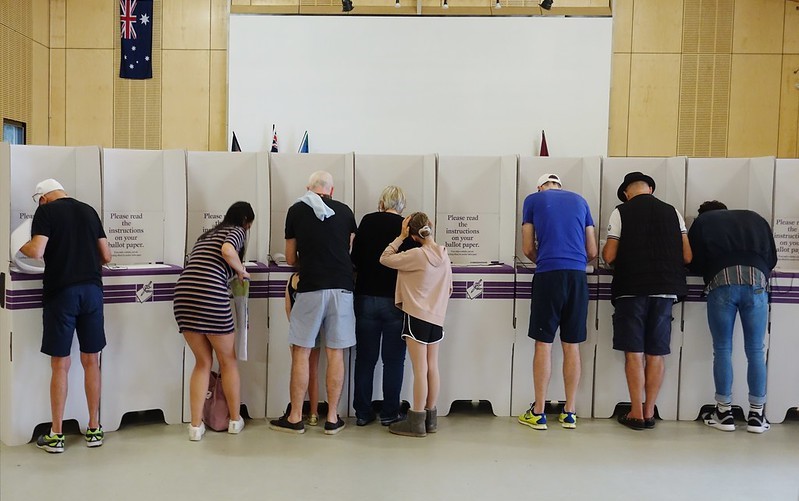 The rejection of ethical and accountability standards that is undermining our political system has left voters cynical: here's a package of reforms that will restore trust and protect our democracy.
We are facing a national integrity crisis in which the routine abuse of power, the rejection of ethical standards and the undermining of integrity agencies is commonplace. This is leading to a self-perpetuating downward spiral in which unprincipled behaviour secures re-election and further reduces voter trust and hope.
Integrity reform is absolutely necessary, and entirely possible. It can and will happen if voters become so sick of the abuses that they demand "integrity now!" and political success becomes dependent on effective integrity reforms. Australia has a proud history of such reforms, from the secret ballot and universal suffrage to the comprehensive post-Fitzgerald reforms in Queensland.
The Accountability Round Table (ART) has developed a strategy for reform fashioned by a steering group including former politicians (such as John Hewson, Barry Jones and Lynn Alison), judges and civil servants (Stephen Charles and Stuart Hamilton) and academics with extensive parliamentary or governmental experience.
The reform program starts with some key guiding principles that are much used but less understood: the rule of law, accountability, and the public trust. It links these principles to each other and to an understanding of integrity and its opposite, corruption. It focuses on the need for elected and appointed officials to exercise the powers that are entrusted to them by the people for the people and not for themselves or their party.
This package includes 21 recommendations for reform, setting out the problems to be addressed and the means of addressing them.
These include a strong and independent Commonwealth integrity commission (CIC). Such a body is necessary but insufficient. A CIC must be accompanied by other independent integrity agencies and anti-corruption measures. This collection of ethical standards, legal regulations, institutions and incentive structures has variously been described as an "ethics regime", "ethics infrastructure" or, most commonly, an "integrity system". This multifaceted approach has a number of recognised advantages. First, it focuses on promoting integrity, not just preventing corruption. Second, the institutions and roles are mutually supportive when performing their functions but mutually check each other if they exceed their powers. Third, it means the CIC does not have to do all the work — or have all the power.
Seven of ART's proposed reforms (1-7) make government more accountable to Parliament, which must be at the heart of the integrity system. These include oversight of delegated legislation, treaties, spending, and going to war, as well as improving question time, committee resources and accountability of ministerial staff.
Eight reforms (8-15) help parliaments hold governments accountable: the CIC, non-partisan appointments, assessment of integrity risks, restoring judicial review, enhancing the right to know, a judicial commission and guaranteed funding for integrity agencies.
Five reforms (16-20) increase the accountability of politicians: enforcing the ministerial code; addressing truth in politics, money in politics, and media reform; and preventing government's abuse of its power to get re-elected (pork-barrelling, voter suppression, election timing).
The remainder of the reform package sets out the mechanisms for securing these reforms, highlighting recommendation 21 — a governance reform commission, the lesson not learned from the Fitzgerald reforms.
The reform package was drafted in September and went through extensive discussion by the steering group. By the time we had finished it, the need for an effective CIC was as clear as ever. However, events have also demonstrated the need for many of the other reforms we recommended. These events showcased the clear problem areas the recommendations aim to confront, including:
Exemption of delegated legislation from parliamentary scrutiny now includes 599 unreviewable pandemic legislative instruments.
Treaties: AUKUS is apparently a done deal without any parliamentary scrutiny.
Going to war: talk of war over Taiwan makes parliamentary approval even more necessary.
Partisan appointments continue with the appointment of a recent Liberal office holder to the Human Rights Commission.
FOI and "the right to know" are deliberately being undermined by the attempt to treat the national cabinet as if it were part of the federal cabinet.
Funding of integrity agencies: institutions with a critical role in political accountability have their funding reduced when they perform that role too well (for example, the ABC and the auditor-general).
Enforcing the ministerial code: the prime minister continues to be the sole arbiter of whether ministers breach the ministerial code. The PM is fundamentally and irredeemably conflicted in dealing with alleged breaches of his colleagues and even more with alleged breaches by himself.
Truth in politics: trust continues to be trashed with numerous non-exhaustive lists of lies told and a willingness to deny what is on the public record. There is bipartisan agreement that lying is rampant — the Labor Party says government ministers lie, the Coalition says shadow ministers lie, and crossbenchers agree with both!
Money in politics: former Liberal NSW politician Michael Yabsley's recent revelations on political fundraising are shocking, even for the cynical.
Preventing government abuse of its power to get re-elected: pork-barrelling remains rife with indications of a bumper season. Proposed ID laws are seeking to introduce US-style voter suppression. And, as usual, the government is considering what election timing will suit it.
Former prime minister Malcolm Turnbull will launch the program on December 8. Registration is free. Registrants will receive an advance copy of the 60-page reform package.