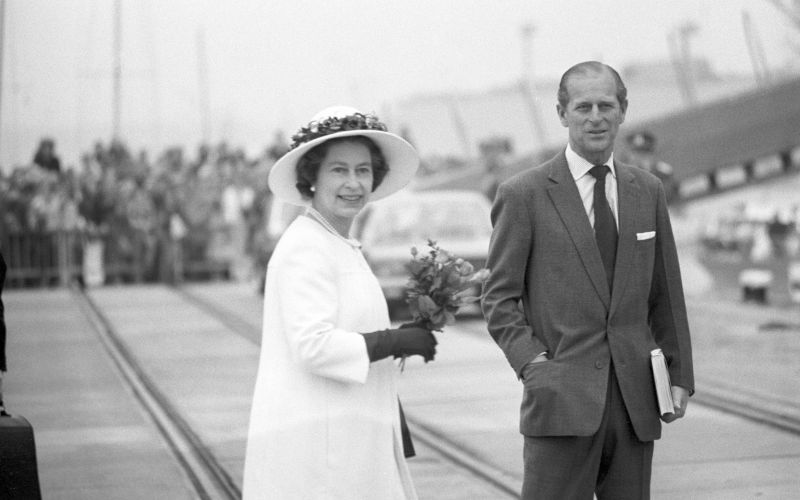 Stuart Revill, then Manager of ABC London, wrote a letter to his mother-in- law, Ethel Brunton Gibb on the occasion of being invited to Buckingham Palace for lunch, c. 1978.
Arrayed in a recently purchased grey flannel suit, white shirt, subdued tie, polished shoes, and matching socks, I arrived at the Palace entrance far too early, and hovered until precisely 12:42 pm. Most of the other guests were already on hand in the drinks room, sipping cooking sherry and behaving as if they were anticipating the Queen.
I discovered my fellow guests included a lady Governor of one of Her Majesty's prisons, the England soccer captain, Emlyn Hughes – who'd been given a day off training – a scientist who knows all about radio waves emitted by molecules (later he wished he had kept such information to himself); a Canon from a Church near Winchester, and a gentleman who had been, at one time, the British Resident Administrator of the New Hebrides, looking somewhat wary as if the Queen might send him back to Port Villa.
In due course, accompanied by three Corgis, Her Majesty arrived with Prince Phillip and Prince Edward flanked by the odd equerry – one of them definitely.
Prince Edward, a handsome boy with braces on his teeth, told me he was producing a play at school next term entitled 'Black Comedy', and is to be performed mainly in total darkness. There's not a lot one could say to that except, "Good Luck!"
Prince Phillip let it be known he had given up Polo and taken up "Four-in-Hand" competitions, which were very hard on his back muscles. He would like to take up gliding he said, but there wasn't time; or sailing, but that was also difficult since there isn't much of that done round Windsor Castle.
The Queen seemed to be avoiding me. The Corgis rolled around on the floor.
We moved to lunch in the '1844 room' where I was seated next but one from the Queen, alongside the Marchioness of Abergavenny, and opposite Prince Edward.
The Marchioness, a Lady in Waiting for the past 18 years, is married to a Lord Lieutenant, and has three daughters all doing quite well – either married to distinguished race-horse breeders or selling real estate in the City.
She had been recently in Australia with the Queen for the opening of the High Court building in Canberra. She advised me to maintain the 'White Australia Policy'. I said I'd do my best.
The scientist next to me and on the Queen's left, was telling her about hydrogen molecules and the manufacture of nuclear scanning equipment. "What is the spin-off from that?" asked Her Majesty. The scientist looked nonplussed.
A little way up to my right, an industrial designer was creating strange shapes with his table napkin to make some point to the Lady Prison Governor.
After lunch, I was talking to Prince Phillip about some of the problems Third World countries are having in relation to the high cost of communication systems, and remarking that perhaps the West should still be concerned, or even slightly guilty about such problems as poverty.
"Absolute Rubbish!" He shouted. "We've no reason to think anything like that. They all should have stayed with us who knew how to look after them. Why, I helped to liberate Tanzania and Ghana. They'd be better off without all that Marxist nonsense – Marx was simply a nit-wit!"
At that point, the Master of the Household, Sir Peter Ashmore, suggested I had not spent enough time with the Queen and ushered me into her circle.  Her Majesty, a bright and charming lady, reported that she was worried about New Zealand.
"Too many people in the South Island are moving to the North to places like Auckland and becoming bland like the weather there. It's not good for them." She said. "People retain more individuality in colder climates indeed, the English relished their climate and were individuals because of it."
"I tell my politicians" she said, "that's the reason why our involvement with the Common Market won't work. We are an island people and much better off on our own."
At this point, a German dancing troupe with a brass band appeared on the back lawn ready to play. Her Majesty said, "Oh, come with me, I've got to do this. We were supposed to see them in Germany a couple of years ago and they've finally caught up with us."
So, putting my hands behind my back, Prince Phillip fashion, I trailed the Queen on to the lawn. The band played, but above us a police helicopter hovered a few hundred feet aloft, and quite noisily. The Queen frowned. A flunky rushed to a phone to tell the police to get the craft out of there, which it did very rapidly.
The Queen giggled. "I suppose the police think the IRA will come out of the tea house," she said. The band finished playing. A German doll was presented, and we wandered back to the Palace.
She thanked one and all for coming and, with Corgis in attendance, left, followed by her husband and son.
As I left, the scientist, much troubled said to me, "Can you explain to me please, what is a "spin-off'.
I replied, "I think it has something to do with washing machines".
Actually, it wasn't such a bad day.
Stuart Revill was a former Assistant Managing Director of the ABC and had lunch with the Queen at Buckingham Palace in 1978 when he was ABC manager in London. He wrote this very droll account of it to his family in Australia, even breaching protocol and quoting Her Majesty verbatim on a sensitive subject. Stuart later became Assistant Managing Director, and then Secretary General of the CBA. This letter was read at his funeral.
Published with permission.