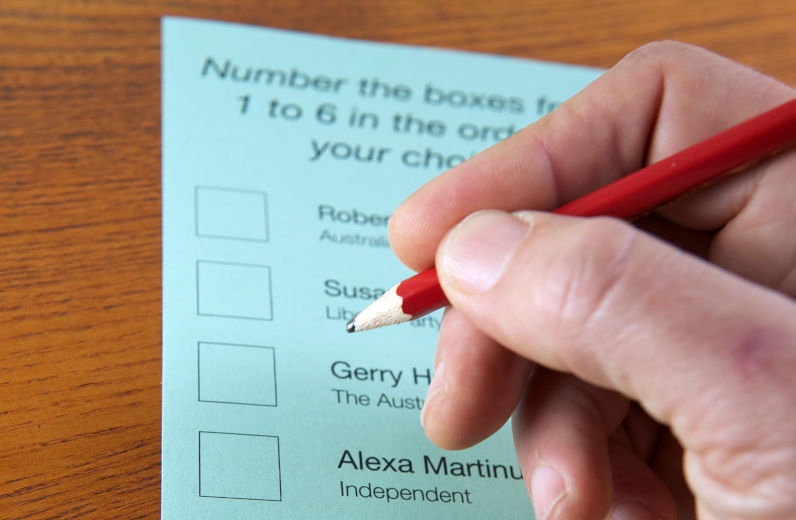 St Luke said: "Give and you will receive." St Paul, said: "It's better to give than to receive."
There's a fine distinction between them but both adages are apt for any candidate wrestling with the dark art of preferences-allocation at the 21 May election. The problem for some is they appear ambivalent about either giving or receiving.
Maintaining the purity of driven snow, or a fear of offending, most independents haven't indicated who they would rather see win the seat they're contesting, if they don't win it, themselves. It's the agony of naivety meeting the reality of politics.
The reality is that Australian elections are held under a compulsory preferential system: voters must number every square on the ballot paper. Even if they attract an improbably high number of first preference votes, candidates who resist embracing the opportunities, and ignore the implications of compulsory preference allocation, face a very strong probability of failure.
 Naivety is the apparent reluctance of independents to do preference deals with other candidates, or "direct" their followers in how to indicate second and subsequent preferences on the ballot paper. So far, the independents are sticking to the line that their supporters can make up their own minds on that.
All the historical evidence shows that to have any chance of winning a seat, a first-time independent must pull at least 30 per cent of the first preference votes, and finish first, second or third on the first count, assuming the leading candidate hasn't already achieved 50 per cent or more of the primary vote.
The primary vote of the independent's main opponent (usually the incumbent) must be reduced to near 40 per cent, and preferably lower. If those preconditions are met, the independent's fate, from there, relies on picking up around 70 to 80 percent of the preferences of the candidates behind them in the count who are then eliminated (and their preferences allocated), and reaching 50 per cent, before their opponent gets there.
While the emergence of independents is a significant development, it's worth remembering that in the recently dissolved House of Representatives there was only one first-time independent who won their seat at the last election by defeating a sitting member: Zali Steggall in Warringah.
Helen Haines won Indi in 2019 at her first attempt but she didn't beat a sitting member; she succeeded a retiring independent, Cathy McGowan, who'd anointed her.
The other "independents" on the cross bench of seven in the last parliament were Bob Katter (first elected in 1993), Andrew Wilkie (first elected 2010) and Rebekha Sharkie (first elected in 2016, representing the Nick Xenophon Team, now rebranded as the Centre Alliance; arguably not an "independent", at all). The remainder of the cross bench comprised one Green, Adam Bandt (Melbourne), and Craig Kelly (Hughes), who was elected as a Liberal, but defected to the United Australia Party.
With (round figures) 43 per cent to Tony Abbott's 39 per cent, Stegall's was a rare case of a first-time independent finishing in front of an incumbent, after the first preferences were counted. Steggall then received more than 75 per cent of the preferences of the candidates behind her and Abbott, taking her to a reasonably comfortable "two candidate preferred" result of 57 per cent to Abbott's 43.
Zali Steggall was a gold-plated candidate, up against an already-tarnished Tony Abbott. It's unlikely any of 2022's independents will poll anywhere near what Steggall achieved in Warringah in 2019. Few, if any, have the profile and "CV" that Steggall took into the 2019 contest. Few if any of the incumbents the independents are challenging could be said to be as unpopular and divisive as Abbott, a Prime Minister ditched by his own party.
Many of the 2022 independents cite Helen Haines' success in Indi in 2019 as their campaign model and the grounds for their optimism.
Winning just over 32 per cent of the primary vote, Haines was behind the Liberal candidate (who was on 35 per cent). Haines received only 54 per cent of the preferences of the five eliminated candidates, to scrape over the line, just ahead of the Liberal, with a two-party margin of 1.4 per cent in her favour. If the Liberal vote had been a tad higher than 35 per cent, Haines wouldn't have won.
Prior to 2019, the most recent independent success was Kerryn Phelps (another candidate with a long-established public profile), at the 2018 Wentworth by-election but, again, she didn't defeat an incumbent (another deposed Liberal PM, Malcolm Turnbull, had retired). Seven months later, Phelps lost the seat and it reverted to the Liberals, who'd apparently overcome their hard feelings about the treatment of Turnbull.
Wentworth illustrates not only the importance of a strong preferences flow, but the need to reduce the incumbent's primary vote into, at least, the low 40s. In the 2018 by-election, Phelps' candidacy, and Liberal disaffection, saw Malcom Turnbull's 2016 primary vote of 62 per cent reduced to 43 per cent, for the new candidate, Dave Sharma. Phelps, in 2018, with a primary vote of only 29 per cent, then overtook Sharma, attracting 75 per cent of the preferences of the candidates beneath her on the first count (including Labor, on a measly 11 per cent).
In 2019, however, Sharma's primary vote had risen to just above 47 per cent, from 43 per cent seven months earlier. Phelps' primary vote rose, too, in 2019, by more than three per cent, to 32. But despite, this time, Phelps pulling 90 per cent of the preferences from eliminated candidates, it wasn't quite enough to stop Sharma beating her over the line. The margin went from 1.2 per cent in Phelps' favour in 2018, to 1.3 in Sharma's, in 2019.
It's significant that in the three seats where first-time independents have been successful in recent years (Wentworth 2018, and Indi and Warringah in 2019) the Labor vote at the preceding (2016) election was already unusually low: 18 percent in Wentworth, 15 per cent in Warringah and 10 per cent in Indi). In contrast, in the 19 seats now being contested by high profile first-time independents, the 2019 Labor vote was below 20 per cent in only five of them. And in each of those five, in 2019, "third" party candidates (Greens or One Nation) and/or independents, polled more than ten per cent, individually and, in all cases, more than 30 per cent between them and Labor.
Nominations for the 21 May election closed last Thursday. Positions on the ballot paper were drawn on Friday. Hardened campaign teams would have spent the weekend deciding how to direct preferences. Their How-to Vote cards will soon be at the printer, with plans to distribute them at the earliest opportunity, to capture the estimated 40 per cent of people who will avail themselves of pre-poll and postal voting, before polling day itself.
Which brings us back to the preference whisperer, St Luke: "Give, and you will receive." If independents can't embrace this advice, face the reality of our voting system, hold their nose and do some deals, and clearly indicate preferences to their own supporters, they – and their supporters – face a disappointing night on 21 May.