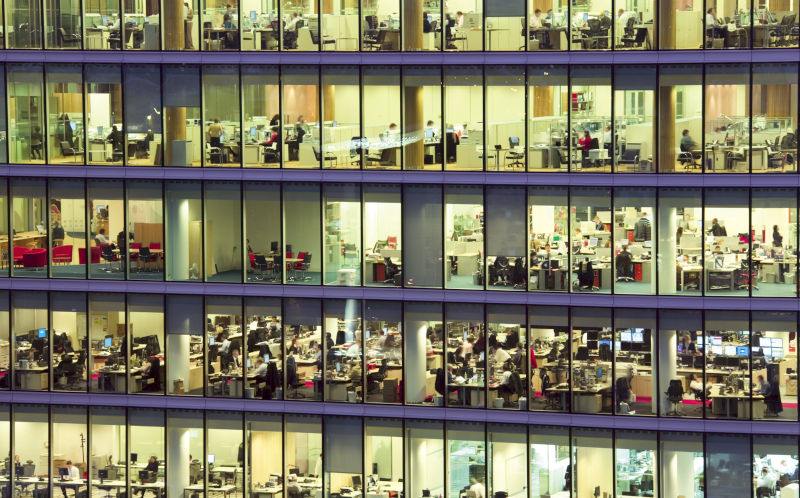 The world of work has changed a lot in the past half century.
Union membership has fallen from one half of the workforce in the 1970s to one seventh now.
In 1974, 6.3 million working days were lost through industrial action. In 2021, it was just 0.1 million working days.
In 1974-75, real wages grew by 10%. The most recent figures show real wages falling by 4% over the past year.
During the inflationary year to June quarter 1974, the profit share went down by 4.5 percentage points, and the wages share went up by 2.8 points. During the inflationary year to June 2022, the profit share has gone up by 3.3 percentage points, and the wages share down by 2.5 points.
The only thing that hasn't changed is the arguments used by employer groups against any laws that might benefit workers.
Clearly, there has been a major shift in power at the workplace. Highly organised unions used to be able to extract real wage increases out of employers in key sectors, and flow those elsewhere.
When employer bodies complained in the 1970s that unions were engaging in widespread industrial action, they often had a point.
But when the country's major employer bodies said that the new government's 'seismic' 'Secure Work' Bill would 'increase strikes', even 'nationwide strikes', it was as if, like Skyhooks, they were Living in the 70s. Not very relevant to the 2020s.
The head of mining employers said that there were "enough corporate gorillas in the mining, oil and gas sector" who were unhappy with Labor's Bill to fund a campaign "like the mining tax campaign but on steroids". Employers, apparently, would be "energised to run an anti-IR bill campaign that will dwarf the ACTU's Your Rights at Work campaign".
Australian voters, though, have not shared this alarm.
Polling shows that between three fifths and three quarters of voters support four main aspects of the bill: strengthening the power of lower paid workers to negotiate pay rises; strengthening workplace laws to close the gender pay gap; giving employees more power to have flexible work conditions (e.g. varied hours or working from home); and giving workers the ability to join together across different workplaces to collectively negotiate pay rises. No more than one seventh oppose any of those four aspects.
Overall, half of voters support the Bill, and only a quarter oppose it.
The fact that overall support for the Bill is less than support for its main elements suggests, however, that some aspects of the employer campaign may have had an effect on public consciousness.
Aside from the age-old refrain about strikes, there's also the age-old refrain about productivity. The Bill would be 'stifling' productivity. 'We can't afford to decouple productivity from wage growth', said the Minerals Council.
The problem is that wages were decoupled from productivity decades ago. It has been profits, not wages, that have grown without being supported by underlying growth in productivity. Wages growth has, on average, fallen behind productivity growth over that period.
Decades of evidence has shown that industrial relations laws do not determine productivity growth. They don't govern the size of the pie.
What they mainly do is govern how much of the pie goes to wages, and how much goes to profits.
So when the mining employers lobby threatens a campaign against the industrial relations laws, it's because they could reduce their profits. It's for the same reason that the other major mining lobby group has threatened to run an ad campaign against any possible tax on super-profits in the coal and gas sectors, "standing up for families, standing up for small businesses across regional Australia". That would be an even harder sell, as the surge in gas and coal prices, and hence profits, is linked in most minds to the Russian invasion of Ukraine.
This is not to say that the Secure Work Bill is without criticism.
Probably its main weakness is that it takes a complicated approach to solving a simple problem.
Its multi-employer bargaining provisions are a response to the simple fact that Australia is one of the few countries which effectively prohibits bargaining beyond the enterprise, in a world that is vastly different economically to half or even a quarter of a century ago.
Once upon a time, large firms would directly and securely employ most of the people who generated revenue for them. Now, many are casually employed, or even independent contractors, or working for firms that are themselves contractors.
Long-time advocates of freer labour markets, the Organisation for Economic Cooperation and Development, have switched to endorsing multi-employer bargaining.
The OECD likes the idea of co-ordination in union bargaining. It knows it has economic benefits. And OECD research shows that the decoupling of wages and productivity, and especially rising wage inequality, are worse in Australia than most countries.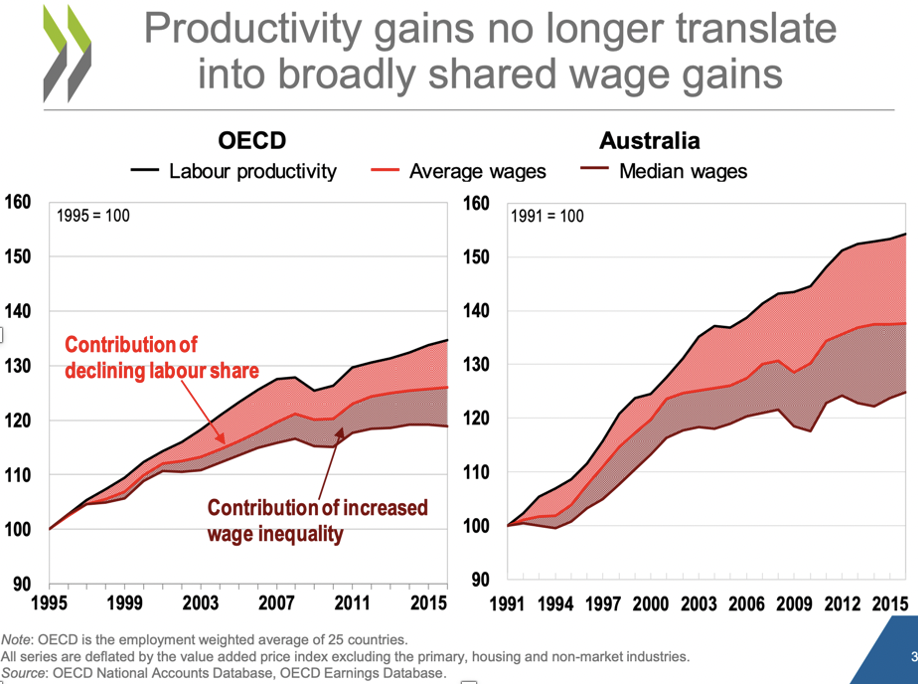 It makes no sense to restrict bargaining to a single workplace or enterprise. Some workers are in workplaces that are too small to support single-employer bargaining, and often it's someone else who calls the tune as to what that small business does anyway. Workers need to be able to bargain across multiple workplaces, and across multiple enterprises — with the organ grinders, not the monkeys.
The Secure Work Bill helps deal with that, but it creates three streams of multi-employer bargaining, all with their own rules and requirements, while other aspects of the old legislation (for example, on 'pattern bargaining') remain in place.
The desire of the Bill's drafters, operating under huge time pressure, to cover every possible contingency, leads to a document that is very long, with lots of room for argument and delay as fine details are fought over and amended. That's not new. Previous governments have sought to make the legislation more complex, often to stymie one side (usually unions) to the benefit of the other.
A simpler Act would be preferable, but that is a task for the longer term. Whatever its weaknesses, the Secure Work Bill would improve the operation of the present industrial relations system. The arguments used against it are mostly either opportunistic or wrong, and often borne of arguments of decades long past, when the economy was very different. Passing it would inch us closer to having an industrial relations system that can actually deal with the problems of the twenty-first century.