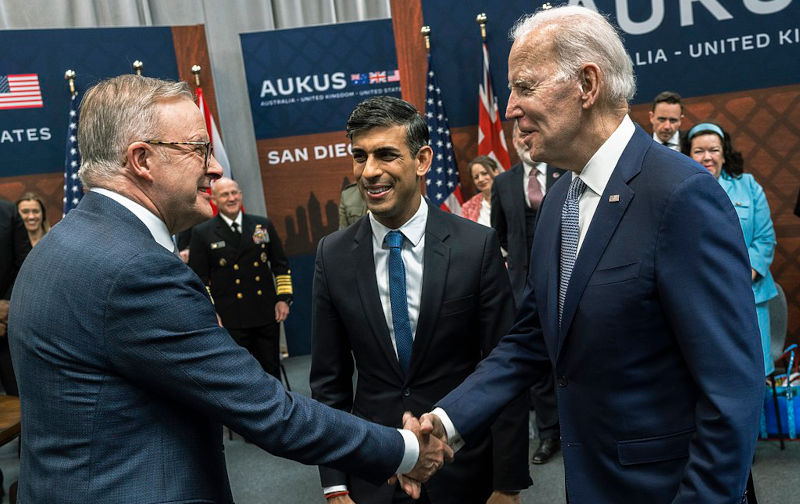 The sexual connotation of support for AUKUS should be obvious. An apparent fascination with phallic symbols as large as nuclear submarines, plus language describing how to dominate and penetrate enemies shows notions of security which reflect a top down, masculine interpretation of power.
The AUKUS fanning of an us and them idea of opposing forces, suggests a sexually binary way of thinking, and prompts questions whether women had any influence in crafting this policy.
At different times, former Foreign Minister Marise Payne, former Defence Minister Linda Reynolds, Foreign Minister Penny Wong and senior public servant Kathryn Campbell perhaps played key roles, and there may have been contributions from a few women in Canberra defence think tanks. Yet despite UN resolutions which have addressed the impact of war on women, which have urged the inclusion of women in deliberations about security and defence, the AUKUS outcome looks like a distinctly male achievement.
Sexual potency and masculinity displayed by nuclear weapons, is not new. The bombs dropped on Hiroshima and Nagasaki were code named Little Boy and Fat Man.
The UN's Institute for Disarmament Research shows policies related to nuclear arms and nuclear- powered warships characterised by culturally sanctioned notions of masculinity and femininity, the former depicted by adjectives such as strong, rational, prudent, active and objective, the latter by adjectives, weak, irrational, imprudent, impulsive, subjective and emotional.
To that list can be added Minister for Defence Industry Pat Conroy's accusation at the recent Labor Party national conference that those delegates who opposed AUKUS were appeasers. It looked like an exercise in domestic violence. The audience seemed cowed. No immediate vote was taken. Armed with a microphone, a man with a loud voice knew best.
In 'Sex and Death in the Rational World of Defence Intellectuals', Carol Cohn describes politicians' confidence being bolstered by alliances with nuclear powers, or by their country's possession of nuclear weapons. She records researchers' explanations of the effectiveness of such violence: the 'hardness of missiles' fired from 'vertical erector launchers' to achieve 'maximum penetration.'
Let's return to the sexual connotation of AUKUS when announced as the US/UK/Australian alliance. San Diego March 14, 2023, a band plays martial music. In the background on a submarine, like eunuchs preparing for a triumphal march to honour a visiting Pharoah, sailors stand to attention. At the appointed time, as though caught entering a place of ill repute, President Biden and Prime Ministers Sunak and Albanese make a sheepish entrance. Attempting to appear slightly sexy, they boast about the identity of their strong, thoroughly modern nations, each country and each man to be boosted by a Viagra like substance, the promised potency of nuclear-powered submarines.
At this San Diego AUKUS orgasm, men filled almost all the seats. Like voyeurs at a stag party, a couple of photographers were the only noticeable females.
In Australia, as complement to the AUKUS agreement, Talisman Sabre war games followed. Thousands of troops massed to practice preparations for war, and in the process sully large chunks of a submissive environment. Four brave men lose their lives when their helicopter, earlier deemed not completely safe to fly, crashes, at which point, politicians speak of loss by dipping into masculine stereotypes about honour when service men and women make supreme sacrifices for their country.
To combat predictable, observations about honour achieved in death, there are other ways of thinking. Shakespeare's Sir John Falstaff countered acceptance of military glory by insisting that routine references to honour did not compensate for the violation of dignity suffered by the dead.
Poet Wilfred Owen's protests against the First World War included the same Falstaffian argument:
'My friend, you would not tell with such high zest
To children ardent for some desperate glory
The old Lie: Dulce et decorum est
Pro patria more.'
There is a danger that the billions of AUKUS dollars spent on military force will be accepted as the means of security and so internalised in people's lives as to encourage them to fear China, to believe that power through competition for arms – mine is at least as big as yours – is the only argument available to those who like to strut their strength even if they prove to be morally feeble.
Prime Minister Albanese's machismo reprimand to the Labor Conference, 'Australia needs nuclear submarines', underlines the importance of assessing the motives of AUKUS enthusiasts. As with patients lying on an analyst's couch, what is not said usually displays more meaning than repetition of what is obvious.
In deliberations about foreign and defence policy, thoughts about ways to enhance life by building friendships and non-military alliances have not been mentioned. Nothing has been said about a need for relationships based on trust, on recognition of the other, perhaps on tenderness, certainly on equal sharing and on love devoid of jealousy, competition and possession.
In making such observations I'll be accused of sounding effeminate, of appearing to be an appeaser whose arguments will lead to individual and national defeat. Yet opposition to AUKUS requires rejection of the taste for domination inherent in a brand of sexuality which has contributed to centuries of conflict and to pandemics of domestic violence.
Reference to sexual motives behind individuals' aggression, behind the arms industry and in their influence on an Australian government's desire to possess nuclear powered submarines might be regarded only as light hearted speculation. But exploration and expose produce benefits.
Playwright George Bernard Shaw would have encouraged opposition to AUKUS. In deploring justifications for the First World War, he wrote, 'War cannot bear the terrible castigation of comedy, the ruthless light of laughter.'
It is possible that rude or savage comedy, including questions about sexuality, may still halt the absurdities of AUKUS policy makers who think that alternatives to their ways of thinking are weak and irrational whereas strong men armed with huge submarines will have so much more to offer.