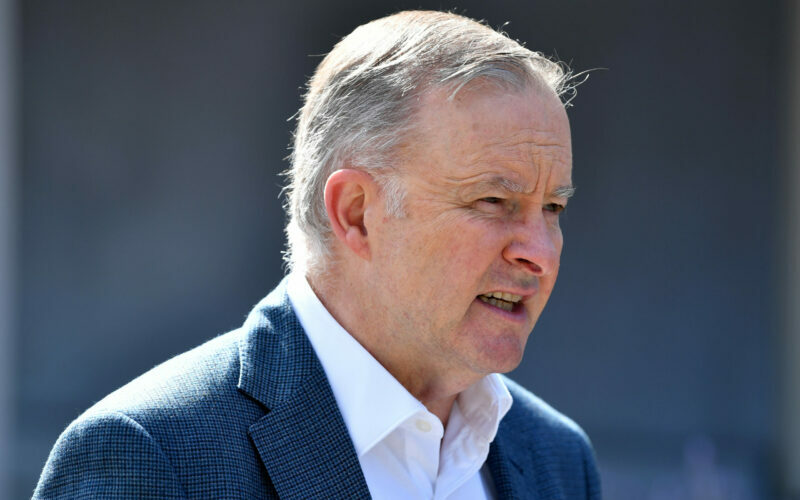 The notion that the federal Labor leader is running a small-target strategy ahead of next year's election flies in the face of the facts.
When the prevailing orthodoxy doesn't seem to fit the underlying facts, it is wise to question the orthodoxy rather than the facts. I don't see the facts which back up the "small target" theory about Labor leader Anthony Albanese's approach to the 2022 election.
With the latest NBN announcement the current opposition has more policy out there at this stage of an election cycle than any opposition I can remember in the past 50 years except those led by John Hewson in 1993 and Bill Shorten in 2019.
I understand that different people have different priorities which they would like a Labor opposition to campaign on. And, obviously, such people will be disappointed when the party displays priorities other than those they would like to see.
But with an election probably six months away it is ridiculous to expect a well-organised opposition to have all its policies laid out by now. Not because they will be stolen or attacked, but to ensure there is room for new announcements during the campaign.
Can you imagine the outcry should the Opposition leader get up and say at the campaign launch that "all our policies have already been announced". However many policies had already been launched, the hue and cry about a small-target strategy would be off and running again.
Striking a balance between early announcements to give candidates and supporters something to campaign on and keeping enough back for the campaign is an art, not a science. I don't know Albanese's plans about this balance but I have been involved in running enough campaigns to understand the nature of the challenge.
I appreciate if you are a male over 60 you might not think the extensive policy Albanese announced some time ago on childcare is important. But thousands of women (and men) with children regard it as their number one priority. It is an important economic and social policy. It is also a major point of policy difference between the government and the opposition in the lead-up to the election.
If you are a comfortable middle-class citizen in secure housing, you may not regard social and affordable housing as a priority, but hundreds of thousands of Australians who are struggling to find adequate housing appreciate the priority it has received from the opposition. The announcement of a $10 billion fund to build new affordable housing is another important point of difference. It is also a policy with obvious social value and one that will create lots of working-class jobs.
Everybody regards domestic violence as an important issue but very little has been done about it. The current opposition has the strongest policy I have seen on the issue.
I have written about the Indigenous Voice to Parliament issue here before. I think it is the most important long-term issue that will be decided by the election outcome. And there is no equivocation from Albanese on this crucial and controversial issue.
The public is crying out for a national anti-corruption commission, but it is not an easy issue to get right. It seems to me Mark Dreyfus and the Opposition have done a pretty good job of getting the balance correct.
The latest NBN announcement is a big issue and a bold promise. The difference between the government's destruction of the planned NBN rollout and the opposition's commitment to provide $2.4 billion to renew a public NBN is stark.
Of course, there are issues close to my heart that the opposition has not been brave on yet. And maybe they never will make an announcement on the aid budget or arts funding. But the big picture is more important than any individual priority. By election time there will be plenty of issues of contrast between Labor and the Coalition — not about everything, but about a lot of very important issues.
The excellent review of the last Labor campaign by Jay Wetherill and Craig Emerson made it clear that policy discipline is important. In 2019 many fine policies went unnoticed because there were too many policies out there for the public to comprehend.
I am not aware of the Opposition's intentions on future policy announcements. I know they will be somewhat constrained until they have seen the Pre-election Fiscal Outlook or, more probably, the Mid-year Economic and Fiscal Outlook. I hope and expect they will have a lot to say between now and the election, but the idea that they are running a small-target strategy flies in the face of the facts.
There are two cardinal rules to remember about policy announcements when running an election campaign from opposition. The first is you don't have to be able to do everything before you do anything. The second is "gouvenir est choisir". This is a famous quote from former French prime minister Pierre Mendes France which translates as "to govern is to choose".
When judged against these two rules the Albanese-led opposition measures up quite well with six months to go. It is not perfect but that is not the standard I would set to judge it by. Time will tell if the strategy and the leadership style will be successful. But a small target it is not.