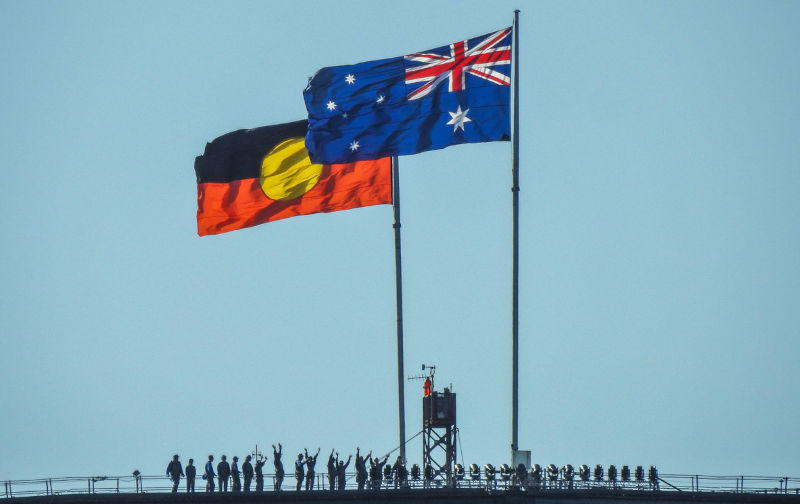 Against the background of reconciliatory legal and political gestures from Canberra over the past 30 years, and in view of the Voice being proposed as an organic instrument 'from the heart' of Aboriginal Australia (rather than a top-down 'advice' – device of bureaucratic convenience), it may well be the game-changer everyone yearns for.
I was just a boy in Fiji's highlands (Nadarivatu) when in 1957 the AAL Aboriginal Advancement League had begun to activate a consciousness of their plight in the public discourse of white Australia.
Pastor Doug Nicholls, Stan Davey, Gordon Bryant and others, initiated branches of the League across Victoria and in other states. When I arrived in Australia at the end of 1963, I was 11 years old – too young to appreciate the dismal situation of Aboriginal people relative to the rest of the nation; how nearly 200 years of European presence had negatively impacted them.
In 1960, FCAATSI, the Federal Council for the Advancement of Aboriginal and Torres Strait Islanders had come on the scene, and was the first national structure of its kind to articulate 'land rights' claims. Doug Nicholls, Faith Bandler, Burnum Burnum, Kath Walker, and Charles Perkins led out in this organisation. As the '60s progressed, I began to hear of these pioneering leaders and spokespeople. I saw and read a little of their work in the media. (In 1978, FCAATSI came to an end; Marcia Langton was the organisation's secretary at the time).
When the 1967 Referendum was held, I was, at 15 years of age, only just aware of what was at stake – that the Commonwealth would acquire powers relating to the welfare of Aborigines thereby taking it out of the exclusive domain of the states and their variable responses to what was determined to be a rising problem for the nation as a whole. In other words, the referendum was an administrative matter – only many years later did I begin to hear of the referendum being redefined as a matter of recognition, citizenship and census counting (as it now is).
In response to the referendum's success, in 1968, the Office/Council of Aboriginal Affairs was established by Canberra, "to identify for the Government the essential problems facing Aborigines, to establish communication with Aborigines so as to ensure that their views were heard and understood; to advise the Government on policies to deal with these problems and on administrative machinery to give effect to such policies". Sound familiar?
But as with artificially induced indigenous institutions it was not long before disagreements about ideology, strategy and political affiliation emerged, and in 1970 a National Tribal Council was formed and split from FCAATSI. Leading the new council was Gary Foley, Kath Walker/Oodgeroo Noonuccal, and Doug Nicholls.
When Gough Whitlam came to power at the end of 1972, one initiative his Labor government implemented was to establish the Department of Aboriginal Affairs giving recognition to the national need for oversight of issues relating to the welfare of Aboriginal citizens. '60s American activism of 'black power' and 'civil rights' leaders such as Rev Dr Martin Luther King and Malcom X encouraged a younger generation of Aboriginal leaders to undertake similar activism here, and Gary Foley led out with others in the erection of Canberra's Aboriginal Tent Embassy on the grounds of the national parliament. I was fortunate to have Gary Foley as a guest lecturer in one of my sociology subjects during the late '70s.
In 1973, the Whitlam Labor government established NACC the National Aboriginal Consultative Council. Again, like its institutional predecessors, "the function of the NACC was that of advising the government on Aboriginal affairs and needs".
When Whitlam was couped by Malcom Fraser and his coalition government at the end of 1975, some of us expected the attention being given to Aboriginal issues to attenuate, but it didn't. In 1977 (and through to 1990) the NAC National Aboriginal Conference (& Council of Aboriginal Development) superseded the NACC – and again, the mandate was to "advise on proposed Commonwealth government Aboriginal policy".
In 1978, NAILM the National Aboriginal and Islander Liberation Movement evolved from FCAATSI, and then closed it down due to lack of government funding. NAILM went on to establish its own identity overseas (an office in London) and focussed and emphasised its attention on land rights and mining compensation.
By 1980, the new body being talked about was the ADC, the Aboriginal Development Commission whose charter was, "to further the economic and social development of people of the Aboriginal race of Australia and people who are descendants of indigenous inhabitants of the Torres Strait Islands and, in particular, (as a recognition of the past dispossession and dispersal of such people) to establish a Capital Account with the object of promoting their development, self-management and self-sufficiency". Again, sound familiar?
Bob Hawke's Labor government came to power in 1983. It took six years of planning, and eventually in 1990 (and to 2005) ATSIC: Aboriginal and Torres Strait Islander Commission was established to supersede the ADC. ATSIC incorporated both the AECD (Aboriginal Economic Development Commission) and the ATSICDC (ATSIC Development Commission) to progress the welfare of Aboriginal people. The most famous ATSIC chair was its first, Lowitja O'Donoghue, and the most infamous, was its second last, Geoff Clark. Again, rivalries, ideological splits, political strategy differences, maladministration, and personality/tribal interests undermined what should have been a success story.
In 2004, the NIC National Indigenous Council appeared to, "provide expert advice to the Australian Government on policy, program and service-delivery issues affecting Aboriginal people and Torres Strait Islanders". Again, this will sound familiar to those plugged into the Voice debate. This NIC council replaced ATSIC – closed down by John Howard's coalition government – and lasted until 2008.
As a student during the 1970s, I researched the problems of Aborigines (urban, rural, coastal, and desert) and submitted essays on ways and means of alleviating them. During the 1980s and 1990s, I was teaching and had the privilege of initiating tertiary student workshops with Yuin elder, Guboo Ted Thomas, as part of my 'sociology of minorities and ethnicity' subject. Much of what I had learned from experience and from reading the literature to that point, convinced me by 1983 that 'makarrata' – treaty – was an essential step in 'reconciliation' of black and white Australia.
We take 'reconciliation' for granted now, but it was a relatively new concept that only took off in the 1990s after Mabo (1992) and Wik (1996) High Court cases were settled in Aboriginal favour, and after PM Keating delivered his 'Redfern Speech', and in the shadows of the collapse of both the South African apartheid system and the Iron Curtain. Walls were coming down everywhere, in other words.
Talk of 'treaty' and 'sovereignty' also rose as the key year of 2000 approached, the start of a new Millennium, and as the international celebration of an Olympic Games in Sydney pressed on the national consciousness, the need for 'reconciliation' and 'sorry' flowed as a result; in 1998, the 'stolen generations' report came to the fore, and a decade later, in 2008, a national 'apology' was heard.
Now, we have the Voice presented to us, and like many, I have to decide whether in the proposed constitutional change, we are simply reinventing the wheel of institutional innovation which has been articulated and activated since the 1960s at a federal level, or inventing something new and different that will produce real progress in encouraging different and better outcomes.
I hope the latter and I am cautiously optimistic because so much of the contextual architecture of white Australia has changed – as noted. Against the background of reconciliatory legal and political gestures from Canberra over the past 30 years, and in view of the Voice being proposed as an organic instrument 'from the heart' of Aboriginal Australia (rather than a top-down 'advice' – device of bureaucratic convenience), it may well be the game-changer everyone yearns for.