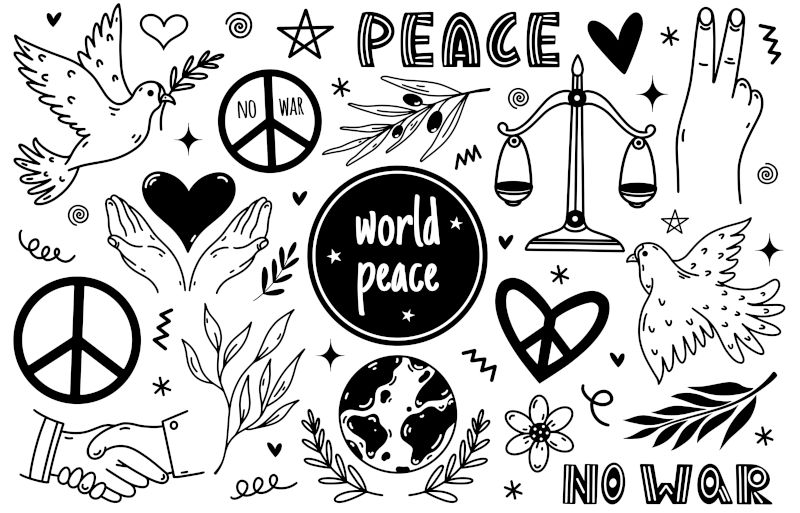 Do you remember when Labor parliamentarians were vocal advocates in the Australian Peace Movement?
If so, you are probably part of the Whitlam /Hawke / Keating generation when there were lively foreign policy debates within the parliament, the ALP and trade unions. We questioned the American alliance because many of us had watched the consequences of the Vietnam War. We were influenced by "People for Nuclear Disarmament", because our generation understood the horrors of Hiroshima and Nagasaki when the first nuclear bombs devastated the people of Japan.
During the 1970s many of us campaigned against nuclear ships visiting Australian ports and in my home city of Townsville we opposed B52 bombers being stationed at the North Queensland air base.
In those distant days activists protested loudly about any attempts for Australia to be dictated to by our powerful ally. Despite scrutiny by ASIO, many Australians were determined to assert a more independent foreign policy, particularly when it came to overseas conflicts.
In the 1980s my generation of Labor parliamentarians sat side by side with icons of the peace movement, – Tom Uren, Ruth Coleman, George Georges. Many of us had joined the Labor Party because Gough Whitlam was committed to end conscription and bring young Australians home from the Vietnam War. We were proud that it was a Labor Prime Minister who led the way in creating positive relations between Australia and China.
In 1984, Labor women parliamentarians supported the Women's Peace Camp set up outside Old Parliament House in Canberra. They were protesting the influence of American defence policy on Australia and particularly the joint secret military activities at Pine Gap. We invited these women and their children into Parliament House to have hot showers and warm meals. We were reprimanded by opposition senators, but neither Foreign nor Defence Ministers took issue with our independent expressions of concern.
As a parliamentary member of the Australian Labor Party in government 1983-96, I participated in a range of foreign policy debates that focussed on peacebuilding. During these years Australian peacekeepers served in 27 new peace operations around the world and continued its role in several earlier established ones. The Labor Government appointed the first Minister for Disarmament and played a major role negotiating for the development of an International Chemical Weapons Convention. At that time the Australian Government promoted a Nuclear Free Pacific and within the United Nations commenced work on a nuclear test ban and non-proliferation treaty. In addition, a group of Labor parliamentarians were successful in campaigning against Australian involvement in the US MX Missile program.
In 1991, when Prime Minister Hawke committed Australia to the U.S Gulf War, nine government members and senators who opposed this decision, released a public statement urging the United Nations to focus on the withdrawal of Iraqi troops from Kuwait and advocating demilitarisation of the Middle East. Later, parliamentarians protested the first major arms exhibition, AIDEX, held in Canberra. Unfortunately, a legacy of that event is an Australian arms industry which has established a very cosy relationship with relevant government departments as well as the Australian War Memorial.
It is not surprising then that I am disturbed by the fact that very few Australian parliamentarians appear to be actively engaged in peace and security debates. Of course, there are notable exceptions including those with specific portfolio responsibilities, but the current foreign policy and defence agenda is seen as the sole preserve of trusted "experts". Parliamentarians are not encouraged to actively participate in questioning the direction of Australian foreign and defence policy. Organisations like the Australian Secret Intelligence Service and the Australian Strategic Policy Institute work hard to control the debate to protect the status quo. Yet surely there is no more significant issue affecting all Australians than the future wellbeing and security of our citizens?
Our new defence minister, Richard Marles relies on a defence bureaucracy largely unchanged since the Turnbull/Abbott/ Morrison years when Australian foreign policy was dominated by hawkish attitudes and secret defence deals. Therefore, it is indeed welcome that the Albanese Government has prioritised an "Inquiry into internal armed conflict decision making "referring it to the Joint Standing Committee on Foreign Affairs, Defence and Trade.
This inquiry investigates the role of the Australian Parliament in any decision to commit our nation to overseas war. "Australians for War Powers Reform" has consistently reminded us that our ongoing role as an United States ally has led us into Korea, Vietnam, Iraq, Afghanistan, Syria-, wars that have each failed to end conflict, but which have created devastating loss of life and disruption in these nations.
Our national parliamentarians need to reflect on our continuing reliance on militarism and actively campaign for an independent Australia, which prioritises conflict resolution and peacebuilding. The community needs to constantly remind our parliamentary representatives that:
"Those that fail to learn from history are doomed to repeat it "
Margaret Reynolds was a Labor Senator and Member of the Hawke and Keating Governments 1983-96.
She is a long-time peace activist and currently Australian President of Women's International League for Peace and Freedom.